Physiotherapy For Wrist Fracture
Our physiotherapists are experienced in providing a complete range of physiotherapy services.
Fill up the form to know more about our physiotherapy services for Wrist Fracture.
Physiotherapy For Wrist Fracture
Our physiotherapists are experienced in providing a complete range of physiotherapy services.
Fill up the form to know more about our physiotherapy services for Wrist Fracture.
Physiotherapy services for wrist pain
Overview
Wrist injury and wrist pain is a common complaint nowadays. Most wrist pains can be threatening and can be successfully diagnosed and treated by your physician along with your physiotherapist. Wrist pain happens from several sources including work accidents, sports injuries or casual arm usage.
For good relief from wrist pain, a precise diagnosis is most vital. Wrist pain has numerous triggers. Included in these are wrist injury or arthritis, wrist dysfunction, tendinopathies or muscular trauma. Alternately, wrist pain may be referred from the cervical spine due to neck joint dysfunction or a pinched nerve. Nerve compression may happen due to ulnar nerve palsy or carpal tunnel syndrome. Both these conditions can be successfully treated if there is a prompt evaluation with treatment to prevent permanent nerve damage and lack of function, sensation and muscular strength.
The good thing is that injury and wrist pain react to other intervention or physiotherapy for wrist pain or injury. Please do not delay consulting with your healthcare practitioner if you experience any wrist pain. Some wrist ailments do need surgery; therefore intervention and evaluation are vital.
Symptoms and treatment
Pain in the wrist after a fall or a collision is the hallmark of a fracture. Any motion of the hands or simply rotation of the forearm that causes pain that is felt at the end of the forearm and becomes worse. Deformity of the wrist region is seen with the hands. In a couple of minutes of this injury, you will detect swelling of the hand and the wrist. When the nerves to the hand have been compressed or stretched you will experience numbness. You could discover that the fingers are flexed and cannot be straightened if joints have been trapped. Bruising of the fracture and inflammation might be felt in a couple of hours of the accident.
The indication of swelling or swelling will persist for many days. They are caused, in part, by the harm to the muscles of the area and from bleeding from the bone fragments that were broken into the cells. This soft tissue; resolves gradually as the body reabsorbs the swelling and converts blood flow collections into scar tissue.
Remedy of this fracture is focused on maintaining the bone fragments immobile within a posture until the bones heal. Even though it might help with the pain in the bone fragments, this therapy doesn't accelerate the resolution of this tissue injury.
Should I think about physiotherapy for wrist fracture?
The goals of physiotherapy for wrist fracture of distal radius fractures are
To relieve the pain of the injury

By immobilizing the fracture fragments to facilitate recovery

To make sure that the fracture heals

To protect the area

To aid recovery of motion
There are a variety of treatment choices.
Experience has proven that although these fractures might not cure in alignment, this does not cause a reduction of function. The dangers associated with anesthesia and surgery makes the option of physiotherapy for wrist pain and fracture appealing.
Some fractures must be treated through an operation. Several implants and surgical procedures are developed. Techniques and these instruments are more effective in holding the bone fragments in a place and that is very helpful while the fracture heals. These developments have prompted a re-evaluation of operation as a remedy for wrist fractures. Improvements in technique and implants are made operation a fantastic alternative now.
Physiotherapy treatment
How can my physiotherapist provide effective treatment?
Physiotherapy is a remedy for wrist tendonitis. Your physiotherapist will create an individual treatment program which may include
Stress relief and pain control –

This will aid limb recovery and the treatment starts off with a clear bid to control inflammation. Apply ice to the area and you will have to avoid the wrist usage in the short term. Your physio can allow you to recognize and prevent movements that are painful and explain to you how you can fix postures that are faulty. This all may reduce strain. Your therapist may employ a customized wrist splint to limit wrist motion, permitting the joints to cure correctly.

Manual Therapy –

Techniques such as deep tissue massage, gentle joint mobilizations and concentrated stretches to revive your wrist.

Range-of-Motion Exercises –

Your therapist will teach you stretches and exercises. These help your wrist and can decrease stiffness and helps hand and forearm to start to move again.

Exercises treatment –

Based on your regions of weakness, your therapist may decide which exercises are ideal for you.. An individualized program can help to satisfy goals and your requirements. It is possible to continue after you've finished your treatment cycle.

Education –

One of the key things is that the patient is taught the approaches to carry out every day activities by the physio. This can allow you to avoid causing harm and to safeguard your hand and wrist. Taking breaks and maintaining the wrist in a neutral place will help reduce stress.

Functional Training –

You will be taught the way to perform movement patterns utilizing wrist mechanisms when symptoms improve. They'll show you the location for swinging a racquet or even typing on a computer. This training can allow you even to play your favorite sports pain-free and return to your tasks.
Wrist Exercises at Home
Wrist Exercises and Hand stretches at Home
Patient must do the exercises below lightly and gradually, focusing on strengthening and stretching. Stop if the stretch hurts. These will help improve freedom and strength.
Raised fist stretch
Begin with your arm up with your head, along with your hands open.

Create a fist.

Slide your palms until you feel a stretch.
Wrist rotations
Stretch out your arm.

Point down the fingers till you feel a stretch. Use the other hand to pull on the hand toward your system. Hold this position for 3–5 minutes.

Point the palms toward the ground until a stretch is felt by you. Use the other hand to pull on the hand toward your system. Hold this position for 3–5 minutes.

Repeat these 3 times.
Prayer position
Sit with your elbows onto the table at a prayer position along with your palms.

Till a stretch is felt by you, Reduce the faces of the palms toward the desk. Maintain your palms. Hold this position for 5–7 minutes.

Relax.

Repeat these 3 times.
Hooked stretch
Twist 1 elbow and pull on both arms. You should feel a stretch in your shoulders.

So the palms are not touching wrap one arm around the other.

Hold the position for 25 minutes.

Switch arms and repeat it.
Finger stretch
Bring the ring and pinkie fingers.

Separate the index and middle fingers.

Repeat the stretch 10 times.
Fist-opener
Create a fist and hold it.

Stretch your palms is open and level, with all the palms.

Repeat the moves 10 times.
Sponge-squeeze
Squeeze a pressure or sponge ball.

Hold the position for 10 minutes.

Relax.

Repeat these 10 times.
Windshield wiper wrist motion
Begin with your hands face down on a desk.

Tip the hand as much as it could go without transferring the wrist. Hold it for 3–5 minutes.

Do the exact same.

Repeat the motion three times on each side.
How a physiotherapist can help?
We supply a selection of physio remedies at our practice to help relieve wrist and hand pain.
We can help individuals with arthritis in Carpal Tunnel Syndrome their hands or the kinds of accidents that occur when you place out your hand. Occasionally pain felt at the hand may be coming out of a problem on your neck, shoulder or knee… so an exhaustive evaluation of those joints is frequently carried out only to be sure nothing is overlooked.
how can care24 help you?
Based on the type of need, it requires quite a few weeks or even months for you to recover. You are helped by our physiotherapist with exercises which stimulates tissues and the cells that have been injured for aiding recovery.
The physiotherapists help with stretching exercises and offer recovery programs in accordance with the kind of injury, in order to facilitate recovery. She will also guide you in educating you to take care of yourself.
Therefore, if you are looking for an excellent physiotherapist or a good nurse, simply reach out to Care24's world-class physiotherapy treatment in your home's comfort.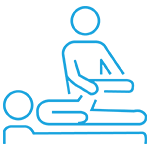 style="text-align:right;color:0f0f59;">
Read more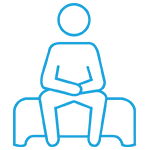 style="text-align:right;color:0f0f59;">
Read more
Most horrible services. Please do not ask for help from these people, they will talk sweet and then at the last moment there will be no shows from the caretaker. I had to go through this not once but twice the caretaker did not turn up. Request you all to not depend on these people as we are leaving our homes and letting them into our lives, the least they can do is inform and provide a replacement, but neither of it happened and they expect me to pay registration fees of RS,1000

Annie Palan


5/17/2019

We had a ridiculously pathetic experience with them. Took an attendant service, a 10 day offer (rs 600 instead of their regular fee of rs 800), for my mother who had undergone an knee replacement surgery. In six days, 4 different attendants were assigned for no fault of ours. We had terrible experience going through the back-end team trying to explain the importance of sending only one attendant and not a different one every new day. The last person assigned wanted to leave by 5pm even though the timings were from 8am to 8pm. With this many other terrible instances in these 6 days, we had no option but to cancel the services. The back-end team were utterly useless in understanding the importance of having only one person assigned. They kept insisting that we pay for 800rs per day for 6 day and offer of rs 600 per day would be invalid. The management should look into this scam and take immediate action on the team. Note: Even though we wanted the services, we were forced to abandon it with no fault of ours. The back-end team has absolute disregard for the grievances of the client.

Rahul Dhakka


12/27/2018

The physiotherapist came to my home was very helpful and knowledgeable. She properly gave me the detailed information about my injury. Also the first assessment is free of cost.

varshflute


10/17/2019

My father had a hip bone surgery in January. I have been using Care24 services ever since. The attendants that cane were good in the beginning. However their services have become good to bad to worse to worst in the last 15 days. They changed the night attendant without informing me personally just 6 hours before the time. My father had just settled down with the last attendant and now they were sending a replacement tonight. To add to my frustration the guy didn't turn up and did not answer the calls. When I called their call centre - they said they can't help me at this hour. Well- I can't help but call them CARELESS CARE24.

Jasbir Basu


4/06/2019

I got attendent for my ailing mother thru care 24. The best service i got...if i need infuture i will definitely go for care24 only...they are the best

felix thomas


3/21/2020
I am still taking services from Care 24 since last two years. The caregivers are well trained and takes good care of my mother in law.
Sheila khanchandani
Sumesh Brother is Punctual, Efficient and knowledgeable and understands patients requirements completely.
Jayshree Prabhu
I have been using care 24 services and have been very happy with their services. Priyanka Rajbhar is our caretaker she is very disciplined kind and dedicated towards her work.
Saurabh Bhatt
The Nurse and the Attendant provided by Care24 are good in service, polite and punctual. We are happy with their service. The patient ( our family member) is been given proper care, feed and cleaned regularly.
Deepa Balvalli
Dr. Ralga had Attended to my father. He is suffering from PSP. We were specifically impressed by her techniques n method to handle the issue. We are planning on repeating her visits every month for positive results.
Uma Ram
Frequently Asked questions