Fibromyalgia Physiotherapy
Our physiotherapists are experienced in providing a complete range of physiotherapy services.
Fill up the form to know more about our physiotherapy services for Fibromyalgia.
Fibromyalgia Physiotherapy
Our physiotherapists are experienced in providing a complete range of physiotherapy services.
Fill up the form to know more about our physiotherapy services for Fibromyalgia.
Physical Therapy For Fibromyalgia
Overview
What is Fibromyalgia
Fibromyalgia is a musculoskeletal disorder characterized by widespread pain accompanied by fatigue and issues related to sleep, memory, and mood. Fibromyalgia is thought to amplify the painful sensations by affecting the way your brain processes pain signals.
Nerves extend out of your brain and the spinal cord, sending messages and in case you have got a pinched nerve or a nerve-wracking, your own body will send warning signs of pain. One should not ignore these signs.
Damage of the nerve might be a minor one or severe one and it might cause temporary or permanent issues and hence the sooner you receive a diagnosis and are treated for a cure for neurological compression, the more you'll discover relief.
Sometimes, you cannot undo the harm in the pinched nerve, but therapy still will help relieve other ailments and pain.
Causes of Fibromyalgia
Compression syndrome is due to persistent accidents. These accidents may occur in the office due to normal motions of limbs or may be due to overextension of the wrist using a mouse while typing on a computer keyboard, or playing with the piano, which may result in an injury like carpal tunnel syndrome. Injuries like sprains, broken bones, fractures may also cause nerve compression syndrome.
Additionally, certain conditions as follows can activate or make you more vulnerable to nerve compression syndromes.
Diabetes and/or Thyroid disorder

Autoimmune disorders, such as rheumatoid arthritis

Congenital (birth) defects, neural disorders

Obesity, High blood pressure

Pregnancy or menopause

Cysts and/or tumors
Medical conditions and, injuries, mishaps can result in the following:
Reduced blood circulation into the nerve·

Swelling from the guts and surrounding constructions ·

Damage to the nerve's insulating material (the myelin sheath) ·

Structural modifications in the guts
All these modifications have a negative Influence on the ability of the nerve. This may result in symptoms like numbness pain, and impaired functioning.
Physiotherapy for Fibromyalgia
The Objective of fibromyalgia physiotherapy is to retain the movement of your hand and wrist while alleviating all symptoms. The most suitable treatment will be dependent upon the cause and at times symptoms may self-correct with no intervention. If any symptom does not go away on its own following resting for about 2 weeks, you may reach out to your physician and your physician may prescribe drugs or alternative treatments to help manage symptoms.
First-line Fibromyalgia Physiotherapy:
There are several first-line that is different Treatment alternatives are available. These include:
an analgesic or anti-inflammatory medication·

Antiseizure drugs or tricyclic antidepressants (prescribed to

treat sleeplessness) ·

Steroid shots ·

Anesthetic creams or stains ·

braces or splints·

Physical treatment to help build and maintain muscular strength·

Massage ·

Acupuncture
Transcutaneous electric nerve stimulation or TENS to take care of nerve damage. This treatment involves putting adhesive electrodes on the skin near the region that is affected. A gentle current suiting to the specific conditions is delivered by the electrodes.
Physical therapy helps maintain and to build muscle power can help heal and enhance nerve function. Massage therapy is another choice. Massage also makes the radial nerve more responsive and also break up scar tissue.
An analgesic or anti-inflammatory medication helps alleviate the pain of a nerve injury. It might help the injury heal. Pain may also be relieved by taking a cortisone shot in the region that is affected. Applications of anesthetic creams may be used to ease pain and allowing motion.
It is also normal to use a duvet or splint to immobilize the nerves. This may not seem like the most suitable alternative though as this might result in an outage from daily activities.
Techniques, like chiropractic and acupuncture adjustments, are also an alternative, though these are not yet extremely prevalent but have been found to help with the pain.
Surgery
Many people with a nerve injury will recover within three weeks of treatment if the nerve is not lacerated or torn. However, some cases require surgery. Surgery can relieve pressure in case your nerve is entrapped. You might require surgery to eliminate if there is a mass like a tumor on your nerve and is causing any compression.
The objective of surgery is to fix any damage to the nerve. When it is believed that the nerve will not get cured, tendon transfers may be conducted to restore normal functioning. After surgery, you'll have to use a splint or a brace to permit the tendon or harm transfer to cure. Your physician will refer you to restore range of strength and motion.
Exercises for Fibromylgia
What kinds of exercises work best for Fibromyalgia Symptoms?
Some new findings imply that exercises like walking, strength training, and extending activities are good at enhancing the physical, psychological, and social role. They are also effective in treating key symptoms in those with fibromyalgia that are also being treated with drugs.
Other studies point to long – term aquatic exercise programs – for example, water weightlifting – as being effective in reducing symptoms and enhancing the overall health quality of life of their participants.
You will find 3 Kinds of exercise to think about as you begin your exercise regime
Range-of-motion or stretching exercises –

These exercises involve moving a joint as far as it will go without pain or via its entire selection of movement. Stretching or exercises can help you keep flexibility. Speak with your physician or physical therapist regarding range-of-motion exercises. They could describe how to do these exercises and provide you some advice when you have trouble.

Endurance or Conditioning exercises –

If you raise your endurance threshold together with cardiovascular kinds of exercise like biking, walking, or swimming, you can much more than just strengthening your muscles. You also enhance your entire body, tone your muscles, and build endurance and coordination. In addition, exercises assist with weight reduction.

Strengthening exercises

– These exercises help to construct strong tendons and muscles necessary to support your joints. Some studies indicate that strengthening exercises can improve fibromyalgia symptoms. Be careful to not hurt yourself, when performing exercises. A personal trainer or Physiotherapist can describe how to use resistance, starting with low and, increasing as you build your strength.
For which of the above or what combinations are best for you, you must check with your physician on suitability.
Could Low – Impact Exercises Help Flexibility and Anxiety in Fibromyalgia?
Exercises have shown to reduce the occurrence of symptoms and to restore muscle power. They comprise of the following
Yoga

– an early form of exercise which reduces stress and strain and alleviates muscle strain or pain by enhancing the range of movement and strength. Whenever you are feeling stressed practicing yoga might help. This can be done while you are at home or at your workplace, and will reduce the danger of muscle stress and injury.

Tai chi

– a series of flowing, graceful movements that may provide you a fantastic exercise and stretching routine. Studies indicate that with practicing Tai Chi, the awareness of equilibrium also increases, patients, can bend easier, and therefore are able to perform household tasks with ease. While helping deal with fibromyalgia, tai chi will also help keep spine powerful and flexible.

Pilates

– A kind of exercise which focuses on strengthening and breathing the chest muscles. With Pilates, a teacher teaches you to work on postural muscles that are necessary to strengthen the backbone.
Could Water Treatment Assist People with Fibromyalgia?
Yes, water treatment may provide you good results if you have fibromyalgia. Water treatment strengthens and conditions the body as it moves from the water. As the weight is supported by water during motion, this helps reduce the impact on joints and muscles.
The water also alleviates the power of gravity and gives immunity in addition to buoyancy. Whether practicing stretching exercises in the water or with a kickboard water treatment offers a type of conditioning and that makes it beneficial for people with fibromyalgia.
How can Care24 help?
A lot of people looking for quality physiotherapists search "physical therapy for fibromyalgia near me" on search engines. At Care 24 you get highly skilled physiotherapists and treatment based on the type of fibromyalgia physiotherapy, treatment may require a few weeks or even months for you to recover. You are helped by our physiotherapist with exercises which stimulates tissues and the cells that have been injured for aiding recovery.
The physiotherapists help with stretching exercises and offer recovery programs in accordance with the kind of injury, in order to facilitate recovery. She will also guide you in educating you to take care of yourself.
Therefore, if you are looking for an excellent physiotherapist or a good nurse, simply reach out to Care24's world-class physiotherapy treatment in your home's comfort.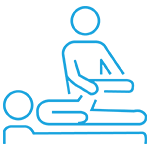 style="text-align:right;color:0f0f59;">
Read more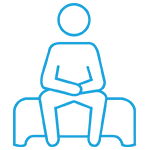 style="text-align:right;color:0f0f59;">
Read more
Mangal Laad has visited us for a couple of days in the day. She is very kind, attentive and trustworthy. She has been with us like an extended Family. The patient has also appreciated her services. She is excellent. We thank you for Mangal Laad.

Tanuka M


3/09/2020

worst service, they just talk as if they will send professional at our place, they give big promises at the time of starting their services, but when the attendant come at our place we realized that he was more delicate than our patient, the person whom they had sent got a small scratch in his finger and than the same day he said he wont come as he got injury, so the next day he dint turn up neither did care24 arrange for a replacement, after calling them for 4 times they said me sorry they couldn't arrange anyone today. they don not have the decency to even inform that they cannot arrange for a replacement.. please do not go for their services, its just the promises nothing to deliver

Komal Patel


4/11/2019

My father had a hip bone surgery in January. I have been using Care24 services ever since. The attendants that cane were good in the beginning. However their services have become good to bad to worse to worst in the last 15 days. They changed the night attendant without informing me personally just 6 hours before the time. My father had just settled down with the last attendant and now they were sending a replacement tonight. To add to my frustration the guy didn't turn up and did not answer the calls. When I called their call centre - they said they can't help me at this hour. Well- I can't help but call them CARELESS CARE24.

Jasbir Basu


4/06/2019

If there was an option of negative stars then I would have choosen it. They offered me a package of₹ 5950/- for 10 days and after 2 days updated me on new package of ₹5700/- for 7 days without my consent. Even deposited my earlier cheque and then I had to follow up for the balance for about 10 days explaining my issue everyday to the new person on their helpline. They don't acknowledge emails too. Worst experience and definitely not recommended

Mugdha Kulkarni


5/23/2019

We contacted care 24 for my Dad's physiotherapy. Our physiotherapist Dr Dharita is very knowledgeable and extremely patient. My Dad is showing a lot for improvement in terms of his movement.

D W


3/21/2019
I am still taking services from Care 24 since last two years. The caregivers are well trained and takes good care of my mother in law.
Sheila khanchandani
Sumesh Brother is Punctual, Efficient and knowledgeable and understands patients requirements completely.
Jayshree Prabhu
I have been using care 24 services and have been very happy with their services. Priyanka Rajbhar is our caretaker she is very disciplined kind and dedicated towards her work.
Saurabh Bhatt
The Nurse and the Attendant provided by Care24 are good in service, polite and punctual. We are happy with their service. The patient ( our family member) is been given proper care, feed and cleaned regularly.
Deepa Balvalli
Dr. Ralga had Attended to my father. He is suffering from PSP. We were specifically impressed by her techniques n method to handle the issue. We are planning on repeating her visits every month for positive results.
Uma Ram
Frequently Asked questions