Physiotherapy For Women's Health
Our physiotherapists are experienced in providing a complete range of physiotherapy services.
Fill up the form to know more about our physiotherapy services for Women's Health.
Physiotherapy For Women's Health
Our physiotherapists are experienced in providing a complete range of physiotherapy services.
Fill up the form to know more about our physiotherapy services for Women's Health.
Physiotherapy Services For Women
Overview
Physiotherapy for women: A must need in today's lifestyle
Physiotherapy is a very useful thing in the life of a woman as she has more tough life than man. And also there are some of the facts in which man and woman differ such as the fats in a woman's body are generated more than the man, a man has more muscle mass as compared to a woman, and the hairs are more on the body of men. These facts play a great role in affecting the health of a woman and physiotherapy for women is needed to maintain a healthy and pain-free life.
Healthy aging for women
Women are required to take necessary actions for healthy aging. The physiotherapy care for women's health helps them to find out and eliminate the risk factors related to falls and fractures. Various exercises help them to regularly strengthen and reduce excess and unwanted fats in their body by which with as women age there will be less reduction in bone density.
You can also search on google "physiotherapist for women near me" to find a physio and let him/her know about your health issues and know about the benefits and risks of different therapies such as hormonal replacement therapy or any other needed. You may be asked for screening for calcium, Vitamin D, and Vitamin B12 deficiency. The below-given list tells the conditions which could be treated with the help of physiotherapy care for women's health :
Breast and other cancers
Lymphedema
Osteoarthritis
Osteoporosis
Rehabilitation following Breast surgery
Multiple sclerosis
Fibromyalgia
Ailments unique to female athletes
Hypermobility syndrome
Sacroiliac (SI) joint dysfunction
Patellofemoral pain syndrome
Post-menopausal heart disease
Chronic Myofascial pain
Pelvic floor dysfunction
Even in pregnancy, you should find women's health physio near me to have a comfortable period before and during pregnancy and after the delivery as well.
Exercise to do for good health
With the help of physiotherapy for women you can do the following exercises to have much better health as before:
Muscle retraining exercises are specially for creating body awareness. For example, the way you should get in and out from your car, the way in which to pick a thing how you should bend, how you should sit or stand, and all the other postures of the body. These exercises help to improve your movement pattern.
Physiotherapist specializing in women's health gives the best support and guide to learn therapy exercises for various conditions. Such exercises are designed to improve endurance, strength, and mobility which indirectly also strengthens your bones and joints. You must try the therapy exercises if there is a severe condition of injury or pain.
After the therapy exercises, the next helpful thing for a woman is the use of various techniques. This could include applying heat or ice, electrical stimulation therapy, and to remove stiffness, pain, and swelling the use of massage therapies.
You can get all this done by searching for a good women's physiotherapist near me and use such techniques to get relief from pain.
Manual therapies are a good way of improving the flexibility and mobility of the joints and soft tissues. This is done by repetitive and particular motions and movements of hands. The women should try if their physiotherapist suggests them.
Conditions that can be treated by physiotherapy
Physiotherapy is a way in which many conditions can be treated which causes difficulties for you to carry out your day to day activities. The physiotherapist specializing in women's health can help to treat the following:
During the pregnancy women suffering from low back pain
When a pelvic examination is difficult to tolerate
Chronic constipation
When you face a lot of discomforts or have weakened care strength
When you have frequent urination
The control of the bladder is loss when you laugh, cough, or even sneeze.
Sexual intimacy is not carried comfortably.
Before you undergo the treatment for the above conditions it is very essential to talk to your physiotherapist and make sure you find the best women's health physio near me. Finding a good doctor helps to remove risk factors and also have a fast recovery. While the treatment you can expect the following:
You have to go through a full comprehensive musculoskeletal evaluation
You will be asked to share your medical history, diagnosis, and any other medical issues before you can start your treatment. You should be transparent enough to your physiotherapist so that he can do the best suitable treatment to recover from your current physical condition.
You get a number of tools and knowledge which aids towards success to all your health-related issues.
Your visits and appointments of the physiotherapist will be based on the requirement as per the condition to be treated.
It is always the way you are committed towards the treatment to get your health improved.
They are so many women who are suffering from one or the other physical conditions and among all pelvic floor dysfunction is most commonly seen. And as it is not good for a woman to keep hiding the pain but know it is time for some action. The action of physical exercises and therapies by taking the help of physiotherapy care for women's health.
How can Care24 help?
The team of care24 understands the intimacy of the conditions you are suffering from. And that is why we have a team of best physiotherapists. They help and support at each step of the treatment and make sure that women get the best results.
We have dedicated physiotherapists who can treat almost all forms of musculoskeletal condition. They are skilled and trained which makes it more comfortable for women to get the treatment done easily.
The physiotherapy for women at care24 is always a good option. Along with the physiotherapists we have great staff who are co-operative and always ready to help the patient. We try to offer a comfortable atmosphere to all the patients so that they recover faster and get the treatment done in the best way without any hesitation or doubt.
Physiotherapy helps you avoid the option of surgery and it also helps in eliminating various pains in the joints and muscles which also never return. It also helps you to return from a stroke and an unwanted injury. You can manage your diabetes with proper exercises and therapies.
Women should not wait much and get their physical treatment done to have a long and healthy life.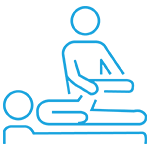 style="text-align:right;color:0f0f59;">
Read more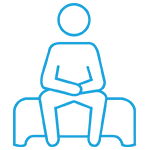 style="text-align:right;color:0f0f59;">
Read more
The management team & the customer care team is quite responsive.... However the main component, ie the caregiver is not trustworthy & definitely not upto the mark

Ritwik Basu


11/03/2019

Worst experience ever! Have hired a caregiver and a nurse. The nurse arrives late repeatedly inspite of being told about how critical medication timings are, falls asleep during day duty, is clueless about timings and medications inspite of us having guided them and has no sound medical knowledge whatsoever. She insisted that a fever of 99.7 is normal and even tried feeding the patient through riles tube with the patient lieing down inspite of there being a recliner arrangement. Neither the nurse or the attendant knew the correct way of lifting a patient from the bed, it was all ignorant tug and pull. Any complaints made to the organisation made no difference as they need more than a day to arrange for a replacement and one needs to deal with the same incompetent staff for another day or risk having no caregiver coming over (as bluntly informed by the call center) at all. Furtheron, the same performance continued the next day. In fact, in the absence of the family members it was observed through a baby monitor that the attendant and the nurse were sitting and chatting away while the patient was trying to sleep and literally PASSING FOOD OVER TO EACH OTHER OVER THE PATIENT! If this wasnt bad enough, the attendant developed a cough and a fever and when a call was made to care 24 asking them to send a replacement on the next day at least as the patient has low immunity, the organisation again gave a choice, we could have the same attendant and risk the patient getting sick, or have no attendant for the next day as they didn't have anyone available. Do not fall for the sales pitch of the executives over the phone as their premium prices and promises of exceptionally well trained staff is nothing but marketing mumbo jumbo. The professionalism and training of the staff that comes to your door is as garbage as the service of the organisation. More importantly, do not trust this organisation with the health and well being of your loved ones as no one in the entire heirarchy of care 24 really 'cares'. You would be better off hiring someone from a local agency. Have had much better experiences with randomly contacted nurses and attendants through justdial. Even though they live far, they reach on time The local organisations are also promptly able to provide replacements if need be. P.S. The 1000 or so rupees registration charge they take from you initially, is essentially a financial clickbait as its money they've made off you after they have stressed you out, contributed to deterioration of the patient and compelled you to suspend their services.

Marzouq Shaikh


3/09/2020

My father had a hip bone surgery in January. I have been using Care24 services ever since. The attendants that cane were good in the beginning. However their services have become good to bad to worse to worst in the last 15 days. They changed the night attendant without informing me personally just 6 hours before the time. My father had just settled down with the last attendant and now they were sending a replacement tonight. To add to my frustration the guy didn't turn up and did not answer the calls. When I called their call centre - they said they can't help me at this hour. Well- I can't help but call them CARELESS CARE24.

Jasbir Basu


4/06/2019

Horrible service! can't rely on them.They ditch on last moment.Attendents are not punctual,reliable,well behaved and even honest.Service provider doesn't turn up and still they start billing customers .Better to stay away.

Sonal Agrawal


11/04/2019

If there was an option of negative stars then I would have choosen it. They offered me a package of₹ 5950/- for 10 days and after 2 days updated me on new package of ₹5700/- for 7 days without my consent. Even deposited my earlier cheque and then I had to follow up for the balance for about 10 days explaining my issue everyday to the new person on their helpline. They don't acknowledge emails too. Worst experience and definitely not recommended

Mugdha Kulkarni


5/23/2019
I am still taking services from Care 24 since last two years. The caregivers are well trained and takes good care of my mother in law.
Sheila khanchandani
Sumesh Brother is Punctual, Efficient and knowledgeable and understands patients requirements completely.
Jayshree Prabhu
I have been using care 24 services and have been very happy with their services. Priyanka Rajbhar is our caretaker she is very disciplined kind and dedicated towards her work.
Saurabh Bhatt
The Nurse and the Attendant provided by Care24 are good in service, polite and punctual. We are happy with their service. The patient ( our family member) is been given proper care, feed and cleaned regularly.
Deepa Balvalli
Dr. Ralga had Attended to my father. He is suffering from PSP. We were specifically impressed by her techniques n method to handle the issue. We are planning on repeating her visits every month for positive results.
Uma Ram
Frequently Asked questions