Our physiotherapists are experienced in providing a complete range of physiotherapy services.

Fill up the form to know more about our physiotherapy services for Scoliosis.
Our physiotherapists are experienced in providing a complete range of physiotherapy services.
Fill up the form to know more about our physiotherapy services for scoliosis.
Physiotherapy Services for Scoliosis
Overview
Scoliosis is a sideways curvature of the spine which occurs at the growth spurt before puberty. Though the exact cause is unknown but often caused by the condition of cerebral palsy or muscular dystrophy.
Many cases of scoliosis are mild but kids develop spine deformities that get severe as they grow. A severe spinal curve lessens the space in the chest which makes it difficult for the lungs to function properly.
To see if the curve is getting worse, children with mild scoliosis are monitored closely with X-rays. In most cases, no treatment is necessary. However, some children will be allowed to wear a brace which stops the curve from getting worse. Few people need surgery to straighten severe cases of scoliosis.
Symptoms of Scoliosis
Common signs and symptoms of scoliosis include:

Uneven shoulders

One shoulder blade looks much prominent than the other

Uneven waist

One hip higher than the other
If a scoliosis curve gets worse then the spine to rotates or twist in addition to curving side to side. It causes the ribs on one side of the body to get farther than on the other end.
When to see a doctor?
You can visit your doctor if you notice any signs or symptoms of scoliosis in your child. Mild curves go unnoticed as they appear gradually and usually don't cause pain. A child's scoliosis often gets noticed by teachers, friends and teammates.
Causes
The exact cause of scoliosis is unknown but it appears to involve hereditary factors as the disorder tends to run in families. It is usually caused by the neuromuscular condition such as cerebral palsy or muscular dystrophy, birth defects or the injuries to the spine.
Treatment for Scoliosis
Children with scoliosis have a mild curve and usually, do not need treatment.
The doctor recommends the follow up every four to six months to monitor the curve of the spine with X-rays.
The doctor considers the following factors while deciding the treatment options:
Sex: Scoliosis is common in males than in females and gradually get worse with time.
The severity of the curve: The large the curve, the greater its risk of worsening over time. A double curve or S-shape curve worsens over time.
Curve position: The curve which is located in the lower or upper section of the spine gets less affected than which is located in the centre part.
Bone maturity: If the person's bones stop growing then the risk of worsening gets lower.
How does scoliosis physiotherapy treatment help?
Physical therapy and bracing are used to treat milder forms of scoliosis. Scoliosis is not only a lateral curvature of the spine but a three-dimensional condition. To manage it, one needs to work in three planes: the sagittal, frontal and transverse. Different methods have been studied. The conservative therapy involves physical exercises, bracing, manipulation, electrical stimulation and insoles. The therapists follow wait and see method and means at that moment the Cobb degree threshold will be achieved. However, the possibility left is spinal surgery.

The physiotherapist has some important task that involves: to inform, advise and instruct. For scoliosis physiotherapy treatment, not only doing the correct exercise is important but physiotherapist also needs to inform the patient about his/her situation. The physiotherapist recommends a brace to prevent the worsening of scoliosis which is known as Milwaukee brace. The brace treatment is better than no-treatment or electrical stimulation. The exercise has beneficial effects in patients with idiopathic scoliosis. Physiotherapists can address various biopsychosocial factors. Those who are suffering from idiopathic scoliosis and chronic low back pain symptoms can have other factors such as insomnia, depression, anxiety and stress which need to be addressed as contributing factor to a chronic low back pain experience.
Physiotherapy Exercises for Scoliosis
Bracing is a non-surgical treatment that reduces the progression of idiopathic scoliosis curves but exercise is good to keep your back in good condition and it encourages healthy posture too. Scoliosis exercises physical therapy helps in straightening the back and make it look normal.
Bracing Treatment for Idiopathic Scoliosis
Latissimus stretch
Exercise is healthy for those having scoliosis. It helps to keep the back strong and flexible and encourages good posture.
If you have scoliosis then you need to use proper technique which you need to learn under the supervision of a doctor or physiotherapist.
Arm/leg raise
Arm/leg raises to strengthen your lower back muscles and core muscles supporting your spine.
How you can do it?
Lie on your stomach with your chin or forehead to the ground.
Keep your legs straight and arms extended overhead.
Slowly raise your arm off the ground, hold for a moment and lower it back to the ground.
Again repeat this for your other arm and legs, 15 repetitions each.
Core Body Strength Exercises
You may perform a slightly more intense version of the exercise which requires additional balance and coordination. It is also called an opposite arm/leg raise or a bird-dog exercise.
Bird dog exercises for scoliosis
Get on your hands and knees. Keep the spine straight and your hands directly below your shoulders and knees aligned directly under your hips.
Reach out with an arm and keep it straight and level. Also, extend the leg on your opposite side, keeping it straight and level.
Hold taking a few deep breaths and then lower your arm and leg to start position.
Repeat this exercise with your other arm/leg. Do 10 to 15 repetitions on each side.
Exercises for Lower Back Pain Relief
Some people want to perform this exercise by lying with their stomach over an exercise ball. Talk to your physiotherapist to determine which version of this exercise suits you best.
Exercise Ball Uses
Pelvic tilt
It helps strengthen your abdominal muscles and you can perform it on a yoga mat.
How to do?
Lie on your back. Bend your knees and the feet flat on the surface with toes pointed forward.
Pull your belly button in a manner that your pelvis pushes toward the ceiling and your back flattens against the ground.
Hold this position for 20 seconds and then relax. Again do this exercise 10 times.
Rely on your core muscles to perform the pelvic tilt rather than pushing with your legs.
Back Exercises and Abdominal Exercise
This exercise appears simple but can be tricky, so make sure to practice the technique with a physiotherapist or other professional.
How a Physiotherapist Can Help with Exercise?
Cat/Cow
This exercise involves the stretching of the muscles and tendons which support your spine.
Latissimus stretch
This stretching can help loosen and strengthen your lat muscles, which may feel tight due to scoliosis.
Stretching for Back Pain Relief
Talk to your doctor and see if he or she recommends you try these exercises to help strengthen your back.
How can care24 help?
At Care24, our team of doctors, nurses, attendants and physiotherapists provide timely medical services to your loved ones with the best care including physiotherapy for scoliosis. We provide physiotherapy for scoliosis in adults and even in children.
Our trained physiotherapist are extremely experienced in providing services for scoliosis physiotherapy that will work best for your loved one. Our staff will make sure your loved one gets the best care in the comfort of home.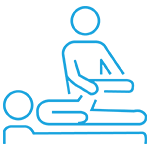 style="text-align:right;color:0f0f59;">
Read more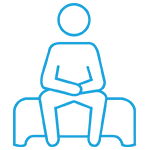 style="text-align:right;color:0f0f59;">
Read more
We contacted care 24 for my Dad's physiotherapy. Our physiotherapist Dr Dharita is very knowledgeable and extremely patient. My Dad is showing a lot for improvement in terms of his movement.

D W


3/21/2019

Worst experience ever! Have hired a caregiver and a nurse. The nurse arrives late repeatedly inspite of being told about how critical medication timings are, falls asleep during day duty, is clueless about timings and medications inspite of us having guided them and has no sound medical knowledge whatsoever. She insisted that a fever of 99.7 is normal and even tried feeding the patient through riles tube with the patient lieing down inspite of there being a recliner arrangement. Neither the nurse or the attendant knew the correct way of lifting a patient from the bed, it was all ignorant tug and pull. Any complaints made to the organisation made no difference as they need more than a day to arrange for a replacement and one needs to deal with the same incompetent staff for another day or risk having no caregiver coming over (as bluntly informed by the call center) at all. Furtheron, the same performance continued the next day. In fact, in the absence of the family members it was observed through a baby monitor that the attendant and the nurse were sitting and chatting away while the patient was trying to sleep and literally PASSING FOOD OVER TO EACH OTHER OVER THE PATIENT! If this wasnt bad enough, the attendant developed a cough and a fever and when a call was made to care 24 asking them to send a replacement on the next day at least as the patient has low immunity, the organisation again gave a choice, we could have the same attendant and risk the patient getting sick, or have no attendant for the next day as they didn't have anyone available. Do not fall for the sales pitch of the executives over the phone as their premium prices and promises of exceptionally well trained staff is nothing but marketing mumbo jumbo. The professionalism and training of the staff that comes to your door is as garbage as the service of the organisation. More importantly, do not trust this organisation with the health and well being of your loved ones as no one in the entire heirarchy of care 24 really 'cares'. You would be better off hiring someone from a local agency. Have had much better experiences with randomly contacted nurses and attendants through justdial. Even though they live far, they reach on time The local organisations are also promptly able to provide replacements if need be. P.S. The 1000 or so rupees registration charge they take from you initially, is essentially a financial clickbait as its money they've made off you after they have stressed you out, contributed to deterioration of the patient and compelled you to suspend their services.

Marzouq Shaikh


3/09/2020

The worst experience I've had of my life. I normally never really write reviews, but I had to write this because this agency is the worst company I've dealt with till now. Their customer service is terrible, most of their attendants are not competent for taking care of elderly patients. Please do not use their service.

Radhika Kulkarni


6/27/2019

Horrible service! can't rely on them.They ditch on last moment.Attendents are not punctual,reliable,well behaved and even honest.Service provider doesn't turn up and still they start billing customers .Better to stay away.

Sonal Agrawal


11/04/2019

Mangal Laad has visited us for a couple of days in the day. She is very kind, attentive and trustworthy. She has been with us like an extended Family. The patient has also appreciated her services. She is excellent. We thank you for Mangal Laad.

Tanuka M


3/09/2020
I am still taking services from Care 24 since last two years. The caregivers are well trained and takes good care of my mother in law.
Sheila khanchandani
Sumesh Brother is Punctual, Efficient and knowledgeable and understands patients requirements completely.
Jayshree Prabhu
I have been using care 24 services and have been very happy with their services. Priyanka Rajbhar is our caretaker she is very disciplined kind and dedicated towards her work.
Saurabh Bhatt
The Nurse and the Attendant provided by Care24 are good in service, polite and punctual. We are happy with their service. The patient ( our family member) is been given proper care, feed and cleaned regularly.
Deepa Balvalli
Dr. Ralga had Attended to my father. He is suffering from PSP. We were specifically impressed by her techniques n method to handle the issue. We are planning on repeating her visits every month for positive results.
Uma Ram
Frequently Asked questions