Physiotherapy for Tibia Fracture
Our physiotherapists are experienced in providing a complete range of physiotherapy services.
Fill up the form to know more about our physiotherapy services for tibia fracture.
Physiotherapy for Tibia Fracture
Our physiotherapists are experienced in providing a complete range of physiotherapy services.
Fill up the form to know more about our physiotherapy services for tibia fracture.
Physiotherapy for Tibia Fracture
Overview
What is Physiotherapy for Tibia Fracture?
The tibia is one of the two bones of the lower leg, the other being fibula. It is longer of the two and is the load-bearing bone frequently involved in accidental injuries and fractures. The tibia has an Integral role in the entire body mechanics, as it is
The bigger of the two lower leg bones
Responsible for supporting most of the body weight
Vital for good knee and ankle joint mechanisms
A tibia fracture happens with other tissue damages may happen with injury to the ligaments, tendons, or muscles. To understand the damage and recommend suitable treatment, it must be thoroughly investigated and treated by an Orthopaedic doctor plus a doctor and physiotherapist who specialize in gait abnormalities.
Types of tibia fracture
Based upon the cause of the bone that is broken, the
type and severity of fracture may vary.
It might be a
Transverse fracture – which means that the fracture is horizontal
Oblique fracture – meaning that the fracture reaches an angle
Proximal fractures – are those that affect the upper part of the tibia
Tibia shaft fractures – occur below this area
The tibia could have the following kinds of fracture
Stable fracture – A fracture that involves the top of the bone which leaves most of the bone undamaged and at it its place. The broken parts of the tibia line up and maintain their correct position during the healing process. This is called a non-displaced fracture.
Displaced fracture – With a displaced fracture, a crack in the bone moves part of the bone so that it is no longer aligned. Surgery is often needed to correct this type of fracture and realign the bones back together.
Stress fracture – Stress fractured, also known as hairline fractures are overuse injuries that are commonly occurring. These fractures are thin cracks in the bone.
Spiral fracture – When a is caused by a winding motion fracture, there can be a twisting shaped fracture of the bone.
Comminuted fracture – After the bone fractures into more or three bits is referred to as a Comminuted fracture.
Cause of tibia fractures
These Long bones in the body are resilient, however, there are ways an individual could still sustain a tibia fracture.
These include
Traumatic injuries, such as motor vehicle accidents or falls
Sports that have repeated influence on the shin bones, for example, long-distance jogging
Accidents from contact sports like American football
Osteoporosis makes the bones weaker than normal
Treatment
Non-Surgical Procedures – The therapy of a fractured Fibula is dependent upon the intensity of the accident and whether accidents happen in an association. Fibula fractures don't need surgery if the fracture occurs in the top half of their bone and usually heal quickly.
Non-surgical treatments may include the
following
I.C.E. – Rest, ice and elevate the leg to decrease inflammation and pain. This very simple regiment can be healed with by some fibula stress fractures. It might be suggested that you walk with crutches, utilize a knee or other crutch options like iWALK2.0 which lets you move about while still being non-weight bearing on the affected leg.
Splint – a physician may indicate splinting the leg to offer support and comfort. A splint may be tightened or loosened, with there's swelling in the leg, which can be helpful. When the swelling subsides, remedies may be considered by the physician.
Brace – Some of these might be recommended by your physician permit for recovery and to control the leg that was wounded.
Non-weight bearing regimen – where no weight could be placed on the leg or foot, as with injuries to the lower extremities, physicians will suggest a span of non-weight posture action. If that is a necessity for you, you are going to require a medical apparatus like crutches, a knee scooter, or other apparatus like the hands-free iWALK2.0 mobility apparatus, to help you remain mobile during your recovery. There are several cases when weight could be placed on the ankle away. Most doctors will have patients wait before bearing weight.
If symptoms worsen or don't improve after a few weeks, surgery might be a proper plan of action. Surgery may be required if the harm is complicated and involves ankle the tibia, ligaments, and muscles.
Surgical Approaches to Recovery
While isolated fibula fractures do not need surgery, organs and ligaments are injured, or once the tibia is fractured, the fracture has occurred close to the gut invasive therapy could be critical. Throughout the fibula operation
The doctor will use screws or wires and plates to secure the bone. In this process, bone fragments are re-positioned for their alignment and are held together with metal plates and screws which attach to the surface of the bone. There might be cases once the injury necessitates that there be or nail a screw placed to hold it in position.
Exercising with a Tibia Fracture
Exercises for a fractured tibia aim to expedite the healing process as well as improve the range of motion in your ankle and surrounding joints. Depending on the severity of the fracture, you will begin exercise and rehabilitation stretch anywhere from two weeks to two months after diagnosis. Check with your physician before beginning any exercise routine.
Stretching Exercises – Stretching exercises for a tibial fracture help improve the range of motion in your leg before you start putting weight on it again. You can do these exercises soon after the doctor removes your cast or brace. The gastrocnemius stretch requires you to stand facing a wall with both hands held out in front of you at shoulder level. Lean forward against the wall, keeping your feet flat on the floor. Bend your uninjured leg at the knee while keeping your injured leg straight. Hold for 10 seconds before relaxing. Repeat three times. A similar exercise is the soleus stretch, in which you bend both legs while leaning forward against the wall. Hold for 10 seconds, then straighten the injured leg. Repeat three times. Do not perform either exercise if they cause pain in your injured leg.
Weight-bearing Exercises – Weight-bearing exercises can be performed nine to 10 weeks after initial diagnosis and help to restore your ankle and leg to its original strength. Weight-bearing exercises range from static inversions to proprioception exercises that help strengthen the muscles in your calf. Using either a foam pad or balance pad, these balancing exercises strengthen your legs while improving your balance. They also help restore your coordination, which may be lacking due to weeks of rest and inactivity. Performing weight-bearing exercises in conjunction with regular stretching helps expedite your recovery.
Conditioning Exercises – One must perform conditioning exercises only after the tibia fracture is healed. Conditioning exercises help prevent future fractures and ligament damage by keeping ankle and body in good physical shape. To start, swim laps in a pool to improve endurance, stamina and balance without putting extensive weight or pressure on the leg. After swimming, you can transition to biking to condition while keeping full body weight off injured leg or ankle. Running and jogging are other good conditioning exercises, although they put extensive pressure on ankles. Be sure the broken bone is fully mended before taking up running/jogging.
Why choose us?
Based on the sort of injury, it requires quite a few weeks or even months for you to recover even after getting physiotherapy after fracture tibia and fibula. You are helped by our physiotherapist with exercises which stimulates tissues and the cells that have been harmed for aiding recovery.
Physiotherapy for tibia fracture helps with stretching exercises and offer recovery programs following the kind of injury, to facilitate recovery.
Therefore, if you are looking for a good physiotherapist, simply reach out to us. Or if you are an athlete with an injury, please reach out to Care24's world-class physiotherapy for tibia fracture in your home's comfort.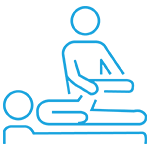 style="text-align:right;color:0f0f59;">
Read more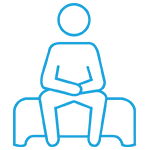 style="text-align:right;color:0f0f59;">
Read more
worst service, they just talk as if they will send professional at our place, they give big promises at the time of starting their services, but when the attendant come at our place we realized that he was more delicate than our patient, the person whom they had sent got a small scratch in his finger and than the same day he said he wont come as he got injury, so the next day he dint turn up neither did care24 arrange for a replacement, after calling them for 4 times they said me sorry they couldn't arrange anyone today. they don not have the decency to even inform that they cannot arrange for a replacement.. please do not go for their services, its just the promises nothing to deliver

Komal Patel


4/11/2019

If there was an option of negative stars then I would have choosen it. They offered me a package of₹ 5950/- for 10 days and after 2 days updated me on new package of ₹5700/- for 7 days without my consent. Even deposited my earlier cheque and then I had to follow up for the balance for about 10 days explaining my issue everyday to the new person on their helpline. They don't acknowledge emails too. Worst experience and definitely not recommended

Mugdha Kulkarni


5/23/2019

I got good experience wt dr Dhrita she is v good in physiotherapy n nice while talking n explains v nice

Sujata Rao


6/19/2019

We had a ridiculously pathetic experience with them. Took an attendant service, a 10 day offer (rs 600 instead of their regular fee of rs 800), for my mother who had undergone an knee replacement surgery. In six days, 4 different attendants were assigned for no fault of ours. We had terrible experience going through the back-end team trying to explain the importance of sending only one attendant and not a different one every new day. The last person assigned wanted to leave by 5pm even though the timings were from 8am to 8pm. With this many other terrible instances in these 6 days, we had no option but to cancel the services. The back-end team were utterly useless in understanding the importance of having only one person assigned. They kept insisting that we pay for 800rs per day for 6 day and offer of rs 600 per day would be invalid. The management should look into this scam and take immediate action on the team. Note: Even though we wanted the services, we were forced to abandon it with no fault of ours. The back-end team has absolute disregard for the grievances of the client.

Rahul Dhakka


12/27/2018

Unqualified office staff, when you call to clarify something. Many times they don't understand the question. They are not trained well. The customer care staff needs an upgraded system, where notes are fed into the system. So you don't need someone else calling up and giving you the same info. The caretaker is not trained well. If they are looking after an elderly person, they should know that they have to be in the best of health to look after my mother. She ended not making a meal for my mother and my neighbour had to provide it. If the caretaker is not well she should have asked for a replacement asap and not waited. It is shocking, we have paid a huge amount of money for this service and I am absolutely unhappy. Please do not call for caretaker's from Care24. As long as they are getting their money. They care a damn!!! Worst service providers.

Bonabelle Zuzarte


7/10/2019
I am still taking services from Care 24 since last two years. The caregivers are well trained and takes good care of my mother in law.
Sheila khanchandani
Sumesh Brother is Punctual, Efficient and knowledgeable and understands patients requirements completely.
Jayshree Prabhu
I have been using care 24 services and have been very happy with their services. Priyanka Rajbhar is our caretaker she is very disciplined kind and dedicated towards her work.
Saurabh Bhatt
The Nurse and the Attendant provided by Care24 are good in service, polite and punctual. We are happy with their service. The patient ( our family member) is been given proper care, feed and cleaned regularly.
Deepa Balvalli
Dr. Ralga had Attended to my father. He is suffering from PSP. We were specifically impressed by her techniques n method to handle the issue. We are planning on repeating her visits every month for positive results.
Uma Ram
Frequently Asked questions