Cerebellar Ataxia Physiotherapy
Our physiotherapists are experienced in providing a complete range of physiotherapy services.

Fill up the form to know more about our physiotherapy services for Cerebellar Ataxia.
Cerebellar Ataxia Physiotherapy
Our physiotherapists are experienced in providing a complete range of physiotherapy services.

Fill up the form to know more about our physiotherapy services for Cerebellar Ataxia.
physiotherapy for cerebellar ataxia
cerebellar ataxia Causes &Symptoms
There are so many things that the human body is capable of and we take them for granted until these normal activities get affected. One such example is the capability of movement – walking, running, bending and eating – everything seems so natural that we rarely appreciate the fact that each of these activities is being controlled efficiently by the brain. When this particular portion of the brain (Cerebellum) gets affected, these seemingly simple activities become exceedingly difficult for the patient. This condition is medically known as cerebellar ataxia.
Some very common symptoms are visible in the patients suffering from cerebellar ataxia like
Difficulty in simple movements like walking, standing or bending
Uncontrolled movement of limbs
Improper gait and tendency to stumble and fall
Involuntary movement of the eyes, forward and backward
Slurred speech
Trouble in swallowing
When a patient is suffering from any of these symptoms, the doctor will perform a thorough assessment to verify whether this is due to cerebellar ataxia. In case, this is found to be so, along with other treatment, the doctor will most certainly recommend physiotherapy treatment for cerebellar ataxia. It is very effective for patients in several research studies conducted.
Any treatment including cerebellar ataxia physiotherapy aims to identify the cause of the condition and work towards the patient's improvement based on this finding. There can be several reasons that may cause cerebellar ataxia in a patient. Any reason that causes damage to the cerebellum may result in it. Some of the most common causes of such damage are
Injury to the Head – Any head injury or trauma leading to damage in the brain or the spinal cord will result in an impact to the cerebellum, affecting movements of any kind.
Stroke – A stroke is said to occur when the blood supply to the brain is impacted partially or fully. This reduced blood supply results in the death of the brain cells and even though it can be contained with swift action, it can still lead to cerebellar ataxia.
Result of an Infection – Many a time, the infections from diseases like chickenpox or measles can become complicated and result in damage to the brain. This leads to cerebellar ataxia. The same may be cured over time or may become permanent.
Autoimmune Diseases – Different autoimmune diseases like multiple sclerosis, celiac disease etc. can lead to brain damage resulting in cerebellar ataxia.
Tumours – An uncontrolled growth in the brain can lead to a cancerous or benign tumour which may lead to cerebellar ataxia in the affected person
Chemical Reaction – The body's reaction to the chemicals present in medicines being taken for a completely different medical condition can be a potential cause for ataxia.
Treatment for cerebellar ataxia
The most reassuring part of cerebellar ataxia is that sometimes it may not need specific treatment and can be cured over time on its own or with physiotherapy treatment for cerebellar ataxia. This is generally the case, if the reason behind the condition was a viral infection, in the first place. Cerebellar ataxia caused by viral infection goes away within a few weeks without having to go for any specific treatment.
However, if the condition is not caused by viruses, you may have to undergo treatment depending on the cause of the damage.
Some of the common treatments for ataxia are
Antibiotic course for ataxia caused by bacteria
Steroids or other medication to reduce inflammation
Reducing the exposure to toxins like mercury and lead causing ataxia
Vitamin supplements to cope with vitamin deficiency
Blood thinners prescribed for stroke patients
If there is bleeding in the cerebellum for some reason, surgery may be needed to reduce or remove it
The one constant with all this is, however, physiotherapy treatment for cerebellar ataxia to aid you when you face difficulty in regular tasks like sitting, reading, writing and eating.
How physiotherapy can help?
The entire premise of cerebellar ataxia physiotherapy is based on two things. The physiotherapist after studying your case may choose to opt for either a compensatory approach or a restorative one. The choice completely differs from case to case and depends on the cause of ataxia, the ongoing medical treatment, the response to treatment, the patient's age and other factors.
The compensatory approach helps people navigate through the daily struggle in a better manner by the help of devices like walkers and learning to perform daily activities with little or no help. The restorative approach, on the other hand, attempts to remove the underlying cause, thereby improving the patient's condition. Each has its advantages and sometimes even a combination of the two may be suggested for a patient.
Exercises for cerebellar ataxia
The most common component of the cerebellar ataxia physiotherapy programs are the Frenkel exercises that help in improving the patient's condition and are performed in all positions – sitting, standing, lying down and even walking. The core principles behind the Frenkel exercises are
Concentration
Precision and
Repetition
These exercises require a high degree of mental strength and aim to improve the coordination of the patient rather than strengthening. The physiotherapist will make sure that these exercises are performed in a slow manner avoiding overstretching the muscles and tiring out the patient.
How can care24 help?
We at Care24 understand the amount of stress and trouble caused in daily life for a patient suffering from cerebellar ataxia. Our experienced team of professionals are fully equipped to help you with the physiotherapy treatment for cerebellar ataxia.
Our carefully selected and thoroughly trained team makes sure that not only your daily needs are met, but also on the fact that you need to get back to live independently. Hence, they plan out your entire regimen starting with simple exercises to progressively difficult ones, so that you gain confidence. And at the end of the program with our experts, you can resume your life.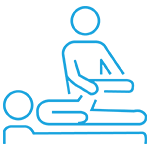 style="text-align:right;color:0f0f59;">
Read more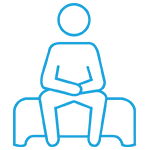 style="text-align:right;color:0f0f59;">
Read more
The management team & the customer care team is quite responsive.... However the main component, ie the caregiver is not trustworthy & definitely not upto the mark

Ritwik Basu


11/03/2019

Unqualified office staff, when you call to clarify something. Many times they don't understand the question. They are not trained well. The customer care staff needs an upgraded system, where notes are fed into the system. So you don't need someone else calling up and giving you the same info. The caretaker is not trained well. If they are looking after an elderly person, they should know that they have to be in the best of health to look after my mother. She ended not making a meal for my mother and my neighbour had to provide it. If the caretaker is not well she should have asked for a replacement asap and not waited. It is shocking, we have paid a huge amount of money for this service and I am absolutely unhappy. Please do not call for caretaker's from Care24. As long as they are getting their money. They care a damn!!! Worst service providers.

Bonabelle Zuzarte


7/10/2019

Nurses and attendants provided by Caree24 are very good. In behavior and trust worthy. Thanks for their support

Anil Kathuria


6/28/2019

We contacted care 24 for my Dad's physiotherapy. Our physiotherapist Dr Dharita is very knowledgeable and extremely patient. My Dad is showing a lot for improvement in terms of his movement.

D W


3/21/2019

I got good experience wt dr Dhrita she is v good in physiotherapy n nice while talking n explains v nice

Sujata Rao


6/19/2019
I am still taking services from Care 24 since last two years. The caregivers are well trained and takes good care of my mother in law.
Sheila khanchandani
Sumesh Brother is Punctual, Efficient and knowledgeable and understands patients requirements completely.
Jayshree Prabhu
I have been using care 24 services and have been very happy with their services. Priyanka Rajbhar is our caretaker she is very disciplined kind and dedicated towards her work.
Saurabh Bhatt
The Nurse and the Attendant provided by Care24 are good in service, polite and punctual. We are happy with their service. The patient ( our family member) is been given proper care, feed and cleaned regularly.
Deepa Balvalli
Dr. Ralga had Attended to my father. He is suffering from PSP. We were specifically impressed by her techniques n method to handle the issue. We are planning on repeating her visits every month for positive results.
Uma Ram
Frequently Asked questions