Physiotherapy for Elbow Pain
Our physiotherapists are experienced in providing a complete range of physiotherapy services.
Fill up the form to know more about our physiotherapy services for Elbow Pain.
Physiotherapy for Elbow Pain
Our physiotherapists are experienced in providing a complete range of physiotherapy services.
Fill up the form to know more about our physiotherapy services for elbow pain.
Physiotherapy for Elbow Pain
Overview
The elbow joint is the joint where the very long upper bone, humerus, at the top of your arm, meets the 2 bones of the forearm, the radius, and the ulna. This portion of your radius may rotate on the surface of the capitellum, which is a part of the humerus and helps the forearm to twist.
The humerus concludes into the following two bones
The lateral epicondyle on the exterior of the arm
the medial epicondyle on the interior of the arm.
The lateral epicondyle is connected to the muscles involved with straightening or stretching the wrist and palms. All these extensor muscles are attached via the radial nerve, which is at the surface of the elbow traveling chiefly to our brain and nervous system.
The medial epicondyle is connected to the muscles involved with bending palms and wrist. These are called flexor muscles and are attached via the nerve, which runs in front of your own elbow chiefly to an own brain and nervous system.
The ulnar nerve, which is located just under the lateral epicondyle, is responsible for the muscles in your hand that helps moves. These are helpful for delicate and exact hand motions.
Symptoms of elbow pain
Carpel Tunnel syndrome or median nerve compression – causes pain, numbness, and tingling in the hand and arm.
Cubital tunnel syndrome- Chronic compression of the ulnar nerve behind the elbow.
Golfer's elbow – Pain when creating a fist
Tennis Elbow – Pain when opening the palms
Guyon's Canal Syndrome or Handlebar Palsy – Pain in the ulnar tunnel, at a location within the wrist that contains the ulnar nerve that maybe compressed as a result of fractures to the small wrist bones or ganglion cysts within the wrist, or pressure commonly found in cyclists when they grip their bicycle handlebar
Elbow dislocation and soreness around the affected elbow bulge
Common causes of elbow pain
Lack of flexibility or strength in the forearm muscles
Lack of power in the shoulder muscles
Instability of the elbow joint
A weak technique during athletic activities – especially golf and tennis, that puts much strain on the elbow joint
Inappropriate athletic gear, like having a hefty tennis racquet or using the wrong sized grip onto a tennis racquet or golf club
Repetitive motions of their arms and hands, like working in an assembly line
Constantly producing the joint and muscles shoot heavy loads
Additional facets like neck symptoms or neurological irritation
When to see a Physician
Most instances of pain may get better on their own or with easy treatments. If not, you need to see your Physician in case you feel the following
You have an illness of your elbow joint – Symptoms that may include severe pain which makes you unable to move arm, swelling, fever, warmth, and redness – These signs may also be due to rheumatoid arthritis!
Pain that does not improve with simple painkillers following two weeks and you have not experienced an accident or disease.
You think you've fractured your arm – this can follow a clear injury like a hard impact or bending of the arm, unless you have acute osteoporosis, resulting in a fracture even after a slight knock, and you will have pain, swelling, and deformity that keeps getting worse until u get physiotherapy for elbow fracture
There is a tingling sensation, weakness or numbness in hand or arm
Physiotherapy for elbow pain
Procedures of Physiotherapy for elbow pain for example
Joint mobilization (gentle gliding) methods
Joint manipulation
Physiotherapy Instrument Mobilisation (PIM)
Minimal Power Techniques (METs)
Muscle stretching & Neurodynamics
Massage and soft tissue methods
The physiotherapist provides coaching which includes some of the following techniques utilized by most professions such as osteopaths, chiropractors, massage therapists, and kinesiologists.
Physiotherapy Taping – Taping and strapping techniques are used to avoid accidents. Some physiotherapists are proficient in using taping.
Acupuncture and Dry Needling – Physiotherapists have obtained additional training in the area of dry and acupuncture needling to help muscle functioning and pain relief.
Exercises for physiotherapy for elbow pain – Physiotherapists are trained to strengthen your muscles by physiotherapy exercises. Exercises have been proven to be among the methods which you may fix or protect against harm and pain. Your physiotherapist is a master in the prescription of this best exercises for you and the most suitable workout dose for you based upon your rehab status. The physiotherapist may include elements of yoga pilates and exercise to help you. As you practice them, you can observe the muscles growing stronger and pain going away gradually.
Biomechanical Analysis – Biomechanical analytical and evaluation, monitoring abilities are paramount to the treatment that is ideal. Posture or Bad procedure is among the most typical sources of repeat harm.
Sports Physiotherapy – Sports physio demands an additional amount of physiotherapy and wisdom ability to enhance performance, prevent injury and to help harm recovery. To find the very best information, consult with a Sports Physiotherapist.
Workplace Physiotherapy – Ergonomics looks at the postures and workstation setup on the job for your own body. Whether it be raising workstation setups or method advancement, education applications, your physiotherapist will be able to assist you.
Preventing elbow pain
In the same way as any other area of the human body that is used the elbow is vulnerable to several ailments and injuries that lead to pain. Elbow pain isn't quite as widespread as other ailments such as neck pain, back pain, and knee pain, but it is especially common.
Elbow pain will get with a few changes as time passes if it is not handled properly but it might interfere with a lot of your activities.
Elbow pain should reduce by following
Improve form – If you aren't completely sure you are using the appropriate form and play tennis or golf regularly, think about taking courses from someone or a sports coach with expertise that will assist you to make a stroke or your swing to increase. Be certain you're using the gear that is ideal for abilities, your body size, and strength. Additionally, athletes of those sports and need to attempt and prevent an excessive amount of time together with your wrist and arm with motions like change arms and sweeping, gardening or studying whenever possible.
Do wrist curls daily – Strengthening the forearm with wrist curls with a hand that is mild will help protect against elbow pain and to maintain muscles in that area strong this is very important for physiotherapy for tennis elbow pain.
For wrist curls

Hold the weight in 1 hand when seated and resting your forearm on your thigh with all the pounds past the front of your knee
With your palms facing upwards, bend your wrist and slowly curl the weight up as far as you can, then undo your motion
Do three sets of 10 repetitions for the two arms.

Put on a BRACE – If you discover elbow pain beginning to grow or if you often participate in actions that may cause it, sporting an elbow brace may be a smart precautionary step that may prevent it in its tracks. A counterforce brace was made to dissipate the pressure from forearm muscles until it reaches the elbow, which may reduce or protect against pain. A wrist immobilization brace may help if the pain is intense within the forearm and may be worn during tasks. This is very important for physiotherapy for elbow dislocation.
You might not notice till you experience pain inside it which makes actions difficult irrespective of how much or little you use your elbow. Steer clear of this problem by taking physiotherapy for elbow pain to stop pain.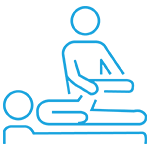 style="text-align:right;color:0f0f59;">
Read more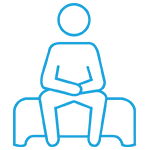 style="text-align:right;color:0f0f59;">
Read more
We contacted care 24 for my Dad's physiotherapy. Our physiotherapist Dr Dharita is very knowledgeable and extremely patient. My Dad is showing a lot for improvement in terms of his movement.

D W


3/21/2019

The management team & the customer care team is quite responsive.... However the main component, ie the caregiver is not trustworthy & definitely not upto the mark

Ritwik Basu


11/03/2019

The physiotherapist came to my home was very helpful and knowledgeable. She properly gave me the detailed information about my injury. Also the first assessment is free of cost.

varshflute


10/17/2019

Unqualified office staff, when you call to clarify something. Many times they don't understand the question. They are not trained well. The customer care staff needs an upgraded system, where notes are fed into the system. So you don't need someone else calling up and giving you the same info. The caretaker is not trained well. If they are looking after an elderly person, they should know that they have to be in the best of health to look after my mother. She ended not making a meal for my mother and my neighbour had to provide it. If the caretaker is not well she should have asked for a replacement asap and not waited. It is shocking, we have paid a huge amount of money for this service and I am absolutely unhappy. Please do not call for caretaker's from Care24. As long as they are getting their money. They care a damn!!! Worst service providers.

Bonabelle Zuzarte


7/10/2019

I used Care24 services for 7 months duration in 2019-20. Carers they provide are a mixed bag. Some are really good while others lack even basic service skills. You got to be very very lucky to get one and same carer over long time as carers often go on leave. When regular carer is on leave, every time they will send new carer. So family members need to repeat everything, right from home address, directions to patient's routine, medicines etc. Do not expect that Care24 will provide any heads-up or patient routine information to new carer who is visiting. Over the 6 months of Mumbai-based care services I used from Care24, there were over 15 instances where new carers were late more than 2 to 3 hours. Care24 support team is very lethargic, there were times when support team assumed that carer has reached home when he had not even started from his place. Support team is unaware of carers being late to customer's place. Then came in so called, the technology upgrade, Jan-Feb 2020, they had a new IT system and there were numerous issues with billing, sending invoices and payment receipts to customers (as told by support team themselves). Support staff told me at least 10 times over phone and email that there are system issues in billing and payment, I had to calculate amount manually on my own and then Pay them. With new system, accounts were on toss, no invoices were sent to customers (in spite of the fact that payment policy says payment needs to be made after receiving invoice.) I had 20-25 emails following up for invoice and payment receipts, but their support team in Mumbai did not care to respond. I found their behavior very unprofessional and not good over these 2-3 months. If you are outside for work (or overseas) and not staying with the patient or your parents, I strongly suggest DO NOT USE CARE24, as they do not respond to your emails and phone in time. They do not bother even when the patient is without care because of their delays in operations and carer issues. They need to improve basic operations first, give timely and consistent services to customers, and then worry about Apps, Digital Assistants and other tech-stuff. .My genuine advice to them--- You are dealing with patient healthcare services, where patient family is relying on you. This is not a courier service business where you are sending people to move boxes and you would't care much when service is delayed !!

Sanket Deo


3/05/2020
I am still taking services from Care 24 since last two years. The caregivers are well trained and takes good care of my mother in law.
Sheila khanchandani
Sumesh Brother is Punctual, Efficient and knowledgeable and understands patients requirements completely.
Jayshree Prabhu
I have been using care 24 services and have been very happy with their services. Priyanka Rajbhar is our caretaker she is very disciplined kind and dedicated towards her work.
Saurabh Bhatt
The Nurse and the Attendant provided by Care24 are good in service, polite and punctual. We are happy with their service. The patient ( our family member) is been given proper care, feed and cleaned regularly.
Deepa Balvalli
Dr. Ralga had Attended to my father. He is suffering from PSP. We were specifically impressed by her techniques n method to handle the issue. We are planning on repeating her visits every month for positive results.
Uma Ram
Frequently Asked questions