Our physiotherapists are experienced in providing a complete range of physiotherapy services.
Fill up the form to know more about our physiotherapy services in Noida.
Our physiotherapists are experienced in providing a complete range of physiotherapy services.
Fill up the form to know more about our physiotherapy services in Noida.
Highly rated by thousands of patients all over India.
Physiotherapy at Home in Noida
Overview
Physiotherapy is a physical therapy which is performed by using mechanical force and movements, manual therapy, electrotherapy and exercise therapy. This therapy is used to improve the lives of patients. It is the remedy for the disability of the body. It promotes flexibility. It is done by physiotherapists. Physiotherapy is a treatment of injury and disability through physical methods such as exercise, massage and manipulation. The levels of the best physiotherapists in Noida and Greater Noida have improvised to the extent that now they have started providing physiotherapy treatments at home in Noida.
Physiotherapists are able to help patients enhance mobility. They have a better understanding of how the body works. They are trained in medical skills to diagnose and treat disabilities. They help patients recover from injuries and disability from back pain, neck pain and knee pain. They can cure both chronic and acute problems by treating patients at home. A physiotherapist helps patients to restore their health and improve their physical strength. Our team of best physiotherapists in Noida and Greater Noida provide valuable treatments for our patients which includes very affordable physiotherapy charges in Noida.
What treatment do physiotherapists prescribe?
Patients may seek assistance from a physiotherapist for a lot of health problems. Cardiorespiratory: they prevent people who are having disease and injury that affects the heart and lungs. Such type of disease includes asthma.
Cancer and palliative care: they treat and prevent fatigue, pain and deconditioning. They also manage and prevent stiffness in joints and muscles.
Women's health concerns: Women suffer from many health problems during pregnancy, breastfeeding, menopause, birth and loss of bowel. We do have a team of lady physiotherapists in Noida who have expertise in treating various women's health problems.
Musculoskeletal: they treat patients from musculoskeletal problems. It involves neck and back pain.
Neurological: it improves the quality of life of patients who suffer from severe brain and spinal cord They treat patients from neurological disease.
Orthopaedic: they treat patients with the acute and chronic orthopaedic disease.
Pain: it provides relief to patients from pain and its effect on function in patients.
Why do Physiotherapy exercises?
A physiotherapist must be trained in the use of exercise therapy to make stronger your muscles. It also enhances your function. Physiotherapy exercise proved to be one of the best ways that can protect from pain or injuries.
A physiotherapist must be an expert in the prescription of the "best exercises" to you. The "exercise dose" is given to you according to your rehabilitation status. Your physiotherapist must have essential skills of Pilates, yoga and exercise. They may even use real-time ultrasound physiotherapy so that you can able to see your muscles contract on a screen.
Advantages of physiotherapy
Physiotherapy has many benefits with a great scope. It prevents you from many diseases. This treatment involves therapeutic exercise to increase strength, range of motion, to decrease stiffness and to relieve pain. It is the key to improve and maintain a level of function.
The main advantages of physiotherapy are as follows:
Relief from pain: many physiotherapy techniques help to get relief from pain. It improves muscle and joint function. This treatment also protects pain from returning.
Improve stroke: it is common to lose some function and movement after stroke. Physiotherapy helps to make strong weakened parts of the body. It also improves stroke patient's ability to move around the bed. They can be more independent at home. It will lessen the burden of care for activities of daily life.
Maintain cardio-respiratory function: a patient with the cardio-respiratory problem can take help from physiotherapy to prevent the problem. Exercise can control blood sugar. They can improve the quality of life of patients by strengthening and breathing exercises. They also help the patient to clear fluids from the lungs.
Avoid surgery: when you take physiotherapy treatment then you can avoid surgery. If in any case, surgery is required then it will help you to recover faster.
Increase flexibility: stretching and strengthening exercises help to increase your mobility to move. A physiotherapist can properly fit individuals by their treatment. They always pick a plan to ensure great performance and safety.
What are the techniques used by physiotherapists?
A physiotherapist has many techniques to treat patients. They choose the technique according to your injury and problem.
Manual manipulation: they move joints and tissue which helps to enhance circulation. It also helps to flush out fluid from the body.
Electrical nerve stimulation: it includes small electrical currents which are delivered to affected areas. It helps to close pain signals to the brain.
Acupuncture: it uses needles which decreases pain, improves the immune system and maintains various body functions.
Functional testing: it is used to test a patient. It mainly detects his or her physical abilities.
How CARE24 Can Help?
Why choose Care24 for physiotherapy at home in Noida?
Care24 has well qualified and trained physiotherapists with many years of experience. Their aim is to serve patients and they always try to keep patients happy. They treat patients politely and give them courage. Physiotherapists have the entire characteristics trait to treat patients. Our all patients are treated with extra care as we have a team of renowned physiotherapists in Greater Noida and Noida. Elderly people are treated with extra care and we also provide physiotherapy at your doorstep.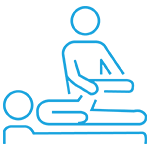 style="text-align:right;color:0f0f59;">
Read more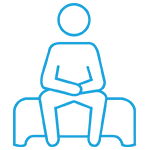 style="text-align:right;color:0f0f59;">
Read more
We had a ridiculously pathetic experience with them. Took an attendant service, a 10 day offer (rs 600 instead of their regular fee of rs 800), for my mother who had undergone an knee replacement surgery. In six days, 4 different attendants were assigned for no fault of ours. We had terrible experience going through the back-end team trying to explain the importance of sending only one attendant and not a different one every new day. The last person assigned wanted to leave by 5pm even though the timings were from 8am to 8pm. With this many other terrible instances in these 6 days, we had no option but to cancel the services. The back-end team were utterly useless in understanding the importance of having only one person assigned. They kept insisting that we pay for 800rs per day for 6 day and offer of rs 600 per day would be invalid. The management should look into this scam and take immediate action on the team. Note: Even though we wanted the services, we were forced to abandon it with no fault of ours. The back-end team has absolute disregard for the grievances of the client.

Rahul Dhakka


12/27/2018

I got good experience wt dr Dhrita she is v good in physiotherapy n nice while talking n explains v nice

Sujata Rao


6/19/2019

Nurses and attendants provided by Caree24 are very good. In behavior and trust worthy. Thanks for their support

Anil Kathuria


6/28/2019

Unqualified office staff, when you call to clarify something. Many times they don't understand the question. They are not trained well. The customer care staff needs an upgraded system, where notes are fed into the system. So you don't need someone else calling up and giving you the same info. The caretaker is not trained well. If they are looking after an elderly person, they should know that they have to be in the best of health to look after my mother. She ended not making a meal for my mother and my neighbour had to provide it. If the caretaker is not well she should have asked for a replacement asap and not waited. It is shocking, we have paid a huge amount of money for this service and I am absolutely unhappy. Please do not call for caretaker's from Care24. As long as they are getting their money. They care a damn!!! Worst service providers.

Bonabelle Zuzarte


7/10/2019

We contacted care 24 for my Dad's physiotherapy. Our physiotherapist Dr Dharita is very knowledgeable and extremely patient. My Dad is showing a lot for improvement in terms of his movement.

D W


3/21/2019
I am still taking services from Care 24 since last two years. The caregivers are well trained and takes good care of my mother in law.
Sheila khanchandani
Sumesh Brother is Punctual, Efficient and knowledgeable and understands patients requirements completely.
Jayshree Prabhu
I have been using care 24 services and have been very happy with their services. Priyanka Rajbhar is our caretaker she is very disciplined kind and dedicated towards her work.
Saurabh Bhatt
The Nurse and the Attendant provided by Care24 are good in service, polite and punctual. We are happy with their service. The patient ( our family member) is been given proper care, feed and cleaned regularly.
Deepa Balvalli
Dr. Ralga had Attended to my father. He is suffering from PSP. We were specifically impressed by her techniques n method to handle the issue. We are planning on repeating her visits every month for positive results.
Uma Ram