Physiotherapy In Goregaon
Our physiotherapists are experienced in providing a complete range of physiotherapy services.
Fill up the form to know more about our physiotherapy services in Goregaon.
Physiotherapy in Goregaon
Our physiotherapists are experienced in providing a complete range of physiotherapy services.
Fill up the form to know more about our physiotherapy services in Goregaon.
Highly rated by thousands of patients all over India.
pHYSIOTHERAPY services in Goregaon
What is Physiotherapy?
Physiotherapy is a treatment to restore, maintain, and make the most of a patient's range of motion, function, as well as well-being. Physiotherapy helps by way of physical rehabilitation, injury prevention, together with wellness and fitness. Physiotherapists get you included in your own recuperation.
The responsibility of a physiotherapist is extremely mixed without any two days being the same. He/she sometimes have to assess the physical condition of an individual to be able to detect troubles as well as execute a treatment approach, or maybe they might also be re-training individuals to walk, or aiding other individuals to do something about crutches, walking frames, or even wheelchairs. He/she will no doubt also be answerable for coaching their patients together with their families, (and the community at large) to prevent injuries and to assist those individuals to lead wholesome ways of life. In some instances, the physiotherapist could be asked to program and put in place community health and fitness programs. Finally, physiotherapists might also issue sick leave certificates should it be considered necessary to do so.
Over the course of their profession a physiotherapist can treat all kinds of people which includes little ones with cerebral palsy, premature babies, expecting mothers, individuals undergoing rehabilitation, athletes, the seniors (to aim to make them fitter), and also those needing help following cardiovascular disease, strokes, or perhaps major surgery.
Treatment for Physiotherapy
As it is with just about any medical exercise, various treatments can be utilized to attend to a variety of situations.
Orthopaedic physical therapy takes care of musculoskeletal problems, relating to the muscles, bones, ligaments, fascias, as well as tendons. It is appropriate for health problems such as fractures, sprains, tendonitis, bursitis, long-term medical problems, and rehabilitation or recovery from orthopaedic surgery. Individuals could undertake treatment with joint mobilizations, manual therapy, strength training, mobility training, and other modalities.

The geriatric physical remedy can help aged sufferers who develop problems that have an effect on their range of motion and physical capability, for example, arthritis, osteoporosis, Alzheimer's disease, hip and also joint replacement, balance disorders, and incontinence. Any such intervention aims to reestablish the ability to move, reduce pain as well as boost physical fitness degrees.

Neurological physical therapy can help people who have neurological disorders and situations, for example, Alzheimer's disease, brain problems, cerebral palsy, multiple sclerosis, Parkinson's condition, spinal cord injury, and stroke. Treatment may possibly aim to increase limb attentiveness, handle paralysis, and reverse increase muscles power by minimizing muscle atrophy.

Cardiovascular, as well as pulmonary rehabilitation, may benefit individuals affected by some cardiopulmonary problems together with operations. Treatment can increase physical stamina and stamina.

Pediatric physical therapy aims to identify, deal with, as well as handle problems that affect infants, youngsters, and teens, such as developmental delays, cerebral palsy, spina bifida, torticollis along with other problems that influence the musculoskeletal system.

Wound treatment therapy generally helps to guarantee that a healing wound is acquiring sufficient oxygen together with blood with the help of heightened blood flow. Physical therapy may include the usage of manual therapies, electric stimulation, compression therapy and wound treatment.

Vestibular healing strives to react toward balance problems that may result from internal ear disorders. Vestibular physical therapy involves a variety of exercises as well as manual approaches that can help patients regain their regular equilibrium as well as coordination.

Decongestive therapy generally helps to deplete stored substance in individuals with lymphedema along with other problems that entail fluid accumulation.

Pelvic floor rehabilitation could actually help cure urinary or faecal incontinence, urinary longing and pelvic pain in males and females due to accidents or surgery, or even as a result of particular situations.
Aside from physical manipulation, physical therapy rehabilitation may possibly comprise of:
Ultrasound, to promote blood circulation as well as treating by warming the tendons, muscles, and tissues

Phonophoresis, which makes use of ultrasound to deliver certain prescription drugs, for instance, topical steroids. This may minimize the visibility of inflammation

Electrical stimulation, or E-stim, which uses topical electrodes on the skin to bring down pain and boost functional capabilities. One sort of E-stim is transcutaneous electrical nerve stimulation (TENS). At times, anti-inflammatory medications are widely-used with specific E-stim modalities and are often known as iontophoresis

Heat, moist warmth in addition to cold therapy
Light therapy, wherein special
lights and lasers are used to treat specific health conditions
The physical therapist will certainly suggest the most appropriate treatment.

Exercises for Physiotherapy
Without a few simple workouts, we comprehend that specific muscular areas can become weak. If these types of supporting muscular areas are lousy, your injured structures are inadequately covered and predispose you to nasty signs and symptoms or additional injury. You can also over-activate neighboring muscle tissues that could give rise to a further problem.

It is also vital that you realize that despite the fact that you are "in top shape," you could have essential but vulnerable localized or steadiness muscles. When you have a mishap, you should perform specific exercises that specifically improve the muscles around any injuries and the adjoining joints. Your physiotherapist may assess your muscle performance and suggest the proper workout routines unique for your requirements.

The exercises recommended will most likely be relatively simple, and do not really need special weights equipment, allowing it to be performed properly at home.

Benefits of Physiotherapy
Many physiotherapists consult in private practice and we treat lots of different conditions. Orthopedic instances (this consists of sports activities wounds, fractures, spinal discomfort, and headaches to name a few) are the most common types of patients we deal with in a clinical setting. Physiotherapy therapy may consist of therapeutic training to build up energy, range of motion and strength and to correct postural as well as muscle imbalance, joint mobilization, manipulation, and gentle tissue massage, as well as stretching and trigger point therapy to lessen inflexibility and to minimize discomfort.

Patients with neurological problems for instance stroke, multiple sclerosis, Parkinson's disease, cerebral palsy and spinal cord injury can benefit considerably with physiotherapy rehabilitation. Interventions fixate on muscle re-education and control, rehabilitation of fine and gross motor capabilities, improving daily performance, restoring power and versatility, learning how to execute secure transfers, restoring and improving gait and coaching in the use of mobility aids.

For kids being affected by cerebral palsy, physiotherapy is crucial in helping to reduce spasticity and deformity, strengthening postural control, teaching children the best way to use assistive gadgets and also accomplishing all that is essential to maximize the child's functional independence. We will additionally coach the family members so that they can guide carryover whatever the child has learned for the duration of therapy techniques.

Cardiopulmonary problems respond well to physiotherapy interference. Patients that have difficulties accomplishing their activities of daily living, or who have shortness of breath and decreased endurance, can attain a substantially superior quality of living via guided exercise and resistance training. Involvement additionally includes manual remedy as well as activity to help clear secretions in the lungs, counseling regarding peril factors, patient education to prevent upcoming recurrence as well as behavior adjustment. For those patients who have needed cardiopulmonary surgery, physiotherapy is started in advance to reduce the sufferer from losing power and performance.

Our physiotherapists cure people in the comfort of their residences. They examine, diagnose, and cultivate a remedy plan which varies depending on the patient's requirements. A physiotherapy session is normally of an hour, based on the criticality of the situation. Our experts help with fundamental and innovative movement exercises to progress the patient's ability to move.

How can care24 help?
If you find yourself seeking out a physiotherapist at home in Goregaon, Care24 must be your very first choice. Care24 has set a high standard for customized home health-care. Care24 provides home physiotherapy in Goregaon, and our physiotherapists are often considered some of the best physiotherapists in Goregaon. Our physiotherapists are well-trained, qualified and fully understand the patient's requirements.

The home is the most effective place for physical therapy, wherein comfortable surroundings directly increase your chances of rehabilitation. It is not required to pay a visit to a physiotherapy clinic in Goregaon when Care24 offers high-quality home physiotherapy services. You can get yourself treated by some of the top physiotherapists in Goregaon from the ease and comfort of your home.

Our professional physiotherapists will provide you the finest treatment in the comfort of your home to recover faster. And regardless of whether you are looking for a sports physiotherapist in Goregaon or a neuro physiotherapist, Care24's at-home physiotherapy services are only a call away. Get in touch with us and our specialists will get in touch with you shortly. At-home physiotherapy in Goregaon was never so easy. Care24 provides the best home physiotherapy services in Goregaon.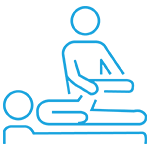 style="text-align:right;color:0f0f59;">
Read more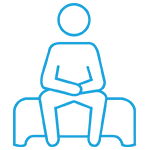 style="text-align:right;color:0f0f59;">
Read more
Most horrible services. Please do not ask for help from these people, they will talk sweet and then at the last moment there will be no shows from the caretaker. I had to go through this not once but twice the caretaker did not turn up. Request you all to not depend on these people as we are leaving our homes and letting them into our lives, the least they can do is inform and provide a replacement, but neither of it happened and they expect me to pay registration fees of RS,1000

Annie Palan


5/17/2019

I used Care24 services for 7 months duration in 2019-20. Carers they provide are a mixed bag. Some are really good while others lack even basic service skills. You got to be very very lucky to get one and same carer over long time as carers often go on leave. When regular carer is on leave, every time they will send new carer. So family members need to repeat everything, right from home address, directions to patient's routine, medicines etc. Do not expect that Care24 will provide any heads-up or patient routine information to new carer who is visiting. Over the 6 months of Mumbai-based care services I used from Care24, there were over 15 instances where new carers were late more than 2 to 3 hours. Care24 support team is very lethargic, there were times when support team assumed that carer has reached home when he had not even started from his place. Support team is unaware of carers being late to customer's place. Then came in so called, the technology upgrade, Jan-Feb 2020, they had a new IT system and there were numerous issues with billing, sending invoices and payment receipts to customers (as told by support team themselves). Support staff told me at least 10 times over phone and email that there are system issues in billing and payment, I had to calculate amount manually on my own and then Pay them. With new system, accounts were on toss, no invoices were sent to customers (in spite of the fact that payment policy says payment needs to be made after receiving invoice.) I had 20-25 emails following up for invoice and payment receipts, but their support team in Mumbai did not care to respond. I found their behavior very unprofessional and not good over these 2-3 months. If you are outside for work (or overseas) and not staying with the patient or your parents, I strongly suggest DO NOT USE CARE24, as they do not respond to your emails and phone in time. They do not bother even when the patient is without care because of their delays in operations and carer issues. They need to improve basic operations first, give timely and consistent services to customers, and then worry about Apps, Digital Assistants and other tech-stuff. .My genuine advice to them--- You are dealing with patient healthcare services, where patient family is relying on you. This is not a courier service business where you are sending people to move boxes and you would't care much when service is delayed !!

Sanket Deo


3/05/2020

Nurses and attendants provided by Caree24 are very good. In behavior and trust worthy. Thanks for their support

Anil Kathuria


6/28/2019

Mangal Laad has visited us for a couple of days in the day. She is very kind, attentive and trustworthy. She has been with us like an extended Family. The patient has also appreciated her services. She is excellent. We thank you for Mangal Laad.

Tanuka M


3/09/2020

We contacted care 24 for my Dad's physiotherapy. Our physiotherapist Dr Dharita is very knowledgeable and extremely patient. My Dad is showing a lot for improvement in terms of his movement.

D W


3/21/2019
I am still taking services from Care 24 since last two years. The caregivers are well trained and takes good care of my mother in law.
Sheila khanchandani
Sumesh Brother is Punctual, Efficient and knowledgeable and understands patients requirements completely.
Jayshree Prabhu
I have been using care 24 services and have been very happy with their services. Priyanka Rajbhar is our caretaker she is very disciplined kind and dedicated towards her work.
Saurabh Bhatt
The Nurse and the Attendant provided by Care24 are good in service, polite and punctual. We are happy with their service. The patient ( our family member) is been given proper care, feed and cleaned regularly.
Deepa Balvalli
Dr. Ralga had Attended to my father. He is suffering from PSP. We were specifically impressed by her techniques n method to handle the issue. We are planning on repeating her visits every month for positive results.
Uma Ram
I got attendent for my ailing mother thru care 24. The best service i got...if i need infuture i will definitely go for care24 only...they are the best

felix thomas


3/21/2020

The management team & the customer care team is quite responsive.... However the main component, ie the caregiver is not trustworthy & definitely not upto the mark

Ritwik Basu


11/03/2019

The worst experience I've had of my life. I normally never really write reviews, but I had to write this because this agency is the worst company I've dealt with till now. Their customer service is terrible, most of their attendants are not competent for taking care of elderly patients. Please do not use their service.

Radhika Kulkarni


6/27/2019

Unqualified office staff, when you call to clarify something. Many times they don't understand the question. They are not trained well. The customer care staff needs an upgraded system, where notes are fed into the system. So you don't need someone else calling up and giving you the same info. The caretaker is not trained well. If they are looking after an elderly person, they should know that they have to be in the best of health to look after my mother. She ended not making a meal for my mother and my neighbour had to provide it. If the caretaker is not well she should have asked for a replacement asap and not waited. It is shocking, we have paid a huge amount of money for this service and I am absolutely unhappy. Please do not call for caretaker's from Care24. As long as they are getting their money. They care a damn!!! Worst service providers.

Bonabelle Zuzarte


7/10/2019

We had a ridiculously pathetic experience with them. Took an attendant service, a 10 day offer (rs 600 instead of their regular fee of rs 800), for my mother who had undergone an knee replacement surgery. In six days, 4 different attendants were assigned for no fault of ours. We had terrible experience going through the back-end team trying to explain the importance of sending only one attendant and not a different one every new day. The last person assigned wanted to leave by 5pm even though the timings were from 8am to 8pm. With this many other terrible instances in these 6 days, we had no option but to cancel the services. The back-end team were utterly useless in understanding the importance of having only one person assigned. They kept insisting that we pay for 800rs per day for 6 day and offer of rs 600 per day would be invalid. The management should look into this scam and take immediate action on the team. Note: Even though we wanted the services, we were forced to abandon it with no fault of ours. The back-end team has absolute disregard for the grievances of the client.

Rahul Dhakka


12/27/2018
Best service and professional trainers. Care24 provides one of the best physiotherapist in Goregaon west. I would highly recommend people to consult them.
Keshav Panja
The team helped me to recover fast post-surgery of knee ligament reconstruction. I would highly recommend Care24 to anyone looking for a physiotherapist in Goregaon east. Thank you, Care24 team.
Krishan Bajpai
The services that care24 offered me I would say the same I was expecting from a physiotherapist in Goregaon. There is nothing to a complaint even I am thankful to care24 for their services.
Manav Singh
I was confused about where to find the best physiotherapist in Goregaon west, but through my friend, I heard about care24. I took services from their team, and I am delighted. Thanks, Care24.
Samreen Khan
I thank Care24 for providing a physiotherapist in Goregaon east for in-home treatment. The doctor was good to me and helped me to recover my shoulder injury.
Nilesh Borkar
I needed a physiotherapist in Goregaon for my bedridden mother treatment. I booked in home physiotherapist service from Care24 and it really helped her for recovery. I thank Care24 and the doctor for such great service.
Jignesh Vyas
It's hard to find a good physiotherapist in Goregaon west. Thanks to Care24, they made my search easy. They are best at providing physiotherapy services & focus on total customer satisfaction.
Vishal Chettri
Being a fitness enthusiast I honestly understand the importance of a good physiotherapist. Care24 provides the best physiotherapist in Goregaon east who helps you with various exercises to keep yourself fit & recover from an injury.
Rahul Vichare
I would highly recommend. During my ACL recovery, I was provided with a range of exercises to help me reach my goals. They are always motivating and a great support providing education on the anatomy of my injury and things to look out for during my recovery to avoid re-injuring myself. Care24 provides one of the best physiotherapist in Goregaon.
Krishna Pillai
"I had a great experience here. Care24 did a great job diagnosing my problem and helped me to sort it out effectively. Very friendly service too. They are one of the best physiotherapist in Goregaon west. Highly recommended."
Kushal Wagh
When I searched for a physiotherapist in Goregaon east, The best recommendation for me was Care 24. I went there with my uncle, who was having joint pain. They first understood all the background history and then started the treatment. My uncle got visible results in just four weeks. Now he is enjoying his dance, yoga, and jogging without any pain.
Mukta Vaidya
Care 24 has some of the best physiotherapists in Goregaon east, I visited this place as a local guide to ensure the verification and validation of this place. This place is up to date with modern equipment and experienced doctors. You can get all the body pain treatment done here in an efficient manner. Must visit if you are going through any kind of pain.
Rahul Rao
Being new in Mumbai I was not aware of physiotherapists in Goregaon east. Then I came to know about care 24 which provides physiotherapy at home. I immediately contacted them and avail their services. The experience was very good. Physiotherapists of care 24 are highly skilled and understand their patients well.
Sunanda Sathe
You can have the best physiotherapy treatment at the comfort of your home with care 24. I availed their services for my grandfather who was suffering from arthritis. Care 24's expert physiotherapy and their constant monitoring and advice helped my grandpa to recover faster.
Pratima Datar
I thank Care24 for providing amazing in-home physiotherapy in Goregaon. The Physiotherapist helped me to overcome my shoulder injury. I thank them for such a good service.
Priyanka Desai
"I was suffering from shoulder injury for 1month. Then after taking treatment from Care24, the injury is cured. Excellent treatment!! Highly recommended!"
Gaurav Sammant
l am suffering from foot drop. By taking physiotherapy sessions. I have improved a lot in a short amount of time. I do prefer to visit this Care24 physiotherapy session. Highly recommended!
Divyesh Rajwat