Physiotherapy In Santacruz
Our physiotherapists are experienced in providing a complete range of physiotherapy services.
Fill up the form to know more about our physiotherapy services in Santacruz.
Physiotherapy in Santacruz
Our physiotherapists are experienced in providing a complete range of physiotherapy services.
Fill up the form to know more about our physiotherapy services in Santacruz.
Highly rated by thousands of patients all over India.
physiotherapy services in Santacruz
What is Physiotherapy?
Physiotherapy helps to restore motion and operation any time someone is subject to injury, illness or disability. Physiotherapists guide folks suffering from harm, sickness or handicap via exercise and working out, manual therapy, education and guidance. They maintain well-being for individuals of all ages, serving individuals to deal with discomfort and ward off diseases. Physiotherapy allows you to promote development and aid recovery, allowing persons to remain in work while helping them remain independent as long as feasible. Physiotherapy can help in the following ways –
To aid people to realize their complete prospective following damage, discomfort or disability.
To render well-being assistance that is definitely accessible, effective and charitable.
To carry on and set about scientific research and exercising to develop our facility.
To supply a service that is according to superior standards of care and follows
Treatment for Physiotherapy
What treatments do physiotherapists prescribe?
There are more than 20 unique remedy techniques frequently used by a physiotherapist.
Your physiotherapist can be trained in real physiotherapy tactics such as
Joint mobilization (gentle gliding) techniques,
Joint manipulation,
Physiotherapy Instrument Mobilization (PIM).
Minimal Energy Techniques (METs),
Muscular stretching,
Neurodynamics,
Massaging as well as smooth tissue methods
The fact is, the physiotherapist possesses guidance that includes strategies utilized by many hands-on occupations such as chiropractors, osteopaths, massage practitioners, and kinesiologists.
The physiotherapist utilizes strapping as well as taping methods to prevent further injuries.
Some physiotherapists can also be skilled in the use of kinesiology taping.
Acupuncture and Dry Needling
Many physiotherapists obtain attained extra guidance in the area of acupuncture and dry needling to aid relief from the pain and also muscle functionality.
Physiotherapy Exercises
Our team of Physiotherapists in Santacruz West are trained in the utilization of exercise therapy to boost your muscle tissue and improve your function. Physiotherapy exercises are usually systematically shown to be one of the best ways that you can get rid of or prevent trouble and harm. Your physiotherapist is a skilled professional in the prescription of the "best exercises" for you personally and the best "exercise dose" for you personally depending on your rehabilitation rank. Your physiotherapist can integrate essential components of pilates, yoga exercise and exercise physiology to provide you with the finest final result. They may even employ Real-Time Ultrasound Physiotherapy to watch your muscles contract on a display screen as you properly retrain them.
Biomechanical Analysis
Biomechanical assessment, observation, as well as diagnostic expertise, are paramount to the perfect treatment.
Your physiotherapist is a highly experienced health professional with superb diagnostic expertise to identify as well as finally stay away from musculoskeletal and sporting injuries. Poor technique or position is truly one of the most popular sources of recurring injury.
Sports Physiotherapy
Sports physio needs an additional level of understanding and physiotherapy ability to guide injury healing, avoid injuries as well as improve operation. To get the best instruction, seek the advice of our team of Sports Physiotherapists in Santacruz West.
Workplace Physiotherapy
Not only can your physiotherapist help you at sports activity, but they can also as well help you out at the job. Ergonomics takes into account the ideal postures and workstation set up for your system at the workplace. Whether or not it be lifting technique improvement, education programs or study place setups, the physiotherapist may help you.
Exercises for Physiotherapy
How do Physiotherapy Exercises Help?

Also, this method heals a variety of illnesses that are listed below:

• It can cure strokes, multiple sclerosis, and Parkinson's that comes under Neurological conditions. Aside from that, it may help in dealing with individuals with broken spinal cord or perhaps brain as a result of stress.

• Orthopedic complications like arthritis and even amputations can be alleviated with the use of physiotherapy.

• Musculoskeletal difficulties including back and also neck soreness are cared for by making use of physiotherapy.

• Cardiac conditions, for instance, continual heart disorders and rehabilitation after the heart attack is commonly carried out by physiotherapy methods.

• Respiratory problems just like asthma, cystic fibrosis, as well as long-term obstructive pulmonary illnesses might be remedied with physiotherapy solutions.

• Women's medical ailments simply by physiotherapy remedies entail childbearing, nursing, bedwetting, menopause, prolapsed, a decrease of bladder or bowel control, etc.

• It helps in soothing patients with any kind of pain caused by virtually any treatment method or harm.


Benefits of Physiotherapy
While physiotherapy is typically used to deal with athletes and people who have endured problems from an accident, it can truly provide pain relief to some of the most common aches and painful sensations as well as wounds. Physical therapy has proven to be a powerful kind of remedy for muscle pain, joint injuries, arthritis, mobility issues possibly even respiratory issues, similar to cystic fibrosis.
Efficient Pain Relief. A number of athletes and fitness enthusiasts develop pain in clearly worn joints as well as muscular areas when they get older, and these types of problem areas could cause persistent accidental injuries and challenges. Even so, lots of people who won't be involved in sports or perhaps rigorous exercise can certainly just as successfully have such aches and painful sensations. For instance, back pain is one of the most typical accidental injuries that men and women are affected by in the course of their life and has an effect on about 80 percent of the UK population. Physiotherapists will recommend stretches as well as workouts that target trouble areas as well as provide relief, as well as assign massaging methods that can assist reduce discomfort and minimize the risk of further injury.
More beneficial Overall flexibility And Range of motion. The physical structure is a remarkable system, and it is a haven for thousands of network carriers that hook up muscular areas, tissues and tendons. In spite of this, exactly like a machine with lots of moving pieces, it can get rusty and even worn. As time goes by, motions and even joints are able to lose their adaptability and basic motions, like crouching at the knees or perhaps stooping over to pick something up, can be arduous and hard. Individuals who are living a sedentary lifestyle or who use the majority of their valuable time behind a table or steering wheel have a tendency to have portability as well as elasticity issues, nevertheless, it could just as conveniently occur in strong individuals who have recurring exercise routines. Sessions of physiotherapy can help develop elasticity as well as discover troublesome joints as well as sore spots. For many people, a consistent routine of stretches, as well as training that was prepared by a physiotherapist, can help supplement their lifestyle as well as develop any troubles with gait, posture and regime. Manual therapy, like massage, should greatly help as it cuts down on pains and also promotes blood circulation to injured or even atrophied joints and muscles. Physiotherapists might also plan practice of muscle building for affected individuals to help build up their current stages of well-being.
3. Injury Recovery Many individuals who are recovering from harm and operation are offered physiotherapy as a way to control anguish and encourage accelerate their rehabilitation. Although the body is capable of healing by itself at its very own pace, physiotherapists can focus on components of the physical structure that generally take longer to mend which enables you to have durable deterioration. Bones could possibly regenerate, but muscle tissues destroyed by scar tissue might leave individuals with an ache in addition to a diminished range of movement. Physiotherapy enables you to bring pain relief to problems together with soreness, also, to continue building energy in injured patients. The Physiotherapy occupation started out to prove itself during the early section of the 20th century serving troops with painful damages. Physiotherapists pride themselves on getting respected members of the numerous healthcare teams, whether it be in clinics, schools or nursing homes. You can find a will within to support individuals heal.Physiotherapy makes use of verified hands-on methods as well as activities to help cure different conditions. To reduce additional deterioration we try to rehabilitate and recover the consumption of a body part. We will create a treatment plan that fulfils your own demands as well as we will be comprehensive in our diagnosis and check-ups.To relieve the trouble, the physiotherapist might use hands-on treatment method just like massaging, soothing hand pressure over joints and stretching muscles to encourage an individual move a lot easier as well as with much less discomfort. We at the same time teach unique workouts in addition to routines to reduce aching as well as speed healing. A great deal of research has confirmed that the sooner anyone begins physiotherapy, the faster they will regroup in the brief and long term.
How can care24 help?
If you have been seeking out a physiotherapist at home in Santacruz West, Care24 must be your first choice. Care24 has set a high standard for customized at-home health-care. Care24 offers home physiotherapy in Santacruz, and our physiotherapists are frequently regarded some of the best physiotherapists in Santacruz. Our physiotherapists are well-trained, qualified and fully understand the patient's requirements.

The home is the most effective place for physical therapy, where comfortable surroundings directly increase your likelihood of rehabilitation. There is no need to pay a visit to a physiotherapy clinic in Santacruz when Care24 provides outstanding home physiotherapy services. You can get yourself treated by some of the top physiotherapists in Santacruz from the comfort of your home.

Our skilled physiotherapists will offer you the finest treatment in the comfort and ease of your home to recover faster. And whether you are looking for a sports physiotherapist in Santacruz or a neuro physiotherapist, Care24's at-home physiotherapy services are simply just a call away. Contact us and our specialists will get in contact with you quickly. Home physiotherapy in Santacruz was never so easy. Care24 offers the best home physiotherapy services in Santacruz.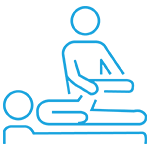 style="text-align:right;color:0f0f59;">
Read more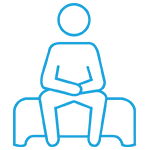 style="text-align:right;color:0f0f59;">
Read more
worst service, they just talk as if they will send professional at our place, they give big promises at the time of starting their services, but when the attendant come at our place we realized that he was more delicate than our patient, the person whom they had sent got a small scratch in his finger and than the same day he said he wont come as he got injury, so the next day he dint turn up neither did care24 arrange for a replacement, after calling them for 4 times they said me sorry they couldn't arrange anyone today. they don not have the decency to even inform that they cannot arrange for a replacement.. please do not go for their services, its just the promises nothing to deliver

Komal Patel


4/11/2019

I used Care24 services for 7 months duration in 2019-20. Carers they provide are a mixed bag. Some are really good while others lack even basic service skills. You got to be very very lucky to get one and same carer over long time as carers often go on leave. When regular carer is on leave, every time they will send new carer. So family members need to repeat everything, right from home address, directions to patient's routine, medicines etc. Do not expect that Care24 will provide any heads-up or patient routine information to new carer who is visiting. Over the 6 months of Mumbai-based care services I used from Care24, there were over 15 instances where new carers were late more than 2 to 3 hours. Care24 support team is very lethargic, there were times when support team assumed that carer has reached home when he had not even started from his place. Support team is unaware of carers being late to customer's place. Then came in so called, the technology upgrade, Jan-Feb 2020, they had a new IT system and there were numerous issues with billing, sending invoices and payment receipts to customers (as told by support team themselves). Support staff told me at least 10 times over phone and email that there are system issues in billing and payment, I had to calculate amount manually on my own and then Pay them. With new system, accounts were on toss, no invoices were sent to customers (in spite of the fact that payment policy says payment needs to be made after receiving invoice.) I had 20-25 emails following up for invoice and payment receipts, but their support team in Mumbai did not care to respond. I found their behavior very unprofessional and not good over these 2-3 months. If you are outside for work (or overseas) and not staying with the patient or your parents, I strongly suggest DO NOT USE CARE24, as they do not respond to your emails and phone in time. They do not bother even when the patient is without care because of their delays in operations and carer issues. They need to improve basic operations first, give timely and consistent services to customers, and then worry about Apps, Digital Assistants and other tech-stuff. .My genuine advice to them--- You are dealing with patient healthcare services, where patient family is relying on you. This is not a courier service business where you are sending people to move boxes and you would't care much when service is delayed !!

Sanket Deo


3/05/2020

The worst experience I've had of my life. I normally never really write reviews, but I had to write this because this agency is the worst company I've dealt with till now. Their customer service is terrible, most of their attendants are not competent for taking care of elderly patients. Please do not use their service.

Radhika Kulkarni


6/27/2019

Unqualified office staff, when you call to clarify something. Many times they don't understand the question. They are not trained well. The customer care staff needs an upgraded system, where notes are fed into the system. So you don't need someone else calling up and giving you the same info. The caretaker is not trained well. If they are looking after an elderly person, they should know that they have to be in the best of health to look after my mother. She ended not making a meal for my mother and my neighbour had to provide it. If the caretaker is not well she should have asked for a replacement asap and not waited. It is shocking, we have paid a huge amount of money for this service and I am absolutely unhappy. Please do not call for caretaker's from Care24. As long as they are getting their money. They care a damn!!! Worst service providers.

Bonabelle Zuzarte


7/10/2019

The physiotherapist came to my home was very helpful and knowledgeable. She properly gave me the detailed information about my injury. Also the first assessment is free of cost.

varshflute


10/17/2019
I am still taking services from Care 24 since last two years. The caregivers are well trained and takes good care of my mother in law.
Sheila khanchandani
Sumesh Brother is Punctual, Efficient and knowledgeable and understands patients requirements completely.
Jayshree Prabhu
I have been using care 24 services and have been very happy with their services. Priyanka Rajbhar is our caretaker she is very disciplined kind and dedicated towards her work.
Saurabh Bhatt
The Nurse and the Attendant provided by Care24 are good in service, polite and punctual. We are happy with their service. The patient ( our family member) is been given proper care, feed and cleaned regularly.
Deepa Balvalli
Dr. Ralga had Attended to my father. He is suffering from PSP. We were specifically impressed by her techniques n method to handle the issue. We are planning on repeating her visits every month for positive results.
Uma Ram
Worst!!! I am paying for professional services and the attendant is not professional. The level of disappointment is i have to terminate services on Day 1 itself. And still I am being told to pay for 1 day. Please assess the attendant before going for services from care24

Praful Jadhav


5/07/2019

Most horrible services. Please do not ask for help from these people, they will talk sweet and then at the last moment there will be no shows from the caretaker. I had to go through this not once but twice the caretaker did not turn up. Request you all to not depend on these people as we are leaving our homes and letting them into our lives, the least they can do is inform and provide a replacement, but neither of it happened and they expect me to pay registration fees of RS,1000

Annie Palan


5/17/2019

We had a ridiculously pathetic experience with them. Took an attendant service, a 10 day offer (rs 600 instead of their regular fee of rs 800), for my mother who had undergone an knee replacement surgery. In six days, 4 different attendants were assigned for no fault of ours. We had terrible experience going through the back-end team trying to explain the importance of sending only one attendant and not a different one every new day. The last person assigned wanted to leave by 5pm even though the timings were from 8am to 8pm. With this many other terrible instances in these 6 days, we had no option but to cancel the services. The back-end team were utterly useless in understanding the importance of having only one person assigned. They kept insisting that we pay for 800rs per day for 6 day and offer of rs 600 per day would be invalid. The management should look into this scam and take immediate action on the team. Note: Even though we wanted the services, we were forced to abandon it with no fault of ours. The back-end team has absolute disregard for the grievances of the client.

Rahul Dhakka


12/27/2018

Mangal Laad has visited us for a couple of days in the day. She is very kind, attentive and trustworthy. She has been with us like an extended Family. The patient has also appreciated her services. She is excellent. We thank you for Mangal Laad.

Tanuka M


3/09/2020

Horrible, unprofessional service! Advance paid.The caregiver did not show up. When complained to customer care, they said they will find a replacement and call back. No call back, no replacement. They shut for the day and the customer is felt in a lurch. Extremely disappointing. Will never avail this service again and will spread the word too.

Shraddha Shah


11/02/2019
I am happy with the service of physiotherapists in Santacruz west from Care24. It was an in-home service, and my mother was very comfortable with the assigned team. The overall process was excellent and best.
Sonali Parulekar
I was looking for a Physiotherapist in Santacruz, my friend suggested me Care24. The best part of them is they give their services at your doorsteps.
Mayuri Rane
I recommend anyone to go to a physiotherapist in Santacruz west. They provide professional services along with quality care. Highly recommended.
Soham Divekar
I am very happy with the physiotherapist in Santacruz by Care24. They have a well trained and experienced team of experts.
Ajita Saju
I Thank Care24 for providing amazing physiotherapist, in Santacruz west. My overall experience was really good. The doctor was caring and kind. I recommend using their service.
Bhavesh Agarwal
Getting a good physiotherapist in Santacruz west is very difficult. After a long search, I stumbled upon Care24 & couldn't be more satisfied with the exceptional service they provide.
Kailash Patil
I highly recommend care 24 for its physiotherapy services. Their therapists are highly skilled and handle patients with utmost care.
Pradeep Triptathi
Physiotherapy is one of the best ways to deal with all the body pain, and care 24 had mastered the art of it. They know all the hooks and pressure points, and there small but consistent exercises have a high impact on the physical functioning of the body.
Naresh Wasnik
My husband and I have both been to see this team of physios for various acute and chronic musculoskeletal problems. On each occasion, we have had amazing results and would highly recommend Care24. They are highly professional and we are both very grateful to have found them.
VeenaTriparti
I have an excellent experience. The doctor is very responsive and experienced. Appointment booking and taking appointments are also effortless most importantly clinic located at a convenient location.
Mukesh Sawant