Physiotherapy For Paraplegia
Our physiotherapists are experienced in providing a complete range of physiotherapy services.
Fill up the form to know more about our physiotherapy services for Paraplegia.
Physiotherapy For Paraplegia
Our physiotherapists are experienced in providing a complete range of physiotherapy services.
Fill up the form to know more about our physiotherapy services for Paraplegia.
Physiotherapy For Paraplegic
Overview
What is Paraplegia?
Paraplegia is the inability to carry out motor or sensory or both functions of the lower extremities and it generally is the result of injury to the spinal cord, the brain, or even both. Generally, spinal cord injuries to the thoracic, lumbar, or sacral spinal cord are to be blamed. Due to the injury to the nervous system, signs cannot go to and from the areas of the human body, whenever these accidents occur, and the body is prevented by sending back signals. Paraplegics struggle with movement and sensation below their waist. This injury decreases feeling from the thighs and the waist or sometimes there is a complete inability to feel anything.
This paralysis is a result of some injury in one or both legs. A broken leg may seem like paraplegia as it cannot transmit signals well especially in the event of a seizure, allergic reaction of some surgical complications. Doctors shouldn't be too hasty to diagnose paraplegia as it will take a few hours to carefully observe and study the patients and diagnose this illness. Your health care provider will have to examine the spinal cord and the brain to determine if there are tissue or nerves which impede signals' capacity to journey to and out of the legs. Paraplegia can be treated by getting physiotherapy for paraplegia patients.
Those evaluations might include:
Blood tests to evaluate if an illness, cancer, or other difficulty is the primary cause of paraplegia.

A lumbar puncture and aspiration spinal fluid biopsy of a small amount of fluid out of the spinal cord and evaluate its functioning.

CT scans or MRIs to examine the brain and spinal cord.

Myelography X-rays to picture the spinal cord and brain.
Causes of Paraplegia
What Causes Paraplegia?
The majority of paraplegics have healthy legs. The problem is more around the inability of the brain or the spinal cord in their ability to transfer signals to and from. The spinal cord is comparable to the relay method of the body, sending down signals from the brain to the body and relaying signals. The brain makes sense of those signs and processes, before sending details regarding possible responses by the body part through the spinal cord.
These signs may be weak or non-existent when the brain or spinal cord do not work correctly. Spinal cord accidents – that affect over millions of people all over the world and cause greater than a hundred thousand of new cases annually across the world – are the chief cause of paralysis, such as paraplegia.
The leading causes of spinal cord injuries comprise:
Automobile and bike accidents – 38 %

Falls – 30 %

Violence, the most Frequent source of that can be gunshot wounds – 14 %

Sports and recreational activities, together with diving injuries resulting in the way – 9 %

Medical or surgical injuries – 5%
Spinal cord and brain injuries are traumatic in nature, which means they result from a blow to the region, usually. Some injuries are attributed to anomalies or diseases, and non-traumatic. A few causes of paraplegia contain:
Strokes, the most frequent cause of non-traumatic paraplegia.

Oxygen deprivation to the brain or spinal cord because of choking, childbirth disorders, and other injuries.

Genetic ailments, such as hereditary spastic paraplegia.

Diseases of the brain or spinal cord.

Autoimmune disorders.

Tumours, lesions, or brain cancer or spinal cord cancer.

Spinal cord disorders like syrinx.
Symptoms of Paraplegia
Upper motor neuron (UMN) signals present if the injury is above the conus medullaris

Lower motor neuron (LMN) signals present if the injury is from the conus medullaris or cauda equina

A total injury may have happened as no sensory or motor function is left in the lowest cervical segments

Incomplete injury is when the partial or complete function is spared in the lowest sacral segments

Reduced or missing back control and equilibrium control

Autonomic dysfunction if the injury is above the T6

Orthostatic hypotension

Reduced bone density

Reduced ventilatory capacity for paraplegics with injury from the mid – to – upper – thoracic area

Reduced or absent ambulation/locomotion

Reduced or absent mattress freedom

Reduced or absent transfer capacity

Reduced or absent muscle power

Reduced or absent sensations

Reduced DTRs

Reduced or missing bowel and bladder function

Reduced or absent autonomic control

Reduced blood pressure

Spasticity

Reduced thermoregulation

Changes in muscular tone

Oedema of thighs, ankles, feet
How can Paraplegia affect the body?
Paraplegia is a condition where symptoms keep varying. Symptoms might be experienced by the person alter from day to day, or over time. Good treatment can impact development and the prognosis of this disease, but outcomes are arbitrary. There is much we don't yet know about spinal cord and the brain conditions, so why some individuals recover while others languish without advancement with therapy, physicians are not yet certain.
Sometimes, symptoms increase as there is inflammation in the region or with decreasing inflammation, the condition of the patient looks better. With the due treatment of disease and disease-related procedures, a symptom reversal may be felt and the slowdown of the development of paraplegia is an option. Typically, the source for advice about how well a patient may perform and improve is something that your doctor can predict basis his understanding of you and your medical history. Know that even the doctors cannot be sure about the prediction, and one shouldn't let an outlook sabotage your motivation to continue with the treatment.
Common effects of Paraplegia
Reduced sensation below the site of the accident. Higher accidents will produce a reduction of feeling to a larger area.

Phantom sensations within the body. Unexplained pain, electric sensations, or other irregular feelings at the lower half of the body.

A reduction in or lack of sexual function, libido, or fertility.

Difficulty in normal gut and bladder functioning.

Reduction of freedom under the waist.

Changes in disposition; depression is common among people who have just been diagnosed as a paraplegic.

Weight gain, especially if the caloric consumption isn't reduced to account for the diminished level of activity.

Secondary illnesses in the lower half of the body, especially bedsores and skin lesions etc.

Kidney problems in the site of the accident, like lesions or infections.

Chronic pain
How is Paraplegia treated?
Surgery to deal with the inflammation at the site of the accident, eliminate lesions, or eliminate embedded items.

Spinal cord alignment operation.

Secondary surgeries to deal with different issues, such as muscular injuries resulting from paraplegia.

Medicines to a lower chance of disease, blood clots, and other secondary problems.

Physical treatment that will assist recover as much work as possible by instructing the brain and spinal cord how to function around the injury. Therapy may help down the reduction of muscular tone slows.

Exercise treatment that will assist to stay in good physical form and reduce chronic pain.

Psychotherapy that will assist to embrace new coping skills for handling injuries.

Education regarding your injuries, advocacy programs, and family support teams.

Occupational instruction and treatment that will assist to master new skills, recover old ones, and find new ways to work around your injuries.

Option modalities; just use these together with the approval of your physician, but a few paraplegics have an excellent chance with massage, acupuncture, chiropractic, and other holistic therapies.
Diagnosis of Paraplegia
Paraplegia may be diagnosed by the physicians with the assistance of a few of the following evaluations
Computerized CT Scan for a better comprehension of the severity of the injury

X-rays to test any fractures or tumours at the spine

Magnetic Resonance Imaging (MRI) to check blood clots or some other mass formation which can compress the spinal cord
How can Care24 help?
Based on the type of need, it requires quite a few weeks or even months for you to recover. You are helped by our physiotherapist with exercises which stimulates tissues and the cells that have been injured for aiding recovery.
Paraplegia treatment with physiotherapy is possible if you get Physiotherapy for paraplegia which helps with stretching exercises and offers recovery programs by the kind of injury, to facilitate recovery. The physiotherapists will also guide you in educating you to take care of yourself.
Therefore, if you are looking for physiotherapy for paraplegia or a good nurse, simply reach out to Care24's world-class physiotherapy treatment in your home's comfort.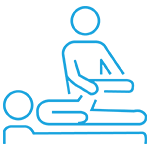 style="text-align:right;color:0f0f59;">
Read more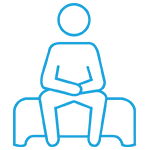 style="text-align:right;color:0f0f59;">
Read more
We contacted care 24 for my Dad's physiotherapy. Our physiotherapist Dr Dharita is very knowledgeable and extremely patient. My Dad is showing a lot for improvement in terms of his movement.

D W


3/21/2019

Needed an attendant for a week for post-surgical assistance (ward boy type work). The person allocated was punctual, polite, and generally did the job well. Quite happy with the services provided. Edit: The payment management is quite bad. If you choose to make cash payments for the service (physiotherapist in my case), the payment does not sync with the agency and they keep sending messages and emails along you to pay up. They follow up with calls on Sunday afternoon 🤦🏻 Edit 2: No change. The company is continuously following up for the money I have already paid. Reducing the rating.

Swati Saxena


5/31/2020

I used Care24 services for 7 months duration in 2019-20. Carers they provide are a mixed bag. Some are really good while others lack even basic service skills. You got to be very very lucky to get one and same carer over long time as carers often go on leave. When regular carer is on leave, every time they will send new carer. So family members need to repeat everything, right from home address, directions to patient's routine, medicines etc. Do not expect that Care24 will provide any heads-up or patient routine information to new carer who is visiting. Over the 6 months of Mumbai-based care services I used from Care24, there were over 15 instances where new carers were late more than 2 to 3 hours. Care24 support team is very lethargic, there were times when support team assumed that carer has reached home when he had not even started from his place. Support team is unaware of carers being late to customer's place. Then came in so called, the technology upgrade, Jan-Feb 2020, they had a new IT system and there were numerous issues with billing, sending invoices and payment receipts to customers (as told by support team themselves). Support staff told me at least 10 times over phone and email that there are system issues in billing and payment, I had to calculate amount manually on my own and then Pay them. With new system, accounts were on toss, no invoices were sent to customers (in spite of the fact that payment policy says payment needs to be made after receiving invoice.) I had 20-25 emails following up for invoice and payment receipts, but their support team in Mumbai did not care to respond. I found their behavior very unprofessional and not good over these 2-3 months. If you are outside for work (or overseas) and not staying with the patient or your parents, I strongly suggest DO NOT USE CARE24, as they do not respond to your emails and phone in time. They do not bother even when the patient is without care because of their delays in operations and carer issues. They need to improve basic operations first, give timely and consistent services to customers, and then worry about Apps, Digital Assistants and other tech-stuff. .My genuine advice to them--- You are dealing with patient healthcare services, where patient family is relying on you. This is not a courier service business where you are sending people to move boxes and you would't care much when service is delayed !!

Sanket Deo


3/05/2020

The management team & the customer care team is quite responsive.... However the main component, ie the caregiver is not trustworthy & definitely not upto the mark

Ritwik Basu


11/03/2019

Most horrible services. Please do not ask for help from these people, they will talk sweet and then at the last moment there will be no shows from the caretaker. I had to go through this not once but twice the caretaker did not turn up. Request you all to not depend on these people as we are leaving our homes and letting them into our lives, the least they can do is inform and provide a replacement, but neither of it happened and they expect me to pay registration fees of RS,1000

Annie Palan


5/17/2019
I am still taking services from Care 24 since last two years. The caregivers are well trained and takes good care of my mother in law.
Sheila khanchandani
Sumesh Brother is Punctual, Efficient and knowledgeable and understands patients requirements completely.
Jayshree Prabhu
I have been using care 24 services and have been very happy with their services. Priyanka Rajbhar is our caretaker she is very disciplined kind and dedicated towards her work.
Saurabh Bhatt
The Nurse and the Attendant provided by Care24 are good in service, polite and punctual. We are happy with their service. The patient ( our family member) is been given proper care, feed and cleaned regularly.
Deepa Balvalli
Dr. Ralga had Attended to my father. He is suffering from PSP. We were specifically impressed by her techniques n method to handle the issue. We are planning on repeating her visits every month for positive results.
Uma Ram
Frequently Asked questions