Arthritis Physiotherapy Services
Our physiotherapists are experienced in providing a complete range of physiotherapy services.
Fill up the form to know more about our physiotherapy services for Arthritis.
Arthritis Physiotherapy Services
Our physiotherapists are experienced in providing a complete range of physiotherapy services.
Fill up the form to know more about our physiotherapy services for Arthritis.
physiotherapy for Arthritis
What is Arthritis?
Arthritis or inflammation of the joints may affect many joints or one. There are over hundreds of arthritis types, with various causes and treatment procedures. However, the most frequent of these are osteoarthritis (OA) and rheumatoid arthritis (RA).
In the case of rheumatoid arthritis, you are recommended to get physiotherapy for rheumatoid arthritis and in case of osteoarthritis, you must get physiotherapy for osteoarthritis.
They might appear suddenly or may progressively show up over time. While arthritis is most commonly found in adults over age 65, it may also impact adults, teenagers, and sometimes children. Arthritis has higher incidence rates in overweight people and in women compared to men.
physiotherapy for arthritis is highly recommended to the arthritis patients.
Common Types of Arthritis
Rheumatoid arthritis (RA): Rheumatoid arthritis (RA) is the most common type it is caused when the immune system (the body's defense system) is not working properly. RA causes pain and swelling in the wrist and small joints of the hand and feet. Treatments for RA can stop joint pain and swelling.
Getting physiotherapy for rheumatoid arthritis will help one in easing the pain and swelling.
Osteoarthritis: Osteoarthritis is the most common form of arthritis, affecting millions of people worldwide. It occurs when the protective cartilage that cushions the ends of your bones wears down over time. Although osteoarthritis can damage any joint, the disorder most commonly affects joints in your hands, knees, hips and spine.
Get physiotherapy for Osteoarthritis depending on where the the pain is, for example: If pain and swelling are in the knee you must get physiotherapy for knee osteoarthritis.
Symptoms of Arthritis
Joint pain, swelling and stiffness in the joints are the most common symptoms of gout. The overall movement may reduce, and the patient might notice redness of the skin around the joint. Impacted patients notice that their symptoms are worse in the daytime.
RA patients might feel exhausted and a reduced desire because of inflammation that the immune system's action triggers. The patient might also turn anaemic — meaning that the red blood cell count declines — or possess a low-grade fever. Remaining untreated, RA may impact patients with severe deformities.
Arthritis Treatments
Treatment and physiotherapy for arthritis are dependent upon the type and degree of arthritis and the impact it has had on the patient. Treatment of arthritis aims to alleviate pain in the joints. What may be suitable for one individual, might not work for others and hence it is very important to work with the treating doctor to obtain a customized treatment plan. Applying ice packs or heating pads locally is useful and arthritis patients also get relief by using canes or other assistance apparatus while walking by decrease pressure to joints.
In some cases where there is a serve impact, the following may be prescribed by the doctor
Medicine for Arthritis
Analgesics – reduces pain.
Menthol or capsaicin – cream obstructs the spread of pain in the joints.
Non-steroidal anti-inflammatory medications – assists in controlling inflammation and resulting pain.
Immunosuppressant – medicine types that help decrease inflammation around the joints
Surgery for Arthritis
Sometimes to replace the worn out joint with an artificial one. The most frequent replacements are for knee and arthritis impacted due to OA.
In severe instances of arthritis on wrists or fingers, the ends of the bones are placed together till they heal and fusion is done. These approaches are only for severe cases of arthritis, in which the arthritis pain is intense and if no sort of medicine or physiotherapy in arthritis aids with the recovery.
Physiotherapy for Arthritis
Physiotherapy for gout entails exercising the joints to strengthen the muscles.
Physiotherapy may be started immediately on any impacted joints.
Physiotherapy is most frequently practiced for arthritis in the knee, back pain, shoulder pain, wrist pain and arthritis throat pain.
Advantages of Physical and Occupational Therapy
In Cases of arthritis, the advantage of engaging with occupational and physical therapy program has tremendous advantages as follows
The patient gets much more information and education about her kind of arthritis and how to manage the same.
acquires foot-care information, including advice on well-fitting sneakers with shock-absorbing outer bottoms and sculptured orthotic insoles moulded exactly to the shape of every foot.
The patient learns procedures to enhance performance through action modifications and also learns methods to ease discomfort.
How can physiotherapy help?
Recognizing one is affected by arthritis – A physiotherapist will help understand your arthritis better and its impact on muscles and joints. Understanding arthritis may allow handling its consequences with better preparedness
Managing pain – Arthritic pain may be widespread in joints or may give muscular pain in one or a few portions of the human body. Medications can help and physiotherapy for arthritis can help you get some other procedures of pain relief that work together with existing medications.
Following may be used.
Ice packs may be used to soothe warm joints.
Heat packs help relax tense muscles.
Splinting of painful or swollen joints might be useful, such as in a flare-up of arthritis. The physiotherapist or an occupational therapist (OT) can prescribe temporary splints.
TENS (transcutaneous electric nerve stimulation) functions by blocking pain messages to mind and changing the perception of pain. There is A TENS machine a tiny device that sends pulses to a nerve ending through pads and this creates a soothing sensation.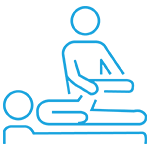 style="text-align:right;color:0f0f59;">
Read more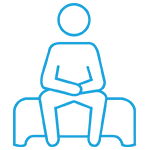 style="text-align:right;color:0f0f59;">
Read more
I got attendent for my ailing mother thru care 24. The best service i got...if i need infuture i will definitely go for care24 only...they are the best

felix thomas


3/21/2020

Worst experience ever! Have hired a caregiver and a nurse. The nurse arrives late repeatedly inspite of being told about how critical medication timings are, falls asleep during day duty, is clueless about timings and medications inspite of us having guided them and has no sound medical knowledge whatsoever. She insisted that a fever of 99.7 is normal and even tried feeding the patient through riles tube with the patient lieing down inspite of there being a recliner arrangement. Neither the nurse or the attendant knew the correct way of lifting a patient from the bed, it was all ignorant tug and pull. Any complaints made to the organisation made no difference as they need more than a day to arrange for a replacement and one needs to deal with the same incompetent staff for another day or risk having no caregiver coming over (as bluntly informed by the call center) at all. Furtheron, the same performance continued the next day. In fact, in the absence of the family members it was observed through a baby monitor that the attendant and the nurse were sitting and chatting away while the patient was trying to sleep and literally PASSING FOOD OVER TO EACH OTHER OVER THE PATIENT! If this wasnt bad enough, the attendant developed a cough and a fever and when a call was made to care 24 asking them to send a replacement on the next day at least as the patient has low immunity, the organisation again gave a choice, we could have the same attendant and risk the patient getting sick, or have no attendant for the next day as they didn't have anyone available. Do not fall for the sales pitch of the executives over the phone as their premium prices and promises of exceptionally well trained staff is nothing but marketing mumbo jumbo. The professionalism and training of the staff that comes to your door is as garbage as the service of the organisation. More importantly, do not trust this organisation with the health and well being of your loved ones as no one in the entire heirarchy of care 24 really 'cares'. You would be better off hiring someone from a local agency. Have had much better experiences with randomly contacted nurses and attendants through justdial. Even though they live far, they reach on time The local organisations are also promptly able to provide replacements if need be. P.S. The 1000 or so rupees registration charge they take from you initially, is essentially a financial clickbait as its money they've made off you after they have stressed you out, contributed to deterioration of the patient and compelled you to suspend their services.

Marzouq Shaikh


3/09/2020

I got good experience wt dr Dhrita she is v good in physiotherapy n nice while talking n explains v nice

Sujata Rao


6/19/2019

If there was an option of negative stars then I would have choosen it. They offered me a package of₹ 5950/- for 10 days and after 2 days updated me on new package of ₹5700/- for 7 days without my consent. Even deposited my earlier cheque and then I had to follow up for the balance for about 10 days explaining my issue everyday to the new person on their helpline. They don't acknowledge emails too. Worst experience and definitely not recommended

Mugdha Kulkarni


5/23/2019

My father had a hip bone surgery in January. I have been using Care24 services ever since. The attendants that cane were good in the beginning. However their services have become good to bad to worse to worst in the last 15 days. They changed the night attendant without informing me personally just 6 hours before the time. My father had just settled down with the last attendant and now they were sending a replacement tonight. To add to my frustration the guy didn't turn up and did not answer the calls. When I called their call centre - they said they can't help me at this hour. Well- I can't help but call them CARELESS CARE24.

Jasbir Basu


4/06/2019
I am still taking services from Care 24 since last two years. The caregivers are well trained and takes good care of my mother in law.
Sheila khanchandani
Sumesh Brother is Punctual, Efficient and knowledgeable and understands patients requirements completely.
Jayshree Prabhu
I have been using care 24 services and have been very happy with their services. Priyanka Rajbhar is our caretaker she is very disciplined kind and dedicated towards her work.
Saurabh Bhatt
The Nurse and the Attendant provided by Care24 are good in service, polite and punctual. We are happy with their service. The patient ( our family member) is been given proper care, feed and cleaned regularly.
Deepa Balvalli
Dr. Ralga had Attended to my father. He is suffering from PSP. We were specifically impressed by her techniques n method to handle the issue. We are planning on repeating her visits every month for positive results.
Uma Ram
Frequently Asked questions