Our physiotherapists are experienced in providing a complete range of physiotherapy services.
Fill up the form to know more about our physiotherapy services for Parkinson
Our physiotherapists are experienced in providing a complete range of physiotherapy services.
Fill up the form to know more about our physiotherapy services for Parkinson.
Physiotherapy for parkinson's disease
Overview
What is Parkinson's disease?
Parkinson's disease is a disorder which affects the dopaminergic neurons in the substantia nigra region of the brain, which is responsible for dopamine production. Dopamine is the chemical responsible for carrying messages in the brain. When you are feeling the need to itch -for instance, it is dopamine which conveys the message into the neural cells which controls the muscles to be used.
Symptoms of Parkinson's disease
Parkinson's disease creeps very slowly into the system of a patient and hence its symptoms mostly get unnoticed and frequently are slow.
Hence it is vital to keep an eye out for the following symptoms
Tremors & Slowness

Limb stiffness

Improper gait and balance

Stress, Illness and Dementia

Cognitive Impairment

Sleep behaviour disease

Loss of sense of smell
Causes of Parkinson's Disease
There is absolutely no clarity about the origin of Parkinson's disease. Much speculation exists regarding role of environmental and hereditary factors impacting this disorder. While some genes are discovered to be related to the disease, only 15 percent of Parkinson's sufferers have a family history. .
Parkinson Physiotherapy
There is no treatment of Parkinson's disease. But, in a couple of instances physical therapy for parkinson's disease, drugs and surgery could prove beneficial.
Physiotherapy for Parkinson's Disease Physiotherapy for Parkinson's disease forms an essential part in Parkinson's therapy. The most important idea behind offering physiotherapy to Parkinson's patients would be to cover the issues of freedom, flexibility, balance, and posture.
Parkinson physiotherapy provides aid in the upkeep of balance and patient's freedom offering them independence. Physiotherapy exercises help mobilize joints that are stiff and supply flexibility.
Aside from that, physiotherapy for parkinsons helps retrain for tasks to be performed by the patients in a way that is safer.
Medicine – Though drugs do not cure the patient of Parkinson's, it supplies a great deal of control over the indicators of this illness, which provides much relief to the sufferers.
Surgery – Surgery is sparingly advised in Parkinson's therapy, only for a very few selected cases. Typically, this is advised only if the patient displays unmanageable motor symptoms that have reached an advanced stage of the illness.
Safe and Efficient Workouts
Work out for at least 150 minutes per week –

During every session, one must target to work out and sweat out enough to get out of breath and just find it tough to maintain a conversation. How once wants to spread out these workout sessions over 150 minutes – i.e. 5 periods of 30 minutes or 3 sessions of 10 minutes each, every day for five days is something that one can target. It is advisable to exercise a couple of times every week across intervals rather than one or two long sessions.

Lower the amount of time

that you sit every day, choose to walk more instead of driving short distances, getting off the bus one stop early and creating a walk component in everyday routine. Where possible, take the stairs instead of an elevator or escalator.

Boost functional mobility

, such as attempt making movements whenever sitting, lying down, walking or standing. These can assist with daily activities like balance and walking.

Choose suitable time

– As motion will be easier when medicine is working and you're feeling rested, exercise time should be chosen suitably.

Know when to stop

– It is common to feel tired and perspire if anything hurts or feels uneasy even while exercising. One must speak to our doctor when feeling that the heart is fluttering, missing beats, or if you notice any of these when exercising – pain, nausea, light-headedness, nausea for over a couple of minutes. Understand body signals and learn to recognize when to stop.

One must include varieties of workout

which will expand endurance, build and maintain muscle power, and maintain joint flexibility and ability to stretch.

Have a fun quotient

– Develop a fitness programme that matches everyday capacities and exercises of choice. One is a lot more likely to honour an exercise regime when there is much fun and joy involved.

Exercise with a group

– A workout friend or group sessions may add motivation and measurement. One may join a group or structured classes at the regional fitness centre or other public places, especially if they're Parkinson's special or supply recognized benefits for individuals with Parkinson's like dancing or even Tai Chi.

Consult physician

– In case you have experienced a heart attack, have been advised or have some cardiovascular issues that you're a probability of coronary disease you need to speak with your physician before you set out on a fitness plan. You should speak to your physician if you've been inactive for quite a while before exercising.
Can Physical Therapy Help?
Physical therapy for parkinson's disease cannot heal Parkinson's disease because any neurological damage cannot be reversed. But parkinson's disease physiotherapy treatment can help manage the changes. All these compensatory remedies, as they are called, include learning about new motion methods, approaches. A physical therapist may teach exercises to strengthen or to loosen muscles. A number of these exercises can be carried out at home. Physical therapy's objective is to enhance independence and quality of life by enhancing function and movement and alleviating pain.
Parkinson physiotherapy can help with
Balance issues

Lack of coordination

Infection

Infection

Gait

Immobility

Weakness
When should I visit a physiotherapist?
Physiotherapist guidance can be provided, and the physiotherapist can provide strategies to assist at any point of time. When appropriate, a physiotherapist can offer treatment to stabilize or prevent or reduce problems encountered about freedom and how to work in everyday pursuits.
Consult a physiotherapist if you notice any / many of the following
Lack of coordination & Balance Issues

Infection and Pain

Gait, Immobility & Weakness

Finding routine exercises hard to perform

Walking issues, such as slowness, shuffling, hesitation or "freezing" are experienced

Balance problems leading to drops or anxiety about falling are encountered

Too many questions regarding the intensity, frequency and security elements associated with exercising.

Ability to get up from bed, a chair, car, or even when turning in bed is tough

Pain is experienced in regions like neck, shoulders or back.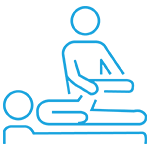 style="text-align:right;color:0f0f59;">
Read more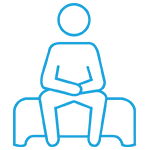 style="text-align:right;color:0f0f59;">
Read more
Horrible, unprofessional service! Advance paid.The caregiver did not show up. When complained to customer care, they said they will find a replacement and call back. No call back, no replacement. They shut for the day and the customer is felt in a lurch. Extremely disappointing. Will never avail this service again and will spread the word too.

Shraddha Shah


11/02/2019

We had a ridiculously pathetic experience with them. Took an attendant service, a 10 day offer (rs 600 instead of their regular fee of rs 800), for my mother who had undergone an knee replacement surgery. In six days, 4 different attendants were assigned for no fault of ours. We had terrible experience going through the back-end team trying to explain the importance of sending only one attendant and not a different one every new day. The last person assigned wanted to leave by 5pm even though the timings were from 8am to 8pm. With this many other terrible instances in these 6 days, we had no option but to cancel the services. The back-end team were utterly useless in understanding the importance of having only one person assigned. They kept insisting that we pay for 800rs per day for 6 day and offer of rs 600 per day would be invalid. The management should look into this scam and take immediate action on the team. Note: Even though we wanted the services, we were forced to abandon it with no fault of ours. The back-end team has absolute disregard for the grievances of the client.

Rahul Dhakka


12/27/2018

The management team & the customer care team is quite responsive.... However the main component, ie the caregiver is not trustworthy & definitely not upto the mark

Ritwik Basu


11/03/2019

Most horrible services. Please do not ask for help from these people, they will talk sweet and then at the last moment there will be no shows from the caretaker. I had to go through this not once but twice the caretaker did not turn up. Request you all to not depend on these people as we are leaving our homes and letting them into our lives, the least they can do is inform and provide a replacement, but neither of it happened and they expect me to pay registration fees of RS,1000

Annie Palan


5/17/2019

Horrible service! can't rely on them.They ditch on last moment.Attendents are not punctual,reliable,well behaved and even honest.Service provider doesn't turn up and still they start billing customers .Better to stay away.

Sonal Agrawal


11/04/2019
I am still taking services from Care 24 since last two years. The caregivers are well trained and takes good care of my mother in law.
Sheila khanchandani
Sumesh Brother is Punctual, Efficient and knowledgeable and understands patients requirements completely.
Jayshree Prabhu
I have been using care 24 services and have been very happy with their services. Priyanka Rajbhar is our caretaker she is very disciplined kind and dedicated towards her work.
Saurabh Bhatt
The Nurse and the Attendant provided by Care24 are good in service, polite and punctual. We are happy with their service. The patient ( our family member) is been given proper care, feed and cleaned regularly.
Deepa Balvalli
Dr. Ralga had Attended to my father. He is suffering from PSP. We were specifically impressed by her techniques n method to handle the issue. We are planning on repeating her visits every month for positive results.
Uma Ram
Frequently Asked questions