Our physiotherapists are experienced in providing a complete range of physiotherapy services.
Fill up the form to know more about our physiotherapy services in Dahisar.
Our physiotherapists are experienced in providing a complete range of physiotherapy services.
Fill up the form to know more about our physiotherapy services in Dahisar.
Highly rated by thousands of patients all over India.
pHYSIOTHERAPY services in Dahisar
What is Physiotherapy?
Physiotherapy is rehabilitation to recover, sustain, and make the most of a patient's overall flexibility, performance, as well as prosperity. Physiotherapy assists through physical rehabilitation, injury avoidance, together with health and fitness. Physiotherapists get you occupied with your own recovery.

Physiotherapy can help in the following ways –
1. To encourage persons to realize their total capability following harm, aching or disability.
2. To render a health service that is accessible, effective and humanitarian.
3. To constantly embark on scientific research and training to build up our service.
4. To offer a system which is based on elevated standards of treatment and practice

Treatment for Physiotherapy
1. Electric Stimulation
Utilizing electrical stimulation to help reconstruct muscle operation, diminish muscular spasms as well as agony especially after harm, stroke, or perhaps various other crisis that contributes to a decrease in muscle operation.

2. Ultrasound Therapy
Ultrasound is a therapy wherein the ultrasound approach is commonly used for dealing with chronic soreness and various kinds of disorders similar to arthritis, fibromyalgia and acute injuries.

3. Laser Therapy Treatments
Laser Therapy treatment is a non-invasive therapy which makes usage of strong beams of illumination of distinct wavelengths to help lessen discomfort related to your injuries.

4. Phonophoresis
Phonophoresis is a treatment that includes the use of ultrasound guaranteeing that topical drugs can be ingested correctly and at a faster rate. Phonophoresis will help obtain profound information compared to medications rubbed manually.

5. Manual Therapy
Utilizing manual methods such as manipulation as well as mobilization to help reduce agony, maximize the range of movement, decrease or perhaps eliminate inflammation as well as bring about the ease of mobility.

6. McKenzie Method
An absolute way of investigation, prognosis, as well as a remedy designed by Robin McKenzie to assist diagnose and treat difficulties of the musculoskeletal system.

7. Exercise Prescription
Exercise plays a major role in improving the efficiency and functioning of the physique area under rehabilitation. Secure a custom made a course of action to give assistance with recovery, fitness, and overall health targets.

8. Pilates
Steered by an experienced physiotherapist, pilates facilitates a deal with musculoskeletal accidents, neurological problems, stability disorders, and more.

9. Pool Therapy
Custom made treatment option make use of the encouragement as well as protection of water for safe rehabilitation. Increase movability and performance as well as come back to routines a lot quicker with aquatic based therapy

10. Therapeutic Taping
Latex free cotton therapeutic tape (commonly known as k-tape) is used to reduce suffering, improve athletic operation and also prevent a problem.

11. Manual Lymphatic Drainage
A special message strategy that jump-starts the pumping action of the lymphatic vessels to help reduce puffiness and encourage drainage.

12. Traction
Useful to handle neck and back pain. Traction utilizes mild pulling to decrease pressurizes on the spine's discs and boost the space where nerves exit the spinal cord.

13. Mulligan Concept
Discovered by Brian Mulligan, the Mulligan concept is without a doubt the group of mobilization and also motion manual treatment approaches utilized to help reduce ache and reestablish performance to unpleasant injured joints.

14. Peripheral Joint Manipulation
Working with tender supportive moves to induce the joint and reduce pain, rigidity, and muscle spasms.

15. Dix-Hallpike Test & Epley Maneuver
Identify and then deal with benign paroxysmal positional vertigo (BPPV), the most common type of vertigo. Combined, the Dix-Hallpike test and Epley Manoeuvre have a 90-95% success rate.

16. Personal Training
Tackle complications of well-being, wellness, and fitness with the assistance of a licensed physiotherapist. Get a tailor-made plan of action to help with rehabilitation, physical fitness, and overall health goals.

Exercises for Physiotherapy
1. Helping you to learn how arthritis can affect you
Your physiotherapist will help you learn what happens to your joints and muscular areas when you have arthritis as well as how you can reduce the effect these kinds of adjustments have on your life.
2. Helping you to deal with your problems
Your physiotherapist can advise you about strategies to take care of your regular pain.
Pacing is amongst all these approaches. Working together with the physiotherapist you can uncover the correct stability between rest and exercise. This suggests planning your routines so you're always comfortable, which in turn will certainly let you experience the things you want to do.
A few other pain-relief procedures that may be used by physiotherapists include:
transcutaneous electrical nerve stimulation (TENS)

massage

acupuncture

You can even access these treatments via private professionals or even buy them independently.
3. Strengthening your fitness
Physical exercise may:
– develop your general fitness and range of motion
– allow you to keep to a healthy weight
– allow you to feel much better concerning yourself.
You along with your physiotherapist can make a decision on the ideal exercise for you. No matter what your fitness level, your physiotherapist will certainly support and encourage you.
4. Teaching you mobilizing, stretching and also strengthening workouts
Your physiotherapist is going to assess the range of movement of your joints together with your muscle power. You as well as your physiotherapist can work in the direction of acquiring your complete possibility in addition to best functional result working with manual techniques and exercises.
Benefits of Physiotherapy
Even though physiotherapy is usually utilized to treat athletes as well as those who have experienced problems from an accident, it might, in fact, provide comfort to a couple of the most typical painful sensations as well as accidental injuries. Physical therapy has shown to be an effective method of cure for muscle pain, joint injuries, arthritis, mobility issues as well as in respiratory difficulties, such as cystic fibrosis.

1. Successful Pain Relief
A number of athletes and fitness enthusiasts build discomfort in well-worn joints and even muscular areas when they age, and then these kinds of problem areas could cause repeated accidental injuries and problems. However, many people who won't be involved in sporting activities or even intense physical exercise may just as conveniently grow such pains and aches. For instance, backaches are one among the most popular accidental injuries that folks suffer from at some stage of their existence and affects approximately 80 percent of the population. Physiotherapists will possibly highly recommend stretches and workouts that target issue areas and offer comfort and assign massaging strategies which can help alleviate discomfort and reduce the risk of additional damage.

2. Much better Overall flexibility And Range of motion
The physical structure is an impressive system, and it is home to a large number of network carriers that link up muscle groups, tissues, and tendons. Even so, similar to a machine with a lot of moving elements, it could actually get rusty and even worn. Slowly, movements, as well as joints, can suffer a loss of their adaptability and plain moves, like crouching at the knees or perhaps bending over to pick something up, can be intense and demanding. Individuals who enjoy an inactive lifestyle or perhaps who use the majority of their time behind a desk or steering wheel are likely to have movability as well as overall flexibility complications, however, it could just as easily occur to sensible people that have recurring exercise sessions. Sessions of physiotherapy can help develop flexibility as well as identify problematic joints as well as sore spots. For some people, a consistent routine of stretching exercises and activity that has been made by a physiotherapist may also help go well with their way of life as well as advance virtually any troubles with gait, posture, and regimen. Manual therapy, like massage, should significantly aid simply because it cuts down on pains and also encourages blood flow to injured or atrophied joints and muscles. Physiotherapists may additionally devise a consistent routine of strength-training for patients to help improve their ongoing levels of wellness.

3. Personal injury Recovery
Many people who are recovering from accidental injuries and surgery are offered physiotherapy in order to handle hurt and support increase the speed of their rehabilitation. Despite the fact that the entire body is capable of restoring by itself at its own speed, physiotherapists can easily focus on parts of the figure that typically take longer to fix and can have permanent deterioration. Bones may regenerate, but muscular areas damaged by scar tissue might render individuals with an ache in addition to a reduced range of movement. Physiotherapy helps bring pain relief to cramping together with aches, as well as continue building strength in injured patients.

Our physiotherapists cure people in the convenience of their residences. They assess, identify, and build a healing plan which varies based upon the patient's requirements. A physiotherapy session is normally of an hour, depending on the criticality of the problem. Our professionals give assistance with simple and superior movement exercises to progress the patient's movement.

How can care24 help?
In case you are searching for a physiotherapist at home in Dahisar, Care24 must be your very first choice. Care24 has set a high standard for personalized home medical care. Care24 offers home physiotherapy in Dahisar, and our physiotherapists are frequently viewed as some of the best physiotherapists in Dahisar. Our physiotherapists are well-trained, certified and fully understand the patient's requirements.

The home is the best place for physical therapy, wherein comfortable surroundings directly enhance your chances of rehab. There is no need to go and visit a physiotherapy clinic in Dahisar when Care24 offers high-quality home physical therapy services. You can get yourself treated by some of the top physiotherapists in Dahisar from the comfort of your home.

Our licensed physiotherapists will offer you the best treatment in the comfort of your home to recover faster. And regardless of whether you are looking for a sports physiotherapist in Dahisar or a neuro physiotherapist, Care24's at-home physiotherapy services are just a call away. Reach out to us and our specialists will get in touch with you quickly. Home physiotherapy in Dahisar was never so simple. Care24 provides the best home physiotherapy services in Dahisar.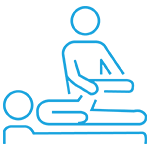 style="text-align:right;color:0f0f59;">
Read more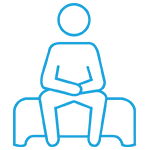 style="text-align:right;color:0f0f59;">
Read more
The worst experience I've had of my life. I normally never really write reviews, but I had to write this because this agency is the worst company I've dealt with till now. Their customer service is terrible, most of their attendants are not competent for taking care of elderly patients. Please do not use their service.

Radhika Kulkarni


6/27/2019

The management team & the customer care team is quite responsive.... However the main component, ie the caregiver is not trustworthy & definitely not upto the mark

Ritwik Basu


11/03/2019

My father had a hip bone surgery in January. I have been using Care24 services ever since. The attendants that cane were good in the beginning. However their services have become good to bad to worse to worst in the last 15 days. They changed the night attendant without informing me personally just 6 hours before the time. My father had just settled down with the last attendant and now they were sending a replacement tonight. To add to my frustration the guy didn't turn up and did not answer the calls. When I called their call centre - they said they can't help me at this hour. Well- I can't help but call them CARELESS CARE24.

Jasbir Basu


4/06/2019

If there was an option of negative stars then I would have choosen it. They offered me a package of₹ 5950/- for 10 days and after 2 days updated me on new package of ₹5700/- for 7 days without my consent. Even deposited my earlier cheque and then I had to follow up for the balance for about 10 days explaining my issue everyday to the new person on their helpline. They don't acknowledge emails too. Worst experience and definitely not recommended

Mugdha Kulkarni


5/23/2019

The physiotherapist came to my home was very helpful and knowledgeable. She properly gave me the detailed information about my injury. Also the first assessment is free of cost.

varshflute


10/17/2019
I am still taking services from Care 24 since last two years. The caregivers are well trained and takes good care of my mother in law.
Sheila khanchandani
Sumesh Brother is Punctual, Efficient and knowledgeable and understands patients requirements completely.
Jayshree Prabhu
I have been using care 24 services and have been very happy with their services. Priyanka Rajbhar is our caretaker she is very disciplined kind and dedicated towards her work.
Saurabh Bhatt
The Nurse and the Attendant provided by Care24 are good in service, polite and punctual. We are happy with their service. The patient ( our family member) is been given proper care, feed and cleaned regularly.
Deepa Balvalli
Dr. Ralga had Attended to my father. He is suffering from PSP. We were specifically impressed by her techniques n method to handle the issue. We are planning on repeating her visits every month for positive results.
Uma Ram
Unqualified office staff, when you call to clarify something. Many times they don't understand the question. They are not trained well. The customer care staff needs an upgraded system, where notes are fed into the system. So you don't need someone else calling up and giving you the same info. The caretaker is not trained well. If they are looking after an elderly person, they should know that they have to be in the best of health to look after my mother. She ended not making a meal for my mother and my neighbour had to provide it. If the caretaker is not well she should have asked for a replacement asap and not waited. It is shocking, we have paid a huge amount of money for this service and I am absolutely unhappy. Please do not call for caretaker's from Care24. As long as they are getting their money. They care a damn!!! Worst service providers.

Bonabelle Zuzarte


7/10/2019

Mangal Laad has visited us for a couple of days in the day. She is very kind, attentive and trustworthy. She has been with us like an extended Family. The patient has also appreciated her services. She is excellent. We thank you for Mangal Laad.

Tanuka M


3/09/2020

The worst experience I've had of my life. I normally never really write reviews, but I had to write this because this agency is the worst company I've dealt with till now. Their customer service is terrible, most of their attendants are not competent for taking care of elderly patients. Please do not use their service.

Radhika Kulkarni


6/27/2019

The management team & the customer care team is quite responsive.... However the main component, ie the caregiver is not trustworthy & definitely not upto the mark

Ritwik Basu


11/03/2019

We had a ridiculously pathetic experience with them. Took an attendant service, a 10 day offer (rs 600 instead of their regular fee of rs 800), for my mother who had undergone an knee replacement surgery. In six days, 4 different attendants were assigned for no fault of ours. We had terrible experience going through the back-end team trying to explain the importance of sending only one attendant and not a different one every new day. The last person assigned wanted to leave by 5pm even though the timings were from 8am to 8pm. With this many other terrible instances in these 6 days, we had no option but to cancel the services. The back-end team were utterly useless in understanding the importance of having only one person assigned. They kept insisting that we pay for 800rs per day for 6 day and offer of rs 600 per day would be invalid. The management should look into this scam and take immediate action on the team. Note: Even though we wanted the services, we were forced to abandon it with no fault of ours. The back-end team has absolute disregard for the grievances of the client.

Rahul Dhakka


12/27/2018
Care24 provides the best services of physiotherapists in Dahisar east and many other locations. They have the expert team who are well trained.
Savitri Ghosh
If you are looking for a physiotherapist in Dahisar, Care24 is the best option to get the services. They provide the services at your own home.
Babita Sena
I was looking for a physiotherapist in Dahisar west, one of my friend suggested me to get the services from Care24 and I contacted them. Home services was the best thing I could give my mom as she was having pain in her leg and was not able to walk properly.
Varun Gupta
Care24 has one of the best physiotherapist in Dahisar east with high-class services. I recommend this healthcare provider to people looking for a physiotherapist.
Babita Singh
After a lot of research for a physiotherapist in Dahisar and availed Care24's service. I am very happy with the help and service received.
Khan Sarfaraz
It's tough to find a good physiotherapist in Dahisar west and I came across Care24 which provides home healthcare services. One of the best in the locality.
Manju Khanna
I was looking for a physiotherapist in Dahisar east. My friend recommended me to Care24. I took their services and I was really pleased with them. One of the best in the town. Highly Recommended.
Omkar Rane
Care24 provides one of the best physiotherapist in Dahisar. I hired their services and their professionals were very great. I recommend their services who want physiotherapy in Dahisar.
Samarth Das
I was searching for any physiotherapist in Dahisar west. My relative suggested me to take services from Care24. So I took their services and I was really satisfied with them. Highly Recommended.
Trish Kumar
Care24 has provided the best physiotherapist in Dahisar creating a smooth & simple way to get physiotherapy done in with the best members & good customer satisfaction.
Vishal Gaikwaad
For physiotherapy, Care24 is the best. I previously booked three sessions of physiotherapy treatment. I am happy with the overall service provided and would be using their service in the future.
Sapna Kumari
It was a wonderful experience when I met a physiotherapist for the first time. I met many doctors but none of them has treated me as he did. His treatment is very much different and unique from any other physiotherapist and it has always cured my problems.
Manish Sharma
We were in search of a Physiotherapist for my Grandma. After shifting to Mumbai Dahisar, we were not able to find physio nearby. At last, we found the best one that is Care24 who provides inhouse services, and they made us feel relaxed without worrying anything about the process.
Kunal Verma