Our physiotherapists are experienced in providing a complete range of physiotherapy services.
Fill up the form to know more about our physiotherapy services in Sanpada.
Our physiotherapists are experienced in providing a complete range of physiotherapy services.
Fill up the form to know more about our physiotherapy services in Sanpada.
Physiotherapy Services In Sanpada
What is Physiotherapy?
Physiotherapy is the management of injury, illness, and disorders through physical methods — such as activity, massage, treatment, and other solutions — over remedy and surgery. Many individuals could believe that physiotherapists primarily take advantage of back and also athletics-related ailments, but they would be very misguided. Physiotherapists are highly qualified health care professionals who give solution to people battling with bodily troubles caused by injury, illness, illness and also ageing. Their aim can be to enhance a person's quality of life by means of a number of treatment options to lessen pain and restore performance or, when it comes to long-term damage or sickness, to decrease the results of any disorders.
Physiotherapists concentrate on both protection in addition to rehabilitation. The remedy is generally for troubles caused by damages, disease or impairment. Listed here are some problems which our commonly treated by our team of physiotherapists in Sanpada :

1. Neck as well as backaches brought on by complications in the muscular tissues as well as the skeleton

2. Issues in the bones, joints, muscle tissues and ligaments, such as arthritis along with the after-effects of amputation

3. Lung problems such as asthma

4. Handicap due to coronary disease

5. Pelvic challenges, such as bladder and bowel issues related to childbirth

6. Loss in range of motion as a result of conflict to the brain or spinal column, or because of ailments similar to Parkinson's disease and multiple sclerosis

7. Fatigue, aching, puffiness, rigidity, and diminished muscular potency, for example during cancer treatment, or palliative care


treatment for Physiotherapy?
Cardiorespiratory: providing support, avoidance as well as therapy for individuals fighting with diseases as well as accidents that impact the centre as well as lungs, such as asthma.

Cancer, palliative care as well as lymphedema: treating, controlling or preventing tiredness, discomfort, muscle as well as joint stiffness, and deconditioning.

Incontinence: handling as well as preventing incontinence and pelvic floor dysfunction.

Women's health problems: handling health concerns surrounding conception, delivery, post-partum attention, breastfeeding, menopause, bedwetting, prolapsed, loss of bladder or bowel control.

Musculoskeletal: avoiding and also treating customers with musculoskeletal problems such as neck together with back pain.

Neurological: promoting mobility as well as the quality of life in subjects who have had critical brain or spinal cord damage from shock, or who suffer from neurological diseases such as hypertension, Parkinson's condition, and various sclerosis.

Orthopedic: aiding individuals to prevent or supervise acute or chronic orthopaedic conditions such as arthritis and amputations.

Discomfort: controlling or stopping the pain and its influence on function in patients.
Exercises for Physiotherapy
Without some basic exercises, we see that particular muscle tissues can become weak. Any time these supporting muscular areas are lousy, your damaged structures are inadequately held up and predispose you to lurk symptoms or added damage. You can even over-activate adjacent muscles that may give rise to further injuries.

It is additionally important to realize that even if you are "in good condition," you may have crucial yet fragile localised or stableness muscular areas. If you have a mishap, you should do specific activities that exclusively strengthen the muscles around any damage as well as the adjoining joint parts. Your physiotherapist will analyze the muscle performance and suggest the proper exercises unique for your requirements.

The exercises recommended will normally be convenient, and do not require any specific weights equipment, allowing it to be done properly at home.

Benefits of Physiotherapy
Pain comes in many varieties and is usually the primary reason to visit a physiotherapist. Aches and pains can be the result of an automobile wound, a sprained ankle from basketball practice, carpal tunnel syndrome from a bad setup workstation, or chronic lower back ache that commenced long before you can even remember. It doesn't matter how poor the discomfort is, if it influences your functioning in the office, at the gym, on the field or perhaps at home, you ought to do something concerning this. Physiotherapy can certainly help handle, minimize or perhaps get rid of the discomfort to help you go back to enjoying your physical exercises. Moreover, it cuts down on your dependency on pain relievers, which supplies your kidneys a much-needed break.

The Physiotherapy profession started to establish itself starting in the early portion of the 20th century aiding troopers with painful wounds. Physiotherapists pride themselves on being recognized members of various medical care teams, regardless of whether it be in clinics, schools or institutions. There is a will within to aid individuals to get over it.

Physiotherapy uses verified hands-on methods as well as activities to help deal with different problems. To put a stop to additional deterioration we try to reconstruct and also restore the usage of a body part. We are going to establish a treatment program that fulfills your individual wants and we will be diligent in our prognosis and check-ups.

To relieve the trouble, the physiotherapist could use hands-on treatment similar to massaging, soothing hands strain over joints as well as flexing muscles to assist a person move more convenient and with much less aching. We also teach unique workouts together with movements to lessen aching as well as speed healing.

A lot of studies have proven that the quicker someone begins physiotherapy, the quicker they will recover in the short and long term.

How can Care24 help?
If you happen to be seeking out for a physiotherapist at home in Sanpada, Care24 should be your first preference. Care24 has set a very high standard for customized home medical care. Care24 provides home physiotherapy in Sanpada, and our physiotherapists are often regarded as some of the best physiotherapists in Sanpada. Our physiotherapists are well-trained, qualified and understand the patient's requirements.

The home is the most suitable place for physical therapy, where comfortable surroundings directly maximize your likelihood of rehabilitation. It is not required to go and visit a physiotherapy clinic in Sanpada when Care24 provides high-quality home physiotherapy services. You can get yourself treated by some of the top physiotherapists in Sanpada from the ease and comfort of your home.

Our licensed physiotherapists can provide you with the finest treatment in the comfort of your home to recover faster. And whether you are looking for a sports physiotherapist or a neuro physiotherapist, Care24's at-home physiotherapy services are simply a call away. Connect with us and our professionals will get in contact with you soon enough. At-home physiotherapy in Sanpada was never so convenient. Care24 provides the best home physiotherapy services in Sanpada.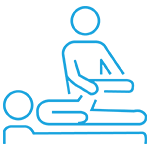 style="text-align:right;color:0f0f59;">
Read more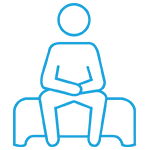 style="text-align:right;color:0f0f59;">
Read more
We contacted care 24 for my Dad's physiotherapy. Our physiotherapist Dr Dharita is very knowledgeable and extremely patient. My Dad is showing a lot for improvement in terms of his movement.

D W


3/21/2019

Worst!!! I am paying for professional services and the attendant is not professional. The level of disappointment is i have to terminate services on Day 1 itself. And still I am being told to pay for 1 day. Please assess the attendant before going for services from care24

Praful Jadhav


5/07/2019

Nurses and attendants provided by Caree24 are very good. In behavior and trust worthy. Thanks for their support

Anil Kathuria


6/28/2019

I got good experience wt dr Dhrita she is v good in physiotherapy n nice while talking n explains v nice

Sujata Rao


6/19/2019

If there was an option of negative stars then I would have choosen it. They offered me a package of₹ 5950/- for 10 days and after 2 days updated me on new package of ₹5700/- for 7 days without my consent. Even deposited my earlier cheque and then I had to follow up for the balance for about 10 days explaining my issue everyday to the new person on their helpline. They don't acknowledge emails too. Worst experience and definitely not recommended

Mugdha Kulkarni


5/23/2019
I am still taking services from Care 24 since last two years. The caregivers are well trained and takes good care of my mother in law.
Sheila khanchandani
Sumesh Brother is Punctual, Efficient and knowledgeable and understands patients requirements completely.
Jayshree Prabhu
I have been using care 24 services and have been very happy with their services. Priyanka Rajbhar is our caretaker she is very disciplined kind and dedicated towards her work.
Saurabh Bhatt
The Nurse and the Attendant provided by Care24 are good in service, polite and punctual. We are happy with their service. The patient ( our family member) is been given proper care, feed and cleaned regularly.
Deepa Balvalli
Dr. Ralga had Attended to my father. He is suffering from PSP. We were specifically impressed by her techniques n method to handle the issue. We are planning on repeating her visits every month for positive results.
Uma Ram
Frequently Asked questions