Physiotherapy In Janakpuri
Our physiotherapists are experienced in providing a complete range of physiotherapy services.

Fill up the form to know more about our physiotherapy services in Janakpuri.
Physiotherapy In Janakpuri
Our physiotherapists are experienced in providing a complete range of physiotherapy services.

Fill up the form to know more about our physiotherapy services in Janakpuri.
Highly rated by thousands of patients all over India.
physiotherapy services in janakpuri
What is Physiotherapy?
Physiotherapy is related to serving to reestablish health and wellness to persons following damage, pain or handicap. Physiotherapy is described by the World Confederation for Physical Therapy (WCPT) as "providing solutions to consumers and populations to grow, preserve as well as recover maximum activity and operational capability all through the lifespan". "This comprises of offering services in circumstances wherein motion and operation are threatened by ageing, injury, discomfort, diseases, disorders, problems or perhaps environmental factors. Functional mobility is central to what it means to be healthier."
The role of a physiotherapist is exceedingly varied that have no two days being the same. He/she might have to assess the physical condition of an individual in an effort to detect problems as well as apply a treatment regime, or alternatively, they can also be re-training affected individuals to walk, or aiding other individuals to take care of crutches, walking frames, or wheelchairs. He/she will no doubt also be responsible for training their patients as well as their families, (as well as the local community at large) to prevent injuries or to assist those people to lead wholesome lifestyles. In some cases, the physiotherapist could also be asked to plan and put in place community health and fitness methods. Finally, physiotherapists might also issue sick leave certificates if considered necessary to do so.
Throughout their professional career a physiotherapist can take care of all manner of individuals including little ones with cerebral palsy, early babies, pregnant women, individuals going through rehabilitation, sportspersons, the aged (to try to make them fitter), as well as those seeking help following heart problems, strokes, or major surgery.
treatment for Physiotherapy
Physiotherapists are trained to review your problem, identify the condition, and enable you to realize what's wrong. The treatment approach would take into consideration your daily routine, daily activities and physical condition.
The following are standard medical treatments use by physiotherapists:
physical exercise methods to increase mobility and strengthen muscles
joint manipulation and mobilisation to greatly reduce agony and tightness
muscular re-education to boost control
airway clearance ways as well as breathing exercises
soft tissue mobilisation (massaging)
acupuncture together with dry needling
hydrotherapy
support with the usage of aids, splints, crutches, walking sticks and wheelchairs to enable you to move about.
Exercises for Physiotherapy
What is more, this technique heals numerous diseases that are listed below:
It can treat strokes, multiple sclerosis, and Parkinson's that comes under Neurological problems. In addition, it can help in the treatment of patients with broken spinal cord or brain due to tension.
Orthopaedic difficulties like arthritis and even amputations can be treated with the aid of physiotherapy.
Musculoskeletal complications for example back and neck pain is cared for with the aid of physiotherapy.
Cardiovascular cases, for instance, continual heart disorders and rehab after the heart attack is usually carried out by physiotherapy techniques.
Respiratory issues just like asthma, cystic fibrosis, as well as persistent obstructive pulmonary illnesses can be treated with physiotherapy approaches.
Women's health issues using physiotherapy remedies comprise of pregnancy, breastfeeding, bedwetting, menopause, prolapsed, a decrease of bladder or bowel control, and so on.
It will help in relieving affected individuals with any kind of a pain because of any treatment method or harm.
Benefits of Physiotherapy
Bodily healing happens to be a remedy method of fixing selected conditions for a long period. It's mainly aimed at serving affected individuals return to their standard selves, free of discomfort and suffering, to allow them to enjoy the daily activities they once used to. Physical therapy is just not simply "physical"; it can incorporate cardiopulmonary and even neurological circumstances furthermore. There are several strengths to going through physical therapy.
1. Enables Sufferers Function
A few physical therapy prospects may have physical impairments that they are making use of, while other people could be recuperating after a stroke. In certain cases, a number of problems or health conditions hinder the patient too much that it can be essential to teach the affected individual to operate the best they are able to within the constraints of their condition. Physical therapy does this by developing on the capabilities that the patient always has.

2. Helps Regains Original Capabilities
Physical therapy has been quite effective all the way through the years for many affected individuals. And with sustained remedy under the supervising of a guru physical therapist, it is possible for the sufferer to regain a great deal of their original performance or perhaps earn a total retrieval. Additionally, physical treatment is excellent for helping considerably improve the overall physical fitness as well as health and well being of the individual.

3. Shortens Recovery Time
Recuperation time could be short by using the actual physical remedy, that is a top priority on a number of patients' listings. Accidents involving a muscle, ligament or joint may cause that part of the body to get rigid as well as immobile and without good exercising, it could actually take a long time to regain complete range of motion in the troubled spot.
Seeing that each sufferer can get acquainted with their workouts, they will become simpler to do and they will start to see their strong start to enhance and general health commences to develop.
The Physiotherapy profession began to establish itself in the early part of the 20th century assisting troops with agonizing wounds. Physiotherapists take great pride in themselves on getting recognized members of different medical care teams, depending on whether it be in clinics, universities or institutions. You can find an aspiration within to aid people to recover.
Physiotherapy employs verified hands-on strategies and workouts to help handle different problems. To put a stop to extra destruction we try to reestablish and recover the use of a body part. We will develop a treatment program that suits your own personal demands and we are extensive in our diagnosis as well as check-ups.
To relieve the aching, the physiotherapist could use hands-on remedy such as massaging, gentle hand pressure over joint parts and flexing muscular areas to help a person move much easier and with much less aching. We at the same time instruct exclusive exercises and routines to decrease pain and speed healing.
A great deal of studies have established that the faster a man or woman commences physiotherapy, the faster they will recover in the brief and longer term.
How can care24 help?
If you happen to be seeking out a physiotherapist at home in Janakpuri, Care24 should be your first choice. Care24 has set a high standard for customized home medical care. Care24 provides home physiotherapy in Janakpuri, and our physiotherapists are often regarded as some of the best physiotherapists in Janakpuri. Our physiotherapists are well-trained, certified and fully understand the patient's requirements.
The home is the most effective place for physical therapy, wherein comfortable surroundings directly maximize your chances of rehabilitation. You do not have to go and visit a physiotherapy clinic in Janakpuri when Care24 provides high-quality home physical therapy services. You can get yourself treated by some of the top physiotherapists in Janakpuri from the convenience of your home.
Our certified physiotherapists will offer you the finest treatment in the convenience of your home to recover faster. And whether you are searching for a sports physiotherapist in Janakpuri or a neuro physiotherapist, Care24's at-home physiotherapy services are only a call away. Reach out to us and our professionals will get in contact with you soon enough. At-home physiotherapy in Janakpuri was never so convenient. Care24 offers some of the best home physiotherapy services in Janakpuri.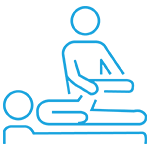 style="text-align:right;color:0f0f59;">
Read more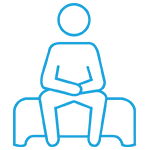 style="text-align:right;color:0f0f59;">
Read more
The physiotherapist came to my home was very helpful and knowledgeable. She properly gave me the detailed information about my injury. Also the first assessment is free of cost.

varshflute


10/17/2019

We had a ridiculously pathetic experience with them. Took an attendant service, a 10 day offer (rs 600 instead of their regular fee of rs 800), for my mother who had undergone an knee replacement surgery. In six days, 4 different attendants were assigned for no fault of ours. We had terrible experience going through the back-end team trying to explain the importance of sending only one attendant and not a different one every new day. The last person assigned wanted to leave by 5pm even though the timings were from 8am to 8pm. With this many other terrible instances in these 6 days, we had no option but to cancel the services. The back-end team were utterly useless in understanding the importance of having only one person assigned. They kept insisting that we pay for 800rs per day for 6 day and offer of rs 600 per day would be invalid. The management should look into this scam and take immediate action on the team. Note: Even though we wanted the services, we were forced to abandon it with no fault of ours. The back-end team has absolute disregard for the grievances of the client.

Rahul Dhakka


12/27/2018

Most horrible services. Please do not ask for help from these people, they will talk sweet and then at the last moment there will be no shows from the caretaker. I had to go through this not once but twice the caretaker did not turn up. Request you all to not depend on these people as we are leaving our homes and letting them into our lives, the least they can do is inform and provide a replacement, but neither of it happened and they expect me to pay registration fees of RS,1000

Annie Palan


5/17/2019

Unqualified office staff, when you call to clarify something. Many times they don't understand the question. They are not trained well. The customer care staff needs an upgraded system, where notes are fed into the system. So you don't need someone else calling up and giving you the same info. The caretaker is not trained well. If they are looking after an elderly person, they should know that they have to be in the best of health to look after my mother. She ended not making a meal for my mother and my neighbour had to provide it. If the caretaker is not well she should have asked for a replacement asap and not waited. It is shocking, we have paid a huge amount of money for this service and I am absolutely unhappy. Please do not call for caretaker's from Care24. As long as they are getting their money. They care a damn!!! Worst service providers.

Bonabelle Zuzarte


7/10/2019

I got good experience wt dr Dhrita she is v good in physiotherapy n nice while talking n explains v nice

Sujata Rao


6/19/2019
I am still taking services from Care 24 since last two years. The caregivers are well trained and takes good care of my mother in law.
Sheila khanchandani
Sumesh Brother is Punctual, Efficient and knowledgeable and understands patients requirements completely.
Jayshree Prabhu
I have been using care 24 services and have been very happy with their services. Priyanka Rajbhar is our caretaker she is very disciplined kind and dedicated towards her work.
Saurabh Bhatt
The Nurse and the Attendant provided by Care24 are good in service, polite and punctual. We are happy with their service. The patient ( our family member) is been given proper care, feed and cleaned regularly.
Deepa Balvalli
Dr. Ralga had Attended to my father. He is suffering from PSP. We were specifically impressed by her techniques n method to handle the issue. We are planning on repeating her visits every month for positive results.
Uma Ram