Our physiotherapists are experienced in providing a complete range of physiotherapy services.
Fill up the form to know more about our physiotherapy services for IFT.
Our physiotherapists are experienced in providing a complete range of physiotherapy services.
Fill up the form to know more about our physiotherapy services for IFT.
IFT Physiotherapy services
Overview
IFT physiotherapy is an application of a wider concept known as Interferential Treatment. The method gets its name from the fact that it uses safe levels of electric current to interfere with the natural working and stimulate the tissues. This stimulation did knowingly as part of the IFT therapy, lead to multiple benefits like localized pain relief and an increase in the body's healing rate.
The frequency and the levels of current being used during IFT treatment in physiotherapy are carefully controlled and varied by skilled physiotherapists. The process works by stimulating parasympathetic nerve fibers that lead to an increase in blood flow and the subsequent healing. The body's self-healing process is triggered by this process, making sure that the effects last beyond the session of 15 minutes to 1 hour.
If you ever visit a physiotherapist to receive IFT physiotherapy for back pain, you will likely go through the following process – The physiotherapist will be using a device that has four electrodes and a regulator to control the current frequency and intensity. An electrode gel is first applied to the area identified for the IFT therapy. The electrodes are then placed on the affected area, above the gel, at right angles to each other.
Two different intensities of current are then passed via the electrodes with a frequency difference of nearly 100Hz. The current thus emitted passes through the skin and reaches the part causing the pain. The sensation produced by the current's interference stimulates the tissues, increasing the blood flow and leading to the self-healing process kicking in. This is why IFT for back pain is well sought after as it is non-invasive and effective.
How does it HELP?
There are a number of problems that can be addressed and healed using IFT therapy in physiotherapy. Some of the most popular uses are to heal
Joint Stiffness
Edema
Muscle disorders
Internal Swelling
Inflammation
The symptoms for which a physiotherapist would generally recommend IFT therapy are
Joint Pains
Cumulative Trauma Disorders
Body Pain
Post orthopedic surgery pain
IFT treatment in physiotherapy is a non-invasive method to relieve from localized pain and has almost no side effects, making it largely sought after. So, how does IFT TENS physiotherapy actually work?
To put things in perspective, TENS (transcutaneous electrical nerve stimulation) is slightly different from IFT. In IFT treatment, the frequency of the current is higher (approximately 4000 Hz) as compared to the frequency released by TENS for the same signal (approximately 5-160 Hz). This increase in frequency leads to deeper penetration of the electrical current causing more stimulation and lessen discomfort. Thus IFT TENS physiotherapy is much more impactful.
It needs to be remembered that IFT on its own may give you good results, however, it is even better when built into an overall fitness program. So, your physiotherapist may draw up a complete routine for you including but not limited to
Stretching exercises for muscles
Movement exercises for stiff joints
Muscle Strengthening exercises
Interferential Treatment
Application
If one leads you to believe that IFT physiotherapy is better and more effective because of its special characteristics of interferential stimulation, then you should know that there is no research evidence to back this claim. The method is preferred simply because of its non-invasive nature and minimal discomfort to the patients.
The IFT therapy in physiotherapy works on the principle of peripheral nerve stimulation and is generally used for the treatment of any of the following
Relief from pain – localized and chronic
Stimulating the muscles
Improving the blood flow
Edema Reduction
It is important to understand that the whole premise of IFT physiotherapy for back pain or any other pain is based on the stimulation of nerves by the interferential current. Thus, the results will also be maximum for the problems directly related to these. For any other ailment, the result can only be an impact on these primary conditions.
Also equally important to note is the fact that the usage of a wide range of frequencies is less effective when compared to a smaller range of specific frequencies over a short span during the IFT treatment.
The most interesting part about IFT is that almost anyone above the age of 12 years is eligible to go for this treatment and benefit from the results. However, there are certain conditions under which it should be completely avoided
If you are pregnant as it is harmful to both you and your unborn child
If you are an athlete undergoing endurance training, but you can get it after completing your training
If you have a life-threatening disease and are under medication for the same
How can Care24 help?
We at Care24 take pride in our experienced staff thoroughly capable of administering IFT physiotherapy. Our specialists are carefully screened from thousands of applicants, selected after a stringent process and then trained extensively by our In-House team of experts. This assures you the best services without having to worry about IFT physiotherapy cost.
Living with pain or undergoing multiple traditional treatments like medicines, surgeries and acupressure can be a physically tiring and emotionally draining experience. Our team understands that and always strives to find the most suitable line of treatment for you. If they think the best way forward for you would be to try IFT for back pain, they will recommend it based on facts.
The expertise in the profession, the reasonable IFT physiotherapy cost and the excellent results received by our previous clients are a testimony to our claims of the best services. If you have any questions that you would like to ask our experts, you are most welcome to visit our team at any of our centers. You can also book an appointment from our website or by calling on our toll-free number.
Once here, our expert will take you through the entire process as well as clarify any specific queries. They can also assess your current situation and work on defining a plan tailored to your specific requirements.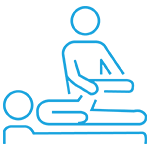 style="text-align:right;color:0f0f59;">
Read more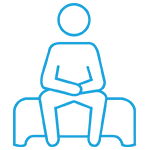 style="text-align:right;color:0f0f59;">
Read more
If there was an option of negative stars then I would have choosen it. They offered me a package of₹ 5950/- for 10 days and after 2 days updated me on new package of ₹5700/- for 7 days without my consent. Even deposited my earlier cheque and then I had to follow up for the balance for about 10 days explaining my issue everyday to the new person on their helpline. They don't acknowledge emails too. Worst experience and definitely not recommended

Mugdha Kulkarni


5/23/2019

Horrible, unprofessional service! Advance paid.The caregiver did not show up. When complained to customer care, they said they will find a replacement and call back. No call back, no replacement. They shut for the day and the customer is felt in a lurch. Extremely disappointing. Will never avail this service again and will spread the word too.

Shraddha Shah


11/02/2019

The worst experience I've had of my life. I normally never really write reviews, but I had to write this because this agency is the worst company I've dealt with till now. Their customer service is terrible, most of their attendants are not competent for taking care of elderly patients. Please do not use their service.

Radhika Kulkarni


6/27/2019

Horrible service! can't rely on them.They ditch on last moment.Attendents are not punctual,reliable,well behaved and even honest.Service provider doesn't turn up and still they start billing customers .Better to stay away.

Sonal Agrawal


11/04/2019

I got attendent for my ailing mother thru care 24. The best service i got...if i need infuture i will definitely go for care24 only...they are the best

felix thomas


3/21/2020
I am still taking services from Care 24 since last two years. The caregivers are well trained and takes good care of my mother in law.
Sheila khanchandani
Sumesh Brother is Punctual, Efficient and knowledgeable and understands patients requirements completely.
Jayshree Prabhu
I have been using care 24 services and have been very happy with their services. Priyanka Rajbhar is our caretaker she is very disciplined kind and dedicated towards her work.
Saurabh Bhatt
The Nurse and the Attendant provided by Care24 are good in service, polite and punctual. We are happy with their service. The patient ( our family member) is been given proper care, feed and cleaned regularly.
Deepa Balvalli
Dr. Ralga had Attended to my father. He is suffering from PSP. We were specifically impressed by her techniques n method to handle the issue. We are planning on repeating her visits every month for positive results.
Uma Ram
Frequently Asked questions