Carpal Tunnel Syndrome Physiotherapy
Our physiotherapists are experienced in providing a complete range of physiotherapy services.
Fill up the form to know more about our physiotherapy services for Carpal Tunnel Syndrome.
Carpal Tunnel Syndrome Physiotherapy
Our physiotherapists are experienced in providing a complete range of physiotherapy services.
Fill up the form to know more about our physiotherapy services for Carpal Tunnel Syndrome.
Physiotherapy Services For Carpal Tunnel Syndrome
Overview
If you are feeling tingling or weakness in the hand, think about asking your doctor to check you. Strain in your median brought on it nerve, which runs the arm's length, ends at the hand and goes in the wrist called the carpal tunnel. The median controls sense and the motion of your thumb, as well as the motion of your palms except for the pinkie. Your carpel tunnel is narrowed because of the swelling mostly due to overuse or incorrect use.
People do not understand what attracted their carpal tunnel syndrome. But it can occur because of: Repetitive motions typing or some other
Movements of the wrist which you do over and above. As soon as your palms are lower in the own wrist this is true of actions. Requirements like hypothyroidism, Obesity, diabetes, rheumatoid arthritis, and diabetes
If you have carpal tunnel syndrome and do not get it its symptoms make worse, the pain may persist for quite a while and may go off and return. With an early diagnosis, it is easier to take care of.
Symptoms and Risk Factors
You may feel a tingling, tingling, or itching numbness in the palm of the hands and thumb, or index and middle fingers.
You may notice that your Palms "fall asleep" and eventually become numb at nighttime. That takes place in the day due to the posture of while sleeping your hands. You may wake up with numbness and tingling in your hands which may run all the way.
Risk Factors
Individuals most at risk or actions that require repetitive finger usage, particularly those connected with intense wrist motions usage, higher pressure, and vibration. Growth of carpal tunnel syndrome include:
Heredity (smaller carpal tunnels may run in families)

Pregnancy

Haemodialysis

Wrist dislocation and fracture

Wrist or hand deformity

Diseases like arthritis and rheumatoid arthritis

Thyroid gland hormone imbalance (hypothyroidism)

Diabetes

Alcoholism

A mass (tumor) at the lymph nodes

Older age
Treatment for carpal tunnel syndrome
Although it's a slow degeneration process, it will worsen over with time. Because of this, it is essential to be assessed and diagnosed by your physician early on. At the first phases, it can be possible to slow down or block this disease's development.
Nonsurgical Treatment
If recognized and treated early, the symptoms of carpal tunnel syndrome can be alleviated without surgery. If your diagnosis is unclear or if your symptoms are mild, your doctor will recommend treatment.
Wrist brace –

Wearing a splint or brace reduces by keeping your wrist straight pressure.

Bracing or splinting

– Wearing a brace or splint at night is going to prevent you. A strain is reduced by Maintaining your wrist. When doing tasks that aggravate, it could help wear a splint.

Nonsteroidal anti-inflammatory drugs (NSAIDs) –

Medications like naproxen and aspirin can help alleviate inflammation and pain.

Action changes –

Symptoms often occur whenever your wrist and hand are in precisely the exact same place for too long when your wrist is extended or bent. If your occupation or activities that are recreational aggravate your symptoms, changing or altering these actions might help slow or prevent the progression of this illness. Sometimes, this may entail adjusting.

Steroid injection –

A steroid injection into the rectal. Symptoms may relieve. Nerve gliding exercises. Some patients May benefit from exercises which assist the nerve to move freely within the limits of the tunnel. Your physician or therapist may recommend specific exercises.

Steroid injections –

Corticosteroid, or Cortisone. Even though symptoms relieve or help to calm a flare-up of symptoms, their result is occasionally momentary. A cortisone injection may be employed by your physician.
Surgical Treatment
If treatment doesn't relieve your symptoms your physician may recommend surgery. The choice is dependent on the intensity of your symptoms much numbness and pain you're getting on your hand. In squandering of your nerves and cases with numbness, surgery might be advisable to avoid irreversible harm. The surgical procedure for Carpal tunnel syndrome is also known as a "carpal tunnel release" There are just two different methods for doing so, but by cutting the objective of both is to alleviate strain. The total size of this tube increases and reduces strain.
Carpal tunnel release operation

– The transverse carpal ligament is cut during tunnel release operation. There's more space for the ligaments and tendons After the ligament heals. Carpal tunnel surgery is performed on an outpatient basis. The operation can be performed under local anesthesia, which numbs your arm and hand, or even under general anesthesia, which puts you to sleep soundly. Sometimes, you'll also be given a mild sedative through an intravenous (IV) line inserted into a vein in your arm.
Open carpal tunnel release –

In open, our physician views the interior of your hand and wrist and makes a small incision. Throughout the process, your physician will split the transverse carpal ligament (the roof of the carpal tunnel). The total size of this tube increases and reduces strain. The ligament may gradually grow but a strain on the nerve is going to be relieved and there'll be space in the lymph.
Endoscopic carpal tunnel release

– In endoscopic surgery, your physician utilizes a camera – an endoscope – to view within the wrist and your hand – and makes one or two skin incisions – known as portals. There can be A knife used to split the transverse carpal ligament, very similar to this carpal tunnel release process. Endoscope added into wrist portal This; an endoscope is inserted via a portal from the individual's wrist. A cutting tool is going to be inserted into the hands. The results of surgery that is open and operation are similar.
There are possible dangers and advantages. About that which procedure is ideal for you, your physician will talk to you.
Carpal Tunnel Syndrome Physiotherapy
Carpal tunnel syndrome physiotherapy is valuable for many Carpal tunnel sufferers in cases that are mild to moderate. Your physiotherapist will tackle
Flexor retinaculum and bone mobilization extending to open the tunnel. Tal-Akabi & Rushton (2000).
Tendon and nerve gliding exercises to make sure complete nerve movement. McKeon & Hsieh (2008).

Soft and muscle tissue extensibility. Moraska (2008).

Cervicothoracic back to fix crush syndromes or any referral. Kwon et al (2006).

Grip and pinch, forearm strengthening and thumb abduction in stages. Pinar et al (2005).

Comprehensive upper hand, wrist and limb ROM strengthening, and endurance exercises.

Posture, hand dexterity, and fine motor exercises. Abd-Elkader et al (2010).
How can Care24 help?
Based on the type of need, carpal tunnel syndrome physiotherapy treatment may require quite a few weeks or even months for you to recover. You are helped by our physiotherapist with exercises which stimulates tissues and the cells that have been injured for aiding recovery.
The physiotherapists help with stretching exercises and offer recovery programs in accordance with the kind of injury, in order to facilitate recovery. She will also guide you in educating you to take care of yourself.
Therefore, if you are looking for an excellent carpal tunnel syndrome physiotherapy treatment or a good nurse, simply reach out to Care24's world-class physiotherapy treatment in your home's comfort.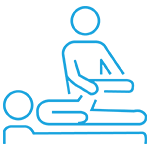 style="text-align:right;color:0f0f59;">
Read more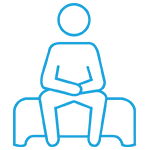 style="text-align:right;color:0f0f59;">
Read more
The management team & the customer care team is quite responsive.... However the main component, ie the caregiver is not trustworthy & definitely not upto the mark

Ritwik Basu


11/03/2019

The worst experience I've had of my life. I normally never really write reviews, but I had to write this because this agency is the worst company I've dealt with till now. Their customer service is terrible, most of their attendants are not competent for taking care of elderly patients. Please do not use their service.

Radhika Kulkarni


6/27/2019

The physiotherapist came to my home was very helpful and knowledgeable. She properly gave me the detailed information about my injury. Also the first assessment is free of cost.

varshflute


10/17/2019

If there was an option of negative stars then I would have choosen it. They offered me a package of₹ 5950/- for 10 days and after 2 days updated me on new package of ₹5700/- for 7 days without my consent. Even deposited my earlier cheque and then I had to follow up for the balance for about 10 days explaining my issue everyday to the new person on their helpline. They don't acknowledge emails too. Worst experience and definitely not recommended

Mugdha Kulkarni


5/23/2019

Unqualified office staff, when you call to clarify something. Many times they don't understand the question. They are not trained well. The customer care staff needs an upgraded system, where notes are fed into the system. So you don't need someone else calling up and giving you the same info. The caretaker is not trained well. If they are looking after an elderly person, they should know that they have to be in the best of health to look after my mother. She ended not making a meal for my mother and my neighbour had to provide it. If the caretaker is not well she should have asked for a replacement asap and not waited. It is shocking, we have paid a huge amount of money for this service and I am absolutely unhappy. Please do not call for caretaker's from Care24. As long as they are getting their money. They care a damn!!! Worst service providers.

Bonabelle Zuzarte


7/10/2019
I am still taking services from Care 24 since last two years. The caregivers are well trained and takes good care of my mother in law.
Sheila khanchandani
Sumesh Brother is Punctual, Efficient and knowledgeable and understands patients requirements completely.
Jayshree Prabhu
I have been using care 24 services and have been very happy with their services. Priyanka Rajbhar is our caretaker she is very disciplined kind and dedicated towards her work.
Saurabh Bhatt
The Nurse and the Attendant provided by Care24 are good in service, polite and punctual. We are happy with their service. The patient ( our family member) is been given proper care, feed and cleaned regularly.
Deepa Balvalli
Dr. Ralga had Attended to my father. He is suffering from PSP. We were specifically impressed by her techniques n method to handle the issue. We are planning on repeating her visits every month for positive results.
Uma Ram
Frequently Asked questions