Pneumothorax Physiotherapy
Our physiotherapists are experienced in providing a complete range of physiotherapy services.

Fill up the form to know more about our physiotherapy services for Pneumothorax.
Pneumothorax Physiotherapy
Our physiotherapists are experienced in providing a complete range of physiotherapy services.
Fill up the form to know more about our physiotherapy services for Pneumothorax.
Physiotherapy Treatment for Pneumothorax
Overview
Pneumothorax is a condition in which air is abnormally collected in the pleural space. Pleural space is the space between the lungs and the chest wall. Pneumothorax is often referred to as collapsed lungs. In such a condition the air leaks into the pleural space causing shortness of breath and chest pain. Generally, only one lung is affected by Pneumothorax. However, in some cases, both lungs may be affected.
There are majorly two kinds of Pneumothorax, primary and secondary. When Pneumothorax occurs without any specific cause and to those who don't have any specific lung disease, it is termed as primary Pneumothorax. Secondary Pneumothorax occurs to those who suffer from lung disease. Pneumothorax may also occur in case of physical trauma to the lungs which may be due to an injury or accident. Pneumothorax may also occur as a side effect of a surgery or other medical procedures.
Causes and symptoms
The specific causes of Pneumothorax are not known, however, men are more likely to suffer from Pneumothorax than women. Risk of Pneumothorax is more to the people who smoke. The intensity and number of Pneumothorax attack increase with the increase in the smoking period. Pneumothorax can also be genetic i.e. they may run into generations. Also, people having lung diseases, such as COPD, and people who use mechanical ventilation are at a higher risk of facing Pneumothorax. People suffering from asthma, tuberculosis or other respiratory disorders may also be at a higher risk.
The basic symptoms of Pneumothorax include breathlessness and chest pain. Primary Pneumothorax may occur due to changes in atmospheric pressure and is more common in young people. This kind of Pneumothorax is not very severe and the symptoms are very mild. When the Pneumothorax is primary, it needs very little or sometimes no treatment to get cured. However, proper monitoring is essential to avoid further damage.
Secondary Pneumothorax is more severe and the symptoms are more prominent. As the person facing secondary Pneumothorax already has an underlying lung disease the result may be very severe and sometimes even life-threatening. The basic symptoms are severe chest pain and severe breathlessness. This kind of Pneumothorax needs immediate medical assistance and care.
Pneumothorax can also be caused by trauma on the lungs. This kind of trauma may be due to an injury or accident. In some cases, surgery can also result in Pneumothorax as a side effect. Pneumothorax can also be seen in people who use breathing aids or are on a ventilator. Breathing aids and ventilators may sometimes create an imbalance of air pressure inside the chest which may result in Pneumothorax. Another very common cause of Pneumothorax is bursting of air blisters that are developed on the top of the lungs. When these blisters burst, they result in the leakage of air into the area that surrounds the lungs, hence causing Pneumothorax. In all the above cases, immediate medical assistance is prescribed.
Treatment
Pneumothorax is difficult to be diagnosed by physical examination only. A series of tests, such as chest X-ray, CT scan, and ultrasound, need to be performed before confirming. This is because many other conditions, such as heart attacks, have similar symptoms.
Primary Pneumothorax needs little treatment, however, in secondary Pneumothorax, the air that has leaked into the pleural space need to be removed. This is done using a syringe or a chest tube. In cases where the evacuation of pleural space using syringe or chest tube fails, surgery is required to seal the pleural space.
Physiotherapy treatment for Pneumothorax
Physiotherapy has gained popularity during the last few decades as it helps the patient to resume back to normal life, after a medical procedure, naturally, or with the least amount of medication. Pneumothorax Physiotherapy is equally beneficial. It ensures a speedy recovery and a healthier lifestyle.
The basic goal of Pneumothorax Physiotherapy is to maintain the atelectatic lung volume obtained using a syringe, a chest tube or in some cases surgery. For people who use mechanical ventilation, physiotherapy sessions may help in uniform distribution of ventilation, thus, reducing the risk of Pneumothorax in the future. Various physiotherapies help clear the airways, and thus, improve breathing. Oxygenation of the lungs also improved as the airways resistance decreases. Pneumothorax Physiotherapy sessions may also prove helpful in increasing exercise tolerance levels and stamina.
Exercises recommended for Pneumothorax
Pneumothorax is the condition which affects the lungs and results in difficulty in breathing. Physiotherapists recommend exercises to strengthen the lungs and clarify the airways. Breathing exercises help clear the airway thus improving the oxygen supply to the lungs. As deep breathing exercises increase the oxygen level in the body they aid to quicker recovery and higher overall strength. Breathing exercises must be performed regularly after the treatment procedure for Pneumothorax. If one fails to perform the required breathing exercises, the muscles surrounding the rib cage may stiffen which may lead to breathing difficulties.
Various lung strengthening exercises are also recommended for people who have suffered from Pneumothorax. These exercises help the lung in maintaining its volume and elasticity.
Yoga has also become an integral part of healthy living. Various yoga asanas may prove helpful in strengthening the lungs and improving breathing. However, a patient who has suffered from Pneumothorax must consult his/her doctor before going for yoga. Also, yoga must be performed under the guidance of a trained professional to optimize the benefits and minimize the risks. Some of the yoga asanas, that may be useful for Pneumothorax patients, are listed below.
Nadi shodan pranayama helps relieve respiratory disorders.
Bhujangasana or the cobra pose strengthens lungs and improves blood circulation.
Ardh matsyendranasana improves the amount of oxygen in the body.
Badha Konasana or the butterfly pose improves the blood circulation in the body.
Setubandhanasana or the bridge pose helps expand the chest and lungs and is helpful for the people suffering from asthma.
HOW CAN CARE24 HELP?
Physiotherapy treatment for Pneumothorax is not very common and needs expertise. Care24 provides you with the most skilful and trained physiotherapists, to ensure you a safe and speedy recovery. Our physiotherapists customize according to each patient's physical conditions and desires.
Our physiotherapists and the working staff work as a team to provide you with a healthy and safe environment for your physical and mental well being.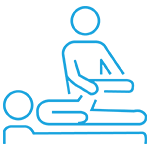 style="text-align:right;color:0f0f59;">
Read more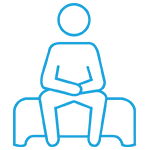 style="text-align:right;color:0f0f59;">
Read more
Horrible, unprofessional service! Advance paid.The caregiver did not show up. When complained to customer care, they said they will find a replacement and call back. No call back, no replacement. They shut for the day and the customer is felt in a lurch. Extremely disappointing. Will never avail this service again and will spread the word too.

Shraddha Shah


11/02/2019

I used Care24 services for 7 months duration in 2019-20. Carers they provide are a mixed bag. Some are really good while others lack even basic service skills. You got to be very very lucky to get one and same carer over long time as carers often go on leave. When regular carer is on leave, every time they will send new carer. So family members need to repeat everything, right from home address, directions to patient's routine, medicines etc. Do not expect that Care24 will provide any heads-up or patient routine information to new carer who is visiting. Over the 6 months of Mumbai-based care services I used from Care24, there were over 15 instances where new carers were late more than 2 to 3 hours. Care24 support team is very lethargic, there were times when support team assumed that carer has reached home when he had not even started from his place. Support team is unaware of carers being late to customer's place. Then came in so called, the technology upgrade, Jan-Feb 2020, they had a new IT system and there were numerous issues with billing, sending invoices and payment receipts to customers (as told by support team themselves). Support staff told me at least 10 times over phone and email that there are system issues in billing and payment, I had to calculate amount manually on my own and then Pay them. With new system, accounts were on toss, no invoices were sent to customers (in spite of the fact that payment policy says payment needs to be made after receiving invoice.) I had 20-25 emails following up for invoice and payment receipts, but their support team in Mumbai did not care to respond. I found their behavior very unprofessional and not good over these 2-3 months. If you are outside for work (or overseas) and not staying with the patient or your parents, I strongly suggest DO NOT USE CARE24, as they do not respond to your emails and phone in time. They do not bother even when the patient is without care because of their delays in operations and carer issues. They need to improve basic operations first, give timely and consistent services to customers, and then worry about Apps, Digital Assistants and other tech-stuff. .My genuine advice to them--- You are dealing with patient healthcare services, where patient family is relying on you. This is not a courier service business where you are sending people to move boxes and you would't care much when service is delayed !!

Sanket Deo


3/05/2020

If there was an option of negative stars then I would have choosen it. They offered me a package of₹ 5950/- for 10 days and after 2 days updated me on new package of ₹5700/- for 7 days without my consent. Even deposited my earlier cheque and then I had to follow up for the balance for about 10 days explaining my issue everyday to the new person on their helpline. They don't acknowledge emails too. Worst experience and definitely not recommended

Mugdha Kulkarni


5/23/2019

worst service, they just talk as if they will send professional at our place, they give big promises at the time of starting their services, but when the attendant come at our place we realized that he was more delicate than our patient, the person whom they had sent got a small scratch in his finger and than the same day he said he wont come as he got injury, so the next day he dint turn up neither did care24 arrange for a replacement, after calling them for 4 times they said me sorry they couldn't arrange anyone today. they don not have the decency to even inform that they cannot arrange for a replacement.. please do not go for their services, its just the promises nothing to deliver

Komal Patel


4/11/2019

Worst!!! I am paying for professional services and the attendant is not professional. The level of disappointment is i have to terminate services on Day 1 itself. And still I am being told to pay for 1 day. Please assess the attendant before going for services from care24

Praful Jadhav


5/07/2019
I am still taking services from Care 24 since last two years. The caregivers are well trained and takes good care of my mother in law.
Sheila khanchandani
Sumesh Brother is Punctual, Efficient and knowledgeable and understands patients requirements completely.
Jayshree Prabhu
I have been using care 24 services and have been very happy with their services. Priyanka Rajbhar is our caretaker she is very disciplined kind and dedicated towards her work.
Saurabh Bhatt
The Nurse and the Attendant provided by Care24 are good in service, polite and punctual. We are happy with their service. The patient ( our family member) is been given proper care, feed and cleaned regularly.
Deepa Balvalli
Dr. Ralga had Attended to my father. He is suffering from PSP. We were specifically impressed by her techniques n method to handle the issue. We are planning on repeating her visits every month for positive results.
Uma Ram
Frequently Asked questions