Neuro Physiotherapy for Dystonia
Our physiotherapists are experienced in providing a complete range of physiotherapy services.
Fill up the form to know more about our physiotherapy services for Dystonia.
Neuro Physiotherapy for Dystonia
Our physiotherapists are experienced in providing a complete range of physiotherapy services.
Fill up the form to know more about our physiotherapy services for dystonia.
Neuro Physiotherapy for Dystonia
Overview
What is Dystonia?
Dystonia is a movement disorder involving the impacted person's muscles to contract uncontrollably and this contraction also sometimes causes the affected body part to twist involuntarily, resulting in repetitive unwarranted and unplanned movements and/or abnormal postures. It can impact one muscle, or a muscle group, or the entire body of the patient. This condition has been found to be impacting about 1 percent of the population and is more prevalent in females than males.
Symptoms of Dystonia
Symptoms of dystonia may vary from very mild to intense. Dystonia may affect just any body part, and frequently the signs of dystonia progress slowly and are visible progressively. Some early signs include
Involuntary twisting and twitching in neck
A dragging leg and/or Cramping of this foot
Speech problems
Uncontrollable blinking
Anxiety or exhaustion may trigger these symptoms or make them to worsen. Individuals with dystonia frequently complain of fatigue and pain due to constant muscle contractions.
If dystonia symptoms appear in youth, they usually first impact the hand or foot. Progressively, they impact the remainder of the human body as well. After adolescence, the development rate of the disease slows down. If dystonia appears in early adulthood, it generally starts in the upper body and there is a very slow and gradual progression of disease and development of visible symptoms. Dystonias that begin in adulthood stay segmental or focal and they impact either 1 portion of their human body or 2 or more body parts that are adjoining.
Causes of Dystonia
Most instances of dystonia don't have any specific cause but are more due to problems associated with the basal ganglia. That is the region of the brain responsible for initiating muscle contractions. The issue arises because of the inability of the nerve cells to communicate effectively.
Acquired dystonia is caused by damage to the basal ganglia and could be due to any or a few of the following
Brain injury
Stroke
Tumor
Oxygen deprivation
Infection
Medication reactions
Poisoning brought on by lead or carbon monoxide.
Genetic Reasons
Idiopathic or primary dystonia can be inherited by a parent. Some carriers of this disease might never create themselves to dystonia. Along with the signs may vary among members of the family.
Treatment of Dystonia
To oversee your muscle, your physician might suggest a mix of drugs, surgery or therapy.
Medications
Injections of onabotulinumtoxinA (Botox) into certain muscles may reduce or remove your muscle contractions and better your abnormal positions. Injections are repeated. Side effects are usually mild and temporary. They could include dry mouth, fatigue or voice alterations. Other medicines target chemicals called neurotransmitters in your brain, that affect muscular motion. The choices include
Carbidopa-levodopa (Duopa, Rytary, others). This medicine can increase levels of the neurotransmitter dopamine.
Trihexyphenidyl and benztropine (Cogentin). These drugs act on neurotransmitters aside from dopamine. Negative effects may include memory loss, blurred vision, constipation, dry skin, and nausea.
Tetrabenazine (Austedo, Xenazine). This medicine blocks dopamine. Negative effects may include sleeplessness, anxiety, depression or sedation.
Diazepam (Valium), clonazepam (Klonopin) and baclofen (Lioresal, Gablofen). These medicines may help some types of dystonia and reduce neurotransmission. They may cause unwanted effects, such as nausea.
Therapy
Your Physician may suggest
Physical therapy or psychiatric treatment or both to help alleviate symptoms and enhance the function
Speech treatment if dystonia has impacted your voice
Stretching or massages to alleviate muscle strain
Surgery
If your symptoms are very severe, your physician may recommend
Deep brain stimulation – Electrodes attached to a generator and are implanted into a portion of your brain. Electric pulses are sent by the generator. The generator settings will vary with each patient and may be adjusted to deal with your specific condition.
Selective denervation operation – This process, which involves cutting of nerves that control muscle spasms may be a choice to deal with such types of dystonia that have not been able to get cured through other means.
Importance of neuro physiotherapy for dystonia
Physiotherapy for dystonia is a technical class of physiotherapy and are specialists in generating neuroplasticity which will be the capability of the brain and spinal cord to redesign and create new pathways and retraining the mind. All grad schools teach neurological rehabilitation and after that therapists can opt to concentrate following graduation in the region of physiotherapy.
Dystonia is an intricate individual neurological illness which could react extremely well to a multidisciplinary approach many caregivers working together to aid you to realize your aims of treatment. Since their input can affect your wellbeing, anyone living with dystonia ought to get access to some physiotherapist. Dystonia management is a place of physiotherapy that's expanding neurologist or your physician might haven't mentioned this to you along with you might not have ever heard of a neuro physio.
A neuro physio will carry out a comprehensive evaluation of your demo and will prescribe you with a personalized rehab exercise plan to retrain your muscles. This may concentrate on strengthening the bronchial muscle groups (the muscles that perform the contrary contraction into the dystonic muscles). You'll Also receive valuable education and advice together;
Strengthening other impacted and weak muscle bands
Posture direction
Home and work environment setup
Tricks to manage tremors and tics
General exercise, fitness, and wellbeing
Referral to other caregivers to offer a holistic strategy
Impacted persons should consult a neurological physiotherapist because their input could be valuable for understanding the disease and impact management of the same.
Recently diagnosed – to begin correcting the muscle strain directly off to prevent additional complications. This is the best time to seek out a physio.
Pre Botox – To have the ability to estimate the entire effects of the dystonia pre-injection and then instruct the right exercises to maximize the impact of the botox.
Post Botox – To be able to fully gain from your window of opportunity that botox lets you retrain your muscles.
Care – There is still no treatment for dystonia and routine 6-12-month testimonials can greatly help with the proactive control of this illness and enhance wellbeing.
Neurological Physiotherapists know how to help an impacted individual understand his / her condition and know how to deal with it. It is very important to engage with one so that you are able to get the support that you / your loved ones deserve in their ability to stand up to the disease and move forward with confidence.
Exercises to Dystonia
The way to build the perfect general exercise program
Exercise lungs and your heart
10k steps/day – Posture changes and tests
Challenge your own body always and slowly. Big and small muscle groups 3 times per week for groups
legs, back, shoulders – 3 times per week center, for the classes, arm, neck
Locate one the best time of day to exercise — dawn is
Better for men and women. Prevent rapid postural tension. Utilize body positions that encourage your system. Muscles and restrict your muscles examples include strengthening shoulders and your back or head over a chunk.
Stretching Guidelines
Use Another work out for your flexibility/movement in order to concentrate on relaxed, slow and effortless flexibility and lowering your muscular tone.
Find the time to work on lengthening upward your muscles that are particular up-to three times each day.
Believe "Length" instead of "Stretch" to remain relaxed.
Hold up stretches to 60 minutes and incorporate slow
Movement at the position that is lengthened to retrain your control.
Exercises Movements and Pathways along with muscles – If performed with no strain and with body consciousness, moves can be used by you
And exercises to retrain your system to restrain motion symmetrically and less power. Ideally, this should be practiced and performed before more actions are done.
Why choose us?
Based on the type of need, it requires quite a few weeks or even months for you to recover. You are helped by our physiotherapist with exercises which stimulates tissues and the cells that have been injured for aiding recovery.
The physiotherapists help with stretching exercises and offer a program for neuro physiotherapy for dystonia in accordance with the kind of injury, in order to facilitate recovery. She will also guide you in educating you to take care of yourself.
Therefore, if you are looking for an excellent physiotherapist or a good nurse, simply reach out to Care24's world-class physiotherapy treatment in your home's comfort.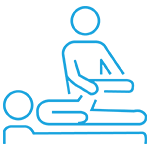 style="text-align:right;color:0f0f59;">
Read more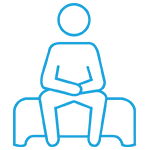 style="text-align:right;color:0f0f59;">
Read more
I got good experience wt dr Dhrita she is v good in physiotherapy n nice while talking n explains v nice

Sujata Rao


6/19/2019

Unqualified office staff, when you call to clarify something. Many times they don't understand the question. They are not trained well. The customer care staff needs an upgraded system, where notes are fed into the system. So you don't need someone else calling up and giving you the same info. The caretaker is not trained well. If they are looking after an elderly person, they should know that they have to be in the best of health to look after my mother. She ended not making a meal for my mother and my neighbour had to provide it. If the caretaker is not well she should have asked for a replacement asap and not waited. It is shocking, we have paid a huge amount of money for this service and I am absolutely unhappy. Please do not call for caretaker's from Care24. As long as they are getting their money. They care a damn!!! Worst service providers.

Bonabelle Zuzarte


7/10/2019

Horrible service! can't rely on them.They ditch on last moment.Attendents are not punctual,reliable,well behaved and even honest.Service provider doesn't turn up and still they start billing customers .Better to stay away.

Sonal Agrawal


11/04/2019

We contacted care 24 for my Dad's physiotherapy. Our physiotherapist Dr Dharita is very knowledgeable and extremely patient. My Dad is showing a lot for improvement in terms of his movement.

D W


3/21/2019

Horrible, unprofessional service! Advance paid.The caregiver did not show up. When complained to customer care, they said they will find a replacement and call back. No call back, no replacement. They shut for the day and the customer is felt in a lurch. Extremely disappointing. Will never avail this service again and will spread the word too.

Shraddha Shah


11/02/2019
I am still taking services from Care 24 since last two years. The caregivers are well trained and takes good care of my mother in law.
Sheila khanchandani
Sumesh Brother is Punctual, Efficient and knowledgeable and understands patients requirements completely.
Jayshree Prabhu
I have been using care 24 services and have been very happy with their services. Priyanka Rajbhar is our caretaker she is very disciplined kind and dedicated towards her work.
Saurabh Bhatt
The Nurse and the Attendant provided by Care24 are good in service, polite and punctual. We are happy with their service. The patient ( our family member) is been given proper care, feed and cleaned regularly.
Deepa Balvalli
Dr. Ralga had Attended to my father. He is suffering from PSP. We were specifically impressed by her techniques n method to handle the issue. We are planning on repeating her visits every month for positive results.
Uma Ram
Frequently Asked questions