Our physiotherapists are experienced in providing a complete range of physiotherapy services.
Fill up the form to know more about our physiotherapy services in Ulwe.
Our physiotherapists are experienced in providing a complete range of physiotherapy services.
Fill up the form to know more about our physiotherapy services in Ulwe.
Physiotherapy Services in ulwe
What is Physiotherapy?
Physiotherapy is the management of injury, illness, and disorders by means of physical approaches — similar to workouts, massage, manipulation along with additional treatments — over medication as well as surgical procedures.

Lots of people could also be of the opinion that physiotherapists primarily deal with back and sport-related wounds, but they would be very misguided. Physiotherapists are seriously qualified medical researchers who give treatment for folks plagued by physical issues arising from a wound, ailment, ailment, and aging. Their aim may be to enhance a person's quality of life by making use of a number of remedies to lessen pain and help regain performance or, concerning harm or ailment, to diminish the outcomes of any disorders.

Physiotherapy is a degree-based medicinal profession. Physios utilize their wisdom and talents to boost numerous problems associated with different systems of the body, such as

1. Neurological (stroke, multiple sclerosis, Parkinson's)

2. Neuromusculoskeletal (back pain, whiplash connected disorder, sports wounds, arthritis)

3. Cardiovascular (chronic coronary disease, treatment after cardiac attack)

4. Respiratory (asthma, chronic obstructive pulmonary disease, cystic fibrosis).

Physiotherapists operate in a variety of specialisms in health and social care. Additionally, some physiotherapists are part of schooling, research and service management.



treatment for Physiotherapy?
1. Cardiorespiratory: delivering support, reduction, and rehabilitation for individuals afflicted with diseases as well as injuries that have an impact on the cardiovascular system and also lungs, such as asthma.

2. Cancer, palliative care as well as lymphedema: looking after, managing or even discouraging fatigue, discomfort, muscle as well as joint tightness, and also deconditioning.

3. Incontinence: managing as well as preventing incontinence and pelvic floor dysfunction.

4. Women's health issues: addressing health conditions encompassing being pregnant, birth, post-partum treatment, breastfeeding, menopause, bedwetting, prolapsed, loss in bladder or bowel control.

5. Musculoskeletal: preventing and treating clients with musculoskeletal conditions for example neck and back pain.

6. Neurological: promoting motion and also the quality of life in subjects who may have had extreme brain or spinal cord deterioration from conflict, or who have problems with neurological disorders such as stroke, Parkinson's ailment, and various sclerosis.

7. Orthopedic: aiding patients to stop or manage acute or chronic orthopedic conditions like arthritis as well as amputations.

8. Pain: dealing with or stopping discomfort as well as its influence on function in patients.


Exercises for Physiotherapy
Physiotherapy activities have been confirmed to be a beneficial solution to assist treat and avoid injuries and pain related to varied diseases.

Physiotherapists are properly trained medical practitioners who utilize these exercises to boost muscle tissue and boost function. They assess an individual's problems and then recommend the finest set of physiotherapy physical exercises for immediate relief. These exercises range from single to high-level postures all of which help restore the body and bring back full bodily function.

Much like in the case of medication, you only benefit if you have the remedies as prescribed by a health care provider; similarly, you can look forward to any kind of benefit from physiotherapy if you meticulously follow up with the recommended workouts.

Physiotherapy is also helpful to reestablish a wholesome emotional frame of mind which is key for holistic treatment.

Benefits of Physiotherapy
A lot of people think of healthy livelihood as a good way of living. It is declared that physiotherapy is important in this particular aspect.

Physiotherapy helps people with circumstances whereby their mobility, as well as services, are vulnerable as a result of the procedure of growing older, injury or even getting infected by a disease. This method of healing uses non-surgical techniques in the remedy and/or management of numerous and physical problems for example strokes, back cramping, heart problems, asthma and lifestyle conditions.

The benefits of physiotherapy consist of improved joint mobility, much better rest and advanced quality of lifestyle. On top of that, it prevents lifestyle related situations similar to a stroke, high blood pressure by means of workout sessions and healthy living guidance.

With each health occupation, unwanted effects are bound to emerge perhaps once in a while depending upon the person that is definitely being treated for a certain condition. "Physiotherapy treatment techniques and modalities are generally very secure with little to non-existent consequences. Almost all the treatment modalities put to use (at the very least by a competent physiotherapist) are well attestation-based (researched) with known final results. However, due to the nature and/or the administration of particular treatment modalities a few side effects could be felt by victims," mentioned Makabanyane.

Side effects could be improved or exacerbation of signs and symptoms, a bare minimum of skin burns and allergic reactions. Negative effects could be eliminated if and when conscientiousness is put into effect.
The universally utilized methods (electrical) contain Transcutaneous Electrical Nerve Stimulation (TENS), Therapeutic Ultrasound and Interferential Therapy. Physiotherapy techniques consist of practical physiotherapy strategies (which might be a restorative massage or joint mobilization), neurodynamics, rehab exercises, acupuncture, and dry needling, sports physiotherapy, and therapeutic massage.

Examples of manual therapy comprise of joint, spinal manipulations, traction methods, and therapeutic massage.

The duration of a physiotherapy period depends on the physiotherapy setting. For example, in an outpatient service or private clinic environment, it lasts roughly half an hour.

"With today's way of life and developments, physiotherapy is viewed as important. Regardless of whether one is working in an office or perhaps is an athlete, a visit to a physiotherapist is predestined. The beneficiaries range between youngsters with cerebral palsy, early developmental complications, sportsmen (sports incidents), lifestyle problems/diseases (stroke, backache) and even individuals in the Intensive Care Unit (ICU).

It's genuine to feel a bit of anxiety when initially attending physical therapy. What is going to occur? Will therapy cause any harm? This kind of emotions typically promptly disappear once you meet up with your physical therapist and also get dealing with your rehab targets. By figuring out what your physical therapist is capable of doing to aid you, you will have reasonable anticipation regarding your rehabilitation as well as a beneficial final result with your physical therapy adventure.
How can Care24 help?
If you have been looking for a physiotherapist at home in Ulwe, Care24 should be your first choice. Care24 has set a very high standard for personalized home health care. Care24 offers home physiotherapy in Ulwe, and our physiotherapists are often regarded as some of the best physiotherapists in Ulwe. Our physiotherapists are well-trained, qualified and understand the patient's requirements.

The home is the most suitable place for physical therapy, where comfortable surroundings directly enhance your chances of rehabilitation. It is not necessary to pay a visit to a physiotherapy clinic in Ulwe when Care24 offers top-notch home physical therapy services. You can get yourself treated by some of the top physiotherapists in Ulwe from the convenience of your home.

Our qualified physiotherapists will provide you the best treatment in the comfort of your home to recover faster. And whether you are looking for a sports physiotherapist in Ulwe or a neuro physiotherapist, Care24's at-home physiotherapy services are simply a call away. Connect with us and our specialists will get in contact with you soon. Home physiotherapy in Ulwe was never so simple. Care24 offers some of the best home physiotherapy services in Ulwe.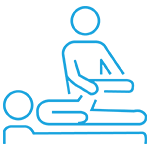 style="text-align:right;color:0f0f59;">
Read more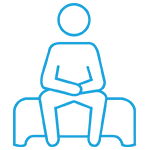 style="text-align:right;color:0f0f59;">
Read more
We contacted care 24 for my Dad's physiotherapy. Our physiotherapist Dr Dharita is very knowledgeable and extremely patient. My Dad is showing a lot for improvement in terms of his movement.

D W


3/21/2019

Unqualified office staff, when you call to clarify something. Many times they don't understand the question. They are not trained well. The customer care staff needs an upgraded system, where notes are fed into the system. So you don't need someone else calling up and giving you the same info. The caretaker is not trained well. If they are looking after an elderly person, they should know that they have to be in the best of health to look after my mother. She ended not making a meal for my mother and my neighbour had to provide it. If the caretaker is not well she should have asked for a replacement asap and not waited. It is shocking, we have paid a huge amount of money for this service and I am absolutely unhappy. Please do not call for caretaker's from Care24. As long as they are getting their money. They care a damn!!! Worst service providers.

Bonabelle Zuzarte


7/10/2019

I got attendent for my ailing mother thru care 24. The best service i got...if i need infuture i will definitely go for care24 only...they are the best

felix thomas


3/21/2020

Worst!!! I am paying for professional services and the attendant is not professional. The level of disappointment is i have to terminate services on Day 1 itself. And still I am being told to pay for 1 day. Please assess the attendant before going for services from care24

Praful Jadhav


5/07/2019

Needed an attendant for a week for post-surgical assistance (ward boy type work). The person allocated was punctual, polite, and generally did the job well. Quite happy with the services provided. Edit: The payment management is quite bad. If you choose to make cash payments for the service (physiotherapist in my case), the payment does not sync with the agency and they keep sending messages and emails along you to pay up. They follow up with calls on Sunday afternoon 🤦🏻 Edit 2: No change. The company is continuously following up for the money I have already paid. Reducing the rating.

Swati Saxena


5/31/2020
I am still taking services from Care 24 since last two years. The caregivers are well trained and takes good care of my mother in law.
Sheila khanchandani
Sumesh Brother is Punctual, Efficient and knowledgeable and understands patients requirements completely.
Jayshree Prabhu
I have been using care 24 services and have been very happy with their services. Priyanka Rajbhar is our caretaker she is very disciplined kind and dedicated towards her work.
Saurabh Bhatt
The Nurse and the Attendant provided by Care24 are good in service, polite and punctual. We are happy with their service. The patient ( our family member) is been given proper care, feed and cleaned regularly.
Deepa Balvalli
Dr. Ralga had Attended to my father. He is suffering from PSP. We were specifically impressed by her techniques n method to handle the issue. We are planning on repeating her visits every month for positive results.
Uma Ram
Frequently Asked questions