Our physiotherapists are experienced in providing a complete range of physiotherapy services.

Fill up the form to know more about our physiotherapy services for Chest pain.
Our physiotherapists are experienced in providing a complete range of physiotherapy services.

Fill up the form to know more about our physiotherapy services for Chest pain.
Overview
What's Chest Physiotherapy
Chest physiotherapy Procedure (CPT) is a method utilized to synthesize or remove secretions from the lungs and lymph nodes. This is particularly valuable for individuals with a large number of secretions or unsuccessful cough.
Physiotherapy for chest pain is made up of external mechanical manoeuvres, for example, chest percussion, postural drainage, vibration to fortify mobilization and clearance of airway secretions, diaphragmatic breathing with pursed-lips, coughing and controlled coughing.
Who requires Chest Physiotherapy Procedure
It is suggested for patients in which cough is inadequate to clean thick, stubborn, or localized secretions. Examples include:
Bronchiectasis
Cystic fibrosis
Lung abscess
Atelectasis
Pneumonia in dependent lung regions
Neuromuscular diseases
Techniques of Chest Physiotherapy
Chest physical therapy is a technique of clearing the airway of extra mucus. It is based on the concept that when regions of the spine and the torso are percussed, shock waves are transmitted loosening the secretions. The secretions will drain to the airways in case the patient is placed appropriately. These techniques are part of chest physical therapy.
Spinning
Turning from side to side allows lung growth. The patient may turn on his own or be flipped by a health care provider. When the patient is bedridden, turning needs to be performed in a minimum of every 2 hours, to promote drainage and the head of the mattress may be raised.
Coughing
Coughing helps break up secretions from the lungs so the mucus could be expectorated or suctioned out if needed. Patients sit upright and inhale. Then they exhale in coughs or puffs. This process is repeated many times every day.
Deep Breathing
Deep breathing helps expand the lungs and compels a better distribution of the atmosphere into all areas of their lungs. The individual sits in a seat or stays upright and pushes out the abdomen to induce levels of air. The stomach is contracted, and the patient exhales. Deep breathing exercises have been done several times each day. Deep breathing may also be because of asthma in which case one must get physiotherapy for asthma.
Due to the mind-body knowledge necessary to do coughing and deep breathing exercises, this type of treatment is unsuitable for many kids under the age of eight. However, there is chest physiotherapy for infants and toddlers available
Postural Drainage
Postural drainage employs the power of gravity to aid in efficiently draining secretions of the smaller airways to the fundamental airway where they could be coughed up or suctioned out. The patient is put in a raised position for as many as 15 minutes. Using a cushioned chair, or sofa cushions can be helpful to maintain the position. Many times, vibration and percussion are done in combination.
Percussion
Percussion involves rhythmically striking the chest wall using cupped hands. It is likewise referred to as clapping or cupping. Percussion's objective is to split up secretions from the lungs so that they can be eliminated. Percussion is done on each lung section for one. Percussors might be acceptable for children over 20 years old. Whereas the individual is invited to doing breathing methods the percussor is transferred over a lobe of the lung for around five minutes. This procedure is repeated until every sector of the lung is percussed. The patient is also required to get percussors for chest physiotherapy.
Vibration
Like percussion, the objective of vibration is to help break up lung secretions. Vibration could be either manual or mechanical. It is done as the patient breathes deeply. Once done, the individual puts palms and generates vibrations by contracting and relaxing shoulder and arm muscles while the patient exhales. The process is repeated several times each day.
Positive Expiratory Pressure (PEP)
PEP treatment was extensively tested and is equal to normal chest physical therapy. It is by employing a pressure apparatus a clearance system that is administered. By breathing out through the immunity of this apparatus using a push, a pressure is produced. This pressure allows airflow to move the mucus in which it could be expectorated and also to achieve under the regions of obstruction. This technique might be acceptable for cooperative kids.
Flutter
The flutter valve is a handheld mucus clearance device made to unite positive expiratory pressure (PEP) using higher frequency airway oscillations. The system resembles a pipe comprising an interior cone which cradles a steel ball sealed using a perforated cover. Exhalation throughout the system leads to vibration. It might be a method for children.
A patient is considered to have reacted positively to chest physical treatment if a few, but not all, of these changes occur
The raised quantity of sputum secretions
changes in breath sounds
Enhanced chest x-ray
Increased oxygenation of their blood as measured by blood glucose sampling
The kid's record of Greater simplicity in breathing
Benefits of Chest physiotherapy
According to different studies, chest physiotherapy is proven to be effective in patients that suffer from acute and chronic respiratory issues. Chest physiotherapy eliminates any particles in the lungs.
But not all people today agree with this favourable process linked to this medical process. Instead, studies maintain that chest physiotherapy is useless or even dangerous in situations where patients don't produce the quantity of sputum. People who doubt the effects of the treatment assert that vibration, percussion, and postural drainage aren't effective at preventing the mucus.
Exercises and coughing are proven successful, clearing a substantial quantity of the sputum, demonstrating better outcomes than the lack of therapy. Experts assert that the air flow makes it feasible for the mucus to become expelled readily when this process is combined with drainage.
If the increased quantity of sputum secretions are expelled and also the breath seems to become more ordinary, physiotherapy is regarded as prosperous. Various other indications of positive consequences are enhanced overall vital signs, an enhanced condition of the torso region observable through an X-ray, elevated amounts of blood oxygen quantified through arterial blood glucose values and the positive experiences of this individual him/herself, demonstrating signs of progress and discovering them separately.
Individuals who disagree with all the positive sides of chest physiotherapy normally relate these results to walking or a few other kinds of therapy which occur together with the physiotherapy.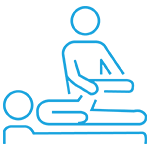 style="text-align:right;color:0f0f59;">
Read more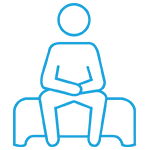 style="text-align:right;color:0f0f59;">
Read more
If there was an option of negative stars then I would have choosen it. They offered me a package of₹ 5950/- for 10 days and after 2 days updated me on new package of ₹5700/- for 7 days without my consent. Even deposited my earlier cheque and then I had to follow up for the balance for about 10 days explaining my issue everyday to the new person on their helpline. They don't acknowledge emails too. Worst experience and definitely not recommended

Mugdha Kulkarni


5/23/2019

We contacted care 24 for my Dad's physiotherapy. Our physiotherapist Dr Dharita is very knowledgeable and extremely patient. My Dad is showing a lot for improvement in terms of his movement.

D W


3/21/2019

Nurses and attendants provided by Caree24 are very good. In behavior and trust worthy. Thanks for their support

Anil Kathuria


6/28/2019

Mangal Laad has visited us for a couple of days in the day. She is very kind, attentive and trustworthy. She has been with us like an extended Family. The patient has also appreciated her services. She is excellent. We thank you for Mangal Laad.

Tanuka M


3/09/2020

The management team & the customer care team is quite responsive.... However the main component, ie the caregiver is not trustworthy & definitely not upto the mark

Ritwik Basu


11/03/2019
I am still taking services from Care 24 since last two years. The caregivers are well trained and takes good care of my mother in law.
Sheila khanchandani
Sumesh Brother is Punctual, Efficient and knowledgeable and understands patients requirements completely.
Jayshree Prabhu
I have been using care 24 services and have been very happy with their services. Priyanka Rajbhar is our caretaker she is very disciplined kind and dedicated towards her work.
Saurabh Bhatt
The Nurse and the Attendant provided by Care24 are good in service, polite and punctual. We are happy with their service. The patient ( our family member) is been given proper care, feed and cleaned regularly.
Deepa Balvalli
Dr. Ralga had Attended to my father. He is suffering from PSP. We were specifically impressed by her techniques n method to handle the issue. We are planning on repeating her visits every month for positive results.
Uma Ram
Frequently Asked questions