Physiotherapy For Meniscus Tear
Our physiotherapists are experienced in providing a complete range of physiotherapy services.
Fill up the form to know more about our physiotherapy services for Meniscus Tear.
Physiotherapy For Meniscus Tear
Our physiotherapists are experienced in providing a complete range of physiotherapy services.
Fill up the form to know more about our physiotherapy services for Meniscus Tear.
Physiotherapy Services For Meniscus
Overview
What is Meniscus?
The meniscus is a piece of cartilage providing cushioning between the femur or the thigh bone and tibia or shinbone. There are two menisci in each knee joint.
What is a Meniscus Tear?
Amongst the younger people, the knee meniscus is generally torn because of a trauma or an injury because of twisting on a slightly bent knee.
The trauma kind of injuries are of three broad categories:
Anterior to Anterior tear

Radially or parrot beak tear

Bucket handle appearance
For older adults, the tear could be due to a natural age-related Illness or even a demanding arthritic femoral bone tearing to the milder meniscus. In cases like this, surgery may be required to fix the damage and to attend to the meniscal repair.
Based on the type of tear, meniscus repair might be complex. A massive meniscus tear that is inadequately treated can cause premature degenerative bony arthritis changes. Therefore getting physiotherapy for a medial meniscus tear is very essential.
Causes Symptoms and of Meniscus Tear
Sudden meniscus tears happen during the times of exertion during sport. The knee may bend and twist, resulting in a tear. Direct contact, such as a tackle, is involved.
Older Individuals are more inclined to have degenerative meniscus tears as the cartilage wears and weakens with time resulting in tissue that is worn out and prone to tears. If the menisci have deteriorated with age, a twist when getting up from a seat might also be enough to create a rip.
Symptoms of Meniscus Tear
You may feel a pop if you split a meniscus. Most people can walk even with an injury in their knee. Athletes continue playing even with a tear. Over 2-3 days, your knee will slowly become more rigid and inflamed.
Meniscus tear's most frequent symptoms are:
Infection, rigidity, and swelling in the knee

Catching or locking of the knee

The feeling that the knee will give away

You are unable to transfer your knee through its entire range of motion

In absence of treatment, a torn and loose piece of the meniscus may drift into the joint. This may cause your knee even lock, slip, pop or slide.
Types of Meniscus Tear
Finding out the kind of tear is also a significant element in drawing up the right treatment program specific to this harm but also the person's health. There are six kinds of tears.
Intrasubstance or Incomplete Tear

– This kind of tear is the most frequent where the meniscus is partly torn. It is viewed as a natural phenomenon. Tears begin appearing around age 20 to 30. No surgical intervention is ordinarily needed for these rips and therefore are termed as harms that are a stable injury.

Radial Tear –

This kind of tear is very frequent and needs surgery. The tear happens in a place that doesn't get any blood supply or is in the avascular zone. This makes the recovery of the tear near hopeless and the only choice would be to eliminate the damaged areas of the meniscus.

Horizontal Tear –

A horizontal or a flat tear may be repaired surgically based on its place. Then it may be stitched together and the tear will heal after that.

Flap Tear –

This kind of tear is infrequent. A flap is come out as some of the menisci also has trapped in the knee. The flap could be removed to facilitate motion.

Complex Tear –

This kind of tear is a composite of different kinds of tears and therefore is not easy to fix. This tear is a mix of a tear plus a tear that is flat and is not mended.

Bucket-Handle Tear –

This type of huge kind of flat tear that required urgent health attention. Because a large part of the meniscus is torn, it makes the knee or might lead to restricted motion of the knee. Immediate care is required to restore motion.
Meniscus Tear Treatment
There are various lines of physiotherapy for a meniscus tear. The remedies are divided into two kinds – non-surgical and surgical.
Non-surgical therapy

is chosen where the blood supply aids recovery. Your physician will make sure your knee is stable symptoms abate following rest. Your physician may suggest that you use crutches to get rid of any stress on the knees. You may follow the RICE protocol which stands for Rest, Ice, Compression, and elevation. Rest the knees, ice the joint for 20 minutes at a time. Use compression bandage on the knee and maintain elevated above your heart level to reduce swelling. Your physician may additionally prescribe anti medications that are non-steroidal to modulate swelling and pain.

Surgical treatment

involves eliminating the torn or loose part to permit for motion or stitching the components that are ripped if the split may be treated.
Will You Require Surgery for a Meniscus Injury?
Before contemplating operation most surgeons will suggest a couple of weeks of therapy.
Physiotherapy For Meniscus Tear has two advantages:
Successfully rehabilitating your knee injury with no need for operation.

Strengthening your knee to prepare you to your postoperative rehabilitation.
If surgery is needed, surgery is generally performed arthroscopically which is a fibre-optic camera about the size of a pen to resect/eliminate the torn fragment or stitch a tear in the outer zone.
Normally, the most suitable treatment is to stitch the torn meniscus, save as much of the shock absorber is possible. This will give you close to normal structures and reduce the odds of degenerative arthritic changes in later life.
Post-Surgical Physiotherapy for Meniscal Tear:
Resected Meniscal Tears –

Rehab for tears that are resected may be competitive, targeting early return. You'll be improved through rehab as swelling and your pain let. Most patients may return to normal work.

Post-Meniscal Fix –

Where a meniscus was stitched than the usual resection because of recovery time demand rehabilitation following a repair is different. Surgeons may have your non-weight posture to permit before beginning exercises, the meniscus to heal.
Physiotherapy rehabilitation should focus on early mobilization of the knee or tibiofemoral and kneecap joints or patellofemoral, also strengthening of your quadriceps, hamstrings and leg muscles.
Your treatment plans will be like this approach the findings and surgical procedures performed. For more info, please ask your physiotherapist.
Based on the sort of injury, it requires quite a few weeks or even months for you to recover. You are helped by our physiotherapist with exercises which stimulates tissues and the cells that have been harmed for aiding recovery.
Meniscus Tear Exercises
Passive knee extension

– If you cannot stretch your knee completely, you can do this exercise. While the heel is approximately 6 inches away from the floor while lying on your back, put a towel below it. Relax your leg muscles and allow gravity to straighten your knee. Try to maintain this position for two minutes. Repeat 3 times. When performing this exercise, you will feel some discomfort. Do the exercise many times each day. This exercise may be performed while sitting on a stool or a different chair.



Heel slip

– Sit on a firm surface with your legs straight in front of you. Slide the heel of the foot in your side toward your buttocks as you slip the heel by yanking your knee. Return to the starting place. Do two sets of 15.



Standing calf stretch

– Stand facing a wall with your palms on the wall at eye level. Keep one leg back and another leg forward. Switch your rear foot slightly inward (as if you're pigeon-toed). Lean to the wall until you feel a stretch at the back of your calf. Hold the stretch for 15 to 30 minutes. Return to the starting place. Repeat 3 times. Do this exercise several times every day.



Standing Hamstring stretch on the wall –

Stand up straight with one heel resting on a small stack of books or stool. Keep your knees straight. Reach both arms up toward the place where the wall and ceiling meet. Keep your back straight. Reach forward and feel a stretch in hamstring behind your thigh

. Hold this position for 15 to 30 minutes. Repeat 3 times.



Straight leg lift –

Lie on your back with your legs straight out in front of you. Bend the knee and put the foot flat on the ground. Tighten the thigh muscles and then lift your leg about 8 inches away from the ground. Keep your thigh muscles taut and your leg straight. Slowly decrease your leg back down. Do two sets of 15.



Standing Hip extension

–

Standing by a counter or chair for support, keep abs tight. Raise one leg slightly backward, keeping your knee straight until your foot is about 3 to 4 inches off the floor. Hold, then slowly lower. Repeat several times for each leg.

Do two sets of 15.



Clam Exercise

– Lie on your uninjured side with your hips and knees bent and feet together. While keeping your heels touching each other increase your leg towards the ceiling. Hold for two seconds and lower slowly. Do two sets of 15 repetitions.



Wall squat using a chunk

– Stand with your back, shoulders, and head against a wall. Look straight forward. Keep your shoulders relaxed and your feet about 3 feet in the wall and shoulder's width apart. Put a basketball-sized ball or football ball behind your back. Maintaining your back slowly squat down into a 45-degree angle. Your thighs will not be parallel to the ground. Hold this position for 10 minutes and then slowly slide back up the wall. Repeat 2-3 times.



Step-up

– Stand with the foot of your injured leg on a support 3 to 5 inches large – e.g. a little step or block of timber. Keep your other foot flat on the ground. Shift your weight and straighten your leg that as the leg comes from the ground. Return to the starting position by bending your leg and lowering straight back your leg. Do two sets of 15.
how can care24 help?
Based on the type of need, it requires quite a few weeks or even months for you to recover. You are helped by our physiotherapist with exercises which stimulates tissues and the cells that have been injured for aiding recovery.
Physiotherapist for medial meniscus tear helps with stretching exercises and offer recovery programs following the kind of injury, to facilitate recovery. The Physiotherapists will also guide you in educating you to take care of yourself.
Therefore, if you are looking for an excellent physiotherapist or a good nurse, simply reach out to Care24's world-class physiotherapy treatment in your home's comfort.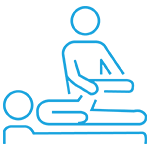 style="text-align:right;color:0f0f59;">
Read more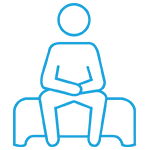 style="text-align:right;color:0f0f59;">
Read more
The physiotherapist came to my home was very helpful and knowledgeable. She properly gave me the detailed information about my injury. Also the first assessment is free of cost.

varshflute


10/17/2019

Unqualified office staff, when you call to clarify something. Many times they don't understand the question. They are not trained well. The customer care staff needs an upgraded system, where notes are fed into the system. So you don't need someone else calling up and giving you the same info. The caretaker is not trained well. If they are looking after an elderly person, they should know that they have to be in the best of health to look after my mother. She ended not making a meal for my mother and my neighbour had to provide it. If the caretaker is not well she should have asked for a replacement asap and not waited. It is shocking, we have paid a huge amount of money for this service and I am absolutely unhappy. Please do not call for caretaker's from Care24. As long as they are getting their money. They care a damn!!! Worst service providers.

Bonabelle Zuzarte


7/10/2019

My father had a hip bone surgery in January. I have been using Care24 services ever since. The attendants that cane were good in the beginning. However their services have become good to bad to worse to worst in the last 15 days. They changed the night attendant without informing me personally just 6 hours before the time. My father had just settled down with the last attendant and now they were sending a replacement tonight. To add to my frustration the guy didn't turn up and did not answer the calls. When I called their call centre - they said they can't help me at this hour. Well- I can't help but call them CARELESS CARE24.

Jasbir Basu


4/06/2019

The worst experience I've had of my life. I normally never really write reviews, but I had to write this because this agency is the worst company I've dealt with till now. Their customer service is terrible, most of their attendants are not competent for taking care of elderly patients. Please do not use their service.

Radhika Kulkarni


6/27/2019

Worst!!! I am paying for professional services and the attendant is not professional. The level of disappointment is i have to terminate services on Day 1 itself. And still I am being told to pay for 1 day. Please assess the attendant before going for services from care24

Praful Jadhav


5/07/2019
I am still taking services from Care 24 since last two years. The caregivers are well trained and takes good care of my mother in law.
Sheila khanchandani
Sumesh Brother is Punctual, Efficient and knowledgeable and understands patients requirements completely.
Jayshree Prabhu
I have been using care 24 services and have been very happy with their services. Priyanka Rajbhar is our caretaker she is very disciplined kind and dedicated towards her work.
Saurabh Bhatt
The Nurse and the Attendant provided by Care24 are good in service, polite and punctual. We are happy with their service. The patient ( our family member) is been given proper care, feed and cleaned regularly.
Deepa Balvalli
Dr. Ralga had Attended to my father. He is suffering from PSP. We were specifically impressed by her techniques n method to handle the issue. We are planning on repeating her visits every month for positive results.
Uma Ram
Frequently Asked questions