Physiotherapy In Najafgarh
Our physiotherapists are experienced in providing a complete range of physiotherapy services.

Fill up the form to know more about our physiotherapy services in Najafgarh.
Physiotherapy In Najafgarh
Our physiotherapists are experienced in providing a complete range of physiotherapy services.

Fill up the form to know more about our physiotherapy services in Najafgarh.
Highly rated by thousands of patients all over India.
physiotherapy services in najafgarh
What is Physiotherapy?
Physiotherapy is rehabilitation to repair, sustain, and make the most of a patient's portability, performance, and well-being. Physiotherapy helps through physical rehab, damage avoidance, and health and fitness. Physiotherapists get you involved in your own recovery.

Physiotherapy is a degree-based medicinal profession. Physios use their understanding and talents to improve numerous factors connected with distinct systems of the physique, for example

1. Neurological (stroke, multiple sclerosis, Parkinson's)
2. Neuromusculoskeletal (back pain, whiplash connected disorder, sporting wounds, arthritis)
3. Cardiovascular (persistent heart problems, treatment after a cardiac attack)
4. Respiratory (asthma, chronic obstructive pulmonary disease, cystic fibrosis).
Physiotherapists are employed in a number of specialisms in health and social care. Moreover, a number of physiotherapists are involved in education, research and service management.

Treatment For Physiotherapy
Physiotherapists are qualified to examine everything, identify the illness, and help you to fully understand what's wrong. The treatment plan would take into consideration the way you live, routines and physical condition.

The following are typical remedies use by physiotherapists:

• exercise methods to improve mobility and strengthen muscles
• joint manipulation and mobilization to decrease soreness and stiffness
• muscle re-education to boost control
• airway clearance strategies and breathing exercises
• soft tissue mobilization (massaging)
• acupuncture and dry needling
• hydrotherapy
• assistance with consumption of aids, splints, crutches, walking sticks, and wheelchairs to allow you to navigate around.

Exercises For Physiotherapy
Without some simple routines, we see that particular muscle tissues may become vulnerable. If such supporting muscular areas are poor, your injured structures are inadequately covered and predispose you to linger signs and symptoms or further injury. You may also over-activate neighboring muscles that could lead to an additional problem.

It is additionally vital that you understand that even if you are "in good condition," you may have essential yet fragile localized or stableness muscular areas. When you have an injury, you must do specific activities that exclusively strengthen the muscular areas around any damage along with the adjoining joints. Your physiotherapist can examine your muscle functionality and prescribe the suitable workouts unique for your requirements.

The exercises recommended will usually be convenient, and will not really need specific weights equipment, allowing it to be done safely at your home.


Benefits oF Physiotherapy
Pain is available in quite a few methods and is usually the major reason to visit a physiotherapist. Pains and aches can be the result of a motor vehicle wound, a sprained ankle from basketball practice, carpal tunnel syndrome from a shoddily constructed workstation, or even chronic lower back aching that begun long before you can even remember. It doesn't matter how terrible the discomfort is, if it has an effect on your productivity at the workplace, at the gym, on the field or maybe at home, you ought to do something about it. Physiotherapy can help you handle, mitigate or maybe get rid of the agony to help you get back to taking pleasure in your physical activities. Additionally, it decreases your dependency on analgesics, which provides your kidneys a much-needed break.

Our physiotherapists cure affected individuals in the comfort of their houses. They assess, identify, and develop a treatment plan which varies depending on the patient's requirements. A physiotherapy session is usually of an hour or so, based on the criticality of the illness. Our experts help with basic and superior movement exercises to enhance the patient's ability to move.

How can care24 help ?
In case you are searching for a physiotherapist at home in Najafgarh, Care24 must be your very first choice. Care24 has set a high standard for customized at-home health care. Care24 offers home physiotherapy in Najafgarh, and our physiotherapists are frequently regarded as some of the best physiotherapists in Najafgarh. Our physiotherapists are well-trained, qualified and understand the patient's requirements.

The home is the most suitable place for physical therapy, where comfortable surroundings directly increase your chances of rehab. You do not have to go and visit a physiotherapy clinic in Najafgarh when Care24 provides high-quality home physiotherapy services. You can get yourself treated by some of the top physiotherapists in Najafgarh from the ease and comfort of your home.

Our qualified physiotherapists can provide you the best treatment in the ease and comfort of your home to recover faster. And no matter if you are looking for a sports physiotherapist in Najafgarh, or a neuro physiotherapist, Care24's at-home physiotherapy services are simply just a call away. Get in touch with us and our professionals will get in touch with you soon. At-home physiotherapy in Najafgarh was never so easy. Care24 offers some of the best home physiotherapy services in Najafgarh.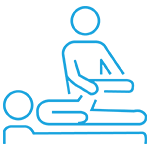 style="text-align:right;color:0f0f59;">
Read more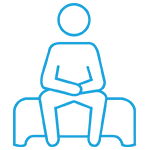 style="text-align:right;color:0f0f59;">
Read more
The worst experience I've had of my life. I normally never really write reviews, but I had to write this because this agency is the worst company I've dealt with till now. Their customer service is terrible, most of their attendants are not competent for taking care of elderly patients. Please do not use their service.

Radhika Kulkarni


6/27/2019

We contacted care 24 for my Dad's physiotherapy. Our physiotherapist Dr Dharita is very knowledgeable and extremely patient. My Dad is showing a lot for improvement in terms of his movement.

D W


3/21/2019

Horrible, unprofessional service! Advance paid.The caregiver did not show up. When complained to customer care, they said they will find a replacement and call back. No call back, no replacement. They shut for the day and the customer is felt in a lurch. Extremely disappointing. Will never avail this service again and will spread the word too.

Shraddha Shah


11/02/2019

My father had a hip bone surgery in January. I have been using Care24 services ever since. The attendants that cane were good in the beginning. However their services have become good to bad to worse to worst in the last 15 days. They changed the night attendant without informing me personally just 6 hours before the time. My father had just settled down with the last attendant and now they were sending a replacement tonight. To add to my frustration the guy didn't turn up and did not answer the calls. When I called their call centre - they said they can't help me at this hour. Well- I can't help but call them CARELESS CARE24.

Jasbir Basu


4/06/2019

We had a ridiculously pathetic experience with them. Took an attendant service, a 10 day offer (rs 600 instead of their regular fee of rs 800), for my mother who had undergone an knee replacement surgery. In six days, 4 different attendants were assigned for no fault of ours. We had terrible experience going through the back-end team trying to explain the importance of sending only one attendant and not a different one every new day. The last person assigned wanted to leave by 5pm even though the timings were from 8am to 8pm. With this many other terrible instances in these 6 days, we had no option but to cancel the services. The back-end team were utterly useless in understanding the importance of having only one person assigned. They kept insisting that we pay for 800rs per day for 6 day and offer of rs 600 per day would be invalid. The management should look into this scam and take immediate action on the team. Note: Even though we wanted the services, we were forced to abandon it with no fault of ours. The back-end team has absolute disregard for the grievances of the client.

Rahul Dhakka


12/27/2018
I am still taking services from Care 24 since last two years. The caregivers are well trained and takes good care of my mother in law.
Sheila khanchandani
Sumesh Brother is Punctual, Efficient and knowledgeable and understands patients requirements completely.
Jayshree Prabhu
I have been using care 24 services and have been very happy with their services. Priyanka Rajbhar is our caretaker she is very disciplined kind and dedicated towards her work.
Saurabh Bhatt
The Nurse and the Attendant provided by Care24 are good in service, polite and punctual. We are happy with their service. The patient ( our family member) is been given proper care, feed and cleaned regularly.
Deepa Balvalli
Dr. Ralga had Attended to my father. He is suffering from PSP. We were specifically impressed by her techniques n method to handle the issue. We are planning on repeating her visits every month for positive results.
Uma Ram