Our physiotherapists are experienced in providing a complete range of physiotherapy services.
Fill up the form to know more about our physiotherapy services for Hip Pain.
Our physiotherapists are experienced in providing a complete range of physiotherapy services.
Fill up the form to know more about our physiotherapy services for Hip Pain.
Physiotherapy service For Hip pain
Overview
Hip Pain
Hip pain is a frequent complaint that may be caused due to multiple problems. The area where the hip pain is experienced might offer clues into the possible reason for the problem.
While issues with the hip joint itself often result in pain in the interior part of the groin and hip, the pain on the surface of the hips, torso or buttocks is brought on by problems with the ligaments, joints, tendons and other tissues. Sometimes, diseases and ailments from some other region may cause hip pain. This type of pain is known as referred pain. Hip pain can be cured by visiting a doctor or simply by getting physiotherapy for hip pain.
Symptoms of Hip pain
Symptoms depend upon the cause and include
Limping

Joint and/or Groin pain

Reduction of hip movement

Warmth on the hip

Swelling in the hip

Tenderness of this hip

Trouble sleeping on the hip
Causes for Hip pain
Arthritis –

Osteoarthritis and rheumatoid arthritis are the most frequent causes of hip pain, particularly impacting the adults and the elderly. Arthritis results in inflammation of the hip joint and the breakdown of the cartilage that cushioning the bones. Generally, the pain gets worse and stiffness is felt by Individuals with arthritis and they may display a diminished range of movement.

Hip fractures

– With age, the bones may become weak and brittle and are more likely to break in cases of a fall.

Bursitis

– Bursae are sacs of fluid found between cells like muscles, bone, and tendons. The bursae ease the rubbing motion and reduce friction. This may lead to pain when bursae get inflamed. Inflammation of bursae is generally due to actions that irritate or overwork the joint.

physiotherapy for hip bursitis will immensely help anyone suffering this problem

Tendinitis

– Tendons are the thick bands of tissue that connect muscles. Tendinitis is inflammation or irritation of the joints and is usually brought about by overuse.

Muscle or tendon pressure

– Repeated actions can place pressure on the muscles, tendons, and ligaments which support the buttocks. When they become vulnerable because of overuse, they prevent the hip from functioning well and could lead to pain.

Hip labral tear

– This is a tear at the ring of cartilage known as the labrum that follows the external border of the socket of the hip joint. Your labrum acts as a gasket or a rubber seal to keep the ball near the very top of your thighbone. The athletes who perform repetitive twisting moves are at risk of developing this issue. People who develop this problem mostly get

physiotherapy for hip joint pain/physiotherapy exercises for hip joint pain.
What to Expect From Physical Therapy?
The expectation from Physical Therapy
The doctor will start with an evaluation. This to the doctor trip is crucial to ensure proper identification and treatment plan. In this trip, the therapist may ask a lot of questions to gather any previous medical history which may contribute to the issue, both the alleviating and aggravating factors, and information regarding the nature of the difficulty. From the data, a concentrated examination will be run. The examination may include several sections such as, but not limited to
Gait evaluation –

A gait test is an appraisal of how you are walking. Your therapist will do a gait analysis to recognize nuances. Physical therapists are trained to detect changes in hip and this assessment might help understand the underlying reasons.

Palpation –

This involves using hands to touch and closely examine the hip to feel for abnormalities or painful touch points if any.

Range of motion measurements –

Range of movement describes how much is the hip bending, bending, or even rotating. The therapist may use tools to quantify the joint movement ranges and is going to help direct therapy.

Power dimensions –

For the many muscular attachments around the hip, an assessment of strength will help ascertain if muscle fatigue or imbalance is causing the hip pain.

Functional freedom tests –

The Therapist may make you climb stairs, walk, or conduct to find out your freedom impacts.
Specific evaluation, a battery of tests and targeted manoeuvres performed across help determine what could be at fault and might be causing the issue. This might include testing whether your hip pain is emanating from your spine.
After these tests, your therapist and you will have the ability to initiate a strategy of therapy. The therapist may use ice or heat local application to manage inflammation. Bear in mind that therapies like ice or heating might feel great, but regularity in doing the exercises prescribed by your Physical Therapist has been demonstrated to be the best and the lasting remedy for hip pain.
The therapist prescribes exercises to enhance hip strength and mobility. These exercises are to be performed at home daily and a few may be required to be performed at the clinic. If you have important to be an active player in physical therapy and ask any questions that you have. This understands comprehend better and hence adherence to the exercise regimen is better and this leads to better and lasting outcomes.
Exercises to enhance strength or the mobility of hip are essential to maintaining the hips strength and pain-free condition. Regular exercises performed daily are a fantastic method to maintain the hips working correctly, forever. In case your hip pain increases, innovative hip strengthening exercises might be additional choices to make the most of hip function.
Studies have also proven that mobilization techniques might aid in improving long-term and brief pain in patients. Hip freedom may also accompany this advancement in pain.
When to Get Physiotherapy for Hip Pain?
Most of the time, self-treatment of pain with painkillers, rest, hot/cold compress and regular physiotherapy for lower back and hip pain will help. If the pain remains or has not improved even after two weeks of frequently taking painkillers and other management techniques, you must see your physician.
However, you may want to get physiotherapy for lower back and hip pain immediately under any of the following conditions.
Experiencing a fall or injury to your hip

Pain exacerbating

Facing trouble with daily tasks; such as walking upstairs or leaning forward while sitting

Feeling of bloated-ness, being unwell, or unexplained weight loss.
Diagnosis for Hip Pain
You must see your physician in case the hip pain has not improved even after two weeks.
Before visiting the physician and getting physiotherapy exercises for hip joint pain, it is a good idea to make a few notes around when you experience pain, where, under what conditions, what time of the day /night, what activities increase/reduce pain etc. This will help you talk well to the doctor and will impact the diagnosis and cure impact.
Pain any time of wearing socks or while you bend your hip going down or up the staircase is an indication of a hip issue. They will analyse your hip, and this will give them enough info. They may also need tests to diagnose any states that cannot be found symptomatically.
Diagnostic tests
X-rays –

X-rays are the best imaging diagnostic tool because they reveal the condition of the bones and what is wrong with your hip. However, they are much less helpful for understanding tissues issues around the joint.

CT scans –

ACT or computerized tomography scan may be very valuable to identify if the hip joint has an irregular form. CT scans utilize x-rays to reveal segments or 'pieces' of the hip. If there are any irregularities, these are generally visible in a CT scan.

MRI scans –

MRI or magnetic resonance imaging uses radio waves to construct an image to show the condition of delicate tissues, like the tendons and muscles, within the hip. These are especially beneficial for diagnosing the debilitating illness avascular necrosis, which lessens the circulation of blood into the ends of the one, making them fall.

Blood evaluations –

If your doctor believes your pain is brought on by an illness or rheumatoid arthritis, blood tests can determine the same.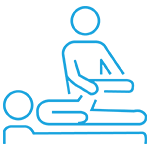 style="text-align:right;color:0f0f59;">
Read more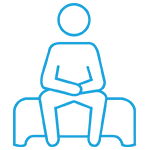 style="text-align:right;color:0f0f59;">
Read more
I got good experience wt dr Dhrita she is v good in physiotherapy n nice while talking n explains v nice

Sujata Rao


6/19/2019

We contacted care 24 for my Dad's physiotherapy. Our physiotherapist Dr Dharita is very knowledgeable and extremely patient. My Dad is showing a lot for improvement in terms of his movement.

D W


3/21/2019

If there was an option of negative stars then I would have choosen it. They offered me a package of₹ 5950/- for 10 days and after 2 days updated me on new package of ₹5700/- for 7 days without my consent. Even deposited my earlier cheque and then I had to follow up for the balance for about 10 days explaining my issue everyday to the new person on their helpline. They don't acknowledge emails too. Worst experience and definitely not recommended

Mugdha Kulkarni


5/23/2019

Nurses and attendants provided by Caree24 are very good. In behavior and trust worthy. Thanks for their support

Anil Kathuria


6/28/2019

Unqualified office staff, when you call to clarify something. Many times they don't understand the question. They are not trained well. The customer care staff needs an upgraded system, where notes are fed into the system. So you don't need someone else calling up and giving you the same info. The caretaker is not trained well. If they are looking after an elderly person, they should know that they have to be in the best of health to look after my mother. She ended not making a meal for my mother and my neighbour had to provide it. If the caretaker is not well she should have asked for a replacement asap and not waited. It is shocking, we have paid a huge amount of money for this service and I am absolutely unhappy. Please do not call for caretaker's from Care24. As long as they are getting their money. They care a damn!!! Worst service providers.

Bonabelle Zuzarte


7/10/2019
I am still taking services from Care 24 since last two years. The caregivers are well trained and takes good care of my mother in law.
Sheila khanchandani
Sumesh Brother is Punctual, Efficient and knowledgeable and understands patients requirements completely.
Jayshree Prabhu
I have been using care 24 services and have been very happy with their services. Priyanka Rajbhar is our caretaker she is very disciplined kind and dedicated towards her work.
Saurabh Bhatt
The Nurse and the Attendant provided by Care24 are good in service, polite and punctual. We are happy with their service. The patient ( our family member) is been given proper care, feed and cleaned regularly.
Deepa Balvalli
Dr. Ralga had Attended to my father. He is suffering from PSP. We were specifically impressed by her techniques n method to handle the issue. We are planning on repeating her visits every month for positive results.
Uma Ram
Frequently Asked questions