Our physiotherapists are experienced in providing a complete range of physiotherapy services.
Fill up the form to know more about our physiotherapy services in Kalyan.
Our physiotherapists are experienced in providing a complete range of physiotherapy services.
Fill up the form to know more about our physiotherapy services in Kalyan.
Highly rated by thousands of patients all over India.
pHYSIOTHERAPY services in Kalyan
What is Physiotherapy?
Physiotherapy is concerned about helping to restore well being to individuals following damage, discomfort or perhaps handicap. Physiotherapy is defined by the World Confederation for Physical Therapy (WCPT) as "providing services to individuals and populations to improve, sustain as well as restore optimum activity as well as operational ability throughout the lifespan". "This consists of giving solutions in situations in which mobility and performance are threatened by getting older, damage, discomfort, ailments, dysfunctions, situations or environmental conditions. Operational motion is fundamental to what it means to be healthier."

The role of a physiotherapist is exceedingly mixed that have no two days being the same. He/she may have to assess the physical condition of someone in an effort to recognize troubles and execute a treatment plan, or maybe they might also be re-training patients to walk, or helping other individuals to do something about crutches, walking frames, or even wheelchairs. He/she may also be in charge of coaching their patients together with their families, (as well as the network at large) to eliminate injuries and to assist those individuals to lead healthy standard of living. In some cases, the physiotherapist may be asked to prepare and put in place community health programs. In the end, physiotherapists may also issue sick leave certificates if regarded necessary to do so.

For the duration of their career a physiotherapist can take care of all types of people including children with cerebral palsy, premature infants, pregnant women, people experiencing rehab, sports athletes, the elderly (to attempt to make them fitter), and also those seeking help following heart problems, strokes, or perhaps major surgery.

Treatment for Physiotherapy
Physiotherapists are properly trained to analyze everything, diagnose the illness, and enable you to recognize what's wrong. The treatment plan is going to take into consideration your way of life, daily activities, and general health.
The following are common remedies use by physiotherapists:
physical exercise programs to enhance movement and improve muscles

joint manipulation and mobilization to reduce soreness and firmness

muscular re-education to promote control

airway clearance methods and breathing exercises

soft tissue mobilization (massaging)

acupuncture and dry needling

hydrotherapy

guidance with the usage of aids, splints, crutches, walking sticks and wheelchairs to make it easier to move about.

Exercises for Physiotherapy
Physiotherapy activities have already been proven to be an advantageous way to assist treat and avoid injuries as well as discomfort associated with mixed disorders.

Physiotherapists are properly trained medical specialists who utilizes most of these activities to strengthen muscle tissue and enhance functionality. They evaluate an individual's concerns and then recommend the most beneficial set of physiotherapy exercises for immediate relief. These exercises range from single to high-level postures all of which help repair the physical structure and recover complete physical function.

Just like in the case of medication, you only benefit if you take the remedies as suggested by a health care professional; in the same way you can expect any benefit from physiotherapy if you consistently follow up with the recommended activities.

Physiotherapy also helps to reestablish a well-balanced psychological frame of mind and that is critical for holistic therapy.

Benefits of Physiotherapy
Several physiotherapists consult in private practice and we cure a variety of illnesses. Orthopedic cases (this includes sports wounds, fractures, spinal discomfort, and headaches to identify a few) are the most common sorts of individuals we deal with in a clinical setting. Physiotherapy treatment may include therapeutic exercise to improve power, ability to move and resilience and to correct postural as well as muscle unevenness, joint mobilization, manipulation, and tender tissue massage, in addition to stretching and trigger point therapy to help reduce tightness and to alleviate discomfort.
Individuals with neurological problems for example stroke, multiple sclerosis, Parkinson's disease, cerebral palsy as well as spinal cord injury may benefit greatly with physiotherapy rehabilitation. Interventions fixate on muscle re-education and regulation, rehabilitation of fine and gross motor skills, improving daily function, regaining power and versatility, learning how to conduct secure transfers, restoring and enhancing gait and training in the use of mobility aids.

For youngsters being affected by cerebral palsy, physiotherapy is crucial in aiding to minimize spasticity as well as deformity, improving postural control, showing kids how to use assistive gadgets and also accomplishing all that is necessary to maximize the child's functional liberty. We will additionally tutor the family members to allow them to help carry over whatever the child has learned for the duration of therapy periods.

Cardiopulmonary circumstances react nicely to physiotherapy intervention. Patients who have problems performing their activities of regular living, or who have shortness of breath as well as decreased endurance, can achieve substantially improved quality of existence via directed activity and resistance training. Intervention furthermore includes guide therapy and exercise to help out clear secretions in the lungs, counseling about dangers factors, patient training to prevent future recurrence as well as behavior modification. For all those individuals that have obtained cardiopulmonary surgical treatment, physiotherapy is begun in advance to avoid the sufferer from reducing power and function.

Our physiotherapists treat individuals in the comfort and ease of their homes. They evaluate, diagnose, and cultivate a healing plan which varies based on the patient's needs. A physiotherapy session is usually of an hour or so, depending on the criticality of the illness. Our professionals help with basic and advanced movement exercises to develop the patient's ability to move.

How can care24 help?
If you are looking for a physiotherapist at home in Kalyan, Care24 has to be your first preference. Care24 has set a high standard for personalized home medical care. Care24 offers home physiotherapy in Kalyan, and our physiotherapists are frequently regarded as some of the best physiotherapists in Kalyan. Our physiotherapists are well-trained, certified and fully understand the patient's needs.

The home is the most suitable place for physical therapy, wherein comfortable surroundings directly increase your chances of rehabilitation. It is not necessary to visit a physiotherapy clinic in Kalyan when Care24 offers top quality home physiotherapy services. You can get yourself treated by some of the top physiotherapists in Kalyan from the ease and comfort of your home.

Our trained physiotherapists will offer you the finest treatment in the ease and comfort of your home to recover faster. And regardless of whether you are looking for a sports physiotherapist in Kalyan or a neuro physiotherapist, Care24's at-home physiotherapy services are only a call away. Connect with us and our experts will get in touch with you quickly. Home physiotherapy in Kalyan was never so easy. Care24 offers the best home physiotherapy services in Kalyan.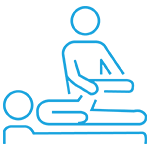 style="text-align:right;color:0f0f59;">
Read more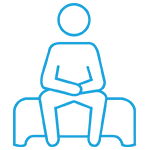 style="text-align:right;color:0f0f59;">
Read more
worst service, they just talk as if they will send professional at our place, they give big promises at the time of starting their services, but when the attendant come at our place we realized that he was more delicate than our patient, the person whom they had sent got a small scratch in his finger and than the same day he said he wont come as he got injury, so the next day he dint turn up neither did care24 arrange for a replacement, after calling them for 4 times they said me sorry they couldn't arrange anyone today. they don not have the decency to even inform that they cannot arrange for a replacement.. please do not go for their services, its just the promises nothing to deliver

Komal Patel


4/11/2019

Horrible, unprofessional service! Advance paid.The caregiver did not show up. When complained to customer care, they said they will find a replacement and call back. No call back, no replacement. They shut for the day and the customer is felt in a lurch. Extremely disappointing. Will never avail this service again and will spread the word too.

Shraddha Shah


11/02/2019

We contacted care 24 for my Dad's physiotherapy. Our physiotherapist Dr Dharita is very knowledgeable and extremely patient. My Dad is showing a lot for improvement in terms of his movement.

D W


3/21/2019

My father had a hip bone surgery in January. I have been using Care24 services ever since. The attendants that cane were good in the beginning. However their services have become good to bad to worse to worst in the last 15 days. They changed the night attendant without informing me personally just 6 hours before the time. My father had just settled down with the last attendant and now they were sending a replacement tonight. To add to my frustration the guy didn't turn up and did not answer the calls. When I called their call centre - they said they can't help me at this hour. Well- I can't help but call them CARELESS CARE24.

Jasbir Basu


4/06/2019

The worst experience I've had of my life. I normally never really write reviews, but I had to write this because this agency is the worst company I've dealt with till now. Their customer service is terrible, most of their attendants are not competent for taking care of elderly patients. Please do not use their service.

Radhika Kulkarni


6/27/2019
I am still taking services from Care 24 since last two years. The caregivers are well trained and takes good care of my mother in law.
Sheila khanchandani
Sumesh Brother is Punctual, Efficient and knowledgeable and understands patients requirements completely.
Jayshree Prabhu
I have been using care 24 services and have been very happy with their services. Priyanka Rajbhar is our caretaker she is very disciplined kind and dedicated towards her work.
Saurabh Bhatt
The Nurse and the Attendant provided by Care24 are good in service, polite and punctual. We are happy with their service. The patient ( our family member) is been given proper care, feed and cleaned regularly.
Deepa Balvalli
Dr. Ralga had Attended to my father. He is suffering from PSP. We were specifically impressed by her techniques n method to handle the issue. We are planning on repeating her visits every month for positive results.
Uma Ram