Physiotherapy For Hemiplegia
Our physiotherapists are experienced in providing a complete range of physiotherapy services.
Fill up the form to know more about our physiotherapy services for Hemiplegia.
Physiotherapy For Hemiplegia
Our physiotherapists are experienced in providing a complete range of physiotherapy services.
Fill up the form to know more about our physiotherapy services for Hemiplegia.
Physiotherapy service for hemiplegia
Overview
Hemiplegia is a disorder that affects one side of the human body. It is generally diagnosed as left hemiplegia or the right, based on which side of the human body is impacted. It is found that 9 out of 10 stroke survivors possess a certain level of paralysis immediately after a stroke.
Hemiplegia is brought on by an injury to the areas of the brain which controls motion, leading to the inability to manage the voluntary motion of a muscle or a group of muscles. The following side effects often are found accompanying hemiplegia.
Muscle spasticity or weakness in the muscles

Muscle atrophy or the loss of muscle power

Seizures & Infection
Symptoms of hemiplegia
Pain –

There is localized pain as well as pain related to brain injury and pain in the limbs.

Aphasia

– Individuals who suffer from hemiplegia, may retain the ability to think but their ability to translate them into thoughts and communicate their thoughts gets impacted and they also find it hard to understand and pronounce the words they hear. Additionally, they might have trouble remembering the meanings of words they read or hear.

Diseases of the sphincters –

A quarter of people with hemiplegia have sphincter disturbances resulting in urinary incontinence or urinary retention. They also suffer from control on faecal matter.

Erectile dysfunction

erection dysfunction is compromised in several guys with hemiplegia. A diminished libido, particularly once hemiplegia, sets in.

In some cases, the lesions, leg, and arm are affected, in others just the arm or just the face.
Other symptoms of Hemiplegia
Reduced motor abilities.

Pusher syndrome and the tendency to push very fast from the non-impacted side leading to balance issues.

The issue with gait.

Difficulty with balance when walking or standing.

Difficulty with motor actions such as holding, grasping or pinching.

Increasing muscles stiffness and Muscle Spasms.

Abnormal psychological improvement.

Behaviour issues like stress, anger, irritability, and lack of concentration or understanding.

Heightened emotional sensitivity together with the inability to manage stressful conditions.

Shoulder pain – Frequently connected with a reduction of external rotation of the glenohumeral joint, generally because of the greater tone of the Subscapularis muscle and Pectoralis major muscle.

Shoulder Subluxation.

Difficulty in swallowing.

Vision Trouble – Blurred vision or weakness of eyes.

Speech becomes more difficult.

Numbness, tingling or loss of senses on one half of their human body.

Less control on Memory – Inability to remember past or recent events regarding actions, places, and individuals.

Loss of control over bowel and bladder motions resulting in an inability to continue to pass urine or faeces normally.
Causes of hemiplegia
The most frequent cause of hemiplegia is a stroke. Based on the severity and location of this lesion, strokes can result in many different movement disorders.
Hemiplegia is a common condition once the stroke affects the corticospinal tract. Causes of hemiplegia are spinal cord injury, traumatic brain injury especially Brown-Séquard syndrome, or disorder affecting the mind. As the lesion which leads to hemiplegia happens in the spinal cord or the brain, impacted muscles display features of this Upper Motor Neuron Syndrome.
Besides weakness, characteristics include diminished movement controller, clonus or a series of involuntary rapid muscle contractions, spasticity, exaggerated deep tendon reflexes and decreased endurance.
Additional causes of hemiplegia in adults include injury, bleeding, brain cancers, and infections. Those who have hypertension or diabetes have a greater probability of developing a stroke.
Weakness on one side of their face can occur and might be due to a viral disease, stroke or even cancer.
The stroke may result from a clot formed inside the blood vessel blocking the blood supply – a thrombus breaks off from the site of origin and creates a block anywhere in the blood flow resulting in an embolic bleed by a blood vessel supplying the brain called a hemorrhage. The patients are highly recommended to get physiotherapy treatment for hemiplegia and follow all the physiotherapy exercises for hemiplegia regularly.
Treating Hemiplegia
Range of Motion Exercises –

Range of motion exercises may help to reduce muscle stiffness and contractures by exercising the paralyzed or weakened limb. Based on whether the limb may voluntarily move or needs to be exercised by somebody else, range of motion exercises may be Passive as somebody else moves the limb for you; Active – assistive in which you perform motion as much as is possible with the assistance of somebody else to complete the motion.
Flexibility Training –

Post experiencing a stroke, your therapist may work with you. Flexibility training enhances blood flow and helps recover equilibrium and coordination that may have been lost following a stroke. When paired with strength training, flexibility training may result in increased capacity and improved posture. When there is less strength on one side, flexibility training is very important on the dominant side as it will progressively start strengthening the impacted or weaker side as well. Therefore, workout to maintain your side as flexible as possible can help boost freedom and activity on side muscles.
Electric Stimulation –

Electrical stimulation is used to fortify muscles of the arm and enhance the range of movement in patients with hemiparesis – (partial weakness on one side of the body). During stimulation, little electric pads are set on the arm's muscles. A tiny electric charge will activate a small shock at the same time so that can work to move your arm.
Modified Constraint-Induced Remedy (mCIT) –

During modified constraint-induced treatment (mCIT), therapists utilize focus exercises to improve movement in patients with hemiparetic arms). Patients attend this treatment three times each week, over a period, in sessions. Studies have revealed that mCIT may help raise the motion in an arm but only in patients that can move hands or their wrists.
Motor Imagery (MI) –

Throughout these exercises, you'll be asked to envision yourself with a specific portion of the body. As you envision these body parts, certain regions of your mind and muscles might be busy as if you are doing the action. This practice has been proven to boost arm motion and studies indicate that exercises might be useful in assisting patients to walk.
Assistive Devices –

Assistive devices, like braces, canes, walkers, and wheelchairs, can boost motion and strength limbs in patients with paralyzed or weakened limbs. The physical therapist may recommend a system that best meets requirements and it is essential to be trained to use the same and understand the security procedures of orthotics – such as learning how to correctly use and maintain it.
Exercises for Hemiplegia
Why exercise is the Best Hemiplegia treatment?
The most effective remedy for hemiplegia is to start physiotherapy exercises for hemiplegia. But when you are paralyzed across half of your body, how would you exercise? Learning to accommodate stroke exercises to adapt to hemiplegia is the trick to recovery. Getting physiotherapy for hemiplegia will give you an idea on how you can make a stroke workout regimen to take care of hemiplegia to strengthen your muscles.
Hemiplegia Treatment Starts using the Brain
Paralysis is the cause of hemiplegia.

It is because the mind can't send signals to the side where hemiplegia occurs after a stroke.

So even though you try your hardest to move the impacted side, your muscles don't receive the message, and they do not move.

Hemiplegia therapy revolves around restoring this mind -muscle communicating through neuroplasticity.

Neuroplasticity enables healthy areas of the mind to form new neural pathways.

The mind will be reconnected by these pathways to the impacted side to get muscles moving.
How repetition heals the brain and treats Hemiplegia
Copying activates neuroplasticity.

It helps in strengthening the brain pathways in charge of repetitive exercise being performed; This way you employ less effort because your mind loves to be effective and makes you perform these motions with ease as you keep practising more.

At this time your impacted side is affected with paralysis and it cannot move as your mind has lost the ability to communicate.

But if you start to move those muscles regularly (i.e. massed practice), then it is going to allow your mind to know that it is crucial.
HOW CAN CARE24 HELP?
Based on the type of need, it requires quite a few weeks or even months for you to recover. After you get physiotherapy for hemiplegia, you are helped by our physiotherapist with exercises which stimulates tissues and the cells that have been injured for aiding recovery.
physiotherapy for hemiplegia will help with stretching exercises and offer recovery programs following the kind of injury, to facilitate recovery. The Physiotherapists will also guide you in educating you to take care of yourself.
Therefore, if you are looking for physiotherapist providing excellent physiotherapy treatment for hemiplegia or a good nurse, simply reach out to Care24's world-class physiotherapy treatment in your home's comfort.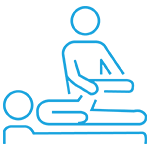 style="text-align:right;color:0f0f59;">
Read more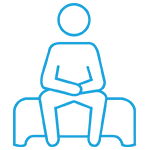 style="text-align:right;color:0f0f59;">
Read more
I got attendent for my ailing mother thru care 24. The best service i got...if i need infuture i will definitely go for care24 only...they are the best

felix thomas


3/21/2020

Unqualified office staff, when you call to clarify something. Many times they don't understand the question. They are not trained well. The customer care staff needs an upgraded system, where notes are fed into the system. So you don't need someone else calling up and giving you the same info. The caretaker is not trained well. If they are looking after an elderly person, they should know that they have to be in the best of health to look after my mother. She ended not making a meal for my mother and my neighbour had to provide it. If the caretaker is not well she should have asked for a replacement asap and not waited. It is shocking, we have paid a huge amount of money for this service and I am absolutely unhappy. Please do not call for caretaker's from Care24. As long as they are getting their money. They care a damn!!! Worst service providers.

Bonabelle Zuzarte


7/10/2019

worst service, they just talk as if they will send professional at our place, they give big promises at the time of starting their services, but when the attendant come at our place we realized that he was more delicate than our patient, the person whom they had sent got a small scratch in his finger and than the same day he said he wont come as he got injury, so the next day he dint turn up neither did care24 arrange for a replacement, after calling them for 4 times they said me sorry they couldn't arrange anyone today. they don not have the decency to even inform that they cannot arrange for a replacement.. please do not go for their services, its just the promises nothing to deliver

Komal Patel


4/11/2019

I got good experience wt dr Dhrita she is v good in physiotherapy n nice while talking n explains v nice

Sujata Rao


6/19/2019

The worst experience I've had of my life. I normally never really write reviews, but I had to write this because this agency is the worst company I've dealt with till now. Their customer service is terrible, most of their attendants are not competent for taking care of elderly patients. Please do not use their service.

Radhika Kulkarni


6/27/2019
I am still taking services from Care 24 since last two years. The caregivers are well trained and takes good care of my mother in law.
Sheila khanchandani
Sumesh Brother is Punctual, Efficient and knowledgeable and understands patients requirements completely.
Jayshree Prabhu
I have been using care 24 services and have been very happy with their services. Priyanka Rajbhar is our caretaker she is very disciplined kind and dedicated towards her work.
Saurabh Bhatt
The Nurse and the Attendant provided by Care24 are good in service, polite and punctual. We are happy with their service. The patient ( our family member) is been given proper care, feed and cleaned regularly.
Deepa Balvalli
Dr. Ralga had Attended to my father. He is suffering from PSP. We were specifically impressed by her techniques n method to handle the issue. We are planning on repeating her visits every month for positive results.
Uma Ram
Frequently Asked questions