Physiotherapy For Handicapped
Our physiotherapists are experienced in providing a complete range of physiotherapy services.
Fill up the form to know more about our physiotherapy services for Handicapped.
Physiotherapy For Handicapped
Our physiotherapists are experienced in providing a complete range of physiotherapy services.
Fill up the form to know more about our physiotherapy services for Handicapped.
Physiotherapy Service For Handicapped
Overview
What is Handicapped Disability?
A disability is a condition where an individual is unable to carry out the normal body/brain functions as most human beings do or his / her ability is diminished relative to someone standard. The expression can be used to refer to a function, such as sensory impairment, physical impairment, cognitive impairment, intellectual handicap illness, and various kinds of illness.
A disability could have impacts on body parts or organs and therefore might have impacts on an individual's involvement in varied regions of life.
Correspondingly, three measurements of disability are known:
Body structure and purpose and the handicap thereof

Required actions and action restrictions

Involvement and participation restrictions
This classification acknowledges the use of social and physical environmental variables' impact on disability.
Every individual may get impacted in different ways, even while there may be two individuals having a similar type of handicap. Some disabilities could be concealed, and are known as an invisible disability.
Various Kinds of disabilities:
Vision

Hearing

Thought

Learning

Movement

Emotional Wellness

Memory

Communication

Social connections
Symptoms of disabilities
There are several signs of disability and these may differ based upon characteristics and symptoms of handicap that could exist. These symptoms may become apparent right from infancy or in some cases may start showing up as the person grows/post the disability causing event.
Several frequent symptoms may include:
Learning and growing slower compared to other children of the same age

Rolling over, sitting up, crawling, or walking considerably later than developmentally appropriate

Difficulty communicating and interacting with other people

Lower than typical scores on IQ tests

Difficulties speaking or speaking late

Having problems remembering things

Inability to associate actions with the consequence

The issue with difficulty or logical thinking

Trouble learning in college

Inability to perform regular tasks like dressing up or using the restroom without assistance
Risk factors for the disabled
Communicable diseases or Infectious diseases

such as lymphatic filariasis, tuberculosis, HIV/AIDS, along with other sexually transmitted diseases; neurological effects of some ailments like encephalitis, meningitis, and youth bunch diseases (such as measles, mumps, and poliomyelitis) contribute to handicap.

Noncommunicable diseases (NCDs) –

Chronic diseases like diabetes, cardiovascular disease, cancer, and arthritis cause most chronic disabilities. The increase in NCDs will have a profound impact on handicap.

Lifestyle options

and factors like obesity, physical inactivity, tobacco use, alcohol intake, illegal drugs that result in non-invasive diseases are also getting significant contributing factors.

Air contamination,

occupational disease, inadequate water supply, sanitation, and personal and domestic hygiene, malnutrition also cause a handicap.

Injuries

because of road traffic injuries, occupational injury, violence, conflicts, falls and landmines have been known as contributors to handicap.

Emotional health issues

– mental health retardation and mental illness are a few of the causes of psychological handicap. In over 50% of cases, mental retardation has been reported to result from an acute illness or head injury during birth or during growing up. Mental retardation is also observed at birth or very early stages of life. Mental disease, though, is more of an older age issue.
Types of disability
The types of handicaps are intellectual, sensory, psychiatric, neurological, cognitive and physical. People with disabilities may be suffering from more than one type of disability.
Physical disability is the most frequent type of disability, followed closely by intellectual and neurological impairment. Physical handicap relates to disorders of the respiratory, circulatory, musculoskeletal and nervous systems.

Sensory disability involves impairments in eyesight and hearing.

Neurological and cognitive disability includes disability because of brain injury or multiple sclerosis etc.

Intellectual handicap incorporates developmental and intellectual disability which relates to communicating, learning, recalling information and using it appropriately, problem-solving and making conclusions. Intellectual handicap is the result of interaction involving developmentally cognitive impairment, attitudinal and environmental barriers that are attributable.

Psychiatric disorders could include melancholy, phobias or anxiety disorders.
For mentally disabled patients family members can get physiotherapy for mentally challenged
Significance of physiotherapy for mentally challenged children
Children with disabilities remain at precisely the same position or place that they were some time ago and they continue to remain like that. This could have influenced their health more and their disability may even progress more than what already exists, and their disability will keep progressing and even worsening with time. From the risks of disorders to the effects of a lifestyle, children that are disabled may benefit from using physiotherapy for handicapped and handicapped services such as acupuncture and massage therapy from professionals. You may ask how this helps and so we have put together a collection of services that are meant for the handicapped and are important for freedom and the health of children.
It keeps them fit –

With the disability type, the child may be impacted by weight gain and the general well being of the child may get impacted as the body is not portable and remains in inaction. Due to this, it is very important to exercise their body esp. when it has constraints and with physiotherapist's solutions for overcoming the handicap, the kid will have the ability to exercise their bodies, stretch them and eventually strengthen muscles and manage their health, their weight and help to provide them freedom and control of their own body.
It helps relax the body and decrease pain –

Although services help to keep the body trim and healthy, they also help relieve muscular pain, tension and stress. These massages are far from a luxury; they are mostly therapeutic and among the methods of enabling children to handle the pain from issues like spasticity and spasms which may otherwise be difficult to control.

physiotherapy for handicapped

functions to control the body and it might be a method for relieving anxiety and quieting the body.
It helps boost total body health –

Services like

physiotherapy for handicapped

are one of the ways to help promote overall health. Regrettably, handicapped children frequently have plenty of healthcare problems that could influence their health beyond the first physical handicap – e.g. such as greater risks for colds, chest infections, viruses, etc.. and it is very useful and makes sense for health and well-being in children by using physiotherapy to control the body to work.
How a physical therapist can help
Your therapist may record your history if you're visiting a therapist and the treatment you are getting hasn't led to any considerable illness.

They can offer a statement on your physical condition and the treatment you are taking and the likely impact on the current health condition.

The professional who's currently treating you will have to note about any effect the treatment has influenced your condition and will have to keep records concerning the treatment which you're getting.

With all the above, not only will one be able to stop the progress of disability and get it cured where possible, but they can also take help from the physiotherapist on guidance for disability registration, etc.
how can care24 help?
Based on the type of need, it requires quite a few weeks or even months for you to recover. You are helped by our physiotherapist with exercises which stimulates tissues and the cells that have been injured for aiding recovery.
The physiotherapists help with stretching exercises and offer recovery programs in accordance with the kind of injury, in order to facilitate recovery. She will also guide you in educating you to take care of yourself.
Therefore, if you are looking for an excellent physiotherapist or a good nurse, simply reach out to treatment in your home's comfort.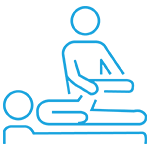 style="text-align:right;color:0f0f59;">
Read more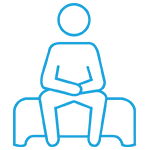 style="text-align:right;color:0f0f59;">
Read more
We had a ridiculously pathetic experience with them. Took an attendant service, a 10 day offer (rs 600 instead of their regular fee of rs 800), for my mother who had undergone an knee replacement surgery. In six days, 4 different attendants were assigned for no fault of ours. We had terrible experience going through the back-end team trying to explain the importance of sending only one attendant and not a different one every new day. The last person assigned wanted to leave by 5pm even though the timings were from 8am to 8pm. With this many other terrible instances in these 6 days, we had no option but to cancel the services. The back-end team were utterly useless in understanding the importance of having only one person assigned. They kept insisting that we pay for 800rs per day for 6 day and offer of rs 600 per day would be invalid. The management should look into this scam and take immediate action on the team. Note: Even though we wanted the services, we were forced to abandon it with no fault of ours. The back-end team has absolute disregard for the grievances of the client.

Rahul Dhakka


12/27/2018

The management team & the customer care team is quite responsive.... However the main component, ie the caregiver is not trustworthy & definitely not upto the mark

Ritwik Basu


11/03/2019

Worst experience ever! Have hired a caregiver and a nurse. The nurse arrives late repeatedly inspite of being told about how critical medication timings are, falls asleep during day duty, is clueless about timings and medications inspite of us having guided them and has no sound medical knowledge whatsoever. She insisted that a fever of 99.7 is normal and even tried feeding the patient through riles tube with the patient lieing down inspite of there being a recliner arrangement. Neither the nurse or the attendant knew the correct way of lifting a patient from the bed, it was all ignorant tug and pull. Any complaints made to the organisation made no difference as they need more than a day to arrange for a replacement and one needs to deal with the same incompetent staff for another day or risk having no caregiver coming over (as bluntly informed by the call center) at all. Furtheron, the same performance continued the next day. In fact, in the absence of the family members it was observed through a baby monitor that the attendant and the nurse were sitting and chatting away while the patient was trying to sleep and literally PASSING FOOD OVER TO EACH OTHER OVER THE PATIENT! If this wasnt bad enough, the attendant developed a cough and a fever and when a call was made to care 24 asking them to send a replacement on the next day at least as the patient has low immunity, the organisation again gave a choice, we could have the same attendant and risk the patient getting sick, or have no attendant for the next day as they didn't have anyone available. Do not fall for the sales pitch of the executives over the phone as their premium prices and promises of exceptionally well trained staff is nothing but marketing mumbo jumbo. The professionalism and training of the staff that comes to your door is as garbage as the service of the organisation. More importantly, do not trust this organisation with the health and well being of your loved ones as no one in the entire heirarchy of care 24 really 'cares'. You would be better off hiring someone from a local agency. Have had much better experiences with randomly contacted nurses and attendants through justdial. Even though they live far, they reach on time The local organisations are also promptly able to provide replacements if need be. P.S. The 1000 or so rupees registration charge they take from you initially, is essentially a financial clickbait as its money they've made off you after they have stressed you out, contributed to deterioration of the patient and compelled you to suspend their services.

Marzouq Shaikh


3/09/2020

Nurses and attendants provided by Caree24 are very good. In behavior and trust worthy. Thanks for their support

Anil Kathuria


6/28/2019

If there was an option of negative stars then I would have choosen it. They offered me a package of₹ 5950/- for 10 days and after 2 days updated me on new package of ₹5700/- for 7 days without my consent. Even deposited my earlier cheque and then I had to follow up for the balance for about 10 days explaining my issue everyday to the new person on their helpline. They don't acknowledge emails too. Worst experience and definitely not recommended

Mugdha Kulkarni


5/23/2019
I am still taking services from Care 24 since last two years. The caregivers are well trained and takes good care of my mother in law.
Sheila khanchandani
Sumesh Brother is Punctual, Efficient and knowledgeable and understands patients requirements completely.
Jayshree Prabhu
I have been using care 24 services and have been very happy with their services. Priyanka Rajbhar is our caretaker she is very disciplined kind and dedicated towards her work.
Saurabh Bhatt
The Nurse and the Attendant provided by Care24 are good in service, polite and punctual. We are happy with their service. The patient ( our family member) is been given proper care, feed and cleaned regularly.
Deepa Balvalli
Dr. Ralga had Attended to my father. He is suffering from PSP. We were specifically impressed by her techniques n method to handle the issue. We are planning on repeating her visits every month for positive results.
Uma Ram
Frequently Asked questions