Our physiotherapists are experienced in providing a complete range of physiotherapy services.
Fill up the form to know more about our physiotherapy services for Neuropathy.
Our physiotherapists are experienced in providing a complete range of physiotherapy services.
Fill up the form to know more about our physiotherapy services for Neuropathy.
Physiotherapy Services For Neuropathy
Overview
Diabetic neuropathy
High blood sugar levels can damage the nerves throughout the body which is termed as Diabetic Neuropathy. The symptoms vary from pain and numbness in legs and feet to the problems in the digestive system, urinary tract, blood vessels, and heart. Though some people have mild symptoms for others, it may be quite painful.
Diabetic neuropathy is one of the common complications of diabetes. It can be prevented with proper blood sugar control and a healthy lifestyle. Also getting a diabetic neuropathy physiotherapy treatment is recommended to have a healthy and safe recovery.
Symptoms:
Symptoms vary on the type of neuropathy. People often experience:
Tingling sensation and numbness

Hypersensitivity

Increased pain

Loss of ability to detect changes in hot and cold

Loss of coordination

Burning or shooting pain that may be worse at night

Muscle weakness
Types of Diabetic Neuropathy
There are four main types of diabetic neuropathy. The symptoms develop gradually and usually depend on the type and the affected nerve. Physiotherapy for diabetic neuropathy:
Peripheral neuropathy
It is the most common type of diabetic neuropathy that usually affects the feet and legs first and then the hands and arms. The signs and symptoms of peripheral neuropathy are mostly worse at night that includes:
Numbness or not feeling pain or temperature changes

Tingling or burning sensation

Sharp pain or cramps

Sensitivity to touch in some people

Muscle weakness

Loss of reflexes

Loss of balance and coordination

Foot problems like ulcers, infections and bone and joint pain
Autonomic neuropathy
The autonomic nervous system controls the heart, bladder, stomach, intestines, sex organs and eyes. Diabetes can cause damage to the nerves in these areas causing:
Hypoglycemia unawareness

Bladder problems such as urinary tract infections or urinary retention

Constipation or diarrhoea

Gastroparesis causing nausea, vomiting, bloating and loss of appetite

Difficulty swallowing

Increased or decreased sweating

Problems controlling body temperature

Increased heart rate during relaxation

Fluctuation in blood pressure after sitting or standing

Erectile dysfunction

Vaginal dryness

Decreased sexual response
Radiculoplexus neuropathy

It usually affects the nerves in the thighs, hips, buttocks or legs. This type is usually common in those people with type 2 diabetes and senior citizens. The other name for this type is known as diabetic amyotrophy, femoral neuropathy or proximal neuropathy.
Mostly the symptoms are usually on one side of the body however sometimes they may spread to the other side. Common symptoms are:
Severe pain in hip and thigh or buttock

Weakness and shrinking thigh muscles

Difficulty rising from a sitting position

Abdominal swelling

Weight loss
Mononeuropathy
Mononeuropathy or focal neuropathy is the damage that occurs to the specific nerve in the face, middle of the body and leg. It is quite common in older adults and can occur suddenly causing severe pain. It usually does not cause long term complications.
The symptoms usually go off without treatment in a few weeks or months. However, the specific signs and symptoms depend on which nerve is involved. The pain can be felt in:
Shin or foot

Lower back or pelvis

Front of thigh

Chest or abdomen
Mononeuropathy can also cause nerve problems in the eyes and face that can cause:
Difficulty focusing

Double vision

Ache behind one eye
Mononeuropathy occurs when something is pressing on the nerve. Carpal tunnel syndrome is a compression neuropathy that occurs in people with diabetes and can cause numbness or tingling in hand or fingers.
Treatment for Diabetic Neuropathy
Though there is no cure for diabetic neuropathy its progression can be reduced. Make sure to keep your blood sugar levels in a healthy range as it can decrease the likelihood of developing diabetic neuropathy and can provide relief from its symptoms.
Following a healthy lifestyle and exercising regularly are also included in the treatment plan. Make sure to consult your doctor before beginning a new fitness routine. You can also ask your doctor for alternative treatments or supplements for neuropathy.
Pain Management
Pain caused due to diabetic neuropathy can be treated by proper medication. You can consult your doctor to know about the available medications and their potential side effects. Moreover, you can consider alternative therapies such as acupuncture for relief along with medication.
Managing complications
A doctor can suggest the medications or lifestyle changes depending on the type of neuropathy that can help deal with the symptoms and ward off complications.
Treatment of Peripheral Neuropathy
Peripheral Neuropathy refers to the problem in the peripheral nerves. These nerves transmit messages from the CNS, the brain and spinal cord to the rest of the body.
Treatment targets the underlying cause or provides pain relief and prevents further damage. In diabetic neuropathy, maintaining the blood sugar level can prevent nerve damage. Also, removing the exposure of toxins can prevent nerve damage. Proper medications can provide relief from pain and reduce burning, numbness and tingling sensation.
Drug treatment for Neuropathic Pain
Medications that can help are:
drugs used for

epilepsy

such as carbamazepine

antidepressants

such as venlafaxine

opioid painkillers such as oxycodone or tramadol
Duloxetine can help those people with chemotherapy-induced neuropathy.
For temporary pain relief, doctors can prescribe skin patches such as lidoderm. It contains the local anaesthetic lidocaine. However, the choice should be made considering the other medications to avoid unwanted interactions.
Managing neuropathy
Non-steroidal anti-inflammatory drugs (NSAIDs) or ibuprofen is OTC that can help control pain. Also, there are topical ointments and creams available that can help ease the pain.
Treating Mononeuropathy
If the neuropathy is caused by the compression of a single nerve then similar treatment is involved. The approach depends on whether the compression is fixed or transient.
A palsy of the ulnar, radial or the peroneal nerve may be transient and reversible. The patients are advised to take rest and avoid the drugs to reduce inflammation.
In carpal tunnel syndrome, conservative therapy that involves splinting the wrist, oral or injected corticosteroid drugs and ultrasound.
If a single-nerve neuropathy does not respond, then surgery seems to be the best option.
You need to consult a specialist if:
pain is severe

pain limits daily activities and quality of life

an underlying health condition is getting worse
Physical Therapy for Diabetic Neuropathy
How can Physical Therapy Help?
Various researches show that strengthening exercises improve muscle strength in people with PN. Moreover, exercises can also help to reduce neuropathic pain and can help control blood sugar levels. You can follow physical activity routine that involves four kinds of activities:
Aerobic Exercise

Flexibility Exercise

Strength Training Exercise

Balance Exercise
Consult your physical therapist or a healthcare provider to know which exercise program is right for you.
Physical Therapy: It helps in maintaining strength, mobility, and function regardless of peripheral neuropathy. People with diabetic neuropathy may also benefit from physical therapy however they must keep their blood sugar level in control to avoid fluctuations.
Occupational Therapy: It helps the patient to cope up with the functional, vocational and social impact of peripheral neuropathy by improving the motor skills. It makes them aware of self-care activities and teaches patient safety issues.
Aerobic Exercise: It increases your heart rate, works your muscles and elevates your breathing rate. It's best to follow a 30-minute aerobic exercise plan every week. Some examples of aerobic exercise are:
Brisk walk

Low impact aerobic class

Swimming

Stationary Indoor bicycle
Flexibility Exercises: Also called stretching. It helps keep your joints flexible and reduces the chances of injury while performing the activities. Gentle stretching helps your body warm up and makes it ready for the aerobic activities. Some flexibility exercises are:
Calf stretch

Hamstring stretch
Strength Training: It helps to make the muscle stronger and injury resistant. You can regain your lost strength following the training routine on a regular basis. Some examples of strength training are:
Balance
Keeping the balance system healthy is essential. Through balance training, you can get back to normal and it helps to avoid feelings of stiffness or unsteadiness. Balance is important for the elderly as older muscles respond less efficiently making people more vulnerable to falls. Some examples include:
Hip flexion

Hip extension

Side leg raise
HOW CAN CARE24 HELP?
No need to stress yourself about visiting a clinic or hospital, we at Care24 provide you neurological physiotherapy services in the comfort of your home. We assure to provide the best-trained neurological physiotherapy experts who will help you in getting your normal life back. Our physiotherapists are highly qualified with experience in musculoskeletal cases, neurological conditions and pulmonary conditions having experience in Tier-1 hospitals. Get the physiotherapy for neuropathy at home for your problem and get recovery from the pain.
At Care24, we bring you the experts in physiotherapists with specialization to treat various medical conditions such as pain, sports or muscle injury, post-stroke care, chronic pulmonary conditions, geriatric and pediatric care, post-operative care and more in the comfort of your home. Our specialized care, standard approach, proven techniques and continuous commitment for quality services make us your preferred choice for all your physiotherapy needs.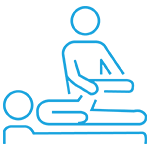 style="text-align:right;color:0f0f59;">
Read more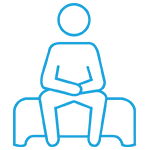 style="text-align:right;color:0f0f59;">
Read more
If there was an option of negative stars then I would have choosen it. They offered me a package of₹ 5950/- for 10 days and after 2 days updated me on new package of ₹5700/- for 7 days without my consent. Even deposited my earlier cheque and then I had to follow up for the balance for about 10 days explaining my issue everyday to the new person on their helpline. They don't acknowledge emails too. Worst experience and definitely not recommended

Mugdha Kulkarni


5/23/2019

The management team & the customer care team is quite responsive.... However the main component, ie the caregiver is not trustworthy & definitely not upto the mark

Ritwik Basu


11/03/2019

The worst experience I've had of my life. I normally never really write reviews, but I had to write this because this agency is the worst company I've dealt with till now. Their customer service is terrible, most of their attendants are not competent for taking care of elderly patients. Please do not use their service.

Radhika Kulkarni


6/27/2019

Worst!!! I am paying for professional services and the attendant is not professional. The level of disappointment is i have to terminate services on Day 1 itself. And still I am being told to pay for 1 day. Please assess the attendant before going for services from care24

Praful Jadhav


5/07/2019

I got good experience wt dr Dhrita she is v good in physiotherapy n nice while talking n explains v nice

Sujata Rao


6/19/2019
I am still taking services from Care 24 since last two years. The caregivers are well trained and takes good care of my mother in law.
Sheila khanchandani
Sumesh Brother is Punctual, Efficient and knowledgeable and understands patients requirements completely.
Jayshree Prabhu
I have been using care 24 services and have been very happy with their services. Priyanka Rajbhar is our caretaker she is very disciplined kind and dedicated towards her work.
Saurabh Bhatt
The Nurse and the Attendant provided by Care24 are good in service, polite and punctual. We are happy with their service. The patient ( our family member) is been given proper care, feed and cleaned regularly.
Deepa Balvalli
Dr. Ralga had Attended to my father. He is suffering from PSP. We were specifically impressed by her techniques n method to handle the issue. We are planning on repeating her visits every month for positive results.
Uma Ram
Frequently Asked questions