Physiotherapy In Vile Parle
Our physiotherapists are experienced in providing a complete range of physiotherapy services.
Fill up the form to know more about our physiotherapy services in Vile Parle.
Physiotherapy in Vile Parle
Our physiotherapists are experienced in providing a complete range of physiotherapy services.
Fill up the form to know more about our physiotherapy services in Vile Parle.
Highly rated by thousands of patients all over India.
physiotherapy services in Vile Parle
What is Physiotherapy?
Physiotherapy may help restore motion and function if someone is affected by damage, sickness or incapacity. Physiotherapists benefit people impacted by problem, condition or impairment by means of exercise and working out, manual therapy, coaching, and guidance. They maintain health for individuals of any age, serving individuals to control discomfort and ward off health problems. Physiotherapy assists you to promote the development and help recovery, making it possible for people to remain in work while helping them stay independent for as long as feasible.


Physiotherapists deal with both protection and rehabilitation. A remedy might be for issues as a result of harm, disease or handicap. Here are a few examples:

1. Neck as well as backaches caused by problems in the muscles as well as skeleton
2. Issues in the bones, joints, muscles as well as ligaments, such as arthritis along with the after-effects of amputation
3. Lung issues such as asthma
4. Handicap as a result of heart disease
5. Pelvic problems, similar to bladder and bowel complications related to childbirth
6. Decrease in movement as a result of trauma to the mind or spinal column, or due to conditions such as Parkinson's disease and multiple sclerosis
7. Weakness, pain, puffiness, firmness and diminished muscle toughness, for example during cancer cure, or palliative care
Treatment for Physiotherapy
What treatments do physiotherapists prescribe?

1. Cardiorespiratory: delivering guidance, elimination, and therapy for individuals plagued by diseases as well as injuries that affect the cardiovascular system and lungs, such as asthma.
2. Cancer, palliative care and lymphedema: addressing, controlling or even preventing tiredness, discomfort, muscle, and joint stiffness, and also deconditioning.
3. Incontinence: handling as well as discouraging incontinence and pelvic floor dysfunction.
4. Women's health issues: approaching health issues surrounding conception, delivery, post-partum care, nursing, menopause, bedwetting, prolapsed, loss of bladder or bowel control.
5. Musculoskeletal: avoiding and treating clients with musculoskeletal circumstances such as neck as well as back pain.
6. Neurological: promoting movement and quality of life in subjects who may have had extreme brain or spinal cord destruction from shock, or who are afflicted by neurological illnesses such as stroke, Parkinson's illness and various sclerosis.
7. Orthopedic: assisting individuals to prevent or supervise acute or chronic orthopedic illnesses such as arthritis as well as amputations.
8. Ache: controlling or stopping the pain as well as its influence on function in individuals.
Exercises for Physiotherapy
How do Physiotherapy Exercises Help?

Especially when you're solely beginning a pursuit, a physiotherapist might actually grab accidents that might occur or perhaps observe warning signs or red flags. Visiting a physiotherapist Prior to when you get proactive enables them to provide help to prevent injuries from occurring along with the connected downtime in your life.

If you need to shift better, get better, or there's something you need to do but can't do because you have a constraint, physiotherapy might help.

A physiotherapist may help you develop a strategy with suitable workouts so you can get going as well as embrace whatever exercise you're enthusiastic about. Whether or not it's handling a current situation, getting better from an accident, or even helping you avoid them in the first place, a physio can help.
Benefits of Physiotherapy
Several physiotherapists consult in private practice and we cure a variety of conditions. Orthopedic cases (this includes sports activities wounds, fractures, spinal pain as well as headaches to label a few) are the most common types of patients we treat in a clinical setting. Physiotherapy therapy may involve therapeutic exercise to build up power, range of motion and stamina and to correct posturally as well as muscle unevenness, joint mobilization, manipulation, and tender tissue massage, in addition to extending and trigger point therapy to help reduce tightness as well as to reduce pain.

Individuals with neurological problems similar to a stroke, multiple sclerosis, Parkinson's disease, cerebral palsy as well as spinal cord injury may benefit significantly with physiotherapy treatment. Interventions focus on muscle re-education and regulation, rehabilitation of fine and gross motor abilities, improving regular function, restoring power as well as flexibility, learning how to execute safe transfers, restoring and strengthening gait and training in the use of mobility aids.

For kids plagued by cerebral palsy, physiotherapy is crucial in serving to reduce spasticity as well as deformity, bettering postural control, instructing children how to use assistive devices and also carrying out all that is necessary to maximize the child's working independence. We will furthermore educate the family members so they can assist carryover whatever the child has learned during therapy techniques.

Cardiopulmonary problems respond nicely to physiotherapy involvement. Patients who may have problems performing their activities of regular living, or who have shortness of breath and reduced resilience, can obtain substantially developed quality of life via guided training and strength training.
Involvement additionally includes manual therapy and training to help clear secretions in the lungs, counseling regarding risk factors, patient training to avert future recurrence and behavior adjustment. For all those patients that have had cardiopulmonary surgery, physiotherapy is initiated early to prevent the sufferer from shedding power and function.
It's natural to feel a bit of nervousness when first going to physical therapy. What precisely will happen? Will therapy injure? These kind of emotions ordinarily rapidly disappear as soon as you meet up with your physical therapist and get taking care of your rehab aims. By understanding just what your physical therapist is capable of doing to help you, you could have sensible hopes concerning your rehab in addition to a good final result with your own physical therapy encounter.



How can care24 help?
Why Choose Care24's Home Physiotherapy Services?

If you find yourself searching for a physiotherapist at home in Vile Parle, Care24 has to be your very first choice. Care24 has set a very high standard for customized home health-care. Care24 offers home physiotherapy in Vile Parle, and our physiotherapists are in many cases viewed as some of the best physiotherapists in Vile Parle. Our physiotherapists are well-trained, qualified and understand the patient's requirements.

The home is the most suitable place for physical therapy, wherein comfortable surroundings directly enhance your chances of rehab. There is no need to pay a visit to a physiotherapy clinic in Vile Parle when Care24 provides outstanding home physiotherapy services. You can get yourself treated by some of the top physiotherapists in Vile Parle from the comfort and ease of your home.

Our skilled physiotherapists can provide you the finest treatment in the ease and comfort of your home to recover faster. And no matter if you are looking for a sports physiotherapist in Vile Parle or a neuro physiotherapist, Care24's at-home physiotherapy services are simply just a call away. Contact us and our specialists will get in contact with you soon. At-home physiotherapy in Vile Parle was never so easy. Care24 provides the best home physiotherapy services in Vile Parle.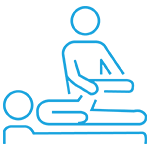 style="text-align:right;color:0f0f59;">
Read more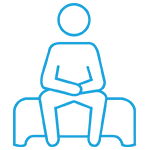 style="text-align:right;color:0f0f59;">
Read more
Mangal Laad has visited us for a couple of days in the day. She is very kind, attentive and trustworthy. She has been with us like an extended Family. The patient has also appreciated her services. She is excellent. We thank you for Mangal Laad.

Tanuka M


3/09/2020

I got attendent for my ailing mother thru care 24. The best service i got...if i need infuture i will definitely go for care24 only...they are the best

felix thomas


3/21/2020

The management team & the customer care team is quite responsive.... However the main component, ie the caregiver is not trustworthy & definitely not upto the mark

Ritwik Basu


11/03/2019

The worst experience I've had of my life. I normally never really write reviews, but I had to write this because this agency is the worst company I've dealt with till now. Their customer service is terrible, most of their attendants are not competent for taking care of elderly patients. Please do not use their service.

Radhika Kulkarni


6/27/2019

Unqualified office staff, when you call to clarify something. Many times they don't understand the question. They are not trained well. The customer care staff needs an upgraded system, where notes are fed into the system. So you don't need someone else calling up and giving you the same info. The caretaker is not trained well. If they are looking after an elderly person, they should know that they have to be in the best of health to look after my mother. She ended not making a meal for my mother and my neighbour had to provide it. If the caretaker is not well she should have asked for a replacement asap and not waited. It is shocking, we have paid a huge amount of money for this service and I am absolutely unhappy. Please do not call for caretaker's from Care24. As long as they are getting their money. They care a damn!!! Worst service providers.

Bonabelle Zuzarte


7/10/2019
I am still taking services from Care 24 since last two years. The caregivers are well trained and takes good care of my mother in law.
Sheila khanchandani
Sumesh Brother is Punctual, Efficient and knowledgeable and understands patients requirements completely.
Jayshree Prabhu
I have been using care 24 services and have been very happy with their services. Priyanka Rajbhar is our caretaker she is very disciplined kind and dedicated towards her work.
Saurabh Bhatt
The Nurse and the Attendant provided by Care24 are good in service, polite and punctual. We are happy with their service. The patient ( our family member) is been given proper care, feed and cleaned regularly.
Deepa Balvalli
Dr. Ralga had Attended to my father. He is suffering from PSP. We were specifically impressed by her techniques n method to handle the issue. We are planning on repeating her visits every month for positive results.
Uma Ram
We contacted care 24 for my Dad's physiotherapy. Our physiotherapist Dr Dharita is very knowledgeable and extremely patient. My Dad is showing a lot for improvement in terms of his movement.

D W


3/21/2019

I used Care24 services for 7 months duration in 2019-20. Carers they provide are a mixed bag. Some are really good while others lack even basic service skills. You got to be very very lucky to get one and same carer over long time as carers often go on leave. When regular carer is on leave, every time they will send new carer. So family members need to repeat everything, right from home address, directions to patient's routine, medicines etc. Do not expect that Care24 will provide any heads-up or patient routine information to new carer who is visiting. Over the 6 months of Mumbai-based care services I used from Care24, there were over 15 instances where new carers were late more than 2 to 3 hours. Care24 support team is very lethargic, there were times when support team assumed that carer has reached home when he had not even started from his place. Support team is unaware of carers being late to customer's place. Then came in so called, the technology upgrade, Jan-Feb 2020, they had a new IT system and there were numerous issues with billing, sending invoices and payment receipts to customers (as told by support team themselves). Support staff told me at least 10 times over phone and email that there are system issues in billing and payment, I had to calculate amount manually on my own and then Pay them. With new system, accounts were on toss, no invoices were sent to customers (in spite of the fact that payment policy says payment needs to be made after receiving invoice.) I had 20-25 emails following up for invoice and payment receipts, but their support team in Mumbai did not care to respond. I found their behavior very unprofessional and not good over these 2-3 months. If you are outside for work (or overseas) and not staying with the patient or your parents, I strongly suggest DO NOT USE CARE24, as they do not respond to your emails and phone in time. They do not bother even when the patient is without care because of their delays in operations and carer issues. They need to improve basic operations first, give timely and consistent services to customers, and then worry about Apps, Digital Assistants and other tech-stuff. .My genuine advice to them--- You are dealing with patient healthcare services, where patient family is relying on you. This is not a courier service business where you are sending people to move boxes and you would't care much when service is delayed !!

Sanket Deo


3/05/2020

I got good experience wt dr Dhrita she is v good in physiotherapy n nice while talking n explains v nice

Sujata Rao


6/19/2019

Worst!!! I am paying for professional services and the attendant is not professional. The level of disappointment is i have to terminate services on Day 1 itself. And still I am being told to pay for 1 day. Please assess the attendant before going for services from care24

Praful Jadhav


5/07/2019

Most horrible services. Please do not ask for help from these people, they will talk sweet and then at the last moment there will be no shows from the caretaker. I had to go through this not once but twice the caretaker did not turn up. Request you all to not depend on these people as we are leaving our homes and letting them into our lives, the least they can do is inform and provide a replacement, but neither of it happened and they expect me to pay registration fees of RS,1000

Annie Palan


5/17/2019
I was looking for a physiotherapist in Vile parle east as I had tremendous back pain. Finally one of my dear friends told me about Care24 and I took their services. I was delighted by their quality service. Highly Recommended.
Sharad Sathe
The physiotherapist in Vile parle provided by care24 was extremely good. I thank them for their services and I would suggest their services to anyone.
Shankar Menon
I was looking out for some physiotherapist in Vile parle east for my grandfather, who would come to our home and help him. I came accross Care24 I checked the reviews and did some research and selected to get the services from them and definitely it was the best decision.
Sajeeda Shaikh
Care24 provides the best physiotherapist in Vile Parle, they have well-trained staff. They come to your home to give the services, I was very happy with them.
Supriya Patil
After a lot of online searches for a physiotherapist in Vile Parle East, we got to know about Care24. They are impressive. They assign professionals, and they treat well as well as take the best care.
Anjali Indoria
I was having several knee pain, and I was not able to walk. We searched for an in-house physiotherapist in Vile Parle, but finally, we got to know about Care24 services. I liked the service and they the best team with professional experts.
Shamit Shah
Post-operation I started facing back pain and was looking for a physiotherapist in Vile Parle east to receive healthcare service. My friend suggested Care24's physiotherapy service which was very good as I experienced complete satisfaction.
Sameena Khan
Best Clinic in Vile Parle. The doctor is very supportive and friendly by nature and always gives positive vibes about our life and that's what we need while doing the physio, so we can forget the pain in our body and also in our life.
Makhdum Khan
I had severe back pain and was unable to move from bed. Thanks to the Care24 team for excellent treatment. I would recommend Care24 to everyone.
Amrit Saha
I had an excellent experience with my physiotherapy. The physiotherapist guided me very well in the daily exercises for the knee, which is giving me relief on a day to day basis. I would surely recommend.
Rasika Rane
The Physiotherapist provided by Care24 is really good. I can't thank them enough for the service provided. I recommend using their services.
Amrish Sharma