Physiotherapy In DLF Phase
Our physiotherapists are experienced in providing a complete range of physiotherapy services.
Fill up the form to know more about our physiotherapy services in DLF Phase.
Physiotherapy in Dlf Phase
Our physiotherapists are experienced in providing a complete range of physiotherapy services.
Fill up the form to know more about our physiotherapy services in DLF Phase.
Highly rated by thousands of patients all over India.
pHYSIOTHERAPY services in Dlf Phase
What is Physiotherapy?
Physiotherapy may help restore mobility as well as operation if someone is suffering from harm, illness or impairment. Physiotherapists assist individuals stricken by harm, sickness or impairment by way of movement and training, manual therapy, coaching, and guidance. They maintain physical health for individuals of every age group, serving individuals to deal with pain and avoid diseases. Physiotherapy allows you to encourage development and facilitate rehabilitation, enabling people to be in work while facilitating them to remain independent as long as feasible.


Physiotherapists focus on both prevention and rehabilitation. Treatment is generally for problems brought on by damages, condition or impairment. Listed below are some examples:

1. Neck as well as backaches brought on by troubles in the muscular areas and skeleton
2. Issues in the bones, joints, muscle tissues as well as ligaments, such as arthritis along with the side effects of amputation
3. Lung problems for example asthma
4. Handicap as a result of coronary disease
5. Pelvic problems, such as bladder and intestinal complications linked with childbirth
6. Decrease in movability as a result of a shock to the brain or back, or on account of diseases such as Parkinson's disease and multiple sclerosis
7. Tiredness, aching, swelling, tightness, and decay in muscular potency, for instance for the duration of cancer healing, or palliative care

Treatment for Physiotherapy
Physiotherapists are prepared to analyze your condition, detect the illness, and help you understand what's wrong. The treatment method would take into account your daily routine, routines and general health.

The following are standard treatment procedures use by physiotherapists:

• exercise courses to increase movability and strengthen muscles
• joint manipulation and mobilization to lessen soreness and firmness
• muscle re-education to improve control
• airway clearance methods as well as breathing exercises
• soft tissue mobilization (massaging)
• acupuncture together with dry needling
• hydrotherapy
• guidance with an application of aids, splints, crutches, walking sticks, and wheelchairs to enable you to navigate around.

Exercises for Physiotherapy
Particularly if you're simply starting an activity, a physiotherapist might actually pick up incidents which may happen or perhaps observe warning signs or red flags. Visiting a physiotherapist BEFORE you get proactive will permit them to allow you to prevent injuries from developing and the related downtime in your life.

In order to move better, recover, or there's something you need to do but can't do considering that you have a constraint, physiotherapy may help.

A physiotherapist may help you construct a plan with appropriate workout routines so that you could get moving and embrace whichever hobby you're excited about. Whether or not it's managing a pre-existing ailment, recouping from a wound, or assisting you to prevent these people, to begin with physio will help.

Benefits of Physiotherapy
A lot of people think of healthy livelihood as an effective way of existing. It is declared that physiotherapy is crucial in this aspect.

Physiotherapy supports those with conditions whereby their exercise as well as capabilities are at risk due to the process of aging, injury or getting contaminated by disease. This procedure of recovery utilizes non-surgical procedures in the therapy and/or management of several and physical problems such as strokes, back cramping, cardiovascular conditions, asthma and lifestyle circumstances.

The benefits of physiotherapy involve developed joint mobility, better sleep and additionally the advanced quality of lifestyle. Moreover, it helps prevent routine pertaining conditions like stroke, high blood pressure as a result of exercise activities as well as healthy living teaching.

With each overall health occupation, side effects are guaranteed to emerge possibly occasionally subject to the person that is being treated for a certain situation. "Physiotherapy treatment tactics and also modalities are generally extremely protected with little to non-existent negative effects. Almost all the remedy modalities employed (at the very least by a certified physiotherapist) are properly evidence-based (researched) with identified final results. In spite of this, on account of nature and/or the administration of particular healing modalities a few consequences may be experienced by people," pointed out Makabanyane.

Unwanted side effects could possibly be improved or exacerbation of indications, hardly any skin burns and allergies. Side effects might be avoided when and when conscientiousness is put into action.
The normally used methods (electrical) consist of Transcutaneous Electrical Nerve Stimulation (TENS), Therapeutic Ultrasound and Interferential Therapy. Physiotherapy techniques possess practical physiotherapy strategies (which might be a restorative massage or joint mobilization), neurodynamics, rehab workout routines, acupuncture and dry needling, sports physiotherapy, and even therapeutic massage.

Examples of manual therapy involve joint mobilization, spinal manipulations, traction strategies, and therapeutic massage.

The period of a physiotherapy session depends on the physiotherapy atmosphere. For example, in an outpatient division or personal clinic location, it remains roughly thirty minutes.

"With today's lifestyle and developments, physiotherapy is believed to be important. No matter if one is working in an office or is a sportsperson, a visit to a physiotherapist is predestined. The beneficiaries consist of kids with cerebral palsy, premature developmental troubles, sportsmen (sports problems), lifestyle problems/diseases (stroke, back pain) as well as affected individuals in Intensive Care Unit (ICU).

The Physiotherapy occupation began to prove itself during the early part of the 20th century aiding troops with traumatic damages. Physiotherapists dignity themselves on being recognized individuals of the numerous health and fitness teams, irrespective of whether it be in treatment centers, universities or institutions. You can find a desire to support people to heal.

Physiotherapy utilizes confirmed hands-on techniques and workouts to help take care of several conditions. To prevent extra impairment we attempt to re-establish and recover the utilization of a body part. We can establish a treatment plan that matches your own private requirements and we will be thorough in our diagnosis as well as check-ups.

To lessen the trouble, the physiotherapist may use hands-on treatment method just like massaging, tender hand pressure over joint parts and flexing muscular areas to aid an individual move easier and with less pain. We also educate exclusive workout routines and motions to decrease discomfort and speed healing.

A great deal of studies have established that the sooner anyone commences physiotherapy, the faster they will recover in the short and long term.

How can care24 help?
In case you are seeking out a physiotherapist at home in DLF Phase, Care24 ought to be your first preference. Care24 has set a high standard for customized at-home health-care. Care24 offers home physiotherapy in DLF Phase, and our physiotherapists are in many cases regarded some of the best physiotherapists in DLF Phase. Our physiotherapists are well-trained, certified and fully understand the patient's requirements.

The home is the most suitable place for physical therapy, wherein comfortable surroundings directly increase your likelihood of rehab. You do not have to pay a visit to a physiotherapy clinic in DLF Phase when Care24 offers top-notch home physical therapy services. You can get yourself treated by some of the top physiotherapists in DLF Phase from the ease and comfort of your home.

Our skilled physiotherapists will provide you the finest treatment in the ease and comfort of your home to recover faster. And regardless of whether you are looking for a sports physiotherapist in DLF Phase or a neuro physiotherapist, Care24's at-home physiotherapy services are just a call away. Reach out to us and our experts will get in touch with you soon enough. At-home physiotherapy in DLF Phase was never so convenient. Care24 offers the best home physiotherapy services in DLF Phase.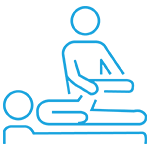 style="text-align:right;color:0f0f59;">
Read more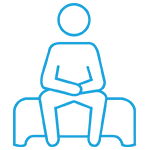 style="text-align:right;color:0f0f59;">
Read more
Unqualified office staff, when you call to clarify something. Many times they don't understand the question. They are not trained well. The customer care staff needs an upgraded system, where notes are fed into the system. So you don't need someone else calling up and giving you the same info. The caretaker is not trained well. If they are looking after an elderly person, they should know that they have to be in the best of health to look after my mother. She ended not making a meal for my mother and my neighbour had to provide it. If the caretaker is not well she should have asked for a replacement asap and not waited. It is shocking, we have paid a huge amount of money for this service and I am absolutely unhappy. Please do not call for caretaker's from Care24. As long as they are getting their money. They care a damn!!! Worst service providers.

Bonabelle Zuzarte


7/10/2019

The worst experience I've had of my life. I normally never really write reviews, but I had to write this because this agency is the worst company I've dealt with till now. Their customer service is terrible, most of their attendants are not competent for taking care of elderly patients. Please do not use their service.

Radhika Kulkarni


6/27/2019

I got good experience wt dr Dhrita she is v good in physiotherapy n nice while talking n explains v nice

Sujata Rao


6/19/2019

The physiotherapist came to my home was very helpful and knowledgeable. She properly gave me the detailed information about my injury. Also the first assessment is free of cost.

varshflute


10/17/2019

Horrible service! can't rely on them.They ditch on last moment.Attendents are not punctual,reliable,well behaved and even honest.Service provider doesn't turn up and still they start billing customers .Better to stay away.

Sonal Agrawal


11/04/2019
I am still taking services from Care 24 since last two years. The caregivers are well trained and takes good care of my mother in law.
Sheila khanchandani
Sumesh Brother is Punctual, Efficient and knowledgeable and understands patients requirements completely.
Jayshree Prabhu
I have been using care 24 services and have been very happy with their services. Priyanka Rajbhar is our caretaker she is very disciplined kind and dedicated towards her work.
Saurabh Bhatt
The Nurse and the Attendant provided by Care24 are good in service, polite and punctual. We are happy with their service. The patient ( our family member) is been given proper care, feed and cleaned regularly.
Deepa Balvalli
Dr. Ralga had Attended to my father. He is suffering from PSP. We were specifically impressed by her techniques n method to handle the issue. We are planning on repeating her visits every month for positive results.
Uma Ram