Our physiotherapists are experienced in providing a complete range of physiotherapy services.
Fill up the form to know more about our physiotherapy services for
Uterus
.
Our physiotherapists are experienced in providing a complete range of physiotherapy services.
Fill up the form to know more about our physiotherapy services for
Uterus
.
Physiotherapy Services For Uterus
Overview
Uterus, the main secondary reproductive organ of the female reproductive system whose main functions include nurturing the fertilized ovum until the baby reaches its due date. Being a major hormone responsive secondary sex organ it faces many clinical problems. Common among them is uterine prolapse.
The pelvic organs including the uterus are held in place by a group of muscles and ligaments. When these pelvic floor muscles and ligaments expand, debilitates, or get torn they will not be able to provide enough support for the uterus, thus leads to the prolapse of the uterus from its normal places causing slipping down of the uterus into the vagina or may even protrude out of it.
Uterine prolapse, if it is mild in its nature, doesn't usually require any sort of treatment but the one which is affecting the normal life of an individual. There are many treatment protocols to treat uterine prolapse one among them is physiotherapy. To treat prolapsed uterus physiotherapy has many sets of exercises that help in strengthening the pelvic floor muscles. This incidence can be seen in any age group but it is more common and affects the high gravid women who had many vaginal deliveries in their postmenopausal period
Symptoms and Causes
Mild uterine prolapse generally doesn't cause any signs or symptoms. Signs and symptoms of moderate to severe uterine prolapse are listed below:
The sensation of heaviness or pulling in your pelvis: due to sagging or protrusion of the uterus down to the vagina and due to gravitational force an individual with this problem will feel heaviness while walking and doing other daily activities. Feeling as if you're sitting on a small ball or as if something is falling out of your vagina

Tissue protruding from your vagina: an individual may feel some flesh like substance while washing or cleaning the area.

Urinary problems, such as urine leakage (incontinence) or urine retention: an individual with uterine prolapse go through urine urgency and also incontinence as the prolapsed uterus will be putting pressure on the bladder resulting in these symptoms.

Trouble having a bowel movement: the uterus is placed in between the bladder and the rectum. The prolapsed uterus will be obstructing the pathway of stools by narrowing it resulting in constipation or difficulty passing stool

Sexual concerns, such as a sensation of looseness in the tone of your vaginal tissue: this will have an impact on the sexual partner. Due to the decreased tone of the vagina, there will be no feeling that you're sitting on a ball

Vaginal bleeding also will be there or bleeding on touch will also be a symptom.

Increased vaginal discharge with foul smell may accompany

Problems with sexual intercourse or pain during intercourse may also be associated

Recurring bladder infections or difficulty emptying your bladder
The above-mentioned symptoms and their severity increases as the days go down and it will be minimal in the morning time as the body will be at rest. The severity increases as the gravitational force impacts on the body. Thus one can reduce these symptoms by undergoing physiotherapy for a prolapsed uterus. In many medical organizations to treat prolapsed uterus physiotherapy is also being used one among the treatment protocol.
Causes:
The weakened pelvic muscles and supportive tissues result in uterine prolapse. Causes for the weakened pelvic muscles and tissues include:

Pregnancy: usually the women with high gravid and vaginal deliveries will face this condition. The continuous pressure and the mild torn of tissues during the vaginal birth results in uterine prolapse.

Difficult labor and delivery or trauma during childbirth also causes uterine prolapse

Delivery of a large baby through the vagina

Being overweight or obese may also result in uterine prolapsed as there will be constant pressure on the pelvic floor which results in the

The menopause period where the estrogen level will be fewer results in uterine prolapse.

The constant chronic issues with bowel movement and constipation or straining with bowel movements also puts pressure on the pelvic floor and weakens the pelvic muscles and tissues resulting in uterine prolapse

Chronic respiratory tract infections having severe cough or bronchitis may lead to uterine prolapse.

Lifting heavy objects continuously for a period of time may lead to uterine prolapse.
Treatment for uterus
By following the below-mentioned factors one can reduce the risk of being affected by uterine prolapse:
There are many exercises in physiotherapy for prolapsed uterus and by regular practice of which one can improve the strength of pelvic floor muscles. One among them is performing Kegel exercises daily. This is more beneficial in the postnatal period.

One should concentrate on their bowel movement and should consume foods rich in fiber and should intake plenty of liquids.

One should avoid lifting heavy objects, particularly after any vaginal related surgical treatment, instead of that one should take the help of their legs while lifting heavy objects.

If any individual has chronic cough then they should take treatment for the same

Doing regular exercise and avoiding weight gain
The uterine prolapse cannot be treated permanently. Even after the surgical treatment, there are many chances for it to recur. So physiotherapy for prolapsed uterus will surely help an individual in building the tone in the pelvic muscles.
Treatment protocols involved in physiotherapy to treat prolapsed uterus are as follows:
Physiotherapy for prolapsed uterus and prolapse of other pelvic organs is a non-invasive first line of treatment. It is usually considered before surgery is taken into consideration. Uro-gynaecologist and often prefer physiotherapy for a prolapsed uterus. Based on the interrogation and physical examination a physiotherapist will guide you to follow the appropriate treatment procedure. They include:
Pelvic floor exercises: –

Physiotherapy mainly concentrates on strengthening the pelvic floor muscles by making the patient practice pelvic floor exercises regularly. These pelvic floor exercises which are also known as Kegel exercises are mainly designed to increase the forbearance capacity of pelvic muscles.

Giving retraining to bowel movement: –

In bowel movement retraining the patient is given the practice of passing motion without straining the pelvic floor.

Posture and gait-related: –

Then comes the posture. The patients are advised to sit and incorporate proper gait so that they would not put pressure on the pelvic muscles.
Physiotherapy also includes symptomatic treatment protocols such as therapies for back-ache incontinence and other associated pain management. All these treatments which are explained will not cure the problem permanently or completely but it will prevent the condition from worsening. The therapies which are advised based on the needs of the patients will surely help in fixing the problem. To monitor the progress physiotherapist will review the patient once in a month. The patient who cannot visit the clinic or health center on a regular basis will be provided with home assistance. The treatment will be seized once the optimal results are obtained
How can Care24 help?
If you are looking for gentle care with affection then Care24 should be your first choice. We offer quality service extended to the patient home. Our professionally well-trained nurses serve the best physiotherapy for a prolapsed uterus. The service will be available for 24X7 through-out the year.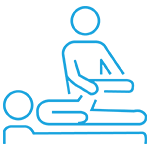 style="text-align:right;color:0f0f59;">
Read more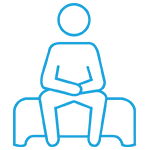 style="text-align:right;color:0f0f59;">
Read more
Horrible service! can't rely on them.They ditch on last moment.Attendents are not punctual,reliable,well behaved and even honest.Service provider doesn't turn up and still they start billing customers .Better to stay away.

Sonal Agrawal


11/04/2019

The management team & the customer care team is quite responsive.... However the main component, ie the caregiver is not trustworthy & definitely not upto the mark

Ritwik Basu


11/03/2019

We had a ridiculously pathetic experience with them. Took an attendant service, a 10 day offer (rs 600 instead of their regular fee of rs 800), for my mother who had undergone an knee replacement surgery. In six days, 4 different attendants were assigned for no fault of ours. We had terrible experience going through the back-end team trying to explain the importance of sending only one attendant and not a different one every new day. The last person assigned wanted to leave by 5pm even though the timings were from 8am to 8pm. With this many other terrible instances in these 6 days, we had no option but to cancel the services. The back-end team were utterly useless in understanding the importance of having only one person assigned. They kept insisting that we pay for 800rs per day for 6 day and offer of rs 600 per day would be invalid. The management should look into this scam and take immediate action on the team. Note: Even though we wanted the services, we were forced to abandon it with no fault of ours. The back-end team has absolute disregard for the grievances of the client.

Rahul Dhakka


12/27/2018

If there was an option of negative stars then I would have choosen it. They offered me a package of₹ 5950/- for 10 days and after 2 days updated me on new package of ₹5700/- for 7 days without my consent. Even deposited my earlier cheque and then I had to follow up for the balance for about 10 days explaining my issue everyday to the new person on their helpline. They don't acknowledge emails too. Worst experience and definitely not recommended

Mugdha Kulkarni


5/23/2019

Most horrible services. Please do not ask for help from these people, they will talk sweet and then at the last moment there will be no shows from the caretaker. I had to go through this not once but twice the caretaker did not turn up. Request you all to not depend on these people as we are leaving our homes and letting them into our lives, the least they can do is inform and provide a replacement, but neither of it happened and they expect me to pay registration fees of RS,1000

Annie Palan


5/17/2019
I am still taking services from Care 24 since last two years. The caregivers are well trained and takes good care of my mother in law.
Sheila khanchandani
Sumesh Brother is Punctual, Efficient and knowledgeable and understands patients requirements completely.
Jayshree Prabhu
I have been using care 24 services and have been very happy with their services. Priyanka Rajbhar is our caretaker she is very disciplined kind and dedicated towards her work.
Saurabh Bhatt
The Nurse and the Attendant provided by Care24 are good in service, polite and punctual. We are happy with their service. The patient ( our family member) is been given proper care, feed and cleaned regularly.
Deepa Balvalli
Dr. Ralga had Attended to my father. He is suffering from PSP. We were specifically impressed by her techniques n method to handle the issue. We are planning on repeating her visits every month for positive results.
Uma Ram
Frequently Asked questions