Physiotheraphy For Tremors
Our physiotherapists are experienced in providing a complete range of physiotherapy services.
Fill up the form to know more about our physiotherapy services for Tremors.
Physiotheraphy For Tremors
Our physiotherapists are experienced in providing a complete range of physiotherapy services.
Fill up the form to know more about our physiotherapy services for Tremors.
Physiotherapy Services for Tremors
Overview
A tremor is a movement disorder, very common in occurrence. A rhythmic, involuntary muscle contraction causes the shaking. Tremors are most common in the hands, but they can also occur in the vocal cords, head, arms, torso, and legs.

Tremors can be intermittent, happening after every once in a while, or constant. Sometimes tremors signal an underlying health issues or might develop on their own.

Shaky hands lead to difficulty in writing and drawing. A person may also have trouble holding and using utensils, such as cutlery and tools.
Causes
Issues which affect the brain are usually responsible for tremors.

In rare cases, the cause is unknown, but tremors usually result from movement disorders, neurological conditions or other health problems.

Neurological conditions

Some neurological conditions that can cause shaky hands include:
Stroke: An ischemic stroke occurs when a blood clot blocks an artery, preventing blood from reaching the brain. It can cause lasting damage to neural pathways and lead to tremors.
Multiple sclerosis (MS): Many people with MS experience some degree of tremor. This often develops when the disease damages areas in the pathways of the central nervous system that control movement.
Traumatic brain injury: Physical injury to the brain can also damage nerves that play a role in coordinating movement. Hand tremors usually occurs, when an injury affects certain nerves.

Parkinson's disease: Related action tremor is seen in people with Parkinson's disease, along with a more common resting tremor in one or both hands. Tremors usually begin on one side, and they might spread to the other side. During periods of stress or strong emotion, shaking may become more pronounced.
The following health related problems can also cause shaky hands:


• Alcohol abuse or withdrawal
• Mercury poisoning
• Psychiatric conditions, like depression or post-traumatic stress disorder
• Inherited degenerative disorders, such as hereditary ataxia or fragile X syndrome • •Hyperthyroidism, or an overactive thyroid
• Liver or kidney failure
• Anxiety or panic
Certain drugs can also cause hand tremors, such as:
caffeine

corticosteroids

some asthma medicines

amphetamines

medicines used to treat certain neurological as well as psychiatric disorders
HOW ARE TREMORS CLASSIFIED?
Tremor can be classified into two main categories:
Resting tremor occurs when muscles are relaxed, such as in situations, when the hands are resting on the lap. With this disorder, a person's arms, hands or legs may shake even when they are at rest. More often, the tremor only affects the hand or fingers. This type of tremor is often seen in people with Parkinsonism and is called a "pill rolling" tremor because the hand movements and circula finger resemble rolling of small objects or pills in the hand.
Action tremor occurs along with the voluntary movement of a muscle. Almost all types of tremors are considered action tremor. Action tremor is also sub classified, many of which overlap.
Kinetic tremor is associated with any voluntary movement, such as moving the wrists up and down or closing and opening the eyes.




Postural tremor happens when a person tries to maintain a position against gravity, such as when holding the arms outstretched.
Intention tremor is produced with purposeful movement towards a target area, such as lifting a finger to touch the nose. Typically the tremor becomes worse as the individual gets closer to their target.
Isometric tremor occurs while making a voluntary muscle contraction which is not accompanied by any movement such as holding a dumbbell or a heavy book in the same position.




Task-specific tremor only appears when performing highly-skilled, goal-oriented tasks such as handwriting or speaking.
HOW CAN PHYSICAL THERAPY HELP?
A physical therapist can guide individuals with tremor to increase and strengthen the coordination of muscular movements. In many cases, this helps improve their muscle control. Thus an initial assessment of the patient will be performed, including:
The degree of muscle control

The type of tremor

The position in which tremor onset occurs

The muscular strength

The level of functional muscle skil
Physical therapy will then be started, focusing on coordination exercises, and exercises to increase the balance of the body. Patients also learn the way to help reduce the occurrence of tremor while using the affected body part. When a tremor comes on, bracing the limb is often useful.

Occupational therapy helps to identify different kinds of adaptations which are useful to optimize function with a tremor. These may include large-handled cups and utensils, splints, and weights.
EXERCISE FOR HAND TREMORS
Tremors can be reduced by improving grip strength. For this exercise, use a small rubber ball or exercise putty. Hold the ball or putty in the palm and squeeze for two to three seconds. Relax and repeat 10 times, repeating to three sets in a row.
Strengthen your hand and wrist by using a lightweight dumbbell, that's 1 to 3 pounds in weight. Position your hand and wrist — palm side up — over the edge of a table. Place the weight in your hand. This way, move your wrist up and down 10 times.


Improve Overall Conditioning


Regular exercise can help lower stress levels, decrease your risk of disease and improve your overall health. Individuals should aim for 150 to 300 minutes of moderate-intensity physical activity per week.
Weight-Bearing Exercises


Bearing light weight through your hands can temporarily reduce tremors and also helps to strengthen your upper extremities. Perform body-weight resistance exercises, such as planks and pushups, as part of a regular exercise routine.
Adaptive Equipment and Tools


Hand tremors reduce through the use of adaptive equipment and tools, making everyday tasks easier. For example, increasing the diameter and weight of writing tools and eating utensils reduces tremors. These items can also be strapped to your hand to improve stability. Wearing weights on wrist for hand tremors also improves your function.

If using weighted tools is not effective for you, adaptive equipment is available to make daily tasks easier. For example, elastic shoelaces eliminate the need for tying. While keeping your elbow tucked against your side, long handled combs can be used to groom your hair— another tip for reducing hand tremors.

how can care24 help?
Our reliable and experienced caregivers are trained to make use of various healthcare practices and technology. As a result, they can help your affected family member recover faster and more comfortably at home.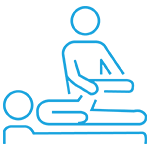 style="text-align:right;color:0f0f59;">
Read more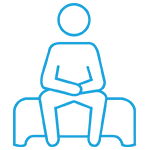 style="text-align:right;color:0f0f59;">
Read more
Nurses and attendants provided by Caree24 are very good. In behavior and trust worthy. Thanks for their support

Anil Kathuria


6/28/2019

Unqualified office staff, when you call to clarify something. Many times they don't understand the question. They are not trained well. The customer care staff needs an upgraded system, where notes are fed into the system. So you don't need someone else calling up and giving you the same info. The caretaker is not trained well. If they are looking after an elderly person, they should know that they have to be in the best of health to look after my mother. She ended not making a meal for my mother and my neighbour had to provide it. If the caretaker is not well she should have asked for a replacement asap and not waited. It is shocking, we have paid a huge amount of money for this service and I am absolutely unhappy. Please do not call for caretaker's from Care24. As long as they are getting their money. They care a damn!!! Worst service providers.

Bonabelle Zuzarte


7/10/2019

We had a ridiculously pathetic experience with them. Took an attendant service, a 10 day offer (rs 600 instead of their regular fee of rs 800), for my mother who had undergone an knee replacement surgery. In six days, 4 different attendants were assigned for no fault of ours. We had terrible experience going through the back-end team trying to explain the importance of sending only one attendant and not a different one every new day. The last person assigned wanted to leave by 5pm even though the timings were from 8am to 8pm. With this many other terrible instances in these 6 days, we had no option but to cancel the services. The back-end team were utterly useless in understanding the importance of having only one person assigned. They kept insisting that we pay for 800rs per day for 6 day and offer of rs 600 per day would be invalid. The management should look into this scam and take immediate action on the team. Note: Even though we wanted the services, we were forced to abandon it with no fault of ours. The back-end team has absolute disregard for the grievances of the client.

Rahul Dhakka


12/27/2018

Horrible service! can't rely on them.They ditch on last moment.Attendents are not punctual,reliable,well behaved and even honest.Service provider doesn't turn up and still they start billing customers .Better to stay away.

Sonal Agrawal


11/04/2019

We contacted care 24 for my Dad's physiotherapy. Our physiotherapist Dr Dharita is very knowledgeable and extremely patient. My Dad is showing a lot for improvement in terms of his movement.

D W


3/21/2019
I am still taking services from Care 24 since last two years. The caregivers are well trained and takes good care of my mother in law.
Sheila khanchandani
Sumesh Brother is Punctual, Efficient and knowledgeable and understands patients requirements completely.
Jayshree Prabhu
I have been using care 24 services and have been very happy with their services. Priyanka Rajbhar is our caretaker she is very disciplined kind and dedicated towards her work.
Saurabh Bhatt
The Nurse and the Attendant provided by Care24 are good in service, polite and punctual. We are happy with their service. The patient ( our family member) is been given proper care, feed and cleaned regularly.
Deepa Balvalli
Dr. Ralga had Attended to my father. He is suffering from PSP. We were specifically impressed by her techniques n method to handle the issue. We are planning on repeating her visits every month for positive results.
Uma Ram
Frequently Asked questions