Our physiotherapists are experienced in providing a complete range of physiotherapy services.
Fill up the form to know more about our physiotherapy services in Thane.
Our physiotherapists are experienced in providing a complete range of physiotherapy services.
Fill up the form to know more about our physiotherapy services in Thane.
Highly rated by thousands of patients all over India.
Physiotherapy Service In Thane
Overview
Physiotherapy is the medical treatment for joint problems and muscle problems. It includes doing exercise and having part of your body massaged and warmed. It is the treatment of injury, diseases and severe nerve disorders. It is used through physical methods such as exercise, massage and manipulation. It is also known as physical therapy. It is performed by a professional who are called physiotherapists.
Our team of best physiotherapists in Thane West are highly trained health professionals. They provide treatment to people who are suffering from injuries, disease and illness. Their aim is to improve the quality of life of people. They use many treatments to relieve pain, enhance function and reduce the effects of any dysfunctional.
Type of therapies
Every individual's treatment is changed to suit their particular need. A physiotherapist will select treatment from many therapies that includes:
Manual therapy

: manual therapy includes movement of joints and muscles. It also includes stretching and joint manipulation.

Exercise programmes

: exercise programme involves muscle strengthening and cardiovascular.

Electrotherapy

: it consists of laser therapy and Transcutaneous Electrical Nerve Stimulation.

Musculoskeletal physiotherapy

: this therapy enhances function to the musculoskeletal system. This treatment focuses on lessening pain, enhancing flexibility and treat soft tissue damage.

Paediatric physiotherapy

: this therapy focuses on the physical needs of infants, children and adolescents.

Sports physiotherapy

: sports physiotherapy is mainly included care of athletes. People who are involved in sports need physiotherapy.

Physiotherapy for women's health

: physiotherapy basically addresses issues to the female reproductive system. Our specialist physiotherapist helps women with relieving lower pain, pelvic and hip pain. It reduces lymphatic swelling.

Cardiorespiratory physiotherapy

: This type of physiotherapy specialises in the prevention, rehabilitation and compensation of people suffering from heart diseases.

Neurological physiotherapy: neurological physiotherapy enhances the immune system. This treatment focus on stretches and exercises. It treats soft tissue damage.
Advantages of physiotherapy
Physiotherapy has many benefits with a great scope. It prevents you from many diseases. This treatment involves therapeutic exercise to increase strength, range of motion, to decrease stiffness and to relieve pain. It is the key to improve and maintain a level of function.
The main advantages of physiotherapy are as follows:
Relief from pain

: many physiotherapy techniques help to get relief from pain. It improves muscle and joint function. This treatment also protects pain from returning.

Improve stroke:

it is common to lose some function and movement after stroke. Physiotherapy helps to make strong weakened parts of the body. It also improves stroke patient's ability to move around the bed. They can be more independent at home. It will lessen the burden of care for activities of daily life.

Maintain cardio-respiratory function

: A patient with a cardio-respiratory problem can take help from physiotherapy to prevent the problem. Exercise can control blood sugar. They can improve the quality of life of patients by strengthening and breathing exercises. They also help the patient to clear fluids from the lungs.

Avoid surgery:

when you take physiotherapy treatment then you can avoid surgery. If in any case, surgery is required then it will help you to recover faster.

Increase flexibility

: stretching and strengthening exercises help to increase your mobility to move. A physiotherapist can properly fit individuals by their treatment. They always pick a plan to ensure great performance and safety.
Why do Physiotherapy exercises?
Physiotherapist must be trained in the use of exercise therapy to make stronger your muscles. It also enhances your function. Physiotherapy exercise has proven to be one of the best ways that can protect from pain or injuries.
Physiotherapist must be an expert in the prescription of the "best exercises" to you. The "exercise dose" is given to you according to your rehabilitation status. Your physiotherapist must have essential skills of Pilates, yoga and exercise. They may even use real-time ultrasound physiotherapy so that you can able to see your muscles contract on a screen.
What are the techniques used by physiotherapists?
Our team of best physiotherapists in Thane West use many techniques to treat patients, these techniques are according to the injury and problem.
Manual manipulation

: they move joints and tissue which helps to enhance circulation. It also helps to flush out fluid from the body.

Electrical nerve stimulation

: it includes small electrical currents which are delivered to affected areas. It helps to close pain signals to the brain.

Acupuncture

: it uses needles which decreases pain, improves the immune system and maintains various body functions.

Functional testing

: it is used to test a patient. It mainly detects his or her physical abilities.
how can care24 help?
Why choose Care24's physiotherapists over other physiotherapists in Thane?
We believe our team of physiotherapists are the best physiotherapists in Thane West as we offer you the most suitable treatment plan for patients and our team has many years of experience. We are there for providing instant relief as our aim is to serve patients.Care24 helps the people who are not able to move, help them in standing, walking and helps them to recover from physical positions once again.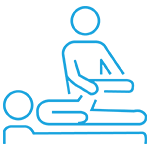 style="text-align:right;color:0f0f59;">
Read more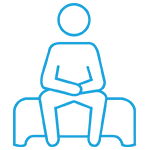 style="text-align:right;color:0f0f59;">
Read more
The physiotherapist came to my home was very helpful and knowledgeable. She properly gave me the detailed information about my injury. Also the first assessment is free of cost.

varshflute


10/17/2019

I got attendent for my ailing mother thru care 24. The best service i got...if i need infuture i will definitely go for care24 only...they are the best

felix thomas


3/21/2020

We contacted care 24 for my Dad's physiotherapy. Our physiotherapist Dr Dharita is very knowledgeable and extremely patient. My Dad is showing a lot for improvement in terms of his movement.

D W


3/21/2019

Most horrible services. Please do not ask for help from these people, they will talk sweet and then at the last moment there will be no shows from the caretaker. I had to go through this not once but twice the caretaker did not turn up. Request you all to not depend on these people as we are leaving our homes and letting them into our lives, the least they can do is inform and provide a replacement, but neither of it happened and they expect me to pay registration fees of RS,1000

Annie Palan


5/17/2019

worst service, they just talk as if they will send professional at our place, they give big promises at the time of starting their services, but when the attendant come at our place we realized that he was more delicate than our patient, the person whom they had sent got a small scratch in his finger and than the same day he said he wont come as he got injury, so the next day he dint turn up neither did care24 arrange for a replacement, after calling them for 4 times they said me sorry they couldn't arrange anyone today. they don not have the decency to even inform that they cannot arrange for a replacement.. please do not go for their services, its just the promises nothing to deliver

Komal Patel


4/11/2019
I am still taking services from Care 24 since last two years. The caregivers are well trained and takes good care of my mother in law.
Sheila khanchandani
Sumesh Brother is Punctual, Efficient and knowledgeable and understands patients requirements completely.
Jayshree Prabhu
I have been using care 24 services and have been very happy with their services. Priyanka Rajbhar is our caretaker she is very disciplined kind and dedicated towards her work.
Saurabh Bhatt
The Nurse and the Attendant provided by Care24 are good in service, polite and punctual. We are happy with their service. The patient ( our family member) is been given proper care, feed and cleaned regularly.
Deepa Balvalli
Dr. Ralga had Attended to my father. He is suffering from PSP. We were specifically impressed by her techniques n method to handle the issue. We are planning on repeating her visits every month for positive results.
Uma Ram