Physiotherapy For Bladder
Our physiotherapists are experienced in providing a complete range of physiotherapy services.
Fill up the form to know more about our physiotherapy services for Bladder.
Physiotherapy For Bladder
Our physiotherapists are experienced in providing a complete range of physiotherapy services.
Fill up the form to know more about our physiotherapy services for Bladder.
physiotherapy for bladder control
Overview
What are bladder control problems?
Bladder control problems refer to the condition that affects the way an individual holds or releases urine. The sudden or accidental leakage of urine is called urinary incontinence. It is one of the most common bladder control problems. The condition is often linked to another health problem such as pregnancy in women or prostate problems in men.
Bladder control problems usually affect a person's quality of life. People may feel embarrassed or get scared to participate in the activities or may be unable to complete their normal routine. It is a common problem however it can be improved with proper treatment. Talking with a healthcare professional is always helpful to manage the symptoms and treat them well. The sooner you get the help there will be better chances of UI to improve.
Do bladder control problems have another name?
The other names for bladder control problems are Urinary incontinence (UI), urine leakage and urine loss. Few health care professionals use the term LUTS which is for lower urinary tract symptoms refers to the other symptoms along with UI.
Symptoms of Bladder Cancer
People experience occasional or minor leaks of urine. Some may lose small to moderate amount frequently.
Types of urinary incontinence include:
Stress incontinence: The leakage occurs when pressure is exerted on the bladder while coughing, sneezing, laughing, exercising or lifting heavy weights.
Urge incontinence: The sudden or intense urge to urinate followed by an involuntary urine loss. It can occur due to infection or a neurologic disorder or diabetes.
Overflow incontinence: The constant or frequent dribbling of urine as the bladder doesn't empty.
Functional incontinence: A physical impairment that prevents you from making it to the toilet in time.
Mixed incontinence: The experience of more than one type of urinary incontinence.
Causes of bladder cancer
Urinary incontinence isn't a disease. It is a symptom that occurs due to the underlying medical conditions or physical problems. The doctor can examine and determine the reason behind your incontinence.
Temporary urinary incontinence
Some drinks, foods and medications can stimulate your bladder and increase the volume of urine. They include:
Alcohol
Caffeine
Carbonated drinks
Artificial sweeteners
Chocolate
Chilli peppers
Spicy foods
Few medications sedatives and muscle relaxants
Urinary incontinence can also be caused due to a certain medical condition such as:
Urinary tract infection: It can irritate your bladder and make a strong urge to urinate.
Constipation: Hard compact stool in the rectum makes the nerves hyperactive and increased urinary frequency.
Persistent urinary incontinence
Urinary incontinence can also be caused by underlying physical problems such as:
Pregnancy: Hormonal changes and the increased weight can cause stress incontinence.
Changes with age: With age, the bladder muscle can decrease the bladder's capacity to store urine. The contractions become more frequent as one gets old.
Menopause: The women produce less estrogen which keeps the lining of bladder healthy resulting in incontinence.
Hysterectomy: Any surgery involved in a woman's reproductive system can damage the supporting pelvic floor muscles leading to incontinence.
Neurological disorders: Any interference with nerve signals involved in bladder control can result in urinary incontinence.
Treatment for bladder cancer
There are several factors on which the treatment of bladder cancer depends such as the type of cancer, the grade and the stage of cancer along with your overall health and treatment preferences.
Treatment of bladder cancer include:
Surgery to remove cancerous tissue
Chemotherapy in the bladder to treat tumours which are in the lining of the bladder.
Reconstruction that involves making a new way for urine to exit the body.
Chemotherapy for the whole bodywhere surgery isn't an option
Radiation therapy to destroy cancer cells.
Immunotherapy
physiotherapy for bladder control
What does physiotherapy for bladder control include?
Physiotherapy for bladder control includes the following :
Pelvic Floor Exercises which helps to strengthen the pelvic floor muscles involving the use of vaginal cones.
Electrical Stimulation Therapy strengthens pelvic floor muscles making use of electrical currents.
Bowel Movement Retraining helps to pass motion without straining the pelvic floor muscles.
The physiotherapist will monitor and assess your condition every month prescribing you a home exercise program of pelvic floor exercises. After getting the optimal results you can stop the treatment.
Your physiotherapist will ask you queries related to your urinary leakage problem. It helps them to determine the severity of the condition based on which they will provide therapy that suits your needs.
Exercises for bladder cancer
Kegel exercises
These exercises are often recommended by doctors to strengthen the muscles which support the bladder and keep it closed. It can, therefore, help to improve the person's ability to start and stop their urine.
Though the pelvic floor muscles are difficult to target so it's important to first identify these muscles. One needs to follow these steps:
While preparing to urinate, focus on stopping the urine stream. Think about tightening the muscles that can stop the urine stream and focus on the sensation of the pelvic floor muscles.
After the pelvic floor muscles are identified, you can perform the Kegel exercises twice daily.
Process:
Squeeze the muscles which are used to stop the flow of urine
Hold for a few seconds
Release the muscles
Repeat this 25 times
Once the muscle gets stronger you can increase the frequency to 25 to 50 repetitions for two to three times every day.
Kegels while urinating can affect your ability to empty the bladder and can lead to a bladder infection.
Pelvic floor exercises
There are other methods available to target pelvic floor muscles. It includes:
Short contractions: It works with the fast-twitch muscles located in the pelvic floor. This exercise aims to tighten the muscles quickly and then release them.
How to perform?
Take a deep breath in and exhale while tightening the pelvic floor muscles
Inhale while releasing the pelvic floor muscle contraction.
Repeat it 10 times and complete a total of three sets.
Long contractions
It helps a person to achieve a pelvic floor contraction that lasts 10 seconds.
How to perform?
Tighten the pelvic floor muscles and hold the contraction. Repeat three sets for about ten times.
HOW CAN CARE24 HELP?
At Care24, we provide a wide range of care services that includes a team of doctors, nurses, attendants and physiotherapists. We assure to provide timely medical services to your loved ones with the best care including physiotherapy for bladder control.
Our specially trained physiotherapist are extremely experienced in caring for those who suffer from bladder control problems. They provide bladder physiotherapy and therapy plan that will work best for your loved one. Our well-trained staff make sure your loved one gets the best care in the comfort of home.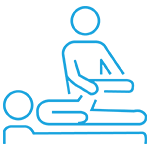 style="text-align:right;color:0f0f59;">
Read more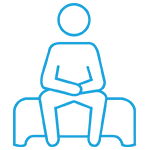 style="text-align:right;color:0f0f59;">
Read more
The worst experience I've had of my life. I normally never really write reviews, but I had to write this because this agency is the worst company I've dealt with till now. Their customer service is terrible, most of their attendants are not competent for taking care of elderly patients. Please do not use their service.

Radhika Kulkarni


6/27/2019

worst service, they just talk as if they will send professional at our place, they give big promises at the time of starting their services, but when the attendant come at our place we realized that he was more delicate than our patient, the person whom they had sent got a small scratch in his finger and than the same day he said he wont come as he got injury, so the next day he dint turn up neither did care24 arrange for a replacement, after calling them for 4 times they said me sorry they couldn't arrange anyone today. they don not have the decency to even inform that they cannot arrange for a replacement.. please do not go for their services, its just the promises nothing to deliver

Komal Patel


4/11/2019

If there was an option of negative stars then I would have choosen it. They offered me a package of₹ 5950/- for 10 days and after 2 days updated me on new package of ₹5700/- for 7 days without my consent. Even deposited my earlier cheque and then I had to follow up for the balance for about 10 days explaining my issue everyday to the new person on their helpline. They don't acknowledge emails too. Worst experience and definitely not recommended

Mugdha Kulkarni


5/23/2019

The physiotherapist came to my home was very helpful and knowledgeable. She properly gave me the detailed information about my injury. Also the first assessment is free of cost.

varshflute


10/17/2019

Worst experience ever! Have hired a caregiver and a nurse. The nurse arrives late repeatedly inspite of being told about how critical medication timings are, falls asleep during day duty, is clueless about timings and medications inspite of us having guided them and has no sound medical knowledge whatsoever. She insisted that a fever of 99.7 is normal and even tried feeding the patient through riles tube with the patient lieing down inspite of there being a recliner arrangement. Neither the nurse or the attendant knew the correct way of lifting a patient from the bed, it was all ignorant tug and pull. Any complaints made to the organisation made no difference as they need more than a day to arrange for a replacement and one needs to deal with the same incompetent staff for another day or risk having no caregiver coming over (as bluntly informed by the call center) at all. Furtheron, the same performance continued the next day. In fact, in the absence of the family members it was observed through a baby monitor that the attendant and the nurse were sitting and chatting away while the patient was trying to sleep and literally PASSING FOOD OVER TO EACH OTHER OVER THE PATIENT! If this wasnt bad enough, the attendant developed a cough and a fever and when a call was made to care 24 asking them to send a replacement on the next day at least as the patient has low immunity, the organisation again gave a choice, we could have the same attendant and risk the patient getting sick, or have no attendant for the next day as they didn't have anyone available. Do not fall for the sales pitch of the executives over the phone as their premium prices and promises of exceptionally well trained staff is nothing but marketing mumbo jumbo. The professionalism and training of the staff that comes to your door is as garbage as the service of the organisation. More importantly, do not trust this organisation with the health and well being of your loved ones as no one in the entire heirarchy of care 24 really 'cares'. You would be better off hiring someone from a local agency. Have had much better experiences with randomly contacted nurses and attendants through justdial. Even though they live far, they reach on time The local organisations are also promptly able to provide replacements if need be. P.S. The 1000 or so rupees registration charge they take from you initially, is essentially a financial clickbait as its money they've made off you after they have stressed you out, contributed to deterioration of the patient and compelled you to suspend their services.

Marzouq Shaikh


3/09/2020
I am still taking services from Care 24 since last two years. The caregivers are well trained and takes good care of my mother in law.
Sheila khanchandani
Sumesh Brother is Punctual, Efficient and knowledgeable and understands patients requirements completely.
Jayshree Prabhu
I have been using care 24 services and have been very happy with their services. Priyanka Rajbhar is our caretaker she is very disciplined kind and dedicated towards her work.
Saurabh Bhatt
The Nurse and the Attendant provided by Care24 are good in service, polite and punctual. We are happy with their service. The patient ( our family member) is been given proper care, feed and cleaned regularly.
Deepa Balvalli
Dr. Ralga had Attended to my father. He is suffering from PSP. We were specifically impressed by her techniques n method to handle the issue. We are planning on repeating her visits every month for positive results.
Uma Ram
Frequently Asked questions