Our physiotherapists are experienced in providing a complete range of physiotherapy services.
Fill up the form to know more about our physiotherapy services for ACL Tear.
Our physiotherapists are experienced in providing a complete range of physiotherapy services.

Fill up the form to know more about our physiotherapy services for ACL Tear.
Physiotherapy For ACL Tear
Overview
What is an ACL and what is an ACL Injury?
The anterior cruciate ligament (ACL) is one of the key ligaments that help stabilize the knee joint. It connects the thigh bone or femur to the shinbone or tibia. By restricting mobility, the ACL is constructed to restrain knee movement. It is most commonly torn accidentally during sports that involve sudden stops and changes in direction — such as basketball, soccer, tennis, and volleyball.
Among the most common injuries is the ACL tear or the anterior cruciate ligament injury. Of the four major knee ligaments of the knee, an ACL tear is the most debilitating of all.
What Causes an ACL Injury?
Why does one land with an ACL Injury?
ACL sprain, as well as ACL tear, is a sports-related injury and athletes who participate in high demand sports like soccer, football, and basketball are at the highest risk of injury to their anterior cruciate ligaments.
Approximately 80 percent of sports-related ACL tears are "non – contact" injuries implying that the other player has no role in causing the injury.
ACL tears happen when pivoting or landing from a jump and after the ACL is torn / badly sprained, your knee gives out from underneath you, i.e. the ability of the knee joint to support body weight is severely compromised.
Female athletes have been known to have a greater risk of an ACL tear as compared to their male counterparts. While, understanding of why this happens is not very clear right now, there are some who think it is biomechanical, strength or hormones related. Truly speaking, it is a factor of all three.
What are the signs of an ACL Injury?
To identify a knee injury as an ACL tear, the doctor will need to check the knee for swelling and pain. Comparing the dimensions of the injured knee to the other knee, study the ability of the knee to move and to support the weight of the body.
Numerous procedures go into making the identification of an ACL tear. Patients with an ACL tear obviously call it a knee injury and need help from the doctor to make an accurate diagnosis. They could have heard or felt a "pop" in their knee and most importantly the knee generally gives away from beneath them. ACL tears trigger pain and knee inflammation.
Queries that you must be prepared for while you meet your doctor for an assessment.
Prior to the appointment, be ready to answer these questions:
What happened? What is the challenge you are facing? What is hurting? Where exactly?

Have you ever hurt your knee earlier?

So, when did the injury happen?

What you do? – Study, Sports, Desk job etc..

Can you hear a loud "pop" or sense a "popping" sensation?

Was there much inflammation after an injury?

Have your symptoms been intermittent or are they constant?

Do any motions appear to worsen or improve your symptoms?

Does your knee "lock" or texture obstructed when you are attempting to move it?

Do you feel that your knee is not able or unstable to support your own weight?
Diagnosis of an ACL Tear
While a possible identification can be made on the grounds physiotherapy for ACL tear before surgery alone, but to ascertain the intensity of the injury and to rule out other causes, you might need to go through a few sessions of physiotherapy for ACL tear before surgery. These evaluations may include the following:
X-rays

– X-rays are required to rule out a bone fracture. But X-rays do not show soft tissues, like tendons and ligaments.

Magnetic resonance imaging (MRI)

– An MRI uses a magnetic field and radio waves to create pictures of soft as well as hard tissues. An MRI can demonstrate signs of harm and the area of an ACL injury to cells including the cartilage, in the gut.

Ultrasound

– Using sound waves to visualize structures, ultrasound could be used to look after injuries to muscles, tendons, and ligaments of the knee.
Remedy for an ACL tear
Immediate physiotherapy for ACL tear before surgery can decrease swelling and pain quickly. One must adhere to the R.I.C.E. version of self-care in your home
Rest

– General rest is essential for recovery and this restricts the knees from bearing any weight.

Ice

– You should ice your knee every 2 hours while you are awake.

Compression

– Wrap compression wrap or an elastic bandage around your knee.

Elevation

– Lie down with your knees propped up on cushions.
Physiotherapy for acl tear after surgery
After your therapist completes an, she or he will work to develop a proper treatment program for physiotherapy for ACL tear after surgery. Make sure you work together with your PT should you not know your diagnosis, prognosis, or treatment, and ask any questions.
Constituents of physiotherapy for ACL tear after surgery – comprise, but are not limited to:
Pain control –

Your physical therapist may use therapy strategies to help reduce knee pain. Ice packs can be used to reduce swelling, and TENS might be employed in your knee.

Training

– If you're currently walking using an assistive device like crutches, your physical therapist may instruct you how you can utilize these. They can help your progress in walking to walking using no device, with crutches.

Swelling direction

– The R.I.C.E. principle is among the greatest strategies to reduce swelling in your knee. This includes rest, ice, compression, and elevation of your knee.
Enhancing quadriceps contraction your muscle quits functioning and on the surface of your thigh shuts off. Among the aims of therapy following a knee injury would also be to recover quadriceps control. Your therapist can use a kind of electrical stimulation named Russian Stimulation or even NMES to help achieve that job. Strengthening exercises, such as leg raises, are also prescribed.
Strengthening exercises –

other strengthening exercises to your hamstrings and hip muscles could be required during your ACL rehab Along with doing exercises to strengthen your quadriceps.

Range of motion exercises (ROM)

– Following an ACL tear, swelling and pain in your knee can restrict your knee assortment of movement. Knee ROM exercises such as the hang may be done to help enhance and enhance your knee distress.

Balance exercises

– Following a knee injury, you might notice you are experiencing trouble maintaining balance. Balance exercises with a board or a BAPS board could be essential to recovering body consciousness, or proprioception.

Plyometrics –

If you are planning about resuming active sports, then training should be included by your physical therapy plan of care. Learning the correct method to jump and land correctly will help you recover.
Among the elements of your ACL rehabilitation program is to understand how to stop problems. Make sure you work to ascertain and invent a fitness plan to protect against the following ACL injury.
What is TENS?
TENS or Transcutaneous electrical nerve stimulation is a pain relief method using a mild electrical current used to stimulate nerves. A TENS machine is a small, battery-operated device with its leads connected to electrodes held together with the body through a sticky adhesive tape.
These electrical impulses are sent to the nervous system, thereby reducing its ability to transmit pain signals to the spinal cord and the brain. These electrical impulses also stimulate the body to produce natural pain relievers called endorphins and this helps alleviate the pain.
How to prevent an ACL Injury?
Preventing an ACL tear has become the focus of research, particularly the avoidance of ACL tears in athletes. A lot of theories have been suggested to explain how they may be avoided, and why individuals can split their ACL.


Investigations have concentrated to reduce ACL tears. As we are aware that ACL reconstruction patients that have extensive post-operative physiotherapy to reconstruct their own strength, proprioception, and agility we all do understand that comparable ACL exercises might help prevent an ACL tear in the first location. For information, please consult your own sports physiotherapist.
How can Care24 help?
Based on the type of need, it requires quite a few weeks or even months for you to recover. You are helped by our physiotherapist with exercises that stimulates tissues and the cells that have been injured for aiding recovery.
The physiotherapists help with stretching exercises and offer recovery programs in accordance with the kind of injury, in order to facilitate recovery. She will also guide you in educating you to take care of yourself.
Therefore, if you are looking for an excellent physiotherapist or a good nurse, simply reach out to Care24's world-class physiotherapy treatment in your home's comfort.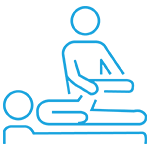 style="text-align:right;color:0f0f59;">
Read more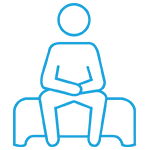 style="text-align:right;color:0f0f59;">
Read more
Most horrible services. Please do not ask for help from these people, they will talk sweet and then at the last moment there will be no shows from the caretaker. I had to go through this not once but twice the caretaker did not turn up. Request you all to not depend on these people as we are leaving our homes and letting them into our lives, the least they can do is inform and provide a replacement, but neither of it happened and they expect me to pay registration fees of RS,1000

Annie Palan


5/17/2019

If there was an option of negative stars then I would have choosen it. They offered me a package of₹ 5950/- for 10 days and after 2 days updated me on new package of ₹5700/- for 7 days without my consent. Even deposited my earlier cheque and then I had to follow up for the balance for about 10 days explaining my issue everyday to the new person on their helpline. They don't acknowledge emails too. Worst experience and definitely not recommended

Mugdha Kulkarni


5/23/2019

worst service, they just talk as if they will send professional at our place, they give big promises at the time of starting their services, but when the attendant come at our place we realized that he was more delicate than our patient, the person whom they had sent got a small scratch in his finger and than the same day he said he wont come as he got injury, so the next day he dint turn up neither did care24 arrange for a replacement, after calling them for 4 times they said me sorry they couldn't arrange anyone today. they don not have the decency to even inform that they cannot arrange for a replacement.. please do not go for their services, its just the promises nothing to deliver

Komal Patel


4/11/2019

We had a ridiculously pathetic experience with them. Took an attendant service, a 10 day offer (rs 600 instead of their regular fee of rs 800), for my mother who had undergone an knee replacement surgery. In six days, 4 different attendants were assigned for no fault of ours. We had terrible experience going through the back-end team trying to explain the importance of sending only one attendant and not a different one every new day. The last person assigned wanted to leave by 5pm even though the timings were from 8am to 8pm. With this many other terrible instances in these 6 days, we had no option but to cancel the services. The back-end team were utterly useless in understanding the importance of having only one person assigned. They kept insisting that we pay for 800rs per day for 6 day and offer of rs 600 per day would be invalid. The management should look into this scam and take immediate action on the team. Note: Even though we wanted the services, we were forced to abandon it with no fault of ours. The back-end team has absolute disregard for the grievances of the client.

Rahul Dhakka


12/27/2018

Horrible service! can't rely on them.They ditch on last moment.Attendents are not punctual,reliable,well behaved and even honest.Service provider doesn't turn up and still they start billing customers .Better to stay away.

Sonal Agrawal


11/04/2019
I am still taking services from Care 24 since last two years. The caregivers are well trained and takes good care of my mother in law.
Sheila khanchandani
Sumesh Brother is Punctual, Efficient and knowledgeable and understands patients requirements completely.
Jayshree Prabhu
I have been using care 24 services and have been very happy with their services. Priyanka Rajbhar is our caretaker she is very disciplined kind and dedicated towards her work.
Saurabh Bhatt
The Nurse and the Attendant provided by Care24 are good in service, polite and punctual. We are happy with their service. The patient ( our family member) is been given proper care, feed and cleaned regularly.
Deepa Balvalli
Dr. Ralga had Attended to my father. He is suffering from PSP. We were specifically impressed by her techniques n method to handle the issue. We are planning on repeating her visits every month for positive results.
Uma Ram
Frequently Asked questions