Our physiotherapists are experienced in providing a complete range of physiotherapy services.
Fill up the form to know more about our physiotherapy services for Arm.
Our physiotherapists are experienced in providing a complete range of physiotherapy services.
Fill up the form to know more about our physiotherapy services for Arm.
Physiotherapy For Arm Pain
Overview
Arm Pain
Every individual would have experienced arm pain at some point of time in life. It may occur over a period or suddenly. It impacts on our day interfering with our ability to participate in games, exercise, daily activities, and daily chores. The exact place that hurts, the kind of pain one faces as well as the reason for pain are each unique to every individual. So, there's no single cure plan that suits all types of arm pain. Given that the cause of pain is complex; it is required to perform a thorough evaluation performed by the physiotherapist to help understand the root cause of the problem and address them. This helps in finding the solution through a customized plan of physiotherapy for arm pain and provides long term relief that works for you.
Physiotherapy for arm pain can help with instructions, hands-on lively workout programs, and methods. As specialists in movement, we enable you to recuperate from injury and evaluate, diagnose and cure motion ailments that are associated. Pain shouldn't restrict you from engaging in what you like, and we help you with precisely that. When you seek therapy, we create an individualized plan of physiotherapy for arm pain directed by your own objectives for you and with a detailed list of everyday tasks, weekly activity tasks, and long-term plans. The same gets tweaked to suit better as the physiotherapy sessions progress. of the requirements of your everyday tasks. This can allow you to understand how to keep healthy and deal with the long term demands on the human body, while a strategy and targets can help to assist in successful healing.
Symptoms of arm pain
Arm pains may result because of any injury or disuse of tissues of the arm, nerves, joints, bones, blood vessels, and skin. But pain is not the only symptom of arm issues.
Weakness felt in the arm, the difficulty of movement and throbbing, tingling pain and numbness could be some symptoms of nerve damage. The nerve travels from the armpit and controls the motion in the wrist, arm, and hand. Damage to the nerves might be the origin of your own arm pain.
Arm pain could also be an indicator of underlying cardiovascular disease. Symptoms that occur with arm pain include torso discomfort, nausea, difficulty breathing, palpitations, fainting, and perspiration. Arm pain, especially pain which radiates in the left arm, can even be an indication of a heart attack.
Symptoms felt in the arm
Redness

Stiffness, Swelling, and Tenderness

Tingling, Numbness, Muscular Weakness

Reduced range of movement

Swollen and painful lymph nodes in the underarm
Reasons for Arm Pain
Bones –

In case of arm pain after any bodily injury, it might be because of a fracture. You may have swelling, bruising, numbness, or weakness. See your physician immediately to identify the cause and treat suitably.

Tendinitis –

This occurs when the tendons on your arm or shoulder are inflamed. Tendons are bands of tissue that connect bones to muscles.

Strain or sprain –

An accident may lead to damage to your muscles due to pressure on them or a sprain in ligaments. Symptoms include swelling, bruising, pain, weakness, and muscle aches. Both conditions are self-healing, however, one must see her physician for severe symptoms.

Carpal tunnel syndrome –

Performing exactly the very same moves over and over may lead to damage. It may result in tingling.

Rotator cuff injury –

This component of your shoulder consists of joints and muscles. It permits your shoulder remain or to move in place. As we get older, our tendons in the rotator cuff start to wear down. In case your daily activities require you to move your rotor cuff repeatedly, it may become damaged because of overuse. Symptoms vary from fatigue and a dull ache in the arm to throbbing pain. You should visit your physician to identify the exact problem and obtain suitable treatment.
Treatment for arm pain
Motions should be avoided by Individuals with nerves or nerve damage in the arm and they should take regular breaks.
One may attempt to relieve the arm pain brought about by overuse or exertion. In case your shoulder, arm, knee, or wrist is swollen, apply ice packs into the region and use a sling to restrict movement keep the arm still.
The remedy for arm pain depends upon the cause. The remedy for shoulder pain may consist of balance, elevation, an elastic wrap, a splint or sling, cold compresses, acetaminophen or nonsteroidal anti-inflammatory drugs (NSAIDs) for pain, and operation if required! Added treatment for arm pain brought on by disease may include warm compresses and antibiotics.
Extending, ice, pain relievers, and rest can alleviate arm pain. One must adhere to this strategy and remember the acronym RICE
Rest

– Take a rest from regular activities.

Ice

– Put an ice pack or bag of frozen peas to the sore area for 15 to 20 minutes three times each day.

Compression

– Use a compression bandage to lessen swelling.

Elevation

– Elevate the arm above heart level to help decrease swelling.
One must seek emergency treatment in case of an acute injury or any sudden pain. Shoulder sudden arm, chest, or back pain can indicate a heart attack, and you need to call the hospital emergency number and seek emergency treatment. If you believe you are having a heart attack, don't drive yourself to the hospital and get someone else to do that for you.
See your physician "immediately" for any of the following:
Shoulder, shoulder, or back pain that happens with any Kind of exertion and is relieved by rest – maybe signaling heart disease or chest discomfort caused by decreased blood flow to your heart muscle (angina)

Sudden damage to the arm, especially If a snap or hammering noise is noticed

Intense swelling and pain in the arm

Trouble moving your arm/s usually or turning your arm out of palm up to palm down and vice versa

Tingling, weakness, or tingling in the arm
What helps tremendously
Basic Arm Exercises –

The next arm exercises should be performed – 3 times a week provided they increase or don't trigger pain. They shouldn't be performed to permit muscle healing. The exercises could be improved by raising the repetitions, several places or immunity of these exercises given that they don't trigger or increase pain as your strength improves.




Resistance Band Pull Backs –

Begin this arm workout in position or kneeling with your spine straight and holding a resistance ring as shown (figure 1). Gradually pull on your arms backward, squeezing your shoulder blades together. Hold for two seconds and return to the beginning place. Play 1 – 3 sets of 10 repetitions supplied that the workout is free.




Push Ups –

Begin this arm workout at the push-up position maintaining your neck and spine gradually until they are direct, straighten your elbows, then return to the beginning place. Play 1 – 3 sets of 10 repetitions supplied that the workout is free. The workout can be carried out on the knees if that is hard.




Resistance Band Pullbacks –

Begin this arm workout position with your spine straight and holding a resistance ring as shown (figure 3). Till it's level with your shoulder, keeping your 19, increase your arm out to the side and back. Then go back to the beginning place. Play 1 – 3 sets of 10 repetitions on each side have given the workout is free.
How Does physiotherapy exercises for upper arm pain help?
Decrease pain and physiotherapy are significant for upper arm injuries to reunite function since it's integral to tasks of daily living. Though every injury will differ marginally, a physio can assist in making certain that there's a right procedure of physiotherapy exercises for upper arm pain and to work on a rehab program which will enable you to accomplish whole recovery goals in a timely way to return to sport or work when possible.
Physiotherapy exercises for upper arm pain include:
Ice or heat therapy

Manual treatment – soft tissue massage and trigger pointing

Joint mobilization

Instruction about strapping, loading and movement management

Taping or brace support that is particularly critical in healing from ligament ruptures

Exercise applications such as rehab or pre-habilitation.

modification suggestions and referral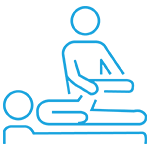 style="text-align:right;color:0f0f59;">
Read more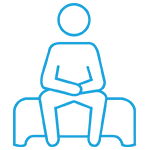 style="text-align:right;color:0f0f59;">
Read more
worst service, they just talk as if they will send professional at our place, they give big promises at the time of starting their services, but when the attendant come at our place we realized that he was more delicate than our patient, the person whom they had sent got a small scratch in his finger and than the same day he said he wont come as he got injury, so the next day he dint turn up neither did care24 arrange for a replacement, after calling them for 4 times they said me sorry they couldn't arrange anyone today. they don not have the decency to even inform that they cannot arrange for a replacement.. please do not go for their services, its just the promises nothing to deliver

Komal Patel


4/11/2019

We contacted care 24 for my Dad's physiotherapy. Our physiotherapist Dr Dharita is very knowledgeable and extremely patient. My Dad is showing a lot for improvement in terms of his movement.

D W


3/21/2019

If there was an option of negative stars then I would have choosen it. They offered me a package of₹ 5950/- for 10 days and after 2 days updated me on new package of ₹5700/- for 7 days without my consent. Even deposited my earlier cheque and then I had to follow up for the balance for about 10 days explaining my issue everyday to the new person on their helpline. They don't acknowledge emails too. Worst experience and definitely not recommended

Mugdha Kulkarni


5/23/2019

Nurses and attendants provided by Caree24 are very good. In behavior and trust worthy. Thanks for their support

Anil Kathuria


6/28/2019

My father had a hip bone surgery in January. I have been using Care24 services ever since. The attendants that cane were good in the beginning. However their services have become good to bad to worse to worst in the last 15 days. They changed the night attendant without informing me personally just 6 hours before the time. My father had just settled down with the last attendant and now they were sending a replacement tonight. To add to my frustration the guy didn't turn up and did not answer the calls. When I called their call centre - they said they can't help me at this hour. Well- I can't help but call them CARELESS CARE24.

Jasbir Basu


4/06/2019
I am still taking services from Care 24 since last two years. The caregivers are well trained and takes good care of my mother in law.
Sheila khanchandani
Sumesh Brother is Punctual, Efficient and knowledgeable and understands patients requirements completely.
Jayshree Prabhu
I have been using care 24 services and have been very happy with their services. Priyanka Rajbhar is our caretaker she is very disciplined kind and dedicated towards her work.
Saurabh Bhatt
The Nurse and the Attendant provided by Care24 are good in service, polite and punctual. We are happy with their service. The patient ( our family member) is been given proper care, feed and cleaned regularly.
Deepa Balvalli
Dr. Ralga had Attended to my father. He is suffering from PSP. We were specifically impressed by her techniques n method to handle the issue. We are planning on repeating her visits every month for positive results.
Uma Ram
Frequently Asked questions