Physiotherapy In Faridabad
Our physiotherapists are experienced in providing a complete range of physiotherapy services.
Fill up the form to know more about our physiotherapy services in Faridabad.
Physiotherapy In Faridabad
Our physiotherapists are experienced in providing a complete range of physiotherapy services.
Fill up the form to know more about our physiotherapy services in Faridabad.
Highly rated by thousands of patients all over India.
Physiotherapy at Home in Faridabad
What is Physiotherapy
Physiotherapy is an exercise which prevents pain. It improves the quality of life of people. It restores movement and function. It also treats people who are affected by injury and illness. It is performed by a mechanical force.
Physiotherapy is the best way to prevent pain and injury. It is effective for those people who feel physically unfit. It is the therapy which helps you to maintain your life. A physiotherapist is the health profession who treats people with physiotherapy. They are capable to enhance the flexibility of people. They also easily understand how the body works. They are expert in clinical assess, diagnose and treat disabilities. The service levels of the best physiotherapists in Faridabad has improvised to the extent that now they are providing physiotherapy treatments at home in Faridabad. Our team ranks in the list of best physiotherapists in Faridabad who are specialized to assess, diagnose and treat symptoms of illness or injury.
We have observed that there is an increased level of requirements for female physiotherapists in Faridabad which has enabled us to start providing the services of female physiotherapists in Faridabad for women who suffer from many health problems during pregnancy, breastfeeding, menopause, birth and loss of bowel which can be taken care of by physiotherapy.
treatment for Physiotherapy
Physiotherapists will prescribe a treatment plan which takes into consideration your health, activities and lifestyle. Some common treatments include:-
Exercise programs to power muscle and improve flexibility

Joint manipulation to decrease stiffness and pain

Soft tissue management

Muscle re-education to prevent injury

Hydrotherapy

Acupuncture

Electrotherapy which includes ultrasound, diathermy and laser therapy
What does physiotherapy include?
There are many types of treatments that our team of best physiotherapists in Faridabad provide in physiotherapy. The treatments include massage therapy, hydrotherapy, electrotherapy and exercises and movements.
Massage:

massage is effective for all patients

.

The form of the message will be changed to a specific case. It involves patterns of hand movements. It improves blood flow. Massage therapy also enhances flexibility which refines the range of movement in the joints.

Hydrotherapy:

it takes place in a specialised pool. It can be carried out in a swimming pool until it is reasonably warm. During hydrotherapy, the physiotherapist will assist patients to do exercise which integrates with the pressure of water. It will enhance circulation. It permits the movement and joints to move freely. Water jets and massage may also be used to restore the nervous system.

Electrotherapy:

electrotherapy is the use of controlled electric shocks to enhance nerve activity. The dose is very low. This procedure is not painful. Electrotherapy is used to reduce nerve-muscle pain. It sustains muscle repair and regeneration. There are two types of electrotherapy. One is transcutaneous electrical nerve stimulation and other is neuromuscular electrical stimulation. Physiotherapy also involves the use of technology such as laser and ultrasound.
Exercise and movement: the fundamental concept of physiotherapy is to boost the range of movement of pairs and muscles. Physiotherapy usually used a variety of exercises and stretches to increase flexibility and decrease stiffness. Some exercises are done at home. The variety of stretches will be changed to suit the individual. It will usually need a gradual build-up of exercises. Patients will start with gentle activities such as walking and swimming before going to more physically challenging exercise. The stretches will be carried out at least once daily for the month.
Benefits of Physiotherapy
Reduce pain

. Therapeutic exercises and manual therapy techniques such as joint and soft tissue treatments such as ultrasound or electrical stimulation can help relieve you from pain and restore the muscle to reduce pain. Such therapies can also prevent pain.

Keep away from surgery

. If physical therapy helps you to reduce pain or heal from an injury then surgery should not be needed. And even if surgery is required, you may benefit from pre-surgery physiotherapy. If you are going into surgery you will recover faster afterwards in many cases.

Improve flexibility

. If you are having trouble standing, walking or moving, no matter for your age physiotherapy can help you. Physical therapists can enhance the flexibility of the body. By customizing an individual care plan which is important to an individual's life can be practised and adapted to ensure maximal performance.

Treat a stroke

. It is common to lose some degree of function after stroke. Physical therapy helps to make stronger weakened parts of the body and improve balance. Physical therapists can also treat stroke patients. They make them able to transfer and move around in bed so that they can be more independent at home. It less their burden of care for toileting, bathing, and dressing of their daily living.

Enhance your balance

. When you do physical therapy, you will get screened for fall risk. If you are at high risk for falls, therapists will provide exercises that safely and carefully challenge your balance situations. Therapists also help you with exercises to improve coordination to help with safer walking. Physical therapists can perform particular exercises that can quickly restore and reduce symptoms of dizziness or vertigo.

Manage diabetes: Exercise can help effectively to control your blood sugar. Moreover, people suffering from diabetes may have problems with sensation in their feet and legs.
how care24 can help?
Care24 have trained physiotherapists who give the most suitable treatment for patients. We have many techniques to treat your loved ones. We are very polite with patients and put in efforts to instil courage in them. Care24 provides many facilities for patients and our team of provides care with a personal touch for each and every patient especially the elderly people. We are handled with extra care. Lady physiotherapists are also available here.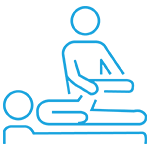 style="text-align:right;color:0f0f59;">
Read more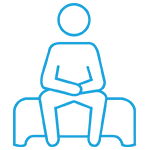 style="text-align:right;color:0f0f59;">
Read more
Unqualified office staff, when you call to clarify something. Many times they don't understand the question. They are not trained well. The customer care staff needs an upgraded system, where notes are fed into the system. So you don't need someone else calling up and giving you the same info. The caretaker is not trained well. If they are looking after an elderly person, they should know that they have to be in the best of health to look after my mother. She ended not making a meal for my mother and my neighbour had to provide it. If the caretaker is not well she should have asked for a replacement asap and not waited. It is shocking, we have paid a huge amount of money for this service and I am absolutely unhappy. Please do not call for caretaker's from Care24. As long as they are getting their money. They care a damn!!! Worst service providers.

Bonabelle Zuzarte


7/10/2019

The worst experience I've had of my life. I normally never really write reviews, but I had to write this because this agency is the worst company I've dealt with till now. Their customer service is terrible, most of their attendants are not competent for taking care of elderly patients. Please do not use their service.

Radhika Kulkarni


6/27/2019

Horrible, unprofessional service! Advance paid.The caregiver did not show up. When complained to customer care, they said they will find a replacement and call back. No call back, no replacement. They shut for the day and the customer is felt in a lurch. Extremely disappointing. Will never avail this service again and will spread the word too.

Shraddha Shah


11/02/2019

If there was an option of negative stars then I would have choosen it. They offered me a package of₹ 5950/- for 10 days and after 2 days updated me on new package of ₹5700/- for 7 days without my consent. Even deposited my earlier cheque and then I had to follow up for the balance for about 10 days explaining my issue everyday to the new person on their helpline. They don't acknowledge emails too. Worst experience and definitely not recommended

Mugdha Kulkarni


5/23/2019

We contacted care 24 for my Dad's physiotherapy. Our physiotherapist Dr Dharita is very knowledgeable and extremely patient. My Dad is showing a lot for improvement in terms of his movement.

D W


3/21/2019
I am still taking services from Care 24 since last two years. The caregivers are well trained and takes good care of my mother in law.
Sheila khanchandani
Sumesh Brother is Punctual, Efficient and knowledgeable and understands patients requirements completely.
Jayshree Prabhu
I have been using care 24 services and have been very happy with their services. Priyanka Rajbhar is our caretaker she is very disciplined kind and dedicated towards her work.
Saurabh Bhatt
The Nurse and the Attendant provided by Care24 are good in service, polite and punctual. We are happy with their service. The patient ( our family member) is been given proper care, feed and cleaned regularly.
Deepa Balvalli
Dr. Ralga had Attended to my father. He is suffering from PSP. We were specifically impressed by her techniques n method to handle the issue. We are planning on repeating her visits every month for positive results.
Uma Ram