Physiotherapy in Pitampura
Our physiotherapists are experienced in providing a complete range of physiotherapy services.

Fill up the form to know more about our physiotherapy services in Pitampura.
Physiotherapy in Pitampura
Our physiotherapists are experienced in providing a complete range of physiotherapy services.

Fill up the form to know more about our physiotherapy services in Pitampura.
Highly rated by thousands of patients all over India.
physiotherapy Services in Pitampura
What is Physiotherapy?
Physiotherapy is a remedy to recover, sustain, and make the most of a patient's range of motion, functionality, and well-being. Physiotherapy assists by way of physical rehabilitation, injury prevention, and health and fitness. Physiotherapists get you included in your own recovery.

Physiotherapists concentrate on both prevention and rehabilitation. Treatment might be for difficulties induced by damages, illness or perhaps disability. Listed below are a few examples:

1. Neck and back pain attributable to problems in the muscles as well as the skeleton

2. Problems in the bones, joints, muscle tissues as well as ligaments, such as arthritis as well as the after-effects of amputation

3. Lung conditions for instance asthma

4. Handicap due to heart problems

5. Pelvic problems, similar to the bladder and intestinal issues linked with childbirth

6. A decrease in ability to move because of a shock to the brain or spinal column, or as a result of conditions similar to Parkinson's disease and multiple sclerosis

7. Weakness, discomfort, puffiness, tightness and also loss in muscular toughness, for example for the duration of cancer healing, or palliative care
What treatments do physiotherapists prescribe?
1. Electric Stimulation
Using electrical stimulation to help reconstruct muscle performance, diminish muscular spasms as well as discomfort especially after harm, stroke, or perhaps other crisis that brings about loss of muscle occasion.

2. Ultrasound Therapy
Ultrasound is a therapy whereby the ultrasound treatment is utilized for looking after long-term suffering and a variety of problems similar to arthritis, fibromyalgia and acute accidents.

3. Laser Therapy Treatments
Laser Therapy treatment is a non-invasive therapy that makes usage of strong beams of light of specific wavelengths to help reduce soreness related to your problem.

4. Phonophoresis
Phonophoresis is a therapy that entails the utilization of ultrasound so that topical medicines can be utilized systematically and at a quicker rate. Phonophoresis will help attain serious information compared to medicines rubbed manually.

5. Manual Therapy
Using manual approaches just like manipulation as well as mobilization to lessen pain, maximize the range of movement, reduce or eliminate inflammation and help the convenience of motion.

6. McKenzie Method
A complete method of assessment, prognosis, and therapy designed by Robin McKenzie to assist diagnose and treat troubles of the musculoskeletal system.

7. Exercise Prescription
Exercise plays a significant role in developing the performance and functioning of the system area under rehabilitation. Obtain a specially made course of action to give assistance with healing, health, and overall health targets.

8. Pilates
Supervised by a qualified physiotherapist, pilates allows address musculoskeletal wounds, neurological conditions, balance disorders, and more.

9. Pool Therapy
Custom made treatment plans use the support and resilience of water for reliable rehabilitation. Improve mobility and function and return to actions speedier with aquatic based therapy.

10. Therapeutic Taping
Latex free cotton therapeutic tape (commonly known as k-tape) is used to reduce pain, improve athletic function and protect against the problem.

11. Manual Lymphatic Drainage
A special massage technique that jump-starts the pumping activity of the lymphatic vessels to lessen swelling and promote drainage.

12. Traction
Useful to deal with a neck as well as back pain. Traction makes use of gentle pulling to lessen pressure on the spine's discs and increase the area in which nerves depart the spinal cord.

13. Mulligan Concept
Uncovered by Brian Mulligan, the Mulligan concept is without a doubt a group of mobilization and exercise manual therapy techniques utilized to lessen ache and recover function to distressing injured joints.

14. Peripheral Joint Manipulation
Using soothing supportive actions to stimulate the joint and reduce pain, firmness, and muscular spasms.

15. Dix-Hallpike Test & Epley Maneuver
Detect and take care of benign paroxysmal positional vertigo (BPPV), the most common type of vertigo. Paired, the Dix-Hallpike test and Epley Manoeuvre have a 90-95% success rate.

16. Personal Training
Tackle concerns of physical health, wellness, and fitness with the guidance of a licensed physiotherapist. Acquire a custom treatment plan to assist with recuperation, fitness, together with health targets.
How do Physiotherapy Exercises Help?
Especially when you're solely starting an activity, a physiotherapist could easily grab incidents which may take place or observe warning signs or red flags. Visiting a physiotherapist Before you decide to get energetic enables them to allow you to prevent injuries from developing along with the related downtime in everyday life.

If you need to transfer better, get better, or there's something you need to do but can't do considering that you have a restriction, physiotherapy might help.

A physiotherapist can help you create a plan with proper workouts so you can get moving and embrace whatever activity you're excited about. Regardless of whether it's handling a current ailment, getting better from an accident, or helping you protect against all of them from the start, a physio can help.
Benefits Of physiotherapy
Pain comes in many types and is generally the major reason to see a physiotherapist. Aches and pains can be the result of a motor vehicle damage, a sprained ankle from basketball practice, carpal tunnel syndrome from a badly set up workstation, or even chronic lower back discomfort that commenced long before you may even remember. It doesn't matter how poor the anguish is, if it impacts your functioning at your workplace, at the gym, on the field or at home, you should do something concerning this. Physiotherapy can certainly help handle, minimize or maybe eradicate the pain to help you return to taking pleasure in your physical exercises. It also reduces your dependency on analgesics, which provides your kidneys a much-needed retreat.

Shoulder Impingements are a complex group of conditions which call for handling dependent not on a set of standardized activities, but an individual personalized management approach. Utilizing an all-inclusive technique employing strength function, manual therapy, taping, theraband workout, and soft tissue discharge, physiotherapists are properly positioned to aid in the recuperation from this difficulty.

We can,
Assist you on the most appropriate workouts for your concern and provide many other useful treatments similar to manual therapy, soft tissue releases as well as Building activities.

Assist you to figure out why you have shoulder pain, exactly what factors have likely caused your suffering as well as how one can modify your activity to enrich your agony and rehabilitation.

The initial stages of rehabilitation/treatment will look at pain reduction as well as some early strengthening to construct a stable joint strength and base for the shoulder to move more easily. This enables a graded return back in way more normal activities.

The later phases of rehabilitation and therapy will look to contain more advanced and intensive toning, power, and plyometric function, in addition to the key ongoing management of the rotator cuff as well as shoulder blade stabilizing muscular areas which form the foundation of shoulder movement.
How can care24 help?
If you find yourself searching for a physiotherapist at home in Pitampura, Care24 should be your very first choice. Care24 has set a high standard for personalized home health-care. Care24 offers home physiotherapy in Pitampura, and our physiotherapists are frequently regarded some of the best physiotherapists in Pitampura. Our physiotherapists are well-trained, certified and fully understand the patient's needs.

The home is the best place for physical therapy, where comfortable surroundings directly maximize your likelihood of rehab. It is not required to go and visit a physiotherapy clinic in Pitampura when Care24 provides top quality home physical therapy services. You can get yourself treated by some of the top physiotherapists in Pitampura from the ease and comfort of your home.

Our trained physiotherapists can provide you the finest treatment in the comfort of your home to recover faster. And whether or not you are searching for a sports physiotherapist in Pitampura or a neuro physiotherapist, Care24's at-home physiotherapy services are simply just a call away. Get in touch with us and our experts will get in touch with you shortly. At-home physiotherapy in Pitampura was never so convenient. Care24 offers some of the best home physiotherapy services in Pitampura.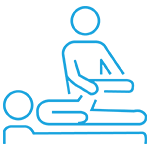 style="text-align:right;color:0f0f59;">
Read more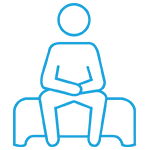 style="text-align:right;color:0f0f59;">
Read more
Most horrible services. Please do not ask for help from these people, they will talk sweet and then at the last moment there will be no shows from the caretaker. I had to go through this not once but twice the caretaker did not turn up. Request you all to not depend on these people as we are leaving our homes and letting them into our lives, the least they can do is inform and provide a replacement, but neither of it happened and they expect me to pay registration fees of RS,1000

Annie Palan


5/17/2019

Horrible service! can't rely on them.They ditch on last moment.Attendents are not punctual,reliable,well behaved and even honest.Service provider doesn't turn up and still they start billing customers .Better to stay away.

Sonal Agrawal


11/04/2019

Mangal Laad has visited us for a couple of days in the day. She is very kind, attentive and trustworthy. She has been with us like an extended Family. The patient has also appreciated her services. She is excellent. We thank you for Mangal Laad.

Tanuka M


3/09/2020

Unqualified office staff, when you call to clarify something. Many times they don't understand the question. They are not trained well. The customer care staff needs an upgraded system, where notes are fed into the system. So you don't need someone else calling up and giving you the same info. The caretaker is not trained well. If they are looking after an elderly person, they should know that they have to be in the best of health to look after my mother. She ended not making a meal for my mother and my neighbour had to provide it. If the caretaker is not well she should have asked for a replacement asap and not waited. It is shocking, we have paid a huge amount of money for this service and I am absolutely unhappy. Please do not call for caretaker's from Care24. As long as they are getting their money. They care a damn!!! Worst service providers.

Bonabelle Zuzarte


7/10/2019

Needed an attendant for a week for post-surgical assistance (ward boy type work). The person allocated was punctual, polite, and generally did the job well. Quite happy with the services provided. Edit: The payment management is quite bad. If you choose to make cash payments for the service (physiotherapist in my case), the payment does not sync with the agency and they keep sending messages and emails along you to pay up. They follow up with calls on Sunday afternoon 🤦🏻 Edit 2: No change. The company is continuously following up for the money I have already paid. Reducing the rating.

Swati Saxena


5/31/2020
I am still taking services from Care 24 since last two years. The caregivers are well trained and takes good care of my mother in law.
Sheila khanchandani
Sumesh Brother is Punctual, Efficient and knowledgeable and understands patients requirements completely.
Jayshree Prabhu
I have been using care 24 services and have been very happy with their services. Priyanka Rajbhar is our caretaker she is very disciplined kind and dedicated towards her work.
Saurabh Bhatt
The Nurse and the Attendant provided by Care24 are good in service, polite and punctual. We are happy with their service. The patient ( our family member) is been given proper care, feed and cleaned regularly.
Deepa Balvalli
Dr. Ralga had Attended to my father. He is suffering from PSP. We were specifically impressed by her techniques n method to handle the issue. We are planning on repeating her visits every month for positive results.
Uma Ram