Our physiotherapists are experienced in providing a complete range of physiotherapy services.
Fill up the form to know more about our physiotherapy services for Children.
Our physiotherapists are experienced in providing a complete range of physiotherapy services.
Fill up the form to know more about our physiotherapy services for Children.
Child Physiotherapy Services
Overview
Introduction to Child Physiotherapy (Paediatric Physiotherapy)
Pediatric physiotherapy is the service provided to children anytime from the time they were born to the time they turn 21 to evaluate their rehabilitative needs and provide rehabilitation services. This area of clinical practice is centered around enhancing the involvement of children along with their families, in all elements of life. To effectively meet this challenge, physiotherapists must look beyond the conventional function as healthcare clinicians and take an active role in distinct regions of specialist practice, for instance, advocating for the rights of children with disabilities and their families to services, sports, etc. Being a Child Physiotherapist is a very involved kind of role and has its own rewards.
The emphasis is around finding ways to take care of kids in their natural surroundings, wherever they are. This has had a huge impact on the form of service delivery, together with the need for physiotherapists to engage, direct or offer an appointment in the management of a scenario and provide services inside a child's home, school, or organization involvement. Pediatric physiotherapists are also frequently required to give instruction concerning the needs of children with disabilities to community service providers like teachers, coaches, etc. Creating the right environment, earning the trust of the child and communication skills are vital to be successful in such professional roles.
The goal of this program is to encourage understanding of the specialist functions in pediatric physiotherapy with a focus to encourage learning and training of the basic clinical skills essential for a successful role in these functions.
Common Paediatric Conditions
A physiotherapist has fundamental and basic physiotherapy training and specializes more in child psychology and in the wisdom of child development, motion, and conditions likely impact children right from infancy. Therapists offer treatment right from infants to teens. Because children are different from adults, expert physiotherapists invite them to proceed through age-appropriate games, and education basis their understanding of the child and required care.
Common Paediatric Conditions where treatment is offered:
Spinal
Back Pain –

Both back and neck pain may occur in youth.

Physiotherapy for babies not walking

offers ergonomic and postural information. Home exercise programs for strengthening stretches and back muscles to recover flexibility. Children with back pain are encouraged to remain busy, as much as they can, even while having pain and stiffness and as remaining inactive will worsen the pain.

Scoliosis –

Physiotherapy can help kids with pain because of scoliosis. Together with building strength, soft tissue methods and postural mobilizing exercises can strengthen the core and decrease pain.

Scheuermann's disease –

Also called juvenile kyphosis is a thoracic or thoracolumbar spine deformity in patients. Generally, it is treated by manual medicine, physical therapy and/or back braces that can help reverse or stop the kyphosis before it does become severe.

Torticollis –

This is a state where the head of the patient gets persistently turned to a side and is frequently associated with muscle aches. Stretching exercises, placement, and posture can help manage symptoms.
Lower Limb
Perthes Disease –

This is a degenerative disease of the hip joint and is characterized by limping, pain and difficulty in movement. Enhance walking and physiotherapy aims to maintain/improve the hip's range of movement.

SCFE's –

SCFE is a common adolescent hip disease resulting in groin pain on the impacted and it may also induce abdominal and/or knee pain.

Anterior Knee Pain –

Knee pain in adolescents is common because of growth happening esp. impacting knee or regions that have had any previous injury. Impacted children are benefited by quadriceps strengthening and hamstring stretching workout plans.

Osgood Schlatters –

This causes pain over the front of the knee during movements and is a self-limiting condition that will get better over time. While pain exists, physiotherapy helps to manage symptoms.

Severs Disease –

Is an inflammation of the growth plate in the foot heels of growing adolescents and it causes pain and discomfort. It is esp. common in active and growing children and after the bone has finished growth action or expansion is completed, it usually resolves on its own. Physiotherapy can help with symptom management while experiencing this pain.
General
Fractures

– Most children who have recently come out of plaster casts may not require physiotherapy but it is beneficial for those that are slow to recover their joint normal range of movement or those whose fracture has generated a practical limit e.g. such as if not utilizing their arm or slow to wean from crutches.

Soft Tissue Injuries accidents –

This covers all areas like ankle sprains, hamstring injury and muscle pulls. Physiotherapy helps return to work and can ease the recovery and healing procedure.

Hypermobility –

Joints that move beyond the normal range are called hypermobile joints and these are common in the general populace. They may cause not many issues and are experienced by some people. A Complete check-up and family history assessment can help determine the impact and a reasonable way to manage the same by restoring and preserve muscle strength and operating through the right ranges of motion. It also helps restore efficient and effective movement routines

Boost fitness –

Restores normal types and ranges of motion and provides instruction, reassurance, information, pain management solutions and problem-solving physical habits.
Physiotherapy Treatment for Children with pain may comprise:
Soft tissue Methods
Mobilization and Stretching

Muscle strengthening

Core equilibrium work and stability

Gait re-schooling and Sport-specific rehab

Exercises and posture instruction.

Personal Bobath physio for Kids – 0 – 2 Years, 3 – 5 Years

SDR and Physio, Pilates Courses

Correcting Neurological Problems
Child Physiotherapy Treatments
Pediatric physiotherapy for kids
The significance of physiotherapy for kids cannot be overstated this helps children regains any normal functioning ability lost due to injury or sickness. Arm exercises might be used to draw onto the wall or on a sheet of paper. With or without touching objects, feet and leg exercises might be performed. Especially for children, exercise may be bolstered and imprinted onto the minds of your children by utilizing an action song. Children are encouraged to keep exercising and moving and the physiotherapist is trained to ensure it never becomes too difficult or mundane for the child to lose interest in what he is doing. The therapist should re-attempt if the first one fails or should have ample choice of movements to maintain simple actions.
Pediatric Physiotherapy for an older child
From around the age of seven, the children's awareness of their own bodies grows enough to allow them to participate more actively in their physiotherapy. They have awareness, a suitable body and the ability to carry out explained actions and exercises. The therapist must plan a variety of activities. She could enable time for drama pursuits that are curative and follow up with a reward upon completion. She must explain to the parents the child's progress and activities and advancement so that they are aware of and can help their child practice these activities within their homes as well.
Benefits of Physiotherapy
They don't heal as well as generally believed!
Children recovering faster than adults may sound good when heard but is not such a practical and good thing as it poses other challenges. The above is said because once there is no pain, perception of recovery sets in and in prior to healing, the child returns to very active sports, he may reinjure himself and this may prolong recovery. But there is more.
The child's muscle tissue elasticity is excellent for lowering the minor dangers of harm, but it may boost the danger of a major injury. For instance, because the muscles haven't yet grown, exposing the very flexible joints to pressure may result in a dislocation of joints. As a result, the child may develop inflammation and pain in joints resulting in persistent pain and arthritis later.
Additionally, something as straightforward as a sprained ankle (among the most frequent childhood injuries) may also lead to bone avulsion since the ligaments are more powerful compared to the surrounding bones. If ankle sprains go untreated, because parents thought to rest, covering the ankle with a tensor bandage and some chicken noodle soup are adequate to help recover and they allow Children to get into sports/activity much before the injury is resolved, this will result in other complications as the child grows older. Parents must follow physiotherapy for babies not walking to ensure that the child is treated for the injury and obtain an all clear, before resuming normal activities.
Physiotherapy May Help Treat More Intense Bodily Requirements
It is not only about better handling of childhood injuries and growing improved motor abilities, but physical therapy may also have a positive influence on the lifestyles of children living with severe ailments. Since physiotherapy aids in the development, rehabilitation, and improvement of motion abilities and functionality, it is often applied to babies and children afflicted by many disorders, such as (but not exclusive to) the following:
Cerebral Palsy

Spina Bifida

Hypotonia

Down Syndrome

Developmental Coordination Disorder

Other hereditary conditions
Studies have shown that physiotherapy for a special child may even assist with neurodevelopment disorders like autism. In other words, physiotherapy for a special child can help your child recognize a possibility they never deemed possible. If your child has a condition that restricts their physical capacities, contact our practice straight away to go over an effective therapy and treatment plan unique to your own requirements.
Can Help at School
Does your kid change seats around the dining room when browsing their way and fidget? There can be underlying problems although parents attribute this behavior to childhood restlessness. The physical inactivity experienced when sitting in class daily apart from the 15-minute recess may take its toll and result in significant discomfort, a weak core because of inactivity and bad seating posture. Since there is no real pain to report, it often goes unnoticed and untreated. However, this distress may affect performance and cause an inability to focus and complete learning tasks and goes beyond the physical. This distress and bad posture may also lead to poor sleep quality having a direct and negative effect on cognitive performance, compounding the matter even further.
This is the area where physiotherapy for babies not sitting can step in as a way. Therapy may have a positive and direct impact on physical and bodily associated ailments in childhood.
Imparts greater self-awareness
A physiotherapist can help your child comprehend the pains which they're currently experiencing and will experience in the years ahead. Kids will learn about ligaments, bones, tendons, and their bones are interconnected and will create a much better understanding of how their body functions. They will be able to recognize an injury or illness which parents can dismiss as growing pains by obtaining this knowledge. They'll also learn the appropriate way to play and engage in physical actions and sports, which won't just help in injury prevention, it might very well boost their functionality and social acceptance.
HOW CAN CARE24 HELP?
Treatment reduces the recovery time and aids in complete recovery of the issue. The kid can recuperate and return to normal function and have a decreasing / no pain. Because of the nature of problems, there are distinct remedies for all ages, and our physiotherapists will offer the right remedies for every person.
When the kid has an issue that physiotherapy cannot cure, or when the physiotherapist feels that the child will benefit from additional therapy, we could suggest the most suitable plan of action to take.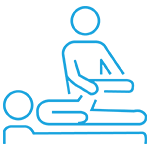 style="text-align:right;color:0f0f59;">
Read more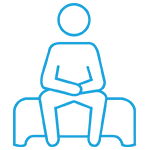 style="text-align:right;color:0f0f59;">
Read more
My father had a hip bone surgery in January. I have been using Care24 services ever since. The attendants that cane were good in the beginning. However their services have become good to bad to worse to worst in the last 15 days. They changed the night attendant without informing me personally just 6 hours before the time. My father had just settled down with the last attendant and now they were sending a replacement tonight. To add to my frustration the guy didn't turn up and did not answer the calls. When I called their call centre - they said they can't help me at this hour. Well- I can't help but call them CARELESS CARE24.

Jasbir Basu


4/06/2019

Most horrible services. Please do not ask for help from these people, they will talk sweet and then at the last moment there will be no shows from the caretaker. I had to go through this not once but twice the caretaker did not turn up. Request you all to not depend on these people as we are leaving our homes and letting them into our lives, the least they can do is inform and provide a replacement, but neither of it happened and they expect me to pay registration fees of RS,1000

Annie Palan


5/17/2019

Horrible, unprofessional service! Advance paid.The caregiver did not show up. When complained to customer care, they said they will find a replacement and call back. No call back, no replacement. They shut for the day and the customer is felt in a lurch. Extremely disappointing. Will never avail this service again and will spread the word too.

Shraddha Shah


11/02/2019

worst service, they just talk as if they will send professional at our place, they give big promises at the time of starting their services, but when the attendant come at our place we realized that he was more delicate than our patient, the person whom they had sent got a small scratch in his finger and than the same day he said he wont come as he got injury, so the next day he dint turn up neither did care24 arrange for a replacement, after calling them for 4 times they said me sorry they couldn't arrange anyone today. they don not have the decency to even inform that they cannot arrange for a replacement.. please do not go for their services, its just the promises nothing to deliver

Komal Patel


4/11/2019

I got good experience wt dr Dhrita she is v good in physiotherapy n nice while talking n explains v nice

Sujata Rao


6/19/2019
I am still taking services from Care 24 since last two years. The caregivers are well trained and takes good care of my mother in law.
Sheila khanchandani
Sumesh Brother is Punctual, Efficient and knowledgeable and understands patients requirements completely.
Jayshree Prabhu
I have been using care 24 services and have been very happy with their services. Priyanka Rajbhar is our caretaker she is very disciplined kind and dedicated towards her work.
Saurabh Bhatt
The Nurse and the Attendant provided by Care24 are good in service, polite and punctual. We are happy with their service. The patient ( our family member) is been given proper care, feed and cleaned regularly.
Deepa Balvalli
Dr. Ralga had Attended to my father. He is suffering from PSP. We were specifically impressed by her techniques n method to handle the issue. We are planning on repeating her visits every month for positive results.
Uma Ram
Frequently Asked questions