Duchenne Muscular Dystrophy Physiotherapy
Our physiotherapists are experienced in providing a complete range of physiotherapy services.
Fill up the form to know more about our physiotherapy services for duchenne muscular Dystrophy
Duchenne Muscular Dystrophy Physiotherapy
Our physiotherapists are experienced in providing a complete range of physiotherapy services.
Fill up the form to know more about our physiotherapy services for duchenne muscular dystrophy.
physiotherapy for Duchenne Muscular Dystrophy

Overview
Introduction of DMD or Duchenne Muscular Dystrophy
Duchenne muscular dystrophy or DMD is a genetic disease characterized by weakness and progressive muscle degeneration. It is but one of nine kinds of muscular dystrophy.
An absence of the protein dystrophin, that helps maintain muscle tissues from damage, causes DMD. The onset of symptom is between ages 3 and 5, usually in childhood and boys are primarily impacted, but in rare instances, it may affect girls.
Symptoms
Signs of Duchenne muscular dystrophy or DMD are often found in boys between 1 to 6 years old. There is a steady reduction in muscle strength between the ages of 6 to 11 years. By age 10 may, braces maybe required for walking and by the age of 13, boys with DMD end up in a wheelchair.
The signs and symptoms include
Taking longer in learning to sit or walk own, which will be known as motor development. The average age of boys impacted with DMD to start walking is 18 months.
Possessing a waddling kind of gait and having difficulty climbing stairs or running.
Massive difficulty inability to get off the floor. Showing signs of Gowers' sign, which is a medical condition indicating weakness of the proximal muscles, esp. those of the legs. The sign describes a patient who has to use hands and arms to "walk" up their own body from a squatting position due to lack of muscle strength in the hip and thigh muscles.
Enlarged calf muscles because of the calf muscle tissues being replaced by fat and connective tissue – called pseudohypertrophy. This might also result in calf pain.
Muscle fatigue affecting the buttocks, pelvic region muscles, shoulders and thighs, and the voluntary skeletal muscles in the torso, legs, and back.
Tight or stiff joints also called contractures may grow as muscular loss progresses. If not treated timely, these can become acute, causing distress and limiting versatility and mobility. Contractures can affect hips, the knees, feet, wrists, elbows, and palms.
Scoliosis can develop within a few years of wheelchair usage.
Left untreated, heart and respiratory muscles are affected.
Breathing problems because of the weakness of the other and the diaphragm organs around the lungs. Breathing issues can rise and might also become life-threatening.
Enlargement of the center cardiomyopathy that prevents the heart from pumping blood effectively and becomes more life-threatening oftentimes.
Learning and memory problems cognitive impairment may happen sometimes, but don't worsen as DMD progresses.
Communication may be difficult for some.
Social behaviors as well as the capacity to read cues may be affected.
Causes
There was not much understanding of the underlying cause till, in 1986, investigators discovered a gene on the X chromosome that, when faulty mutated, causes both Duchenne and Becker muscular dystrophies.
Genes comprise recipes, or codes, such as proteins, which can be significant elements in all forms of life. In 1987, the protein was identified and was termed as dystrophin.
DMD happens because the mutated gene fails to produce any functional dystrophin. People with Becker MD genetic mutations that help create dystrophin, which is partially operational and shields their muscles from degenerating as poorly or as fast as in DMD has some respite due to the Becker MD Genetic mutation.
Deficiency of dystrophin in early youth causes muscle weakness and damage. The dystrophin protein transports the force of muscular contraction in the interior of the muscle cell's exterior into the cell membrane. The dystrophin protein is quite long and it connects the periphery and the middle of the muscle. One end is for connecting to the muscle inside, technical and the opposite end is for connecting to many different proteins in the cell membrane. The long middle section, also called the rod domain, is taken up by a collection of repeating units, known as spectrin repeats.
The spectrin units during this protein play a significant part. Studies have indicated that the number of spectrin repeats is not the most crucial, but it is the actual role of the protein. Many cases of DMD are brought on by mutations in the gene which encodes this section's component. Once the mutation starts, the production of the protein ceases.
The absence of dystrophin sets in motion a cascade of deleterious results where fibrous tissue starts to form in the muscle and the immune system raises the inflammation of the body. Dystrophin provides the scaffold for carrying molecules that are numerous set up close to the cell membrane. Those molecules are displaced by the decline of dystrophin.
How can physiotherapy treatment for Duchenne muscular dystrophy help kids?
Physical therapists assist children with duchenne muscular dystrophy physiotherapy by helping them manage the complications of the development of this disorder, such as contractures and muscular weakness. Each child with muscular dystrophy has the kind of dystrophy special needs according to age, along with the development of symptoms. Therapists work with health care professionals and their families, in addition to with children, to create treatment strategies to help kids reach their whole potential.
The therapist is a significant partner in fitness and healthcare for anybody diagnosed with muscular
dystrophy. Duchenne muscular dystrophy physiotherapy should begin as soon as possible after diagnosis and before muscle or joint tightness has grown. Physical therapists promote freedom and movement for function during the phases of life and operate with every child to maintain muscles powerful and flexible as you can, help prevent or decrease deformities and contractures, and identify muscular fatigue. Each treatment program is intended to satisfy the child's needs utilizing a family-centered strategy. The therapist can collaborate to ascertain the very best aids, braces, or wheelchair for every single impacted child if devices are necessary.
Therapists understand the significance of physiotherapy treatment for Duchenne muscular dystrophy during the entire life span of addressing your child's needs.
Why choose us?
Based on the type of need, it requires quite a few weeks or even months for you to recover. You are helped by our physiotherapist with exercises which stimulates tissues and the cells that have been injured for aiding recovery.
The physiotherapists help with stretching exercises and offer recovery programs in accordance with the kind of injury, in order to facilitate recovery. She will also guide you in educating you to take care of yourself.
Therefore, if you are looking for an excellent physiotherapist, or a good nurse, simply reach out to Care24's world-class physiotherapy treatment in your home's comfort.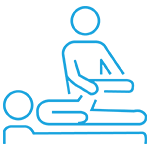 style="text-align:right;color:0f0f59;">
Read more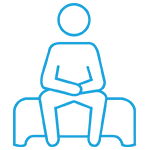 style="text-align:right;color:0f0f59;">
Read more
I used Care24 services for 7 months duration in 2019-20. Carers they provide are a mixed bag. Some are really good while others lack even basic service skills. You got to be very very lucky to get one and same carer over long time as carers often go on leave. When regular carer is on leave, every time they will send new carer. So family members need to repeat everything, right from home address, directions to patient's routine, medicines etc. Do not expect that Care24 will provide any heads-up or patient routine information to new carer who is visiting. Over the 6 months of Mumbai-based care services I used from Care24, there were over 15 instances where new carers were late more than 2 to 3 hours. Care24 support team is very lethargic, there were times when support team assumed that carer has reached home when he had not even started from his place. Support team is unaware of carers being late to customer's place. Then came in so called, the technology upgrade, Jan-Feb 2020, they had a new IT system and there were numerous issues with billing, sending invoices and payment receipts to customers (as told by support team themselves). Support staff told me at least 10 times over phone and email that there are system issues in billing and payment, I had to calculate amount manually on my own and then Pay them. With new system, accounts were on toss, no invoices were sent to customers (in spite of the fact that payment policy says payment needs to be made after receiving invoice.) I had 20-25 emails following up for invoice and payment receipts, but their support team in Mumbai did not care to respond. I found their behavior very unprofessional and not good over these 2-3 months. If you are outside for work (or overseas) and not staying with the patient or your parents, I strongly suggest DO NOT USE CARE24, as they do not respond to your emails and phone in time. They do not bother even when the patient is without care because of their delays in operations and carer issues. They need to improve basic operations first, give timely and consistent services to customers, and then worry about Apps, Digital Assistants and other tech-stuff. .My genuine advice to them--- You are dealing with patient healthcare services, where patient family is relying on you. This is not a courier service business where you are sending people to move boxes and you would't care much when service is delayed !!

Sanket Deo


3/05/2020

Most horrible services. Please do not ask for help from these people, they will talk sweet and then at the last moment there will be no shows from the caretaker. I had to go through this not once but twice the caretaker did not turn up. Request you all to not depend on these people as we are leaving our homes and letting them into our lives, the least they can do is inform and provide a replacement, but neither of it happened and they expect me to pay registration fees of RS,1000

Annie Palan


5/17/2019

The physiotherapist came to my home was very helpful and knowledgeable. She properly gave me the detailed information about my injury. Also the first assessment is free of cost.

varshflute


10/17/2019

Horrible, unprofessional service! Advance paid.The caregiver did not show up. When complained to customer care, they said they will find a replacement and call back. No call back, no replacement. They shut for the day and the customer is felt in a lurch. Extremely disappointing. Will never avail this service again and will spread the word too.

Shraddha Shah


11/02/2019

Needed an attendant for a week for post-surgical assistance (ward boy type work). The person allocated was punctual, polite, and generally did the job well. Quite happy with the services provided. Edit: The payment management is quite bad. If you choose to make cash payments for the service (physiotherapist in my case), the payment does not sync with the agency and they keep sending messages and emails along you to pay up. They follow up with calls on Sunday afternoon 🤦🏻 Edit 2: No change. The company is continuously following up for the money I have already paid. Reducing the rating.

Swati Saxena


5/31/2020
I am still taking services from Care 24 since last two years. The caregivers are well trained and takes good care of my mother in law.
Sheila khanchandani
Sumesh Brother is Punctual, Efficient and knowledgeable and understands patients requirements completely.
Jayshree Prabhu
I have been using care 24 services and have been very happy with their services. Priyanka Rajbhar is our caretaker she is very disciplined kind and dedicated towards her work.
Saurabh Bhatt
The Nurse and the Attendant provided by Care24 are good in service, polite and punctual. We are happy with their service. The patient ( our family member) is been given proper care, feed and cleaned regularly.
Deepa Balvalli
Dr. Ralga had Attended to my father. He is suffering from PSP. We were specifically impressed by her techniques n method to handle the issue. We are planning on repeating her visits every month for positive results.
Uma Ram
Frequently Asked questions