Our physiotherapists are experienced in providing a complete range of physiotherapy services.
Fill up the form to know more about our physiotherapy services for lung.
Our physiotherapists are experienced in providing a complete range of physiotherapy services.
Fill up the form to know more about our physiotherapy services for lung.
lung physiotherapy exercises
Overview
What does Respiratory Physiotherapy refer to?
The term refers to the assessment and treatment of those having respiratory system disorders. It includes the condition which affects the lungs such as chronic bronchitis, emphysema, and cystic fibrosis. It also involves the various conditions which impact the respiratory system such as general surgery and illnesses that require intensive care. The various approach involves the application of chest clearance technique, exercise and learning positions that enable maximum functional ability.
Treatment Techniques
Techniques which enable chest clearance
Postural drainage
Therapeutic exercise
Rehabilitation
Usage of various types of equipment to assist in respiratory care
Education and advice on self-management.
What causes lung disease?
There are various causes of lung disease which include smoking, air pollution, chemicals or occupational dust and genetic causes. Every type has a different pathology however the symptoms are similar. Chronic lung diseases cannot be cured and the focus is to enhance the person's health and quality of life. There are many things which people with chronic lung disease can do to keep healthy and reduce their symptoms. Physiotherapists play an important role in working with people to improve their quality of life.
How to do it?
Lung physiotherapy is an airway clearance technique to drain the lungs and includes percussion vibration, deep breathing, and huffing or coughing.
With postural drainage, the person lies in various positions so that the part of the lungs to be drained is high. That part is then drained with percussion, vibration, and gravity. Your care team may tailor the position according to your and your child's needs. The person with CF is in one position then the caregiver needs to clap on the person's chest wall. It is done for three to five minutes and sometimes followed by vibration over the same area for approximately 15 seconds. Then the person is made to cough forcefully to get the mucus out of the lungs.
Clapping by the caregiver on the chest over the lung which needs to be drained helps move mucus into larger airways. The hand is cupped to hold water with the palm facing down. The cupped hand curve to the chest wall and traps a cushion to soften the clapping.
Percussion is performed forcefully with a stable beat. Every beat has a hollow sound. Mostly the movement is in the wrist with the relaxed arm making percussion-less tiring to do. If the hand is cupped properly then the percussion should not be painful.
Special attention should be taken to not clap over the:
Spine
Breastbone
Stomach
Lower ribs or back
There are various devices that can be used instead of the traditional cupped palm method for percussion. You can ask your CF doctor to recommend the one that works best for you.
Vibration is a technique that shakes the mucus and moves it into larger airways. The caregiver places a firm hand on the chest wall over the draining lung and tenses the muscles of the arm and should at creating a shaking motion. The caregiver then applies light pressure over the area being vibrated. Vibration is performed through the flattened hand, not the cupped hand. Exhalation should be slow and complete.
Lung Physiotherapy Exercises
Your bodies need some help in promoting lung health. One of the easiest forms of action is diet and exercise. A study published in Thorax shows that those who eat apples have better lung health than those who do not. However, seeking the help of a dietitian and fitness trainer can be very helpful but make sure to speak about the planned lung physiotherapy with your physician first.
Some lung physiotherapy exercises that can help your lungs:
Walking and biking – Physical exercises that stimulate heart health can help the lungs utilize oxygen more efficiently, which means less shortness of breath and deep breathing. Make sure to try speed walking and riding a bike for some time.
Swimming – It is the best exercise as every muscle of your body is used when you swim. It can seem harmless but can be strenuous.
Yoga – This activity uses most of your body's muscles, it can stimulate your lungs through focused breathing. It helps work out your diaphragm which operates the lungs.
Breathing exercises – There are many breathing exercises you can do to help improve your lung capacity. Breathe deep to fill your lung cavity. If you exhale, purse your lips and breathe slowly. Then hold your breath for a few seconds before inhaling again. Repeat this to see if you can increase the time you hold your breath.
Exercise is good for every individual for good health but if you have progressive lung disease, it is important that you exercise your lungs often. You can seek lung physiotherapy or treatment that suits your lifestyle and get the good results that you always wanted.
If you or your loved ones suffer from a progressive lung disease like COPD or pulmonary fibrosis, then you need to get proper help. It can help promote healing and get your life back to normal.

Why choose us?
We at Care24 provide physiotherapists that can help heal patients in the comfort of their homes. The physiotherapists assess, diagnose and develop a treatment plan for lung physiotherapy depending on the patient's needs. The entire session is usually for an hour and depends on the criticality of the problem. We have expert professionals that can help with basic and advanced lung physiotherapy exercises that can help improve the patient's respiratory system.
We provide physiotherapists for lung physiotherapy at home so that you no longer need to stress yourself about visiting a clinic or hospital to treat your health problems. You can just choose Care24 to get the best physiotherapist around you to get the best treatment for your respiratory disorders. We assure that you will get the best-trained physiotherapists that can help you in getting your normal life back as soon as possible.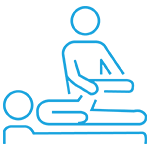 style="text-align:right;color:0f0f59;">
Read more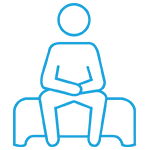 style="text-align:right;color:0f0f59;">
Read more
Most horrible services. Please do not ask for help from these people, they will talk sweet and then at the last moment there will be no shows from the caretaker. I had to go through this not once but twice the caretaker did not turn up. Request you all to not depend on these people as we are leaving our homes and letting them into our lives, the least they can do is inform and provide a replacement, but neither of it happened and they expect me to pay registration fees of RS,1000

Annie Palan


5/17/2019

The worst experience I've had of my life. I normally never really write reviews, but I had to write this because this agency is the worst company I've dealt with till now. Their customer service is terrible, most of their attendants are not competent for taking care of elderly patients. Please do not use their service.

Radhika Kulkarni


6/27/2019

Nurses and attendants provided by Caree24 are very good. In behavior and trust worthy. Thanks for their support

Anil Kathuria


6/28/2019

The management team & the customer care team is quite responsive.... However the main component, ie the caregiver is not trustworthy & definitely not upto the mark

Ritwik Basu


11/03/2019

worst service, they just talk as if they will send professional at our place, they give big promises at the time of starting their services, but when the attendant come at our place we realized that he was more delicate than our patient, the person whom they had sent got a small scratch in his finger and than the same day he said he wont come as he got injury, so the next day he dint turn up neither did care24 arrange for a replacement, after calling them for 4 times they said me sorry they couldn't arrange anyone today. they don not have the decency to even inform that they cannot arrange for a replacement.. please do not go for their services, its just the promises nothing to deliver

Komal Patel


4/11/2019
I am still taking services from Care 24 since last two years. The caregivers are well trained and takes good care of my mother in law.
Sheila khanchandani
Sumesh Brother is Punctual, Efficient and knowledgeable and understands patients requirements completely.
Jayshree Prabhu
I have been using care 24 services and have been very happy with their services. Priyanka Rajbhar is our caretaker she is very disciplined kind and dedicated towards her work.
Saurabh Bhatt
The Nurse and the Attendant provided by Care24 are good in service, polite and punctual. We are happy with their service. The patient ( our family member) is been given proper care, feed and cleaned regularly.
Deepa Balvalli
Dr. Ralga had Attended to my father. He is suffering from PSP. We were specifically impressed by her techniques n method to handle the issue. We are planning on repeating her visits every month for positive results.
Uma Ram
Frequently Asked questions