Our physiotherapists are experienced in providing a complete range of physiotherapy services.
Fill up the form to know more about our physiotherapy services for Lordosis.
Our physiotherapists are experienced in providing a complete range of physiotherapy services.
Fill up the form to know more about our physiotherapy services for Lordosis.
Physiotherapy for Lordosis
Physiotherapy treatment for lordosis
Get relief from pain and discomfort through Physiotherapy treatment for lordosis
Just above the buttocks, there is a lumbar spine and an increased curving of this lumbar spine causes lordosis. Here, the lumbar spine is nothing but referred to as the lower back where the spine is curved in the inward direction towards the abdomen. The lumbar spine has three types of curves that are lordotic, kyphotic, and scoliotic.
The normal posture depicts the slight curving of both lordotic and kyphotic curves. If there is much that the normal curving of the lordotic curve then it is known as lordosis or swayback, on the other hand, the extra curving of the kyphotic curve causes hunched shoulders. Scoliotic always has an abnormal curving.
Lordosis causes too much pain in the back and also a problem while moving in certain ways. The best way to get all your pain removed and have a comfortable posture is getting physiotherapy treatment for lordosis. Physiotherapy by a skilled therapist helps the patient to get treated in a very convenient manner and also does not cause any other effect to your body. Many people have tried physiotherapy and got proven results for lordosis.
Contributing factors for lordosis
There are certain diseases whose processes can highly affect the structural integrity of your spine and at the end contribute towards having lordosis. Physiotherapy is helpful to avoid the adverse effects of any of the diseases on your body. Some of the common causes are:

Discitis

Discitis is caused due to the inflammation of the intervertebral disc space. It causes stiffness in your back, brings changes in your posture, and also causes abdominal pain.

Kyphosis

In this condition, the low back compensates due to the curve at the upper level of the spine causing imbalance. Kyphosis results in back pain, muscle fatigue, and also stiffness in the back which should be concerned and treated as earliest. And if needed you can go for lordosis physiotherapy treatment to have better results.

Obesity

Obesity has a very bad effect on your posture and the people who are overweight faces many difficulties while caring for their day to day activities.
Osteoporosis

It is a condition which causes the vertebrae to lose its strength which results in affecting the structural integrity of the spine. Physiotherapy treatment for lordosis can make you have desired results to improve osteoporosis and get relief from unwanted pains and discomfort.

Spondylolisthesis

When any of the vertebrae slips forward as in relation to the adjacent one then you may have spondylolisthesis which also contributes to having lordosis. It causes you to have lower and upper back pain, difficulting in walking, weakness, numbness and many more. So it is better to save yourself from these effects and have lordosis physiotherapy at the right time from a good doctor.
Importance of physical therapy
For lordosis, you can consider the following therapy management which helps you to deal with lordosis without stress.
Physical therapy management
You can start with physical therapy along with your medicines after confirming that there would be no need for surgery. The lordosis physiotherapy treatment aims towards improving the pain and the patient's ADL. With the help of a physiotherapist, you can set therapeutic goals which give realistic results to the patient.
Manual therapy
For the treatment of lordosis, you can also go for manual therapies if recommended by your therapist. In this, you can have spinal manipulation in a period of nine sessions completed in 12 weeks.
Exercise therapy
You can adopt several supervised activities which could help you in decreasing the pain and also it help in decreasing the extension forces to come on the lumbar spine and protect it from causing lordosis.
Exercises for Lordosis
Exercises for lordosis- correcting and strengthening exercises
For the physiotherapy treatment for lordosis you can have the following corrective exercises:
Hip flexor stretch
Place any of your knees on the floor

Push your hips forward and keep your back straight

Hold the stretch for 20-30 seconds

Repeat several times in a day with 4-5 stretches
Lower back stretch
Flex your knee and lie on the bed

Pull the knee towards your back until you feel comfortable

Hold this position for 20-30 seconds

Repeat several times a day
For lordosis physiotherapy treatment you can have the following strengthening exercises:
Abdominal crunch
Flex your knee and lie on the back

Keep your hands forwarded towards the knee, keep back down and then raise your shoulder and head above the ground

Continue this exercise and take a rest in between
Twisting crunch
Lie on your back with flexed knee and feet on the floor

Place hands aside your head

Lift the head and shoulder up the floor and direct your elbow towards the right knee
Return to the starting position

Do left and right twists
HOW CAN CARE24 HELP?
Care24 has helped many people in lordosis physiotherapy and improve their condition to have better health. With the team of best physiotherapist, it is very easy to get all your pain relief through various therapies.
Our staff is also well developed to help at each step of the treatment and make the patient feel comfortable our doctors first diagnose all your problems and give the needed physiotherapy treatment. Care24 is there to deal with lordosis and give you a healthy and comfortable life.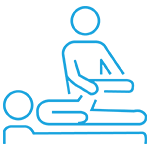 style="text-align:right;color:0f0f59;">
Read more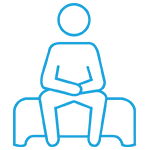 style="text-align:right;color:0f0f59;">
Read more
Worst!!! I am paying for professional services and the attendant is not professional. The level of disappointment is i have to terminate services on Day 1 itself. And still I am being told to pay for 1 day. Please assess the attendant before going for services from care24

Praful Jadhav


5/07/2019

Most horrible services. Please do not ask for help from these people, they will talk sweet and then at the last moment there will be no shows from the caretaker. I had to go through this not once but twice the caretaker did not turn up. Request you all to not depend on these people as we are leaving our homes and letting them into our lives, the least they can do is inform and provide a replacement, but neither of it happened and they expect me to pay registration fees of RS,1000

Annie Palan


5/17/2019

worst service, they just talk as if they will send professional at our place, they give big promises at the time of starting their services, but when the attendant come at our place we realized that he was more delicate than our patient, the person whom they had sent got a small scratch in his finger and than the same day he said he wont come as he got injury, so the next day he dint turn up neither did care24 arrange for a replacement, after calling them for 4 times they said me sorry they couldn't arrange anyone today. they don not have the decency to even inform that they cannot arrange for a replacement.. please do not go for their services, its just the promises nothing to deliver

Komal Patel


4/11/2019

I got good experience wt dr Dhrita she is v good in physiotherapy n nice while talking n explains v nice

Sujata Rao


6/19/2019

Horrible service! can't rely on them.They ditch on last moment.Attendents are not punctual,reliable,well behaved and even honest.Service provider doesn't turn up and still they start billing customers .Better to stay away.

Sonal Agrawal


11/04/2019
I am still taking services from Care 24 since last two years. The caregivers are well trained and takes good care of my mother in law.
Sheila khanchandani
Sumesh Brother is Punctual, Efficient and knowledgeable and understands patients requirements completely.
Jayshree Prabhu
I have been using care 24 services and have been very happy with their services. Priyanka Rajbhar is our caretaker she is very disciplined kind and dedicated towards her work.
Saurabh Bhatt
The Nurse and the Attendant provided by Care24 are good in service, polite and punctual. We are happy with their service. The patient ( our family member) is been given proper care, feed and cleaned regularly.
Deepa Balvalli
Dr. Ralga had Attended to my father. He is suffering from PSP. We were specifically impressed by her techniques n method to handle the issue. We are planning on repeating her visits every month for positive results.
Uma Ram
Frequently Asked questions