Our physiotherapists are experienced in providing a complete range of physiotherapy services.

Fill up the form to know more about our Cervical Physiotherapy services.
Our physiotherapists are experienced in providing a complete range of physiotherapy services.

Fill up the form to know more about our Cervical Physiotherapy services.
physiotherapy for Cervical
Overview
What is Cervical Pain?
Cervical pain is the neck pain a patient experiences because of osteoarthritis or cervical spondylolysis. This condition entails changes in the intervertebral discs, which lies between two bones of spine joints of the cervical region. There are significant pain and stiffness as a result of the wear and tear of these cartilages and bones, and this is usually found in ageing men and women. It may be caused because of other variables and consequently occur in much younger adults as well.
There are various degrees of severity of pain and each has its means of remedies. Home remedies for pain include drugs and suitable exercises.
Symptoms of Cervical Pain
Pain symptoms are a pain in the vicinity of the neck and shoulder area.
Symptoms might also include
Muscles spasms and stiffness in the neck
Headaches at the back of the head
Tingling sensation, numbness, weakness of the arms, hands, feet and legs since these are directly attached to the cervical nerves.
Difficulty in walking and other everyday activities because of lack of coordination
Abnormal hands and thighs reflexes
An individual experiencing some of the symptoms mentioned above should consult an expert. This is extremely vital because the backbone is a connector to body parts and if not treated timely, it could result in some other mishaps and cause difficulties and injuries.
Cervical Pain Therapy
It is crucial to get to the root of the cause of pain before choosing any treatment for cervical pain therapy. You could look after pain therapy in your home Even though you're able to get physiotherapy for cervical pain for therapy exercises.
Some of the common pain remedies are
Cervical treatment exercises – peripheral pain therapy consists of cervical pain exercises which involve stretching of neck and shoulder muscles.
Drugs – if overall painkillers don't work for the cervical pain, physicians may prescribe doses of drugs that assist with muscular relaxation, pain relief, reducing inflammation and much more.
Surgery – In case none of the cited cervical pain therapy works and home treatments for cervical pain does not work, physicians will recommend an operation.
Other Treatments
It is very important to identify the origin of the pain before going for the treatment.
Moderate ailments could be treated using the following home remedies for pain, while chronic pain necessitates immediate attention by a doctor or therapist
Applying a heating pad or ice pack may offer relief to the pain
Regular cervical pain exercises can succeed. However, it is important to obtain these cervical exercises from an expert therapist
Wearing a soft neck collar or brace helps at the minimal movement of the throat area, supplying ample quantity of rest and prevents additional harm to the cartilages and disks
Much needed rest must be given to joints and a neck to recuperate.
For cases of Cervical spondylosis, it is crucial to approach a physician. Doctors reflexes will probably run certain tests directly from their body movements and might call for MRI scans, CT or x-rays. The treatment prescribed will depend on the outcome of these tests.
Cervical traction & its benefits
Traction of the backbone, called cervical traction, is a popular remedy for cervical pain and associated injuries. The neck is stretched by cervical traction to remove any compression and to make the bones decompress. It is regarded as an alternative remedy for neck pain, helping individuals prevent the need for surgeries or drugs. It may be utilized as a part of therapy treatment.
Traction apparatus treat causes and various kinds of neck pain, and stiffness and can help relax muscles, and that may alleviate stiffness and pain. Additionally, it is utilized to deal with and flatten bulging or herniated discs and this may relieve pain. Additionally, it is utilized to manage neck injuries, pinched nerves, and cervical spondylosis.
These devices work by stretching muscles and the nerves to relieve pain and pressure. Tension in the equipment and force is used to pull the head away from the neck and this decompresses the neck and enables and eases the muscles to relax. This stretches or decompresses joints and the muscles around the throat.
These improvements can result in recovery, range of movement, and enhanced mobility and will facilitate performing daily tasks with ease.
A 2017 meta-analysis examined the efficacy of cervical traction in alleviating neck pain and this report revealed that neck pain was reduced immediately by treatment. Pain scores were diminished in the successive follow-ups. More detailed studies are essential to find out more about the treatment's ramifications.
A 2014 research discovered that traction proved to be effective in treating individuals with pinched nerves and throat pain and this was even more powerful compared to exercising also or exercising to utilizing traction.
Physiotherapy for Cervical Spondylosis
Its symptoms can be treated with physiotherapy, although There's no cure for cervical spondylosis. In case you've got chronic pain in your neck, shoulder blades or blades, a physiotherapist might offer powerful pain relief from strengthening your muscles and throat. This will improve your posture and prevent any relapse of this pain.
First, your requirement will be evaluated by the physiotherapist; assess the strength and your reflexes. The physiotherapist will proceed to the following remedies
Stretching, strengthening and straightening exercises – Before starting these exercises, your physiotherapist will initially apply heat or cold to the affected area and then proceed with a deep tissue massage or electrical stimulation. The exercises will start only If your muscles are relaxed. These exercises have been performed to reinforce the muscles. During these, you will find out how to boost your selection of posture and motion.
Neck grip – Pulling your mind to stretch your backbone is known as neck traction. Alleviate the pain and this technique is utilized to enhance movement. Traction can be used to start the distances between the vertebrae to alleviate pressure on the discs that were troubled. Traction is performed occasionally or regularly, with periods of rest between. Therefore getting physiotherapy for cervical disc bulge is essential to avoid any risks.
Cervical collars and cushions – Neck cushions or pillows, are created to help keep your throat steady as you are sleeping. Collars are also referred to as. There is proof in curing cervical spondylosis to encourage cushions while collars are demonstrated to be beneficial. You can always consult with a physiotherapist before Buying a cervical pillow
How Can We Assist?
Based on the type of need, it requires quite a few weeks or even months for you to recover. You are helped by our physiotherapist with exercises which stimulates tissues and the cells that have been injured for aiding recovery.
physiotherapy for cervical pain will help with stretching exercises and offer recovery programs following the kind of injury, to facilitate recovery. She will also guide you in educating you to take care of yourself.
Therefore, if you are looking for an excellent physiotherapist or a good nurse, simply reach out to Care24's world-class physiotherapy treatment in your home's comfort.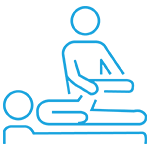 style="text-align:right;color:0f0f59;">
Read more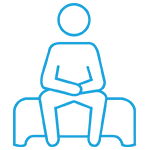 style="text-align:right;color:0f0f59;">
Read more
The management team & the customer care team is quite responsive.... However the main component, ie the caregiver is not trustworthy & definitely not upto the mark

Ritwik Basu


11/03/2019

I used Care24 services for 7 months duration in 2019-20. Carers they provide are a mixed bag. Some are really good while others lack even basic service skills. You got to be very very lucky to get one and same carer over long time as carers often go on leave. When regular carer is on leave, every time they will send new carer. So family members need to repeat everything, right from home address, directions to patient's routine, medicines etc. Do not expect that Care24 will provide any heads-up or patient routine information to new carer who is visiting. Over the 6 months of Mumbai-based care services I used from Care24, there were over 15 instances where new carers were late more than 2 to 3 hours. Care24 support team is very lethargic, there were times when support team assumed that carer has reached home when he had not even started from his place. Support team is unaware of carers being late to customer's place. Then came in so called, the technology upgrade, Jan-Feb 2020, they had a new IT system and there were numerous issues with billing, sending invoices and payment receipts to customers (as told by support team themselves). Support staff told me at least 10 times over phone and email that there are system issues in billing and payment, I had to calculate amount manually on my own and then Pay them. With new system, accounts were on toss, no invoices were sent to customers (in spite of the fact that payment policy says payment needs to be made after receiving invoice.) I had 20-25 emails following up for invoice and payment receipts, but their support team in Mumbai did not care to respond. I found their behavior very unprofessional and not good over these 2-3 months. If you are outside for work (or overseas) and not staying with the patient or your parents, I strongly suggest DO NOT USE CARE24, as they do not respond to your emails and phone in time. They do not bother even when the patient is without care because of their delays in operations and carer issues. They need to improve basic operations first, give timely and consistent services to customers, and then worry about Apps, Digital Assistants and other tech-stuff. .My genuine advice to them--- You are dealing with patient healthcare services, where patient family is relying on you. This is not a courier service business where you are sending people to move boxes and you would't care much when service is delayed !!

Sanket Deo


3/05/2020

Unqualified office staff, when you call to clarify something. Many times they don't understand the question. They are not trained well. The customer care staff needs an upgraded system, where notes are fed into the system. So you don't need someone else calling up and giving you the same info. The caretaker is not trained well. If they are looking after an elderly person, they should know that they have to be in the best of health to look after my mother. She ended not making a meal for my mother and my neighbour had to provide it. If the caretaker is not well she should have asked for a replacement asap and not waited. It is shocking, we have paid a huge amount of money for this service and I am absolutely unhappy. Please do not call for caretaker's from Care24. As long as they are getting their money. They care a damn!!! Worst service providers.

Bonabelle Zuzarte


7/10/2019

Nurses and attendants provided by Caree24 are very good. In behavior and trust worthy. Thanks for their support

Anil Kathuria


6/28/2019

Worst!!! I am paying for professional services and the attendant is not professional. The level of disappointment is i have to terminate services on Day 1 itself. And still I am being told to pay for 1 day. Please assess the attendant before going for services from care24

Praful Jadhav


5/07/2019
I am still taking services from Care 24 since last two years. The caregivers are well trained and takes good care of my mother in law.
Sheila khanchandani
Sumesh Brother is Punctual, Efficient and knowledgeable and understands patients requirements completely.
Jayshree Prabhu
I have been using care 24 services and have been very happy with their services. Priyanka Rajbhar is our caretaker she is very disciplined kind and dedicated towards her work.
Saurabh Bhatt
The Nurse and the Attendant provided by Care24 are good in service, polite and punctual. We are happy with their service. The patient ( our family member) is been given proper care, feed and cleaned regularly.
Deepa Balvalli
Dr. Ralga had Attended to my father. He is suffering from PSP. We were specifically impressed by her techniques n method to handle the issue. We are planning on repeating her visits every month for positive results.
Uma Ram
Frequently Asked questions