Hypertension Physiotherapy
Our physiotherapists are experienced in providing a complete range of physiotherapy services.
Fill up the form to know more about our physiotherapy services for Hypertension.
Hypertension Physiotherapy
Our physiotherapists are experienced in providing a complete range of physiotherapy services.
Fill up the form to know more about our physiotherapy services for Hypertension.
Physiotherapy services for hypertension
Physiotherapy Treatment for Hypertension
Hypertension is a common condition in which blood exerts high pressure on the artery walls which increases the risk of heart disease.
Blood pressure is the amount of blood pumped by the heart and the amount of resistance of blood flow in the arteries. High blood pressure results when more blood your heart pumps in the narrow arteries. There are no symptoms of high blood pressure and it can cause damage to blood vessels and increases the risk of serious health issues including heart attack or stroke.
High blood pressure develops over many years and can affect anyone. However, you can control it by taking effective measures recommended by your doctor.
Symptoms & Causes
Symptoms:
Usually, there are no signs or symptoms noticed in those having high blood pressure but few may experience headaches, shortness of breath. Though these signs and symptoms aren't specific and can't be identified until high blood pressure reaches a life-threatening stage.
When to see a doctor?
Check your blood pressure taking a doctor appointment. Ask your doctor to take a blood pressure reading every two years. If you are 40 years or older or between 18 to 39 with a high risk of blood pressure then get a reading every year.
Blood pressure should be checked in both arms to identify if there's a difference. Your doctor will recommend more readings if you have high blood pressure or other risk factors. You can use check your blood pressure with the machines available in pharmacies.
Causes:
There are two types of high blood pressure.
Primary Hypertension
There is no identifiable cause of high blood pressure and can develop gradually over many years.
Secondary Hypertension
It can be caused due to an underlying condition which tends to appear suddenly and causes high blood pressure.
There are various conditions that can lead to secondary hypertension which includes:
Obstructive sleep apnea

Kidney problems

Adrenal gland tumors

Thyroid problems

Congenital defects

Few medications such as birth control pills, cold remedies, decongestants, OTC drugs.
Treatment for Hypertension
The blood pressure can be regulated by maintaining a proper diet before it reaches the stage of hypertension. Also, following hypertension physiotherapy and a healthy lifestyle is the standard treatment for hypertension.
Regular physical exercise
People with hypertension should engage in at least 150 minutes of moderate aerobic intensity exercise or 75 minutes a week of vigorous-intensity exercise. They can involve in activities such as walking, jogging, swimming, etc. Your physician will include these in physiotherapy treatment for hypertension.
Reduce Stress
Try to avoid stress or develop strategies to manage stress to control your blood pressure.
Avoid using alcohol, drugs and unhealthy eating to cope with stress as it will add to hypertensive problems.
Smoking can elevate blood pressure and avoiding it reduces the risk of hypertension, heart conditions, and other health issues.
Medication
Hypertension can be treated with medication but the drugs should be taken at a low dose. The side effects associated with the drugs are usually minor.
There are drug types available that can help lower blood pressure which includes:
diuretics, including thiazides, chlorthalidone, and indapamide

beta-blockers and alpha-blockers

calcium-channel blockers

central agonists

peripheral adrenergic inhibitor

vasodilators

angiotensin-converting enzyme (ACE) inhibitors
The choice of drug varies among individuals and according to their condition.
Those who are taking antihypertensive medications should make sure to read the labels before taking any type of OTC medications.
How can physiotherapy help?
How can hypertension physiotherapy help manage high blood pressure?
With lifestyle changes, one can easily lower high blood pressure. The drugs can be taken in the most severe cases however for the borderline treatment, exercise can be helpful rather than the medication.
Your physiotherapist can provide physiotherapy treatment for hypertension. They will tell you about the tips to lower your elevated blood pressure and about how to manage the health issues caused due to it. They can refer to a suitable exercise program depending on your fitness and health conditions.
High blood pressure can be caused due to several issues and can be managed by following a healthy lifestyle and exercise. If you are a beginner, then exercise can raise your blood pressure at first but your doctor can reduce it through medication. If you are having high blood pressure issues then do follow light exercise choosing physiotherapy treatment for hypertension.
What will happen when I see a physiotherapist?
Your physiotherapist will advise you about the lifestyle changes you need to make for achieving good health. They will develop an exercise program or hypertension physiotherapy that can help you increase your physical activity effectively. You can be asked to do some physical tests to assess your fitness level.
Exercises
Doing moderate physical activities in your daily routine life can help. You can follow:
Cardiovascular Or Aerobic Exercise:
This type of exercise program strengthens your heart and can help reduce your blood pressure.
Strength Training:
It strengthens your muscles, bones, and joints and thus helps burn your calories.You can start with weightlifting and enhance your muscle mass which therefore strengthens tissue around the joints.
Stretching:
You can stretch and do yoga. It can easily be done at home and help to increase flexibility and enhances our mobility and thus keeps you moving. It, therefore, reduces the sedentary lifestyle which is good for heart and blood pressure.
Isometric Exercises:
This type of exercise involves the contraction of large muscles without actually moving the body part and help to reduce the blood pressure.It can be done anytime, anywhere as it doesn't require to bend or lift. Studies have proved that those with normal blood pressure who did fifteen to twenty minutes sessions of isometric exercises every week for 10 weeks experienced more plunge in their systolic blood pressure.
HOW CAN CARE24 HELP?
At Care24, we provide you the best physiotherapists that can help you or your loved ones recover faster in the comfort of your own home. Our physiotherapists are highly qualified & well-experienced to provide you the hypertension physiotherapy on the basis of your medical condition, preferences, and locality.
Our team of physiotherapists provides a good exercise program that suits your needs. The expert physiotherapist the strengthening exercise regime to help you get relief from pain.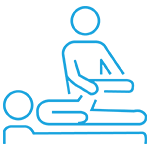 style="text-align:right;color:0f0f59;">
Read more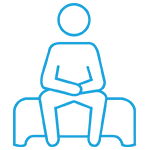 style="text-align:right;color:0f0f59;">
Read more
Most horrible services. Please do not ask for help from these people, they will talk sweet and then at the last moment there will be no shows from the caretaker. I had to go through this not once but twice the caretaker did not turn up. Request you all to not depend on these people as we are leaving our homes and letting them into our lives, the least they can do is inform and provide a replacement, but neither of it happened and they expect me to pay registration fees of RS,1000

Annie Palan


5/17/2019

The worst experience I've had of my life. I normally never really write reviews, but I had to write this because this agency is the worst company I've dealt with till now. Their customer service is terrible, most of their attendants are not competent for taking care of elderly patients. Please do not use their service.

Radhika Kulkarni


6/27/2019

I used Care24 services for 7 months duration in 2019-20. Carers they provide are a mixed bag. Some are really good while others lack even basic service skills. You got to be very very lucky to get one and same carer over long time as carers often go on leave. When regular carer is on leave, every time they will send new carer. So family members need to repeat everything, right from home address, directions to patient's routine, medicines etc. Do not expect that Care24 will provide any heads-up or patient routine information to new carer who is visiting. Over the 6 months of Mumbai-based care services I used from Care24, there were over 15 instances where new carers were late more than 2 to 3 hours. Care24 support team is very lethargic, there were times when support team assumed that carer has reached home when he had not even started from his place. Support team is unaware of carers being late to customer's place. Then came in so called, the technology upgrade, Jan-Feb 2020, they had a new IT system and there were numerous issues with billing, sending invoices and payment receipts to customers (as told by support team themselves). Support staff told me at least 10 times over phone and email that there are system issues in billing and payment, I had to calculate amount manually on my own and then Pay them. With new system, accounts were on toss, no invoices were sent to customers (in spite of the fact that payment policy says payment needs to be made after receiving invoice.) I had 20-25 emails following up for invoice and payment receipts, but their support team in Mumbai did not care to respond. I found their behavior very unprofessional and not good over these 2-3 months. If you are outside for work (or overseas) and not staying with the patient or your parents, I strongly suggest DO NOT USE CARE24, as they do not respond to your emails and phone in time. They do not bother even when the patient is without care because of their delays in operations and carer issues. They need to improve basic operations first, give timely and consistent services to customers, and then worry about Apps, Digital Assistants and other tech-stuff. .My genuine advice to them--- You are dealing with patient healthcare services, where patient family is relying on you. This is not a courier service business where you are sending people to move boxes and you would't care much when service is delayed !!

Sanket Deo


3/05/2020

My father had a hip bone surgery in January. I have been using Care24 services ever since. The attendants that cane were good in the beginning. However their services have become good to bad to worse to worst in the last 15 days. They changed the night attendant without informing me personally just 6 hours before the time. My father had just settled down with the last attendant and now they were sending a replacement tonight. To add to my frustration the guy didn't turn up and did not answer the calls. When I called their call centre - they said they can't help me at this hour. Well- I can't help but call them CARELESS CARE24.

Jasbir Basu


4/06/2019

We had a ridiculously pathetic experience with them. Took an attendant service, a 10 day offer (rs 600 instead of their regular fee of rs 800), for my mother who had undergone an knee replacement surgery. In six days, 4 different attendants were assigned for no fault of ours. We had terrible experience going through the back-end team trying to explain the importance of sending only one attendant and not a different one every new day. The last person assigned wanted to leave by 5pm even though the timings were from 8am to 8pm. With this many other terrible instances in these 6 days, we had no option but to cancel the services. The back-end team were utterly useless in understanding the importance of having only one person assigned. They kept insisting that we pay for 800rs per day for 6 day and offer of rs 600 per day would be invalid. The management should look into this scam and take immediate action on the team. Note: Even though we wanted the services, we were forced to abandon it with no fault of ours. The back-end team has absolute disregard for the grievances of the client.

Rahul Dhakka


12/27/2018
I am still taking services from Care 24 since last two years. The caregivers are well trained and takes good care of my mother in law.
Sheila khanchandani
Sumesh Brother is Punctual, Efficient and knowledgeable and understands patients requirements completely.
Jayshree Prabhu
I have been using care 24 services and have been very happy with their services. Priyanka Rajbhar is our caretaker she is very disciplined kind and dedicated towards her work.
Saurabh Bhatt
The Nurse and the Attendant provided by Care24 are good in service, polite and punctual. We are happy with their service. The patient ( our family member) is been given proper care, feed and cleaned regularly.
Deepa Balvalli
Dr. Ralga had Attended to my father. He is suffering from PSP. We were specifically impressed by her techniques n method to handle the issue. We are planning on repeating her visits every month for positive results.
Uma Ram
Frequently Asked questions