Physiotherapy for Lumbar Spondylosis
Our physiotherapists are experienced in providing a complete range of physiotherapy services.
Fill up the form to know more about our physiotherapy services for lumbar pain
Physiotherapy for Lumbar Spondylosis
Our physiotherapists are experienced in providing a complete range of physiotherapy services.
Fill up the form to know more about our physiotherapy services for lumbar pain
Physiotherapy for Lumbar Spondylosis
Overview
WHAT IT IS?
Degenerative changes in the spine such as degenerating intervertebral discs and bone spurs between the vertebrae are called spondylosis. Spondylosis is a condition that causes deterioration of the vertebrae, discs, and ligaments in the spine.
Frequently spondylosis is also called osteoarthritis.
Spondylosis can occur in the lumbar spine (low back), cervical spine (neck) or thoracic spine (upper and mid back).
The most common is a lumbar and cervical form of spondylosis.

Thoracic spondylosis, on the other hand, frequently does not cause symptoms.

Lumbosacral spondylosis is spondylosis that affects both the sacral and the lumbar spine (sacral spine is below the lumbar spine, in the midline between the buttocks).

Multilevel spondylosis involves the changes that affect multiple vertebrae in the spine.
CAUSES
There can be very many causative factors predisposing and making a person more susceptible to spondylitis, such as:
Conditions like the congenitally fused spine, cerebral palsy, Down syndrome, etc. may be risk factors for spondylotic disease.
People who constantly work by bending their necks because their work demands minute concentration.
Bike users and computer professionals are more susceptible to spondylitis
Travelers who travel frequently long distances and sleep in a sitting position
Repeated occupational trauma e.g., carrying loads on the head, professional dancing, gymnastics may contribute.
Predisposition to development of spondylitis has been reported from certain families; a genetic cause is possible.
Smoking also may cause spondylosis.
Telephone operators or persons who often hold the phone on their shoulder
Drivers who keep the neck in the same position for a long time, the habit of holding neck in one position, watching TV in abnormal positions or when lying down
Aging
RISK FACTORS
The general cause of spondylosis is daily worn of ligaments, discs, etc.

These changes affect people differently, depending on each individual's risk factors.

Risk factors include:


Smoking
The job which demands repetitive or weight-bearing movements that involve the spine
Mental health condition, such as anxiety or depression
Prostatic arthritis
Genetic tendency
Obesity or being overweight
A sedentary lifestyle with a lack of exercise
Injury To spine or previous spinal surgery


SYMPTOMS
Age-related spondylosis does not showcase any symptoms. Some people have symptoms for a while, but then they go away. A sudden movement, sometimes, can trigger symptoms.

Following certain movements, while sitting for a long time or for being still for long periods without moving, for example, worsen the most common symptoms of stiffness and mild pain.

More severe symptoms include:

• muscle spasms and pain
• headaches
• loss of balance and difficulty walking
• a grinding or popping feeling when moving the spine
• weakness in the hands or legs
• poor coordination
• loss of bladder or bowel control
HOW physiotherapy for lumbar spondylosis HELPS?
Doctors usually prescribe physiotherapy for any sort of neck or back pain which does not resolve on its own after a few weeks. Physiotherapy for lumbar spondylosis is often prescribed for chronic back or neck pain for muscle strengthening and stretching. Physiotherapists demonstrate specific exercises which, when performed daily, helps to strengthen the back and abdominal muscles and prevent recurrent pain. Physical exercise, like walking and yoga on a regular basis, have been shown in studies to be beneficial for chronic back pain.


Physiotherapy for lumbar spondylosis involves mainly three main components: education, passive treatments, and active treatments.
A physiotherapist uses passive treatments to relax your body and to decrease inflammation or acute pain. This doesn't require active participation, hence the name.

Passive Treatments for Spondylosis

Deep Tissue Massage: This technique targets chronic muscle tension and spasm that perhaps develops through daily life stress and could be also because of sprains or strains. The therapist uses direct pressure and friction of fingers to try to release the tension in your soft tissues (ligaments, tendons, muscles).


Hot and Cold Therapies: Lumbar physiotherapy will alternate between hot and cold therapies. By using heat, the physiotherapist for lumbar pain seeks to get more blood to the target area because increased blood flow brings more nutrients and oxygen to that area and helps in the easy recovery.
Cold therapy which is also called cryotherapy, on the other hand, slows circulation, helping to reduce I muscle spasms, and pain.
Electrical stimulation: This method can be performed within the clinic and if extremely successful, E-stimulation stimulates muscles through variable and of electrical current. It helps reduce muscle spasms, reduce inflammation, bring in healing properties, and it may increase your body's production of endorphins, your natural pain killers.
Active Treatments for Spondylosis


In the active part of physiotherapy for lumbar pain, To improve your strength, core stability, flexibility, and range of motion (how easily your joints move), your therapist will teach your various exercises. But we can generally say that you may learn about body mechanics—how to move your body so that you don't increase your pain. You'll learn how to avoid positions that exacerbate your pain. You may also learn about correcting your posture and how to use good ergonomics at work.
EXERCISES
Quadruped arm/leg raises: Begin on your hands and knees. Tighten your abdomen, raise one arm and the opposite leg. Hold this pose for five seconds and then repeat with the opposite arm and leg.
Double-knee to chest: Start with the knees bent and feet flat against the floor. Tighten the abdomen to push the low back against the floor and lift both legs off the ground and pull them to the chest. Hold the pose for five seconds then lower the legs back down to the ground.
Pelvic tilt: While performing this exercise one has to lie on their backs with the knees bent and the feet flat against the floor. Focus on pressing the low back flat against the floor and pull your belly button towards the spine using your abdominal muscles. Hold the position for 10 to 15 seconds, and then relax.
WHY CHOOSE US?
Here are a few reasons to choose Care-24:
We Treat You Like Family
We Use High-End Technology
You Will Always Receive a Personalized Experience
We Offer Competitive and Fair Pricing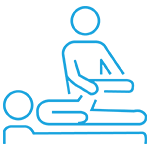 style="text-align:right;color:0f0f59;">
Read more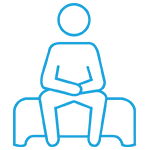 style="text-align:right;color:0f0f59;">
Read more
Horrible service! can't rely on them.They ditch on last moment.Attendents are not punctual,reliable,well behaved and even honest.Service provider doesn't turn up and still they start billing customers .Better to stay away.

Sonal Agrawal


11/04/2019

Worst!!! I am paying for professional services and the attendant is not professional. The level of disappointment is i have to terminate services on Day 1 itself. And still I am being told to pay for 1 day. Please assess the attendant before going for services from care24

Praful Jadhav


5/07/2019

worst service, they just talk as if they will send professional at our place, they give big promises at the time of starting their services, but when the attendant come at our place we realized that he was more delicate than our patient, the person whom they had sent got a small scratch in his finger and than the same day he said he wont come as he got injury, so the next day he dint turn up neither did care24 arrange for a replacement, after calling them for 4 times they said me sorry they couldn't arrange anyone today. they don not have the decency to even inform that they cannot arrange for a replacement.. please do not go for their services, its just the promises nothing to deliver

Komal Patel


4/11/2019

Needed an attendant for a week for post-surgical assistance (ward boy type work). The person allocated was punctual, polite, and generally did the job well. Quite happy with the services provided. Edit: The payment management is quite bad. If you choose to make cash payments for the service (physiotherapist in my case), the payment does not sync with the agency and they keep sending messages and emails along you to pay up. They follow up with calls on Sunday afternoon 🤦🏻 Edit 2: No change. The company is continuously following up for the money I have already paid. Reducing the rating.

Swati Saxena


5/31/2020

Horrible, unprofessional service! Advance paid.The caregiver did not show up. When complained to customer care, they said they will find a replacement and call back. No call back, no replacement. They shut for the day and the customer is felt in a lurch. Extremely disappointing. Will never avail this service again and will spread the word too.

Shraddha Shah


11/02/2019
I am still taking services from Care 24 since last two years. The caregivers are well trained and takes good care of my mother in law.
Sheila khanchandani
Sumesh Brother is Punctual, Efficient and knowledgeable and understands patients requirements completely.
Jayshree Prabhu
I have been using care 24 services and have been very happy with their services. Priyanka Rajbhar is our caretaker she is very disciplined kind and dedicated towards her work.
Saurabh Bhatt
The Nurse and the Attendant provided by Care24 are good in service, polite and punctual. We are happy with their service. The patient ( our family member) is been given proper care, feed and cleaned regularly.
Deepa Balvalli
Dr. Ralga had Attended to my father. He is suffering from PSP. We were specifically impressed by her techniques n method to handle the issue. We are planning on repeating her visits every month for positive results.
Uma Ram
Frequently Asked questions