Physiotherapy In Indirapuram
Our physiotherapists are experienced in providing a complete range of physiotherapy services.
Fill up the form to know more about our physiotherapy services in Indirapuram.
Physiotherapy in Indirapuram
Our physiotherapists are experienced in providing a complete range of physiotherapy services.
Fill up the form to know more about our physiotherapy services in Indirapuram.
Highly rated by thousands of patients all over India.
pHYSIOTHERAPY services in Indirapuram
What is Physiotherapy?
Physiotherapy is related to assisting to reestablish wellness to persons following damages, aching or handicap. Physiotherapy is described by the World Confederation for Physical Therapy (WCPT) as "providing assistance to men and women and populations to grow, sustain and restore optimum movement as well as operational ability all through the lifespan". "This comprises of giving expertise in conditions in which mobility and operation are threatened by getting older, damage, discomfort, diseases, dysfunctions, problems or even environmental variables. Operational mobility is essential to just what it means to be balanced."


The function of a physiotherapist is incredibly varied with no two days being the same. He/she sometimes have to evaluate the physical condition of an individual in an effort to identify issues and also employ a treatment regime, or alternatively, they may also be re-training patients to walk, or assisting others to deal with crutches, walking frames, or wheelchairs. He/she will also be in charge of educating their patients as well as their families, (as well as the community at large) to ward off problems as well as to guide those people lead wholesome lifestyles. In some instances, the physiotherapist could be expected to prepare and put in place community fitness programmes. In the end, physiotherapists also can issue sick leave certificates if considered necessary to do so.

Throughout their profession, a physiotherapist will treat all manner of individuals which includes kids with cerebral palsy, early infants, expecting mothers, people experiencing rehab, sportsmen, the elderly (to attempt to help them get fitter), as well as those needing help following heart problems, strokes, or perhaps major surgical treatment.

Treatment for Physiotherapy
Just as with any health-care exercise, a range of procedures can be utilised to take care of a variety of situations.
Orthopaedic physical therapy takes care of musculoskeletal problems, relating to the muscles, bones, ligaments, fascias, as well as tendons. It is appropriate for health problems such as fractures, sprains, tendonitis, bursitis, long-term medical problems, and rehabilitation or recovery from orthopaedic surgery. Individuals could undertake treatment with joint mobilizations, manual therapy, strength training, mobility training, and other modalities.

The geriatric physical remedy can help aged sufferers who develop problems that have an effect on their range of motion and physical capability, for example, arthritis, osteoporosis, Alzheimer's disease, hip and also joint replacement, balance disorders, and incontinence. Any such intervention aims to reestablish the ability to move, reduce pain as well as boost physical fitness degrees.

Neurological physical therapy can help people who have neurological disorders and situations, for example, Alzheimer's disease, brain problems, cerebral palsy, multiple sclerosis, Parkinson's condition, spinal cord injury, and stroke. Treatment may possibly aim to increase limb attentiveness, handle paralysis, and reverse increase muscles power by minimizing muscle atrophy.

Cardiovascular, as well as pulmonary rehabilitation, may benefit individuals affected by some cardiopulmonary problems together with operations. Treatment can increase physical stamina and stamina.

Pediatric physical therapy aims to identify, deal with, as well as handle problems that affect infants, youngsters, and teens, such as developmental delays, cerebral palsy, spina bifida, torticollis along with other problems that influence the musculoskeletal system.

Wound treatment therapy generally helps to guarantee that a healing wound is acquiring sufficient oxygen together with blood with the help of heightened blood flow. Physical therapy may include the usage of manual therapies, electric stimulation, compression therapy and wound treatment.

Vestibular healing strives to react toward balance problems that may result from internal ear disorders. Vestibular physical therapy involves a variety of exercises as well as manual approaches that can help patients regain their regular equilibrium as well as coordination.

Decongestive therapy generally helps to deplete stored substance in individuals with lymphedema along with other problems that entail fluid accumulation.

Pelvic floor rehabilitation could actually help cure urinary or faecal incontinence, urinary longing and pelvic pain in males and females due to accidents or surgery, or even as a result of particular situations.
Except for physical manipulation, physical therapy rehabilitation possibly will include:
Ultrasound, to promote blood circulation as well as treating by warming the tendons, muscles, and tissues

Phonophoresis, which makes use of ultrasound to deliver certain prescription drugs, for instance, topical steroids. This may minimize the visibility of inflammation

Electrical stimulation, or E-stim, which uses topical electrodes on the skin to bring down pain and boost functional capabilities. One sort of E-stim is transcutaneous electrical nerve stimulation (TENS). At times, anti-inflammatory medications are widely-used with specific E-stim modalities and are often known as iontophoresis

Heat, moist warmth in addition to cold therapy
Light therapy, wherein special
lights and lasers are used to treat specific health conditions
The physical therapist will certainly suggest the most appropriate treatment.

Exercises for Physiotherapy
Physiotherapy exercises have already been proven to be valuable solution to assist treat and prevent accidents and discomfort associated with mixed disorders.

Physiotherapists are qualified medical professionals who utilise these exercises to boost muscle tissue and enhance functionality. They assess an individual's concerns and then recommend the perfect set of physiotherapy physical exercises for rapid relief. These exercise sessions cover anything from single to high-level postures all of which help repair the system and restore full bodily function.

Just like in the case of medication, you only benefit if you use the remedies as prescribed by a doctor; in the same way, you can be expecting any benefit from physiotherapy when you meticulously follow up with the recommended exercises.

Physiotherapy also helps to reestablish a well-balanced emotional mental condition which is key for holistic rehabilitation.


Benefits of Physiotherapy
If you happen to be seeking out a physiotherapist at home in Indirapuram, Care24 ought to be your first choice. Care24 has set a very high standard for customized at-home medical care. Care24 offers home physiotherapy in Indirapuram, and our physiotherapists are frequently viewed as some of the best physiotherapists in Indirapuram. Our physiotherapists are well-trained, qualified and understand the patient's requirements.

The home is the most suitable place for physical therapy, where comfortable surroundings directly enhance your likelihood of rehabilitation. There is no need to pay a visit to a physiotherapy clinic in Indirapuram when Care24 provides high-quality home physical therapy services. You can get yourself treated by some of the top physiotherapists in Indirapuram from the ease and comfort of your home.

Our skilled physiotherapists can provide you with the finest treatment in the comfort and ease of your home to recover faster. And no matter if you are searching for a sports physiotherapist in Indirapuram or a neuro physiotherapist, Care24's at-home physiotherapy services are only a call away. Get in touch with us and our professionals will get in touch with you quickly. Home physiotherapy in Indirapuram was never so simple. Care24 offers the best home physiotherapy services in Indirapuram.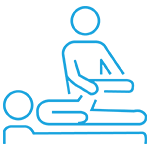 style="text-align:right;color:0f0f59;">
Read more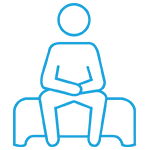 style="text-align:right;color:0f0f59;">
Read more
Worst experience ever! Have hired a caregiver and a nurse. The nurse arrives late repeatedly inspite of being told about how critical medication timings are, falls asleep during day duty, is clueless about timings and medications inspite of us having guided them and has no sound medical knowledge whatsoever. She insisted that a fever of 99.7 is normal and even tried feeding the patient through riles tube with the patient lieing down inspite of there being a recliner arrangement. Neither the nurse or the attendant knew the correct way of lifting a patient from the bed, it was all ignorant tug and pull. Any complaints made to the organisation made no difference as they need more than a day to arrange for a replacement and one needs to deal with the same incompetent staff for another day or risk having no caregiver coming over (as bluntly informed by the call center) at all. Furtheron, the same performance continued the next day. In fact, in the absence of the family members it was observed through a baby monitor that the attendant and the nurse were sitting and chatting away while the patient was trying to sleep and literally PASSING FOOD OVER TO EACH OTHER OVER THE PATIENT! If this wasnt bad enough, the attendant developed a cough and a fever and when a call was made to care 24 asking them to send a replacement on the next day at least as the patient has low immunity, the organisation again gave a choice, we could have the same attendant and risk the patient getting sick, or have no attendant for the next day as they didn't have anyone available. Do not fall for the sales pitch of the executives over the phone as their premium prices and promises of exceptionally well trained staff is nothing but marketing mumbo jumbo. The professionalism and training of the staff that comes to your door is as garbage as the service of the organisation. More importantly, do not trust this organisation with the health and well being of your loved ones as no one in the entire heirarchy of care 24 really 'cares'. You would be better off hiring someone from a local agency. Have had much better experiences with randomly contacted nurses and attendants through justdial. Even though they live far, they reach on time The local organisations are also promptly able to provide replacements if need be. P.S. The 1000 or so rupees registration charge they take from you initially, is essentially a financial clickbait as its money they've made off you after they have stressed you out, contributed to deterioration of the patient and compelled you to suspend their services.

Marzouq Shaikh


3/09/2020

If there was an option of negative stars then I would have choosen it. They offered me a package of₹ 5950/- for 10 days and after 2 days updated me on new package of ₹5700/- for 7 days without my consent. Even deposited my earlier cheque and then I had to follow up for the balance for about 10 days explaining my issue everyday to the new person on their helpline. They don't acknowledge emails too. Worst experience and definitely not recommended

Mugdha Kulkarni


5/23/2019

The physiotherapist came to my home was very helpful and knowledgeable. She properly gave me the detailed information about my injury. Also the first assessment is free of cost.

varshflute


10/17/2019

I got attendent for my ailing mother thru care 24. The best service i got...if i need infuture i will definitely go for care24 only...they are the best

felix thomas


3/21/2020

Most horrible services. Please do not ask for help from these people, they will talk sweet and then at the last moment there will be no shows from the caretaker. I had to go through this not once but twice the caretaker did not turn up. Request you all to not depend on these people as we are leaving our homes and letting them into our lives, the least they can do is inform and provide a replacement, but neither of it happened and they expect me to pay registration fees of RS,1000

Annie Palan


5/17/2019
I am still taking services from Care 24 since last two years. The caregivers are well trained and takes good care of my mother in law.
Sheila khanchandani
Sumesh Brother is Punctual, Efficient and knowledgeable and understands patients requirements completely.
Jayshree Prabhu
I have been using care 24 services and have been very happy with their services. Priyanka Rajbhar is our caretaker she is very disciplined kind and dedicated towards her work.
Saurabh Bhatt
The Nurse and the Attendant provided by Care24 are good in service, polite and punctual. We are happy with their service. The patient ( our family member) is been given proper care, feed and cleaned regularly.
Deepa Balvalli
Dr. Ralga had Attended to my father. He is suffering from PSP. We were specifically impressed by her techniques n method to handle the issue. We are planning on repeating her visits every month for positive results.
Uma Ram