Physiotherapy In Ghodbunder
Our physiotherapists are experienced in providing a complete range of physiotherapy services.
Fill up the form to know more about our physiotherapy services in Ghodbunder.
Physiotherapy in Ghodbunder
Our physiotherapists are experienced in providing a complete range of physiotherapy services.
Fill up the form to know more about our physiotherapy services in Ghodbunder.
Highly rated by thousands of patients all over India.
pHYSIOTHERAPY services in ghodbunder
What is Physiotherapy?
Physiotherapy aids users to reinstate, maintain and increase their energy, work, action, and overall well-being. The words "physiotherapy" and "physical therapy" indicate the same thing and are employed interchangeably, as are the terms "physiotherapist" and "physical therapist".

Physiotherapists have an exhaustive understanding of how the system functions and specific practical medical abilities to examine, identify, as well as cure symptoms of sickness, problem as well as disability. Physiotherapy comprises of rehabilitation, as well as prevention of harm, as well as the promotion of health and fitness. Physiotherapists frequently work in teams with other health professionals to help meet an individual's health-care requirements.


Physiotherapists deal with both avoidance and rehabilitation. Treatment is usually for complications caused by harm, disease or perhaps disability. Listed here are some examples:

1. Neck as well as back pain attributable to troubles in the muscles as well as skeleton
2. Problems in the bones, joints, muscle tissues as well as ligaments, such as arthritis as well as the after-effects of amputation
3. Lung difficulties for instance asthma
4. Handicap due to coronary disease
5. Pelvic difficulties, such as bladder and bowel challenges associated with childbirth
6. Decrease in range of motion as a result of trauma to the brain or spine, or due to illnesses such as Parkinson's disease and multiple sclerosis
7. Weakness, aching, puffiness, stiffness as well as decay in muscular strength, for instance for the duration of cancer healing, or palliative care

Treatment for Physiotherapy
Physiotherapists are properly trained to examine your problem, define the illness, and help you to be aware of what's wrong. Your treatment plan normally takes into account your way of life, daily activities, and general health.
The following are common treatment protocols use by physiotherapists:
exercise courses to enhance a range of motion and strengthen muscles

joint manipulation and mobilization to greatly reduce discomfort and tightness

muscular re-education to develop control

airway clearance ways as well as breathing exercises

soft tissue mobilization (massaging)

acupuncture together with dry needling

hydrotherapy

guidance with an application of aids, splints, crutches, walking sticks, and wheelchairs to enable you to maneuver around.

Exercises for Physiotherapy
Physiotherapy activities have been confirmed to be an important way to assist take care of and avoid accidents and discomfort related to varied diseases.

Physiotherapists are trained medical professionals who utilize most of these activities to boost muscles and boost functionality. They assess an individual's problems after which they would recommend the ideal set of physiotherapy workouts for rapid relief. These exercises range from single to high-level postures which help restore the physique and bring back full physical function.

Much like when it comes to medication, you only benefit if you use the remedies as recommended by a health care provider; similarly, you can look forward to any kind of benefit from physiotherapy when you diligently follow up with the recommended exercises.

Physiotherapy also helps to restore a well-balanced emotional mental state and that is necessary for holistic therapy.

Benefits of Physiotherapy
Bodily healing has become a treatment way for healing selected illnesses for a long period. It's mostly directed at serving patients get back to their regular selves, free of soreness and suffering, so they can get pleasure from the day to day activities they once used to. Physical therapy is just not simply "physical"; it can contain cardiopulmonary and even neurological conditions as well. There are numerous benefits to encountering physical therapy.

1. Enables Individuals Function

A few physical therapy prospects may have physical impairments that they are working with, while others may be recuperating after a stroke. Every so often, certain illnesses or medical ailments harm the patient a whole lot that it becomes vital to train the patient to function the best they can within the boundaries of their circumstance. Physical therapy does this by creating on the capabilities that the individual still has.

2. Helps Regains Original Capabilities

Physical therapy happens to be quite effective all through the many years for a lot of patients. And with prolonged remedy under the supervision of a skilled professional physical therapist, it can be possible for the patient to regain a lot of their original operation or perhaps make an entire recovery. Furthermore, physical therapy is fantastic for helping substantially improve the entire physical fitness as well as well being of the individual.

3. Shortens Recovery Time

Recuperation time might be short by using the physical remedy, that could be the main concern on many patients' lists. Accidental injuries involving muscle tissue, ligament or joint may cause that component of the system to get rigid as well as immobile and without appropriate training, it could actually take quite a long time to recover full range of motion in the stricken region.

Seeing that every affected person can get acquainted with their workouts, they would grow to be safer to perform so they will start to notice their sturdiness commence to boost and also health and wellness continue to build up.

Our physiotherapists heal individuals in the convenience of their homes. They assess, identify, and develop a remedy plan which varies based on the patient's needs. A physiotherapy session is usually of an hour, according to the criticality of the problem. Our experts help with simple and superior movement exercises to improve the patient's ability to move.

How can care24 help?
In case you are looking for a physiotherapist at home in Ghodbunder, Care24 really should be your very first choice. Care24 has set a very high standard for personalized at-home medical care. Care24 offers home physiotherapy in Ghodbunder, and our physiotherapists are frequently regarded some of the best physiotherapists in Ghodbunder. Our physiotherapists are well-trained, qualified and understand the patient's requirements.

The home is the most suitable place for physical therapy, wherein comfortable surroundings directly raise your likelihood of rehabilitation. It is not necessary to pay a visit to a physiotherapy clinic in Ghodbunder when Care24 offers top-notch home physiotherapy services. You can get yourself treated by some of the top physiotherapists in Ghodbunder from the ease and comfort of your home.

Our licensed physiotherapists will offer you the best treatment in the comfort of your home to recover faster. And whether or not you are looking for a sports physiotherapist in Ghodbunder or a neuro physiotherapist, Care24's at-home physiotherapy services are merely a call away. Contact us and our professionals will get in touch with you quickly. Home physiotherapy in Ghodbunder was never so simple. Care24 offers the best home physiotherapy services in Ghodbunder.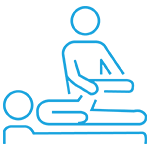 style="text-align:right;color:0f0f59;">
Read more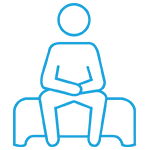 style="text-align:right;color:0f0f59;">
Read more
Worst!!! I am paying for professional services and the attendant is not professional. The level of disappointment is i have to terminate services on Day 1 itself. And still I am being told to pay for 1 day. Please assess the attendant before going for services from care24

Praful Jadhav


5/07/2019

We had a ridiculously pathetic experience with them. Took an attendant service, a 10 day offer (rs 600 instead of their regular fee of rs 800), for my mother who had undergone an knee replacement surgery. In six days, 4 different attendants were assigned for no fault of ours. We had terrible experience going through the back-end team trying to explain the importance of sending only one attendant and not a different one every new day. The last person assigned wanted to leave by 5pm even though the timings were from 8am to 8pm. With this many other terrible instances in these 6 days, we had no option but to cancel the services. The back-end team were utterly useless in understanding the importance of having only one person assigned. They kept insisting that we pay for 800rs per day for 6 day and offer of rs 600 per day would be invalid. The management should look into this scam and take immediate action on the team. Note: Even though we wanted the services, we were forced to abandon it with no fault of ours. The back-end team has absolute disregard for the grievances of the client.

Rahul Dhakka


12/27/2018

I got good experience wt dr Dhrita she is v good in physiotherapy n nice while talking n explains v nice

Sujata Rao


6/19/2019

Needed an attendant for a week for post-surgical assistance (ward boy type work). The person allocated was punctual, polite, and generally did the job well. Quite happy with the services provided. Edit: The payment management is quite bad. If you choose to make cash payments for the service (physiotherapist in my case), the payment does not sync with the agency and they keep sending messages and emails along you to pay up. They follow up with calls on Sunday afternoon 🤦🏻 Edit 2: No change. The company is continuously following up for the money I have already paid. Reducing the rating.

Swati Saxena


5/31/2020

We contacted care 24 for my Dad's physiotherapy. Our physiotherapist Dr Dharita is very knowledgeable and extremely patient. My Dad is showing a lot for improvement in terms of his movement.

D W


3/21/2019
I am still taking services from Care 24 since last two years. The caregivers are well trained and takes good care of my mother in law.
Sheila khanchandani
Sumesh Brother is Punctual, Efficient and knowledgeable and understands patients requirements completely.
Jayshree Prabhu
I have been using care 24 services and have been very happy with their services. Priyanka Rajbhar is our caretaker she is very disciplined kind and dedicated towards her work.
Saurabh Bhatt
The Nurse and the Attendant provided by Care24 are good in service, polite and punctual. We are happy with their service. The patient ( our family member) is been given proper care, feed and cleaned regularly.
Deepa Balvalli
Dr. Ralga had Attended to my father. He is suffering from PSP. We were specifically impressed by her techniques n method to handle the issue. We are planning on repeating her visits every month for positive results.
Uma Ram