Our physiotherapists are experienced in providing a complete range of physiotherapy services.
Fill up the form to know more about our physiotherapy services for Spasticity Physiotherapy.
Our physiotherapists are experienced in providing a complete range of physiotherapy services.
Fill up the form to know more about our physiotherapy services for Spasticity Physiotherapy.
Physiotherapy Services For Spasticity
Overview
What is spasticity?
Spasticity is a condition in which certain muscles are continuously contracted. This contraction causes stiffness or tightness of the muscles and also may interfere with gait, speech, and motion. Spasticity is usually brought on by damage to the part of the brain. The damage causes an alteration in the equilibrium of signs involving the muscles and the system. This imbalance contributes to greater activity in the muscles. Joints and muscles of the extremities negatively affect and can be harmful to kids that are developing. It is possible to treat Spasticity if you get proper medications along with physiotherapy treatment for spasticity.
Types
Spasticity is a really common symptom of MS. There are two kinds of MS-related spasms: flexor and extensor. Flexor spasticity is an involuntary bending of their hips or knees (mostly between the hamstring muscles on the back of the upper leg). The hips and knees bend upward toward the torso. Extensor is a straightening of the legs. Extensor spasticity entails the quadriceps (muscles on the front of the upper leg) and the adductors (inner thigh muscles). Knees and the hips stay with all the legs together or crossed over in the ankles. Spasticity can also occur in the arms, however, it is not as common in people with MS. Spasticity may worsen because of muscle stiffness or position changes, moves, temperature extremes, humidity or illnesses. Clothes may even trigger it.
Causes
Spasticity is brought on by an imbalance of signs from the central nervous system (brain and spinal cord) into the muscles. This imbalance can be found in people with spinal cord trauma, traumatic brain injury, stroke, multiple sclerosis, and cerebral palsy.
Symptoms
Increased muscle tone

Overactive reflexes

Involuntary movements, which may include spasms (lively and/or sustained involuntary muscle

contraction) and clonus (a string of rapid involuntary contractions)

Pain

Reduced operational skills and delayed motor development

Difficulty with hygiene and care

Abnormal posture

Contractures (a permanent contraction of this muscle and tendon because of intense persistent stiffness and spasms)

Bone and joint deformities
Treatment for Spasticity Physiotherapy
Physical Preserve or enhance the range of movement and freedom Treatment

is the mainstay of therapy for spasticity and is intended to decrease muscle tone, enhance coordination and strength, and enhance relaxation and maintenance. Occupational remedies handle the difficulties of living with spasticity, aiming to assist patients and carers deal with or to get freedom, and find answers. Rehabilitation (occupational and physical therapy) and pharmacological spasticity remedies like the injection of botulinum toxin are regarded to operate synergistically as time passes. You should get physiotherapy treatment for spasticity for better recovery.
Botulinum neurotoxin injections

improve spasticity and so may alleviate rehabilitation attempts. Normally, one botulinum neurotoxin injection's consequence lasts with a mean of 3 weeks.
Progressive Resistance Strength Training

– No evidence proves that strength training increases in patients with stroke. Impairment is reduced following resistance training.
Biofeedback occupational therapy and electric stimulation

don't increase the amount of spasticity. Additionally, it showed a decrease when compared with patients who conducted occupational therapy and electric stimulation.
Shock wave treatment

on flexor hypertonic muscles of the forearm and interosseous muscles of the hands in patients with stroke demonstrated a considerable decrease in muscle tone (>3months).

Amelio reported a significant decrease in muscle tone (>12 months) of plantar flexors in children with cerebral palsy.


Significant reduction of ankle plantar flexor spasticity in patients with stroke following fifteen 10-minute sessions of continuous ultrasound treatment on a 5-week interval (frequency 1MHz and intensity 1,5 W/cm2).


Cryotherapy –

Using cold packs (12°C) for 20-minutes can diminish the muscle temperature to decrease spasticity.
Electric

– Substantial improvement was shown by stimulation with stimulation. Although antagonist stimulation revealed a rise of stretch Ashworth Scores reflex-initiating angle.
Exercises for Spasticity Physiotherapy
Exercises to do if you have Spasticity
Hip crossovers –

The goal of this stretch is to decrease tightness in the hips by stretching and lengthening your hip muscles. Though there are variations of it, the basic idea is to lie on your back and if possible, bend your knees into a 45° angle, pull them together and then gently let both knees slowly rotate to one side, holding the stretch for 30 seconds. Keep your arms to the side (like the letter "T"), palms down. The goal is to stretch your hips, not to force your knees to the floor (in general, never force your body to do any stretch or exercise). Adherence to form is critical, so go slowly over these exercises

Hip flexor stretch

According to the Multiple Sclerosis Society of Canada, "The hip flexors are the muscles on the front of your pelvis. They help leg movement when you walk, kick, climb stairs, or stand. When you are in a seated position for long periods, these are the muscles that need a good stretch."
This is a nice exercise to do because not only does it stretch the hip flexor, it also has a focus on relaxation, something the National Multiple Sclerosis Society of America emphasizes in its approach to managing spasticity, too. You can also do it while lying on your bed!
Lie on your bed on your back so that your knees hang off the edge of the bed.

You should feel the stretch in the front of your leg where it attaches to your hip.

Hold. Listen to your body to know what an appropriate hold time is for you. Try working up to a 30- to 60-second hold.

Calf stretch –

Place a half foam roller or rolled up towel on the floor, and step on it with the ball of your foot with your heel down on the floor. Step the opposite leg forward keeping the weight on the back foot. This is an extremely intense and effective calf stretching exercise.
Ankle or heel cord stretch – An easy stretch that requires only a towel and a bed. Here is how to do a good ankle stretch to reduce ankle spasticity that worsens at foot drop.



Sit on the bed or steady chair with back straight.

Hang one leg down.

Put a towel around the bottom of your active foot, lift the leg and pull on the towel with both hands and hold for 20 –30 seconds. Repeat on the other side.
Foot roll –

The feet are the furthest away from the brain, the nerves travel from your feet to the brain and back again to work correctly and hence it has been found that foot problems are the commonest of spasticity problems. Foot rolls using a small rubber ball may lessen spasticity which may improve balance and mobility, especially in foot drop. Stand on the ball using each foot, while holding onto a chair or some other device for stability, while rolling the ball slowly along each foot, being attentive for spots that seem disengaged.
How can Care24 help?
Based on the type if need, it requires quite a few weeks or even months for you to recover. You are helped by our physiotherapist with exercises which stimulates tissues and the cells that have been injured for aiding recovery.
Physiotherapy for spasticity helps you with stretching exercises and offer recovery programs by the kind of injury, to facilitate recovery. The Physiotherapists will also guide you in educating you to take care of yourself.
Therefore, if you are looking for physiotherapy for spasticity or a good nurse, simply reach out to Care24's world-class physiotherapy treatment in your home's comfort.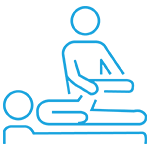 style="text-align:right;color:0f0f59;">
Read more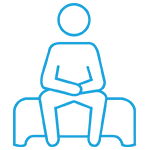 style="text-align:right;color:0f0f59;">
Read more
We had a ridiculously pathetic experience with them. Took an attendant service, a 10 day offer (rs 600 instead of their regular fee of rs 800), for my mother who had undergone an knee replacement surgery. In six days, 4 different attendants were assigned for no fault of ours. We had terrible experience going through the back-end team trying to explain the importance of sending only one attendant and not a different one every new day. The last person assigned wanted to leave by 5pm even though the timings were from 8am to 8pm. With this many other terrible instances in these 6 days, we had no option but to cancel the services. The back-end team were utterly useless in understanding the importance of having only one person assigned. They kept insisting that we pay for 800rs per day for 6 day and offer of rs 600 per day would be invalid. The management should look into this scam and take immediate action on the team. Note: Even though we wanted the services, we were forced to abandon it with no fault of ours. The back-end team has absolute disregard for the grievances of the client.

Rahul Dhakka


12/27/2018

My father had a hip bone surgery in January. I have been using Care24 services ever since. The attendants that cane were good in the beginning. However their services have become good to bad to worse to worst in the last 15 days. They changed the night attendant without informing me personally just 6 hours before the time. My father had just settled down with the last attendant and now they were sending a replacement tonight. To add to my frustration the guy didn't turn up and did not answer the calls. When I called their call centre - they said they can't help me at this hour. Well- I can't help but call them CARELESS CARE24.

Jasbir Basu


4/06/2019

The worst experience I've had of my life. I normally never really write reviews, but I had to write this because this agency is the worst company I've dealt with till now. Their customer service is terrible, most of their attendants are not competent for taking care of elderly patients. Please do not use their service.

Radhika Kulkarni


6/27/2019

We contacted care 24 for my Dad's physiotherapy. Our physiotherapist Dr Dharita is very knowledgeable and extremely patient. My Dad is showing a lot for improvement in terms of his movement.

D W


3/21/2019

Unqualified office staff, when you call to clarify something. Many times they don't understand the question. They are not trained well. The customer care staff needs an upgraded system, where notes are fed into the system. So you don't need someone else calling up and giving you the same info. The caretaker is not trained well. If they are looking after an elderly person, they should know that they have to be in the best of health to look after my mother. She ended not making a meal for my mother and my neighbour had to provide it. If the caretaker is not well she should have asked for a replacement asap and not waited. It is shocking, we have paid a huge amount of money for this service and I am absolutely unhappy. Please do not call for caretaker's from Care24. As long as they are getting their money. They care a damn!!! Worst service providers.

Bonabelle Zuzarte


7/10/2019
I am still taking services from Care 24 since last two years. The caregivers are well trained and takes good care of my mother in law.
Sheila khanchandani
Sumesh Brother is Punctual, Efficient and knowledgeable and understands patients requirements completely.
Jayshree Prabhu
I have been using care 24 services and have been very happy with their services. Priyanka Rajbhar is our caretaker she is very disciplined kind and dedicated towards her work.
Saurabh Bhatt
The Nurse and the Attendant provided by Care24 are good in service, polite and punctual. We are happy with their service. The patient ( our family member) is been given proper care, feed and cleaned regularly.
Deepa Balvalli
Dr. Ralga had Attended to my father. He is suffering from PSP. We were specifically impressed by her techniques n method to handle the issue. We are planning on repeating her visits every month for positive results.
Uma Ram
Frequently Asked questions