Our physiotherapists are experienced in providing a complete range of physiotherapy services.
Fill up the form to know more about our physiotherapy services for Geriatric.
Our physiotherapists are experienced in providing a complete range of physiotherapy services.
Fill up the form to know more about our physiotherapy services for geriatric.
Overview
Geriatric Physiotherapy
Geriatric physiotherapy is a branch of rehabilitation dealing with elder healthcare. It entails alleviative or preventative, curative or societal aspects of elderly health care that may be required for seniors suffering from old age and/or health issues specific to the elderly.
Geriatrics is the branch of medicine dealing particularly with the issues of disease and aging of the elderly. With the improvement of medical and science, the population's wellbeing has enhanced, contributing to a rise in population. Individuals may be classed as the aged, but in 21st-century variables and the life expectancy has improved substantially. Prevention of disability and illness in the elderly is to improve their wellbeing. Most of the elderly are frequently dependent on family members and their children and many are lonely as they have fewer people to speak to as all are busy chasing their self objectives.
Geriatric Syndromes
Bladder Control Issues – Inability of bladder control, or urinary incontinence, is an embarrassing issue and the elderly person must realize that s/he is not alone in this as there are many others that are impacted with this condition! Urinary incontinence may result in issues such as isolation, depression, and falls. Typically, incontinence can be cured or improved with therapy. Don't be afraid to inform your health care provider if you have bladder control issues.
Sleep Issues – Sleep problems can impact your quality of life also may lead to other medical issues, injuries, and falls. So that they can determine the kind of sleep problem that you facing, In case you feel tired during the day or have problems sleeping, inform your healthcare provider.
Delirium – Many adults are brought to the emergency in conditions of Delirium. Delirium is a condition of sudden confusion. Delirium is a medical crisis, much like chest pain. One must ensure you and your family and friends understand the symptoms of delirium and seek medical care immediately if the first sign of any abrupt changes in mental performance.
Dementia – Dementia is a memory issue significant enough to influence the ability to perform daily tasks. There are a few different forms even though the most common cause is Alzheimer's disease. Evaluations will help determine what kind it may be and whether you or somebody you care for may have dementia. These tests can be done if there are any reasons that make you feel that this condition may be prevalent.
Falls – Falls are a major cause of injury in elderly individuals. There are lots of risk factors such as security hazards in the house, drug side effects, vision, and walking issues, nausea, arthritis, fatigue, and malnutrition. As with other syndromes, drops have more than 1 cause. If you've dropped, Inform your healthcare provider. They'll start looking into what triggered and indicate action to prevent falls. There are numerous remedies, such as physical and exercise therapy, which could help avoid falls and improve walking and your gait.
Osteoporosis – Osteoporosis, or thinning bones, is a state which produces the bones of elderly adults more delicate and easier to break. Women 65 and older, and men over age 70 should get a bone mass density (BMD) test done. Calcium and vitamin D consumption exercises and exercises like walking are essential to keeping your bones healthy. Your healthcare provider may recommend treatments or medications.
Weight Reduction – Losing weight is a common problem in elderly adults. Weight loss may be caused wilfully, or it may be a sign of an underlying issue that could be severe. Weight reduction may lead to difficulties, such as bone ailments, drops, and fatigue.
Geriatric physiotherapy
Geriatric rehabilitation physiotherapy for the population concentrates on optimizing role because of the adult. As we get older, our bodies experience tear and wear. It contributes inducing patients to restrict their activities or altogether quit doing what they like Though this method is normal. Geriatric physiotherapy exercises was found effective in enhancing balance, freedom, and strength to assist in staying busy, the person constructs confidence. There are various reasons to seek advice from with your physician about the benefits of treatment.
Geriatric rehabilitation physiotherapy will focus on a patient's objectives. Research demonstrates that therapy plans decrease pain at any stage can help restore freedom, improve strength and enhance fitness levels.
States treated with geriatric physiotherapy exercises
Osteoarthritis and rheumatoid arthritis
Osteopenia and osteoporosis
Joint replacement and other orthopedic surgeries
Neurologic disorders; Stroke, Parkinson's, Multiple Sclerosis, Vestibular and Heal ailments
Generalized fatigue and loss of a role
Overweight and obesity
Cancer-related complications
Alzheimer's disease
Fall Risk and gait training
Physiotherapists can help
Therapists provide many different services to people. They work with people designing programs of education, exercise and health and assessing their capacities. Physical therapists work with healthcare providers to coordinate with the individual's care.
Therapists should have finished their coursework in the emotional, health, biological and physiological sciences. They also have completed a bachelors, masters, or doctoral degree, and need to have graduated from an accredited education program. Even though every therapist should meet requirements, physical therapists for geriatrics specialize in protections.
The capacity for physiological adjustments that are age-related may result in constraints of daily actions. The procedure for aging decreases distress or doesn't have to cause pain. A physical therapist may be a source of advice for understanding developments in your system, and they could provide help for learning adaptive skills or for regaining lost skills. A physical therapist may work with adults to help them understand the physiological related aspects as well.
Physical therapists assess and create made exercise plans. Physical therapy intervention may stop disability. A physical therapist uses matters such as remedies with exercises, modalities, educational advice, and screening applications to achieve several goals they're currently working with
Reduce Anxiety
Improve feeling, joint proprioception
Boost overall fitness through exercise programs
Suggest assistive devices to market liberty
Recommend adaptations to make the Individual's home available and Secure
Avoid Additional reduction in technical skills through education, energy conservation Methods, joint protection
Improve, restore or preserve a range of movement, bodily power, flexibility, coordination, balance and endurance
Educate placement, transports, and walking abilities to encourage optimum independence and function within the Individual's capacity
Which exercises are best suited?
The recommendations is not to "exercise adults" but more focused to the kinds of exercise is necessary. There are four classes of exercise, and indulging in all four kinds is vital for health benefits. The first two classes are strength training or weight lifting and weightlifting or endurance, would be those with. The two groups, although new to the area of exercise, are new because they fall into another class with recommendations. These are extending flexibility and equilibrium. Increase the amount of intensity and the trick to fitness is to perform all four of the kinds of exercise
Endurance exercises – Together with the previously mentioned goal of at least 150 minutes of exercise each week, it's advised that elderly adults attempt to grow from the minimum aim of 10 minutes of aerobic exercise to more stretches, in addition, to increase over time the weekly amount of minutes out of 150 to 300. Cases of exercises include walking, running, dancing, and playing with tennis.
Strength training – Strength-training or weightlifting exercises must be performed two to three times per week with a rest between sessions. This rest day does not imply to forgo the kinds of exercises strength training. Strength-training actions should include exercises for all significant muscle groups like shoulders, arms, torso, stomach, back, hips, and thighs. If an elderly opt to power train daily, she or he need to substitute the muscle bands to permit for a break day. Examples of exercises comprise utilizing equipment, and pushing or lifting weights, pulling resistance bands.
Balance exercises – Some balance exercises build muscles up, though other exercises concentrate on equilibrium. Balance exercises fall into two classes. Strengthening exercises must be performed a couple of times each week but not on any 2 days in a row, whereas equilibrium exercises may – and sometimes should- be achieved every day. Balance exercises include strength exercises for your body such as side and back leg raises, and toes move in addition to equilibrium exercises like heel-to-toe walking along with the stork pose (standing on one foot with arms held out to both sides)
Stretching/flexibility exercises – Stretching exercises improve flexibility but don't enhance strength or endurance. Regardless of this, it's implied that older adults perform as soon as they've finished strength and endurance exercises, stretching exercises. They need to warm up with gentle motions or walking, should they do just exercise. Exercises may be carried out and contain calf, upper arm, shoulder, and thigh stretches.
How Can We Assist?
Based on the type of need, physiotherapy for elderly at home requires quite a few weeks or even months for you to recover. You are helped by our physiotherapist or nurses as required with exercises which stimulate tissues and the cells that have been injured for aiding recovery or with nursing care.
The physiotherapists help with stretching exercises and offer recovery programs in accordance with the kind of injury, in order to facilitate recovery. She will also guide you in educating you to take care of yourself.
Therefore, if you are looking for an excellent physiotherapist or a good nurse, simply reach out to Care24's world-class physiotherapy treatment in your home's comfort.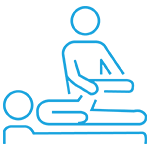 style="text-align:right;color:0f0f59;">
Read more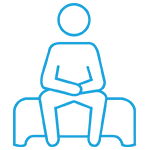 style="text-align:right;color:0f0f59;">
Read more
Horrible, unprofessional service! Advance paid.The caregiver did not show up. When complained to customer care, they said they will find a replacement and call back. No call back, no replacement. They shut for the day and the customer is felt in a lurch. Extremely disappointing. Will never avail this service again and will spread the word too.

Shraddha Shah


11/02/2019

We contacted care 24 for my Dad's physiotherapy. Our physiotherapist Dr Dharita is very knowledgeable and extremely patient. My Dad is showing a lot for improvement in terms of his movement.

D W


3/21/2019

Worst!!! I am paying for professional services and the attendant is not professional. The level of disappointment is i have to terminate services on Day 1 itself. And still I am being told to pay for 1 day. Please assess the attendant before going for services from care24

Praful Jadhav


5/07/2019

The worst experience I've had of my life. I normally never really write reviews, but I had to write this because this agency is the worst company I've dealt with till now. Their customer service is terrible, most of their attendants are not competent for taking care of elderly patients. Please do not use their service.

Radhika Kulkarni


6/27/2019

Unqualified office staff, when you call to clarify something. Many times they don't understand the question. They are not trained well. The customer care staff needs an upgraded system, where notes are fed into the system. So you don't need someone else calling up and giving you the same info. The caretaker is not trained well. If they are looking after an elderly person, they should know that they have to be in the best of health to look after my mother. She ended not making a meal for my mother and my neighbour had to provide it. If the caretaker is not well she should have asked for a replacement asap and not waited. It is shocking, we have paid a huge amount of money for this service and I am absolutely unhappy. Please do not call for caretaker's from Care24. As long as they are getting their money. They care a damn!!! Worst service providers.

Bonabelle Zuzarte


7/10/2019
I am still taking services from Care 24 since last two years. The caregivers are well trained and takes good care of my mother in law.
Sheila khanchandani
Sumesh Brother is Punctual, Efficient and knowledgeable and understands patients requirements completely.
Jayshree Prabhu
I have been using care 24 services and have been very happy with their services. Priyanka Rajbhar is our caretaker she is very disciplined kind and dedicated towards her work.
Saurabh Bhatt
The Nurse and the Attendant provided by Care24 are good in service, polite and punctual. We are happy with their service. The patient ( our family member) is been given proper care, feed and cleaned regularly.
Deepa Balvalli
Dr. Ralga had Attended to my father. He is suffering from PSP. We were specifically impressed by her techniques n method to handle the issue. We are planning on repeating her visits every month for positive results.
Uma Ram
Frequently Asked questions